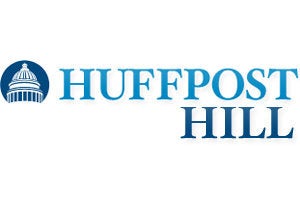 Washington is all about second helpings today as it eats, drinks and breathes financial overhaul. Senate Republicans blocked debate on Wall Street reform for the second time in as many days. Lloyd Blankfein and other Goldman execs returned to Carl Levin's Investigations Subcommittee where the chair flogged them over "shitty deals." And journos will get overserved at Public Bar for some WHCD revelry. Anyone looking for boozing money might want to check the Levins' swear jar. This is HUFFPOST HILL for April 27th, 2010:
WALL STREET REFORM FILIBUSTER, DAY II - Vote to proceed to debate fails 57-41. Nelson votes 'no' again, Bayh and Bob Bennett not present. ANOTHER vote tomorrow, possibly around 10AM. GOPer Bob Corker was unusually pessimistic this afternoon. "I'm basically pretty skeptical there's going to be a bipartisan deal," he said. "It feels to me like the goal posts continue to move. ... I'm fairly skeptical that progress is being made."
The GOP strategy, unvarnished: HuffPost Hill asked a top Senate GOP aide the question on everyone's mind: What, exactly, are you guys thinking? "Democrats are not going to give us a legitimate opportunity to make serious changes to the bill once we proceed to it," he said. "So our best opportunity to improve it is before it hits the floor. Is it worth it to have a worse bill just to avoid a few PR hits?"
A senior Democratic aide responded: "Republicans think they can vote against Wall Street reform and that the American people won't notice. If they want to protect Wall Street bankers that's their business, but before the end of this week and for months to come we are going to make sure the American people know who is on their side."
Senate Republicans seem to be singing a similar tune - Mike Johanns: "I think I know what's going on here." Susan Collins: "It's very strange to me." Olympia Snowe: "I just don't understand the purpose."
REID WILL DO CLIMATE CHANGE FIRST -- IF IT'S READY - Harry Reid at his PM stakeout: "I hope that Senator Graham returns to working with Senators Kerry and Lieberman on a comprehensive energy bill. They're much -- the energy bill is much further down the road as far as a product. It's my understanding that they had a bill that they were going to give to us this Monday until Graham backed out on the deal. So common sense dictates that if you have a bill that's ready to go, that's the one I'm going to go to, because immigration we don't have a bill yet."
ALSO weighing on Reid's mind: ROLL CALL's John Stanton and Kathleen Hunter will report in tomorrow's paper that Chuck Schumer and the White House have "come up empty" in their search for "the GOP's new dealmaker on immigration."
EXCLUSIVE: GRAHAM'S DONORS GET STUFFED - When Lindsey Graham jilted his climate-change partners over the weekend, he abandoned more than a few senators and the White House. He also left behind his first quarter donors. Four of every five political action committee dollars that Graham took in during the first three months of 2010 came from companies hoping for an energy bill, according to a review of his FEC filing. Sorry, fellas: No refunds or exchanges.
FIRST LOOK at the latest pro-climate ad: Iranian radicals dancing to Kool and the Gang's "Celebration." Yes, really. http://bit.ly/9zPHCD
REVOLT AGAINST ARIZONA IMMIGRATION BILL - The quotes you need to know:
- Marco Rubio cites 'POLICE STATE': From his text statement: "From what I have read in news reports, I do have concerns about this legislation... I think aspects of the law, especially that dealing with 'reasonable suspicion,' are going to put our law enforcement officers in an incredibly difficult position." http://huff.to/bjUh30 And later to reporters: "That's not really something that Americans are comfortable with, the notion of a police state." http://bit.ly/9s41wb
- Karl Rove doesn't like it: "I think there is going to be some constitutional problems with the bill. I wished they hadn't passed it, in a way." http://bit.ly/9d5jjc
- Jeb Bush doesn't like it: "I think it creates unintended consequences. It's difficult for me to imagine how you're going to enforce this law. It places a significant burden on local law enforcement and you have civil liberties issues that are significant as well." http://bit.ly/boWXgD
- Fox News' Shepard Smith: "Sounds a lot like the old 'driving while black' law." http://huff.to/d9tt8z
- John Boehner DODGES: "The people of Arizona have the right under the 10th Amendment to write their own laws -- and they have." http://bit.ly/8YS4dE Politico's Kasie Hunt rounds up a lot more dodges here: http://bit.ly/aD6z5A
- John McCain AND Sarah Palin weigh in on Hannity show tonight.
Dems to hold anti-Arizona law presser tomorrow: Xavier Becerra, Raul Grijalva, Luis Gutierrez, Mike Honda and Nydia Velazquez will assemble at the House Triangle tomorrow at 11:00 am where they will denounce Arizona's immigration bill.
FIRST LOOK: NYT MAG ON 'THE REAL WORLD 44' - What White House staff is laughing/getting red-faced about. "President Obama's young White House staff, who some refer to as D.C.'s 'frat packs,' are dealing with the 24/7 attention that comes with the age of Facebook and Twitter. These 20-somethings are changing Washington's social scene. Formerly known as 'Hollywood for ugly people,' D.C. is now attracting reality TV programs such as MTV's 'Real World' and Bravo's 'Real Housewives.' New York Times Washington bureau staffer Ashley Parker writes about the young Obama aides who don't want the attention but are simply there to do a job."
HIGHLIGHTS FROM ASHLEY PARKER'S PIECE:
- Obama's personal assistant Reggie Love, "paraphrasing Jay-Z, told me that he is 'just trying to fade to black.' He added, 'Everything you do represents not only yourself but the office of the president...'"
- "Jon Favreau told me that sometimes when he would tell women that he was Obama's speechwriter, they wouldn't believe him. 'To which I reply,' he says, 'if I really wanted to hit on you, don't you think I'd come up with something more outlandish?'"
- ''In D.C. when you go out, everyone asks you, 'What do you do?''' [Obama receptionist Darienne] Page says. ''My answer? 'I work at Walgreens.' Because no one asks, 'Oh, what do you do at Walgreens?' And if you want to be my friend, it's not going to matter that I work at Walgreens."
BAYH LOSES NCAA - Evan Bayh's bid to become the head of the National Collegiate Athletic Association (NCAA), a dream job for a Hoosier if there ever was one, failed on Tuesday. Bayh, a retiring Democratic Senator from Indiana, missed Tuesday afternoon's vote on a motion to move forward on Wall Street reform because he was meeting with top officials from the NCAA, which is based in Indianapolis. University of Washington President Mark A. Emmert was named Tuesday by the NCAA Executive Committee as president of the organization, the NCAA announced. The NCAA had hoped that the chosen candidate would be available to start by the beginning of the school year, but Bayh's term lasts into January 2011. Efforts to reach a Bayh spokesman were unsuccessful. It's unclear if Bayh turned down the NCAA or the NCAA turned him down.
MORE BIDEN JOBS PREDICTIONS - From interview airing tonight on NPR's All Things Considered: "When asked about his earlier forecasts of new jobs being created at the rate of 250,000 to half a million a month, Biden says: 'No, that's not what I said. I said we will be creating jobs between 100 and 200,000 a month, but we will, at some periods in there - and there will be an ebb and flow - create between 250 and 500,000. I think we will hit a month where we will create as many as 500,000 jobs a month. But that's a long way to get to erase an 8 million-job deficit.'"
More tomorrow when THE HILL's Sam Youngman looks at VPOTUS's penchant for making predictions.
NELSON WEALTH HEAVILY TIED UP WITH WARREN BUFFETT - Ben Nelson, who voted against Wall Street reform after a carve out Warren Buffett wanted was stripped, and his wife own at least $1.5 million of Buffett's Berkshire Hathaway, and perhaps as much as $6 million worth, according to his financial disclosure. Their total holdings are between $6.9 and $17.9 million, meaning somewhere between a tenth and a third of his wealth is tied up in the Nebraska investment giant. HuffPost Hill asked if he could narrow that range. "I file my disclosure just like everybody else -- nothing more, nothing less," he said. Does it affect the way he votes? "It doesn't. It's a Nebraska-based company. There are thousands, tens of thousands, maybe hundreds of thousands of shareholders and it doesn't play into it all." He added that he's owned the shares for at least 20 or 30 years, since before he was governor.
ALSO: Nelson getting hammered by the upstart progressive group PCCC http://huff.to/bG2iBw
GOLDMAN HEARING CONTINUES - The daylong inquiry into Goldman Sachs' alleged market misconduct continued into the early evening. Shortly after five o'clock, Goldman Chairman and CEO Lloyd Blankfein appeared before Carl Levin's Permanent Subcommittee on Investigations. After giving his opening statement, in which Blankfein gave thanks for Goldman's bailout funds, Levin and Blankfein debated whether Goldman deserves its clients trust and whether it is obliged to inform them of any securities that it intends keep the short position on. Levin repeatedly highlighted, word-for-word, an internal Goldman e-mail which labeled a Goldman-backed security a "shitty deal."
Prior to Blankfein's appearance, the committee questioned CFO David Viniar and Chief Risk Officer Craig Broderick. Shahien Nasiripour has been filing updates all day: Sen. Tom Coburn asked Viniar, Goldman's chief financial officer, about the firm's $12.9 billion payout..."It was what they owed us," Viniar replied. Asked why Goldman got full payment on securities guaranteed by a company that had just been bailed out by taxpayers, Viniar said: "I think everybody did from AIG." Was there a negotiation? Coburn, of Oklahoma, asked. "The firm got a term sheet," explaining that it would be paid at full par, in other words 100 cents on the dollar, Viniar said. Coburn asked: So there was no negotiation? "Correct," Viniar said. http://huff.to/cXcODS
TOMORROW: Marcy Kaptur to deliver Goldman petition endorsed by 140,000 people and a letter signed by 64 House members to the Justice Department. Both documents call for a criminal investigation into Goldman Sachs, an initiative sponsored by the Progressive Change Campaign Committee and MoveOn.org.
WYDEN, GRASSLEY INTRODUCE BILL TO RESTRICT ANONYMOUS HOLDS - From the joint, bipartisan release: "The Secret Holds Elimination Act would eliminate a Senator's ability to indefinitely hold legislation in secret by requiring Senators to submit their holds to leadership in writing and to publicly disclose all holds within two days whether or not the bill or nomination has been brought to the floor for consideration. Leadership will only honor holds that they have in writing and that comply with the two day rule."
WELLPOINT WILL END RESCISSIONS A little before 1PM today, we reported that House Dems wanted insurers to end rescissions before the health care law kicks in. Already, WellPoint has agreed to do it. (What that means is anybody's guess. They can still boot people off the rolls for what they deem to be "fraud.") But still.
HOUSE VOTES TO FREEZE ITS WAGES - The House today voted to suspend pay raises for itself. The move comes on the heels of a similar action by the Senate late last week when it passed Russ Feingold's wage freezing measure. The House action cancels a scheduled cost of living raise for the second straight year.
CONGRESS GETS GREEN VENDING MACHINES - Two deliberative bodies known for hot air will be ridding themselves of some gas tomorrow. Steny Hoyer will unveil 35 eco-friendly vending machines that reduce their emission of hydro-fluorocarbons by 95 percent. Head over to 210 Cannon at 9:45 am if you wish to partake.
KAL PENN ASKED MUGGER 'WHAT DO YOU NEED?' - Washington City Paper's Rend Smith: "When a stranger appeared out of the dark and stuck a dark-colored semi-automatic handgun in his face last week, actor-turned-Obama staffer Kal Penn coolly responded, 'What do you need?' To which, the armed mugger replied, 'Everything, turn around & get down on the ground.' That's according to the official police report of the incident, obtained by City Desk." http://bit.ly/dfhGcy
BRETT MICHAELS UPGRADED TO 'STABLE' - Yay! http://bit.ly/cnd3zz
SENATE STICKS IT TO GOLDMAN - Prior to Blankfein's testimony, other high ranking officials from the embattled Wall Street titan appeared before the Senate Permanent Subcommittee on Investigations. Taking the stand were former structured products traders Fabrice Tourre, Josh Birnbaum, Michael Swenson, and former mortgage chief Dan Sparks, all of whom who oversaw the mortgage trades that have placed Goldman at the center of controversy. http://huff.to/cXcODS
The proceedings quickly become confrontational. The committee's early questioning was directed at Fabrice Tourre who is the target of the SEC's fraud case and, despite his name and accent, isn't a gay Bond villain. Tourre denied that he had purposefully misled investors about the prospects of Goldman's mortgage investments. "I deny - categorically - the SEC's allegation and I will defend myself in court against this false claim."
During one memorable exchange, Levin peppered Mr. Sparks with some salty language. The chair cited an internal Goldman e-mail which labeled a company-sponsored deal "shitty." Levin appeared to relish the opportunity to carpet bomb the committee room with the S-word, repeating the swear with increasing bravado. Props to HuffPost's Ben Craw for this totally 'shitty' mashup: http://bit.ly/aoz0FK
Claire McCaskill fired off a couple of zingers herself, telling the panel, "you are the bookie. You are the house. You had less oversight than a pit boss in Las Vegas," and that CDOs amount to a "la-la land of ledger entries. Not investment in business that has a good idea. It's gambling."
CLYBURN SEES HEALTH CARE POLL BUMP FOR DEMS - The House Majority Whip told reporters that his party's sluggish poll numbers will bounce back this August as members pitch health care reform's benefits to their constituents: "'We're going to go out to the American people and let them know exactly what's in the bill,' Rep. James Clyburn (D-S.C.) told reporters after the House Democratic caucus's weekly meeting. 'I think you're going to see a big difference this August than last August,' Clyburn, the Democratic whip, said, referring to the heated town hall meetings that nearly derailed the health care push in 2009." http://bit.ly/bZHXjU
AUTO DEALERS FLY-IN - Today 100 car dealers from across the country descended on the Senate to lobby in favor of Sam Brownback's financial reform amendment that would exempt local dealerships from the Consumer Financial Protection Agency. The dealers say the amendment will help them stay afloat in this economy and, lemme tell you, this amendment is a real beaut. She rides like a dream and has enough room for the wife, the kids and the dog. A steal at half the price. And we at HuffPost Motors are happy to help you finance this baby. Just sign here and check that you've read the terms. There's nothing in there to be worried about.
Asked by HuffPost Hill if he met with the car dealers, Bob Corker joked: "No. I spend all my time with the Wall Street guys." He then repeated that he was really, totally joking.
TONIGHT: Jim Bunning and Byron Dorgan were on Dylan Ratigan talking Wall St. reform. Claire McCaskill and Jon Tester offered some Goldman post-game on Hardball. Luis Gutierrez and Howard Dean talk immigration while Jeff Merkley weighs in on Obama's Midwest tour on Ed Schultz. Olbermann speaks with Raul Grijalva about the Arizona bill and Ted Kaufman about the Goldman hearing. Rachel Maddow has Sherrod Brown for more Goldman insight. John Barrasso, Jan Schakowsky and Dave Camp on Greta. Kay Bailey Hutchison and Maria Cantwell are on CNN's John King, USA.
TOMORROW: Richard Shelby, Susan Collins and Tim Kaine appear on Morning Joe. Chris Dodd on Bill Press's radio show at 7:40AM ET.
FOX NEWS VICTORY LAP - A spokesperson emails, "FNC reached a rare network milestone this month in marking 100 consecutive months as the number one news channel. FNC has been the most-watched news network in total viewership since January 2002 during both Primetime and Total Day news programming, according to Nielsen Media Research."
- If you thought the health care debate was rancorous, check out what happens when the Ukrainian Parliament ratifies a naval base agreement with Russia. http://bit.ly/crj13S
- Helen Thomas is "belligerent." http://bit.ly/dkdo8o
- An upcoming book details Gandhi's sexual curiosities. http://bit.ly/b072pO
- Meet Amanda Moore, the smallest woman ever (3'1") in the U.K. to give birth. http://bit.ly/9uX0E9
- A dog was denied entry to an Australia restaurant because the proprietor thought the K9 was gay. http://bit.ly/cpqGpJ
- Seven reasons why Japan is awesome. http://bit.ly/aiJODg
@anamariecox: goal for today: get #shittydeal trending on Twitter. http://bit.ly/bsGyqj
@jfdulac: Today in weird WaPo newsroom messages: "Does anyone have a top hat I could borrow tomorrow for an hour?" http://bit.ly/drH8tj
@newspolitics: MSNBC's Chris Matthews on Bush Writing Memoir: "Whoa Writing? Actually Putting Words Down?" http://bit.ly/afMOIV
@cbellantoni: Also overheard from man on cell, "Hey it went well! We talked to the Congressman and we didn't get arrested." http://bit.ly/cZbH1Y
Know of a fundraiser, fly-in or an event with free booze? Send us a tip at eliot@huffingtonpost.com or ryan@huffingtonpost.com.
5:00 pm: Get drunk on power AND a nicely decanted Zinfandel at Jim Gerlach (R-Pa.) and Phil Gingrey's (R-Ga.) wine bar fundraiser. [Sonoma Restaurant and Wine Bar, 223 Pennsylvania Ave SE]
5:30 pm - 7:30 pm: If Barossa Merlots don't float your boat, how 'bout some barbecue? Hop over to the National Democratic Club Townhouse for G.K. Butterfield's (D-N.C.) finger lickin' good fundraiser. The event is hosted by, among others, Nicole Venable, the former Chief of Staff to the now incarcerated William J. Jefferson. Expect a bevy of other revolving door types. Fun! [National Democratic Club Townhouse, 40 Ivy Street SE]
5:30 pm - 7:30 pm: A little late to RSVP but why not crash The Distilled Spirits Council's "Celebration of American Spirits?" It will save a walk to Hawk and Dove [Rayburn B339].
5:30 pm - 8:30 pm: Netroots Nation hosts a grassroots fundraiser at Mott House. Kirsten Gillibrand (D-N.Y.), Raul Grijalva (D-Ariz.), Earl Blumenauer (D-Ore.), Jeff Merkley (D-Ore.) and Rep. Brad Miller (D-N.C.) will attend [Mott House, 122 Maryland Ave. NE]. http://bit.ly/csQNkp
6:00 pm - 7:30 pm: Mary Jo Kilroy (D-Ohio) hosts a birthday party for herself. She is joined by Ohio's Democratic Congressional delegation [Cava Restaurant, 527 8th Street SE].
6:00 pm - 8:30 pm: The Nuclear Energy Institute, the AFL-CIO and host of other unions host its "Welcome Back Congress Reception." We're not too sure why Congress needs to be welcomed back but who are we to keep you from compromising your politics for some free drinks? [1100 Longworth]
6:00 pm - 8:30 pm: The Southern Shrimp Alliance, who we like to think operates out of a Den of Shrimp Solitude, hosts their Annual Shrimp Boil at the American Legion Hall [American Legion, 224 D Street SE].
6:30 pm: Some WHCD action for you at Public Bar. The establishment, usually reserved for testosterone cases in graphic tees, yields to ruffled button-downs and worn out loafers as journos gather on the watering hole's roof deck [Public Bar, 1214 18th Street NW].
8:30 am - 9:30 am: Jason Altmire (D-Pa.) passes the hat around at Hank's Oyster Bar. Bob Casey (D-Pa.) will help him with said hat [Hank's Oyster Bar, 400 North Capitol Street NW].
12:30 pm - 1:30 pm: Chow down with former Virginia governor, DNC Chairman and owner of the best hairlift since Paulie D., Tim Kaine. Chairman Kaine discusses the DNC's plans for the November election at a Christian Science Monitor-hosted luncheon [Capital Hilton Hotel, 1001 16th Street NW].
Got something to add? Send tips/quotes/stories/photos/events/fundraisers/job movement/juicy miscellanea to Eliot Nelson (eliot@huffingtonpost.com), Ryan Grim (ryan@huffingtonpost.com) or Nico Pitney (nico@huffingtonpost.com). Follow us on Twitter @HuffPostHill (twitter.com/HuffPostHill). Sign up here: http://huff.to/an2k2e

Popular in the Community