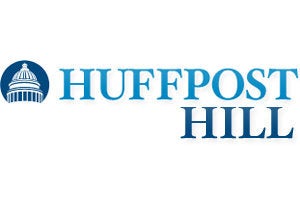 With Washington biding its time until tomorrow's Wall Street vote and next week's unemployment showdown, a hodgepodge of stories filled the echo chamber today. Dick Cheney's dream of crushing the rebellion in one swift stroke has been put on hold due to heart surgery, BP's efforts to save The Situation's beloved beach culture have been delayed and Sue Myrick's ongoing attempts to distinguish Arabs from Mexicans appear futile. If you're driving home today, be on the lookout for Kagans -- we hear they're lousy drivers. This is HUFFPOST HILL for Wednesday, July 14th:
WALL STREET REFORM TO PASS TOMORROW - It's been a little less than two years since major Wall Street banks brought the global financial system to the brink of collapse, triggering a steep economic decline and crisis-levels of unemployment. Now, the last time they did that, they wiped themselves so clean off the map that they had little clout to battle Democrats. The SEC and Glass-Steagall were the result. This time around, Congress bailed them out so they were in good enough shape to lobby against the inevitable reform effort. Still, the bill could've been much worse, and began improving after Goldman Sachs got itself indicted and the debate was held out in the open on the Senate floor. And the most influential (non)senator may well have been the labor-backed Bill Halter, whose primary challenge prodded Blanche Lincoln to slash away at Wall Street. Her derivatives package will cost major banks billions, money that will be redirected into the real economy. Not bad for a $10 million investment.
If the GOP feels like obstructing, it can stave off a vote on final passage until Saturday, but word is they have no plan to do so. The vote should go down around 10:30 a.m.
REID SAYS UNEMPLOYMENT VOTE COMING THIS TUESDAY - Arthur Delaney: "Senate Majority Leader Harry Reid (D-Nev.) said Wednesday that the Senate would vote move forward with reauthorizing unemployment benefits on Tuesday morning, after the replacement for the late Sen. Robert Byrd (D-W.Va.) has been sworn in. Republicans and Nebraska Democrat Ben Nelson have been preventing a final vote on the bill because of its $33 billion cost. Reid said the GOP filibuster, which has prevented more than 2.1 million people from receiving checks, is designed to crater the economy. 'They're betting on failure. They think the worse the economy is come November, the better they're going to do election wise,' said Reid." http://huff.to/bsJIzo
Reid on filling the tree on the small business jobs bill: "This isn't a new method that I dreamed up. Anytime there is an election there is not a leader who is dumb enough to put a bill on the floor that is subject to amendments."
Not black Rep. Steve Cohen is now on Twitter: www.Twitter.com/RepCohen
DAILY DELANEY DOWNER - "Kentucky Republican Sen. Jim Bunning made himself a pariah when he singlehandedly blocked a reauthorization of unemployment benefits back in February, saying 'tough shit' to a Democratic senator's request to help the long-term jobless and complaining that having to stiff the unemployed was causing him to miss a basketball game. The press lambasted Bunning and members of his own party begged him to back off as he jeopardized benefits for thousands of people. Since then, almost the entire Republican party has taken up the retiring senator's argument that deficit reduction is more important than jobless aid..." Arthur Delaney: http://huff.to/d8jp1U
House Dems At White House - The House Democratic leadership team is meeting Obama at the White House, ostensibly to talk legislation, but the heat Pelosi directed at Robert Gibbs last night at the caucus meeting will surely come up. Pelosi, according to CQ, let it rip: "I don't know who this guy is. I've never met him before. And he's saying that we're going to lose the House.'' http://bit.ly/cvyILM
BLANKENSHIP OUT AT CHAMBER? - FDL's Michael Whitney notices that Don Blankenship, head of the now-infamous Massey Energy, is no longer listed as a Chamber of Commerce board member and his bio has been deleted, coming at the same time that the Chamber is table-pounding for less regulation by agencies like, say, the Mine Safety and Health Administration. There's no juicy backstory, though, the Chamber's J.P. Fielder tells HuffPost: He served three consecutive, two-year terms, which Fielder says in the maximum allowed by their bylaws. http://bit.ly/axFF11
Attention reporters this is a ***LOW HANGING FRUIT ALERT***. FEC reports are trickling in!!! Comb away: http://bit.ly/b0nthJ
YOU DON'T SAY: HIGH UNEMPLOYMENT PREVENTING 'MAXIMUM' EMPLOYMENT - Shahein Nasiripour with your daily financial mobius strip: "Members of the Federal Reserve cautioned for the first time in recent memory that the likely high unemployment rate 'over the next several years... would likely be below levels they consider to be consistent with their dual mandate' of pursuing policies that maximize employment, according to Federal Open Market Committee meeting minutes released Wednesday. The Fed is required by law to pursue policies that 'promote effectively the goals of maximum employment, stable prices, and moderate long-term interest rates.'"
DICK CHENEY RECOVERING FROM MAJOR HEART SURGERY - The former Vice President demanded the ship be moved out of the asteroid field so he could send a clear transmission. From his statement: "After a series of recent tests and discussions with my doctors, I decided to take advantage of one of the new technologies available and have a Left Ventricular Assist Device (LVAD) implanted. The LVAD is a small implantable pump that improves heart function and will enable me to resume an active life. Last week I underwent surgery at Inova Fairfax Heart and Vascular Institute and had an LVAD implanted. The operation went very well and I am now recuperating." http://bit.ly/aoSuZM
WHITE HOUSE TO TOUT STIMULUS JOBS - Hotline: "The WH will begin claiming the stimulus package passed last year has created or save about 3M jobs, boasting that the admin's signature piece of economic recovery legislation is working. The stimulus package has raised employment by between 2.5M and 3.6M jobs, according to a new report from the Council of Economic Advisers. The bill raised gross domestic product by between 2.7% and 3.2%, the report estimates." http://bit.ly/a7BvcF
CEA report here: http://bit.ly/9KUl3Y
BP DELAYS CAPPING WELL - WSJ: "BP PLC delayed performing a test on a recently placed sealing cap to see if could completely shut the flow from its runaway well as it continued discussions Wednesday with U.S. government officials on how to move forward. The well integrity test was scheduled for Tuesday but was postponed because officials believed further analysis needed to be done, BP Senior Vice President Kent Wells said during a morning teleconference." http://bit.ly/db9LWb
After the announcement, Ed Markey demanded that BP release information on the integrity of the wellbore and sea floor leaks. Lucia Graves: "Markey first requested the information in a letter sent to BP June 23rd. He still has received no response as to how BP plans to close off the well using the new cap system and the challenges they expect to encounter. The oil giant slighted Markey, telling him he would eventually be given the information he had requested, even though it had already been made available to executive branch staff."
A new Pew poll finds Americans are still closely following the oil spill, even if the press is losing interest. "The Gulf oil leak once again topped both public interest and media coverage last week, though the percent following the story very closely dropped to 43% from 57% the week of July 1-5. Still, 45% say they followed this news more closely than any other major story. Just 13% say they followed the next ranking story - the U.S. government's legal challenge to Arizona's new immigration law - most closely...News about the oil spill accounted for 15% of coverage, more than double the next top story but far below the 44% devoted to the leak the week of June 14." http://bit.ly/c957wt
The Situation is concerned about the oil spill's affect on the GTL way of life. "You know what, obviously the oil spill is definitely going to affect beach culture in America for probably a number of years, I would surmise. It will probably affect a lot of kids, in not a good way," he told New York magazine. http://bit.ly/baBk9u
TOMORROW'S PAPERS TODAY - Roll Call: Jennifer Yachnin reports that 729 days have passed since Rep. Charlie Rangel publicly appealed for an ethics investigation into his own actions. The New York Democrat, who has paid more than $1.5 million to date on legal fees, is still awaiting the outcome. Washington Post: David S Broder says that while the National Commission on Fiscal Responsibility and Reform may be a bad joke in Washington, the nation's governors -- many struggling with recession-bred budget crises -- take it very seriously. -- AND -- David Ignatius contends that the failure to provide economic opportunity to the federally administered tribal areas of Pakistan because of a senseless squabble over trade rules is a classic example of Congress's inept partisanship. The Hill: Walter Alarkon and Kevin Bogardus on how the U.S. Chamber of Commerce has upped the attacks by big business on the White House and congressional Democrats.
MoveOn.org is planning a major push to protect Social Security benefits. In an e-mail blast today, the liberal organization outlined its strategy: "Deep grassroots organizing: We're going to organize MoveOn members in races to make sure those on the wrong side of the economy and Social Security hear about it everywhere they go...Polling: We're planning to poll in critical swing states and districts to show that voters don't support conservative answers on the economy...Ads: We're going to work on a cutting-edge media program to push out the voices of those who are hurting most in this economy so Washington hears from them directly."
Ways and Means holds a hearing tomorrow on the harsh impact of the proposed Social Security cuts on low and middle-income Americans http://bit.ly/9J0gk1
Don't be bashful: Send tips/stories/photos/events/fundraisers/job movement/juicy miscellanea to huffposthill@huffingtonpost.com. Follow us on Twitter - @HuffPostHill
ELENA KAGAN'S NIECE HITS AND RUNS... A REPORTER - Likely propelled by her hatred of military recruiters, Elena Kagan's niece, a staffer for New York state senator and AG candidate Eric Schneiderman, was behind the wheels when she crashed into a car belonging to a NY1 editor. We're just guessing, but Republicans on Senate Judiciary might need another week to think this one over. Salon: "After taping an interview with local news channel NY1, Schneiderman's car rear-ended a parked car on Ninth Avenue, and then drove off. The car he hit belonged to the executive editor of NY1, and he hit it just outside their offices. Estimated damage: $3,000. A bicyclist took down Schneiderman's licence place number. Schneiderman insisted he didn't realize he'd just hit a reporter's parked car. Upon being confronted by the vehicle's owner, he said he had disciplined the staffer driving him. That staffer, his driver, is named Rachel Kagan. She is, yes, the niece of Supreme Court nominee Elena Kagan." http://bit.ly/bnlQ04
A dozen corporate executives pressed the White House and Congressional leadership on Wednesday to move ahead with free-trade deals with South Korea, Colombia and Panama. Roll Call: http://bit.ly/9vKvC5
BECAUSE YOU'VE READ THIS FAR - A collection of pets wearing sunglasses: http://bit.ly/dng7DY
COLORADO GOV CANDIDATE RIPPING PEOPLE OFF LEFT AND RIGHT - GOP gubernatorial candidate Scott McInnis is facing mounting criticism for allegedly plagiarizing works about water in essay submissions for which he was handsomely compensated. The Denver Post is now reporting that both a House floor speech and op-ed penned by the former House member appear to be lifted from a 1994 Washington Post op-ed. "'There is a growing popular belief in South Korea that the North has outmaneuvered Washington and marginalized the South's role,' wrote Richard V. Allen and Daryl M. Plunk in a Washington Post Op-Ed published Nov. 9, 1994. Six weeks later, McInnis wrote in the Rocky Mountain News: 'There is growing South Korean sentiment that North Korea has outmaneuvered Washington and marginalized the South's input into this issue.'" http://bit.ly/anIlsC
Gov. Arnold Schwarzenegger is polling as poorly as Gray Davis did at the time of his recall. AP: "The Field Poll released Wednesday says just 22 percent of voters surveyed approve of Schwarzenegger's performance, while 70 percent disapprove. The ratings are as low as those for then-Gov. Gray Davis shortly before he was recalled from office in 2003. The figure also is the lowest since the Field Poll began its surveys more than 50 years ago." http://huff.to/aPGIku
A new poll indicates Joe Sestak has caught up to Pat Toomey in the race for Arlen Specter's seat. The Quinnipiac survey finds the two tied at 43% apiece. http://bit.ly/bNRgdf
Richard Burr is still ahead in North Carolina, according to SurveyUSA, which finds the senator leading Elaine Marshall 46% to 36%. Libertartian Michael Beitler earns 6% in the survey, released today. http://bit.ly/9hPWhe
Two of society's lowest endeavors, video games and campaign politics, have met in an anti-Meg Whitman Flash gimmick. The California Labor Federation has produced a time waster that allows the player to fire Whitman's employees while being fed attacks on the former eBay CEO's business record. Play it here: http://bit.ly/cIsWyD
North Carolina Rep. Sue Myrick is pretty sure Hezbollah agents are posing as illegal immigrants and crossing the U.S.-Mexico border. On Fox News this morning, she elaborated on her theory: "It really bothers me because here we are with a porous border, not really paying attention to who is coming over, what's happening with Iran and Hugo Chavez and Venezuela. We know that there are people going to Venezuela learning Spanish and then coming up through Mexico with fake documents trying to cross the border. If they're stopped they say, "Well, I'm Mexican or Spanish." Apparently there's also an influx of Spaniards into our fair republic. TPM: http://bit.ly/aujgmX
In one of her last acts on Earth, Charlotte McCourt requested that Nevada choose someone other than Harry Reid to represent the state in Congress . In her Las Vegas Sun obituary, McCourt's children wrote, "We believe that Mom would say she was mortified to have taken a large role in the election of Harry Reid to U.S. Congress. Let the record show Charlotte was displeased with his work. Please, in lieu of flowers, vote for another more worthy candidate." We'll let you know ASAP when Charlotte starts blogging for HuffPost. http://bit.ly/b0MYWh
JEREMY THE INTERN'S WEATHER REPORT - Tonight: Isolated rain showers have been popping up all day. Expect it to continue through late afternoon into early evening with a chance of lightning, and a small chance of heavy rain. Tomorrow: The rain holds off for a day, replaced by high 90s and sun, which should disappoint Twilight fans. Can't please everybody. Thanks, JB!
- Star Wars, in the New York subway. http://bit.ly/ccTXTm
- A women-only frustration venting chamber in China. http://bit.ly/8ZNZqF
- Violent crime is down everywhere in Arizona -- except under Sheriff Joe. http://huff.to/aA3Wvm
- With the World Cup finally over, let's look at the worst soccer flops of all time. http://bit.ly/ahDXYz
- An elephant just stone cold tossing a lizard around. http://bit.ly/d0jpM5
- Classic film scores performed on vuvuzelas. http://bit.ly/cOmomu
- The french fry decision tree. http://bit.ly/alF3zV
- Deficit fear-mongering, college Republican style. http://bit.ly/a1Q1Mw
@danielabrams: Huh? http://bit.ly/9OY2Yn
@andylevy: 'Twilight' series popular with Gitmo detainees. I guess at this point they're desensitized to torture. http://is.gd/ds3Lf
@pourmecoffee: Bristol will explain her decision in greater detail on hour-long ESPN special tonight.
Tom Coburn discussed jobs with Ratigan. Bob Inglis opines on the far right on Hardball. Wolf Blitzer moderates a debate between Roland Martin and Mark Williams, Tea Party spokesman. Alan Grayson and Michele Bachmann's challenger Tarryl Clark visit Schultz. Ed Markey airs his frustrations about BP to Keith Olbermann. Sherrod Brown is on Maddow.
9:00 pm: NoMa Summer Screen airs one of the best films of the last decade, "Eternal Sunshine of the Spotless Mind" [L St NE between 2nd and 3rd Streets NE].
5:00 pm - 7:00 pm: Hey staffers, break up the monotony of your day with the hard-partying broheims at the American Soybean Association [Russell 325].
6:00 pm - 7:30 pm: Busboys and Poets hosts a discussion about progressive blogging. The sanctimony of the venue and subject would be overwhelming but thankfully the panelists are Think Progress's Amanda Terkel and the American Prospect's (and D.C.'s resident eyewear aficionado) Tim Fernholz [Busboys and Poets, 1025 5th Street NW].
5:00 pm - 7:00 pm: Michael McCaul (R-Texas) strikes a populist tone by attending a wine tasting hosted by the Online Lenders Alliance [Online Lenders Alliance (OLA) Townhouse, 330 Maryland Ave NE].
5:30 pm - 7:30 pm: Elton Gallegly (R-Calif.), owner of maybe the worst congressional website, gets down at his "Fiesta" fundraiser at a lobbying firm [The Dutko Group, 412 First Street SE Suite 100].
5:30 pm - 7:00 pm: Who needs a new air conditioner when you can fork over $1,000 to Dan Boren (D-Okla.)? [The Williams & Jensen Townhouse, 324 Independence Ave SE].
6:30 pm: Suzanne Kosmas (D-Fla.) hosts a "Financial Services Dinner" [Belga Cafe, 514 8th Street SE].
5:00 pm - 7:00 pm: Ever the friend of the drilling industry, Rodney Alexander (R-La.) hosts his "Third Annual Catfish and Cocktails Reception." How nice of him to support the industry he helped totally screw [UPS Townhouse, 421 New Jersey Ave SE].
5:30 pm - 7:00 pm: Enjoying the perks of chairing the Ways and Means committee, Sander Levin attends a fundraiser in his honor [The Williams & Jensen Townhouse, 324 Independence Ave SE].
6:00 pm - 9:00 pm: Some people spend their birthdays at home with their families, others at bars with friends. Tom Latham (R-Iowa) is celebrating his 62nd year on this earth by raising funds for his congressional reelection campaign aboard a boat (priorities!). Denny Rehberg (R-Mont.), Mike Simpson (R-Idaho) and Jerry Lewis (R-Calif.) are scheduled to appear [The "Celebrity," 1300 Maine Ave SW].
Got something to add? Send tips/quotes/stories/photos/events/fundraisers/job movement/juicy miscellanea to Eliot Nelson (eliot@huffingtonpost.com), Ryan Grim (ryan@huffingtonpost.com) or Nico Pitney (nico@huffingtonpost.com). Follow us on Twitter @HuffPostHill (twitter.com/HuffPostHill). Sign up here: http://huff.to/an2k2e

Popular in the Community