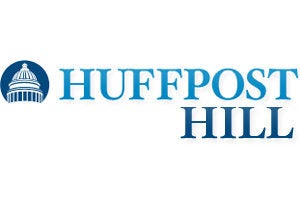 As America grappled with the sobering realization that professional athletes like to win and make money, political journalists wrung every last drop of meaning from LeBron James' decision to jettison himself from Cleveland. Back in politicsland, a range of stories, both silly and serious, brought this lazy recess to a close. We'll be back on Monday, with a response to the Pentagon's (totally serious) query about our showering-with-gays attitudes. This is HUFFPOST HILL for Friday, July 9th, 2010:
GOV'T SAYS OIL SPILL COULD BE CONTAINED THIS WEEKEND - Might this spell the end of our relentless "The Gulf increasingly resembles X" quips (today's edition: a bowl of Cocoa Puffs left out in the sun)? For the sake of the Gulf -- and our editors -- we hope so. AP: "The federal official leading the Gulf oil spill cleanup said Friday a new containment cap and an additional ship collecting oil could effectively contain the spill in the next three days The work to replace a leaky containment cap on the well head with a tighter one will begin Saturday, National Incident Commander Thad Allen said. At the same time, a ship connecting to a different part of the leak is expected to come online Sunday. Oil will flow unimpeded into the Gulf during the cap switch for at least part of the weekend. If all goes according to plan, the combination of the cap and the new vessel could collect all the leaking oil by Monday, stopping it from escaping into the Gulf of Mexico for the first time since April 20." http://bit.ly/br4meD
FDIC CHAIR DOESN'T ANTICIPATE A DOUBLE DIP RECESSION - An excerpt from Al Hunt's interview with Shelia Blair, set to air tonight at 7 on Bloomberg: "Our economists, you know, the recovery is slow and sluggish, but it is recovering and we don't see double dipped - a dip recession at this point," Blair told Hunt. "Our economists are unanimous on that point, and so our projections are pretty much staying the way they are. So we think the figures will peak this year. They'll still be elevated next year, but significantly lower than they were this year."
Bair backs ELIZABETH WARREN for consumer agency. In the same interview, Bair says that Elizabeth Warren, the Harvard professor who dreamed up the consumer financial protection bureau that is near to becoming law, would make a good first chairwoman. "It's not my call, but I think she certainly has all the qualifications and credentials for that job," Bair said.
WHITE CASTLE, IHOP FANS PANICKING - RedState lit up today, worried that "Obamacare, filled with stealth Nanny State penalties and taxes aimed at further controlling your life, is now threatening the yummy eats found at White Castle and IHOP, among others...The financial hit will make it hard for [White Castle] to maintain its 421 restaurants, let alone create new jobs, says company spokesman Jamie Richardson. " Relax, RedState. Restaurant lobbyists have been running this line for months, but they're working it out. From Robert Pear back in May: "Michael C. Gibbons, chairman of the National Restaurant Association, said, 'The cost of health care reform will be devastating to our industry.' At the same time, he said Friday that the association was working with the UnitedHealth Group to devise affordable health plans for restaurant workers." http://nyti.ms/bICPme
TOMORROW'S PAPERS TODAY - Washignton Post: E.J. Dionne Jr. notes that the classic formulation holds that the Democrats can either move left to excite their base, or move to the center to win back independents. But this approach to the problem is too static, he says. It ignores the fact that many voters respond to facts as they see them or to a party's performance.
Don't be bashful: Send tips/stories/photos/events/fundraisers/job movement/juicy miscellanea to huffposthill@huffingtonpost.com. Follow us on Twitter - @HuffPostHill
DAILY DELANEY DOWNER - Today is Day 38 of the unemployment extension debacle. Harry Reid said after the last failed Senate vote that once Robert Byrd's replacement is all set, they'll have another vote. Here's the latest from Arthur Delaney: "West Virginia governor Joe Manchin (D) said on MSNBC Friday morning that he needs guidance from the state legislature about when to make an appointment to Byrd's seat and when to hold a special election.... If Manchin names an appointee on Monday morning, it's possible the Senate could approve the House-passed unemployment reauthorization and send it to the president as soon as Friday. When the bill becomes law, people who missed checks will be paid retroactively." http://huff.to/9aiBxX
strong>WEST VIRGINIA GOV. SAYS HE "HIGHLY LIKELY" TO RUN FOR BYRD'S SEAT - AP: "His comments to The Associated Press at the National Governors Association meeting come a day after West Virginia's top lawyer cleared the way for the governor to declare a special election this fall to fill what remains of Byrd's term. Manchin sought the legal opinion after joining a growing push to hold a vote earlier than 2012, when Byrd would have faced re-election. http://bit.ly/9F5G9T
@daveweigel Attn, WV-Sen reporters: I have copyrighted the headline "Manchin on the Hill." http://bit.ly/cIkHHj
OUTGOING GOP CONGRESSMAN FREE TO CALL HIS PARTY CRAZY -Bob Inglis, who lost his renomination for a 7th term, is now trashing his party's fringe. AP: "While not naming names, 12-year incumbent Rep. Bob Inglis suggested in interviews with The Associated Press that tea party favorites such as former vice presidential nominee Sarah Palin and right-wing talk show hosts like Glenn Beck are the culprits. He cited a claim made famous by Palin that the Democratic health care bill would create 'death panels' to decide whether elderly or sick people should get care. 'There were no death panels in the bill ... and to encourage that kind of fear is just the lowest form of political leadership. It's not leadership. It's demagoguery,' said Inglis, one of three Republican incumbents who have lost their seats in Congress to primary and state party convention challengers this year." http://yhoo.it/cNUCuo
Speaking of encouraging fear, here's an interesting bit from a Greeneville News item on Inglis during his renomination campaign: "Inglis said he was happy to have support in the Bob Jones community," the paper reporter after he received the endorsement of Bob Jones III. http://bit.ly/9gwz1A
RUTH MARCUS, BERWICK AND HER HUSBAND - Ruth Marcus finds Obama's recess appointment of Donald Berwick to be "boneheaded," "outrageous," "cynic[al]" and an abuse of the system. Commenters and bloggers jumped all over her: Her husband, Jon Leibowitz, was recess-appointed by Bush to the FTC. Because it's Friday, and because HuffPost Hill goes that extra mile (!), we called Marcus to see how she squared this one. It boiled down to her husband (a Democrat) being a different case because he had a hearing and wasn't controversial. "I don't believe that every recess appointment is outrageous...The process may well be broken, but the process hadn't been proven to be broken in [Berwick's] case...I don't think the fact that my husband had a recess appointment on this makes me a hypocrite." Obama used the recess appointment to avoid renewing the debate on death panels. Given that, can an appointment like this be both cynical and the right move at the same time? "I'm not sure I'm capable of answering the fundamental, metaphysical question. I think in this case it was a bad move," said Marcus. Leibowitz is now chairman of the FTC.
OBAMA PROMOTES CLEAN ENERGY TAX CUTS IN NEVADA - From the Las Vegas Sun: "Obama called on Congress to expand a tax credit program for advanced clean energy manufacturing jobs. Eligible would be solar projects that Reid has been promoting heavily in Nevada as a way to capitalize on the state's scorching climate and cut down on pollution from coal...Obama also used the Friday speech to promote Reid's re-election efforts, saying the majority leader is fighting on behalf of 'not those who are powerful,' but for the middle class and Nevadans in need. He said Reid helped to stop the economic free fall brought on by a 'decade of misguided policies.'" http://bit.ly/dowVmt
Despite running even with someone who wants to give BP a big ol' hug and thinks rape victims are way too glass-half-empty, Harry Reid has the strong backing of the president. Sam Stein: "But as one top-operative in the party put it, 'he's the goddamn leader."'And, if nothing else, the party protects its leaders. The attitude has ebbed little even after Tea Party favorite Sharron Angle -- the candidate least formidable of those Reid could have faced -- scored an unexpected primary win. Reid is expected to announce a 'monster' fundraising quarter and has 'a largely self-sufficient campaign,' the operative said. But the Obama administration's political team or the Democratic Senatorial Campaign Committee haven't moved him down the priority list." http://huff.to/akbIpk
The president will travel to Michigan on Thursday for the groundbreaking of a factory that produces electric car batteries. http://bit.ly/d5JjlH
YOUR LATEST NON-LOBBYING LOBBYIST FORMER SENATOR - Former Republican Sen. John Sununu (R-N.H.) has pulled a Daschle and joined Akin Gump as -- wait for it -- a "senior adviser." From the Akin Gump press release: "Mr. Sununu will advise clients on a wide range of public policy, strategic and regulatory issues."
THE PENTAGON IS CURIOUS ABOUT YOUR STEAMY GAY SHOWER SECRETS - ABC: "'If Don't Ask, Don't Tell is repealed and you are assigned to bathroom facilities with an open bay shower that someone you believe to be a gay or lesbian Service member also used, which are you most likely to do? Mark 1.'
So asks the Pentagon survey of 400,000 non-deployed active troops regarding the pending repeal of the 'Don't Ask/Don't Tell' ban on gays and lesbians serving openly in the military. The choices: 'Take no action;' 'Use the shower at a different time than the Service member I thought to be gay or lesbian;' 'Discuss how we expect each other to behave and conduct ourselves;' 'Talk to a chaplain, mentor, or leader about how to handle the situation;' 'Talk to a leader to see if I had other options;' 'Something else;' 'Don't know.'" http://bit.ly/9MHAXZ
SFW, we guess: Entire survey available here: http://bit.ly/bOyyKi
WILL LEBRON JAMES UPEND THE POLITICAL SYSTEM AS WE KNOW IT? - Of course not! Still, that won't stop political observers from serving up a fresh batch of click bate. Marc Ambinder derives 8 political lessons from James' decision. http://bit.ly/9TKoFW MoJo's Nick Baumann thinks Ohio gubernatorial candidate candidate John Kasich will benefit. http://bit.ly/bqWSct But today's WINNER is, without a doubt, Joshua Green's "How LeBron's Move Helps the Tea Party." Dude posted this nugget ONE HOUR after James' announcement. http://bit.ly/bncQTr
THE ONLY WORLD CUP PREVIEW YOU'LL EVER NEED - Paul the Octopus says it's Spain: http://bit.ly/c8j4lo
NEW YORK TIMES ABSOLUTELY LOVING THIS WIKILEAKS STORY - An excerpt from the Gray Lady's piece on how a soldier accused of downloading state secrets from DOD computers allegedly pulled it off: "He was able to avoid detection not because he kept a poker face, they said, but apparently because he hummed and lip-synched to Lady Gaga songs to make it appear that he was using the classified computer's CD player to listen to music." HAR HAR HAR! http://nyti.ms/c29x5p
BECAUSE YOU'VE READ THIS FAR - Here's a marmot eating a biscuit: http://bit.ly/bszAjk
BECAUSE YOU'VE READ THIS FAR ON A RECESS FRIDAY - Here's a dog in a scuba outfit. http://bit.ly/an91nS
BECAUSE....WHY NOT? - Here's a seagull that thinks it's a cat: http://bit.ly/cZbQbV
MOVE OVER ALVIN GREENE, THERE'S ANOTHER UPSTART WEIRDO COMING AMERICA'S WAY - Everybody, meet Kesha Rogers, a LaRouchie who somehow won the Democratic nomination for Tom DeLay's former seat in Texas. Suzy Khimm in MoJo: "Raising a very modest $16,000 in campaign funds, mostly in individual donations, she has hired a truck to cruise through her district draped with a huge yellow banner bearing her campaign slogan: 'Save NASA, Impeach Obama!'" Other campaign positions include "colonizing Mars, impeaching President Obama, and freeing America from the clutches of the British Empire." http://bit.ly/an91nS
RNC STILL LOOKING FOR ITS BONDAGE MONEY - Jonathan Strong, via Jason Linkins, checks up on RNC spokesman Doug Heye's pledge to recover the money spent at the club at the center of Bondagegate: "But, months later, there's no evidence in Federal Election Commission filings that that has happened. According to FEC reports, the California political operative who initially incurred the nightclub expense on behalf of the RNC, Erik Brown, did not send money to the RNC. Neither did an RNC employee, Allison Meyers, who took young donors to the club, which features topless women dancers imitating lesbian sex acts. Heye, who initially made the vow that the RNC would be reimbursed to Fox News, CNN and several other news organizations, declined to talk about it. Neither would Brown." http://huff.to/bx9NcV
JEREMY THE INTERN'S WEATHER REPORT - Prepare for a washout weekend. Tonight: What worries me isn't the cold front moving in from the west; I believe it's moving too slow to hit us until the overnight hours. There's a significant amount of heavy rain in front of the front, so keep that in mind. No, what's bothering me is the low pressure system that's off North Carolina. It's beginning to rotate, which means that since we're north of it, we may see storm cells being pulled from the Atlantic Ocean in the east. That low is a recent development. Saturday: The front will be coming through all day. Rain and thunderstorms. It won't be too fun. Sunday: The silver lining, so to speak. It will be much cooler, and much less humid. Expect it to continue through Monday. Thanks, JB!
- You know that evil bull lady from True Blood who commands everyone to party all day long? We're guessing this is the real-life inspiration: http://bit.ly/dcY2fm
- The least appropriate article of clothing...ever. http://bit.ly/cJY7WD
- Only the best for our readers: a dog humping a stuffed animal until it passes out. http://bit.ly/b3GTk6
- The 20 funniest personal ads of all time. http://bit.ly/cZSii2
- The worst fast food commercials. http://bit.ly/c89e5Q
- The candwich, the sandwich in a can. http://bit.ly/bdHvRA
- Emo cowboys, a five-second film. http://bit.ly/cHk1Sr
@rolandsmartin: And again folks, I initially used the slavery reference dealing with LeBron as being applicable to anyone of any race. So expand your view.
@jimgeraghty: Silly LeBron. Cleveland's climate will look a lot nicer than Miami's once global warming really kicks in.
@dartanion: Finally the world can go back to wondering who is going to sign Takeru Kobayashi, the LeBron of Competitive Eating.
@mattyglesias: Nice to see liberal MSNBC airing the Chamber of Commerce's views live from a millionaires party in Aspen.
BONUS - A Firedoglake commenter FTW: "You know, I can't help but like that Pete Stark. He's like a crazy old man in a Steven King novel who turns out to be a force for good or something."
TONIGHT: Florida state Rep. Mike Weinstein and his son Scott Leigh talked about their crazy new campaign ad on Ratigan (guest host: Michael Smerconish) . California gubernatorial candidate Jerry Brown makes his case on Hardball. Ditto Andrew Romanoff on Ed Schultz. FDIC Chair Sheila Blair is on Political Capital with Al Hunt. Bill Richardson discusses immigration on Olbermann. Joe Biden is on the Tonight Show. TOMORROW: Barney Frank and Ron Paul are on Situation Room.
Meet the Press: Robert Gibbs.
This Week: David Axelrod, Luis Gutierrez and Brian Bilbray.
Face the Nation: Eric Holder.
Fox News Sunday: Benjamin Netanyahu.
State of the Union: David Axelrod, Bill Richardson, Trent Franks and Kenneth Feinberg.
5:00 pm - 8:30 pm: Jazz in the Garden and all the accompanying beautiful people [Sculpture Garden, 700 Constitution Avenue NW].
7:00 pm: DC Desi Summer hosts a South Asian comedy night featuring Hari Kondabolu and Aparna Nancherla [Ballroom (second floor), 1628 16th Street, NW].
8:40 pm - 10:30 pm: The I Love The 90s Rosslyn Outdoor Film Festival gets about as 90s-y as possible with "Home Alone" [Gateway Park, 1300 Lee Highway].
9:00 pm: 9:30 Club takes a break from concerts for a dance night featuring DJ LIL'E for its "Lady Gaga vs. Madonna vs. M.I.A." [9:30 Club, 815 V Street NW].
11:00 am - 4:00 pm: Free Summer Saturdays at the Corcoran Gallery of Art. Temporary exhibits include Helios: Eadweard Muybridge in a Time of Change and Chuck Close Prints: Process and Collaboration [Corcoran, 500 17th Street NW].
4:00 pm: The Capital Fringe Festival puts on the "The Showcase Showdown," a "storytelling game show" [US Navy Memorial, 701 Pennsylvania Ave NW].
6:00 pm: "Nerd Nite" at DC9, an event tailored to Washington's silent, mouth-breathing majority, features a series of fun facts, music and drinks [DC9, 1940 9th Street NW].
6:00 pm - 8:00 pm: Opening reception for "ACADEMY 2010: Decade" at Conner Contemporary Art featuring work by MFA/BFA students in the Washington/Baltimore area [Connor Contemporary Art, 1358-60 Florida Ave, NE].
1:00 pm: World Cup madness -- the Beacon Hotel hosts a rooftop screening of the tournament's final between the Netherlands and Spain. Food, drinks, music and an afterparty. They say it's free...we think there's a catch somewhere [Beacon Hotel Rooftop, 1615 Rhode Island Ave NW].
6:30 - 8:00 pm: The Cary Grant Film Series gets underway with "An Affair to Remember" [National Theatre, 1321 Pennsylvania Ave NW].
8:30 pm: ****SCREEN ON THE GREEN IS BACK!!!!!**** For its 2010 maiden voyage, SOTG will be airing "Goldfinger." Get your dancing shoes on for the HBO intro [The Mall].
Got something to add? Send tips/quotes/stories/photos/events/fundraisers/job movement/juicy miscellanea to Eliot Nelson (eliot@huffingtonpost.com), Ryan Grim (ryan@huffingtonpost.com) or Nico Pitney (nico@huffingtonpost.com). Follow us on Twitter @HuffPostHill (twitter.com/HuffPostHill). Sign up here: http://huff.to/an2k2e
Popular in the Community