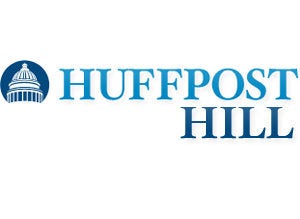 On Elena Kagan's first day of direct questioning, the Senate Judiciary Committee quizzed her on everything from national security and gun control to Bush v. Gore and what Jews eat on Christmas (the answer hasn't changed: Chinese food). In the House, the Democrats held a show vote on unemployment extensions to demonstrate how badly the GOP wants you to die in a gutter somewhere and Barney Frank politely explained how to curse someone out in Southern Italy. Happy Tuesday, everyone. If you need us, we'll be striking a pose for Al Franken. This is HUFFPOST HILL for Tuesday, June 29th, 2010:
BANKS GRAB LAST FEW DOLLARS IN BAILOUT FUND - Wall Street managed to squeeze the very last drop of TARP money from the bailout fund today, fittingly using the eleventh hour - or make that the 13th hour - of Wall Street reform to do it. Don a mask so you don't suffocate in this belching cloud of irony, but here's how they did it: the final bill included a $19 billion fee paid for by major banks and hedge funds, collected over the next several years, that would be used to wind down failing firms. Republicans Scott Brown, who was elected with piles of Wall Street cash, said today he wouldn't vote for the bill with the "tax" in it. So Democrats took it out and paid for more than half of it by ending TARP early, which leads to a budgetary savings of $11 billion. Technically, the banks aren't handed that money. But the move allows Wall Street to avoid paying the $19 billion fee. And now that it's gone, the savings can't go to offset unemployment extensions, COBRA subsidies or even Our Holy Mother of Deficit Reduction.
Dems re-open conference negotiations. The Wall Street reform conference committee sheepishly re-opened proceedings this afternoon, five days after gaveling to a close the historic proceedings. The extra innings were made necessary when Sen. Scott Brown (R-Mass.) announced that he'd be voting no, even after securing a loophole in the legislation for home state financial institutions. Sen. Russ Feingold (D-Wisc.) also made it necessary by promising to vote to filibuster the bill along with the GOP. Brown had objected to the bank fees, which would be used to wind down failing banks. "I'm disappointed in Senator Feingold...Maybe he will be happy now that there's no fee for Citicorp or hedge fund fee, because that's what he helped accomplish," Barney Frank said. "I'm puzzled that my Republican friends want to come to the rescue of large financial institutions over $50 billion, hedge funds over $10 billion, John Paulson, and Citicorp. I was puzzled." The meeting continues as we go to press.
There was some talk that Gulf State Republicans may be willing to support Wall Street reform if the White House steers a $40 billion tanker contract toward Alabama. A reporter noted to Frank that Richard Shelby may be willing to deal because he's a "Southern Republican Democrat." Frank responded, "I understand. Well, I'm going to give him a Southern Italian answer," offering a gesture commonly associated with Antonin Scalia. A reporter asked Frank what that meant. "F**k you," Frank explained.
BOEHNER STEPS IN IT, WHITE HOUSE RUBS IT IN - The GOP Leader is catching flack today for saying he is willing to raise the retirement age to 70 to pay for the wars in Iraq and Afghanistan during an interview with the Pittsburgh Tribune-Review. Boehner also compared the Wall Street bill to "killing an ant with a nuclear weapon." http://huff.to/clIEVE Robert Gibbs piled on, calling Boehner "completely out of touch with America."
Republicans are responding by circulating a recent Steny Hoyer speech in which he proposed considering a higher retirement age. A Dem aide pushes back: "To his credit, Hoyer did say that money should be used to secure the Social Security trust fund, not pay for wars."
KAGAN ANSWERS QUESTIONS ON DAY TWO OF CONFIRMATION - With their opening statements out of the way, huntin' season was ON as the Senate Judiciary Committee grilled Supreme Court nominee Elena Kagan on her qualifications, career and judicial outlook. Things got testy early when ranking member Jeff Sessions prodded Kagan about her handling of military recruitment while Dean of Harvard Law. "I'm just a little taken aback by the tone of your remarks because it is unconnected to reality," Sessions replied to Kagan's assertion that military recruiters had full access to Harvard Law's student body. http://huff.to/a8ako1
Kagan denied that she views herself as a progressive, instead telling the panel, "I'm not quite sure how I would characterize my politics," she replied. "But one thing I do know is that my politics would be, must be, have to be, completely separate from my judgment."
On Bush v. Gore: "...the question of when the court should get involved in election contests and disputed elections is, I think, one of some magnitude that might well come before the court again."
On guns and District of Columbia v. Heller: "I do think that Heller is the law going forward," she said. "I have not had, myself, the occasion to delve into the history that the courts dealt with in Heller. But I have absolutely no reason to think that the court's analysis was incorrect in any way. I accept the court's analysis and will apply it going forward.
On her Christmas-day plans: "Like all Jews, I was probably at a Chinese restaurant."
During the proceedings, an AP photographer caught Al Franken drawing an AMAZING sketch of Jeff Sessions. We give it 45 minutes until the obligatory video mashup of Franken, Sessions and the drawing scene from "Titantic" surfaces. http://huff.to/coj9La
@Todd_Zwillich: "Goody" Marshall, son of Thurgood. #scotus http://tweetphoto.com/29829883
HIGHLIGHTS FROM ELIZABETH EDWARDS' INTERVIEW WITH MATT LAUER - Set to air tomorrow morning on "Today." On Reille Hunter: "I still think this person is so completely unlike me that it's hard to imagine the same person could marry me and be attracted to that-- to that woman, as well." On John Edwards: "I think that-- that he changed over time. And-- and it could not be more clear to me then. You know, I think it was sort of hard for me to see it or admit it for a very long time. But he changed. Maybe we all change over time. And-- and he's no longer the person who I married." On being told that John Edwards' affair with Reille Hunter was a one night stand: "It was. I-- I thought that throughout the campaign. I thought that for much longer than most people would have thought reasonable. But I believed it."
More Edwards muck coming: Gabriel Sherman will soon be publishing an expose on "John Edwards's world in North Carolina" in The New Republic.
PETRAEUS GIVES LUKEWARM ENDORSEMENT OF AFGHAN PULLOUT - The nominee to replace Stanley McChrystal as the top military commander in Afghanistan told the Senate Armed Services Committee that despite President Obama's plan for a July 2011 start point for withdrawal from Afghanistan, the United States' involvement in that country will likely persist. The July 2011 deadline "is the beginning of a process, not the date when the U.S. heads for the exits," Petraeus said. He is expected to travel to Brussels on Wednesday to be confirmed by NATO, after which he will travel to Afghanistan by Friday. http://huff.to/aEEzuc
TOMORROW'S PAPER TODAY - Paul Singer of ROLL CALL finds that members of Congress routinely fail to report millions of dollars spent on foreign trips and that the $19.4 million spent on Congressional travel abroad in 2008 is triple the amount spent in 2001.
OBAMA HUDDLES WITH LAWMAKERS TO DISCUSS ENERGY REFORM - The president today met with a bipartisan group of lawmakers in an attempt to reach a consensus on comprehensive energy legislation, looking to find a scaled-back package that would nevertheless put a price on carbon somehow.
John Kerry after the meeting: "We believe we have compromised significantly, and we're prepared to compromise further."
Friends of the Earth's president Erich Pica: "Capitulate, then compromise is not a strategy that will produce a real climate bill."
TESTY EXCHANGE AT WHITE HOUSE ENERGY MEETING - Sen. Lamar Alexander told President Obama that he should be focusing on the oil spill. A GOP leadership aide tells us that Obama shot back that the meeting was about the energy bill and not the oil spill. A White House aide said the president interrupted to note that the cleanup effort had been a bipartisan affair. "The irony here, of course, is that he did cut off Senator Alexander," said the aide, but Obama told him he was doing so "so you don't just use this as a talking point in the press later."
OBAMA 'ETHICS CZAR' OFF TO PRAGUE - WILL HE BE REPLACED? - President Obama yesterday nominated his "ethics czar" Norm Eisen to be ambassador to the Czech Republic, but the White House won't say whether it plans to replace him, HuffPost's Arthur Delaney reports. "Watchdog groups praised Eisen in statements, but some worry that he will not be replaced. The White House official said only that 'We will continue working for real change in 2010 and beyond to make government truly accessible and accountable to all Americans,' and that 'This will continue to be an important part of the President's agenda and the White House Counsel's Office portfolio.'"
JOBLESS AID SUMMER BUMMER CONTINUES - The House rejected a standalone bill to reauthorize extended unemployment benefits in 261-155 "suspension" vote. Sandy Levin vowed to bring the measure back on Wednesday, and Jim Manley said the Senate Majority Leader is shuttling back and forth between his own party and potential GOP crossovers to win support for a standalone bill in the Senate. Levin lamented the way the issue is covered: "The problem I have and you have is there's no place you can go to talk to the unemployed. They get their checks through the Internet -- the money's sent to them. So it's hard to put a human face on this, but there are 1.7 million human faces, plus their families, so we're determined to find a way to humanize this." That is, nearly 1.7 million faces will have missed out on checks by Friday. From Arthur Delaney: http://huff.to/aQ57uA
The president will deliver a major address on immigration reform on Thursday. The remarks, delivered at the American University School of International Service, comes on the heels of Obama's meeting with Hispanic and Union leaders Monday night. Sam Stein: "According to an official briefed on that meeting, the president talked through various concerns about the current failures of immigration law, as well as the focal points for implementing a new set of reforms. Obama talked about building off of the legislative framework put out by Sens. Chuck Schumer (D-N.Y.) and Lindsey Graham (R-S.C.). And he alerted attendees that the Justice Department's lawsuit against the Arizona legislation is coming shortly." http://huff.to/dbrfMO
@GlennThrush: Obamas apparently not watching kagan hearings either sez gibbs -- first kagan q 34 minutes into brfing
The First Lady will address the NAACP's 101st annual convention on July 12th. There, she will discuss matters relating to childhood obesity and her Let's Move! campaign which seeks to educate children about healthy living.
Don't be bashful: Send tips/stories/photos/events/fundraisers/job movement/juicy miscellanea to huffposthill@huffingtonpost.com
A petition calling for the repeal of health care reform garnered only a few signatures. Lucia Graves: "Although scores of lawmakers have vowed to repeal health-care legislation, only a handful of House Republicans actually signed the discharge petition calling for such a repeal. The petition, introduced by Rep. Steve King (R-Iowa) on June 16th, must be signed by 218 members of Congress if it's to force Pelosi to put the matter up for a vote. So far it has garnered only 30 Republican signatures." http://huff.to/bv5HCG
BECAUSE YOU'VE READ THIS FAR - Here's a dog in an iPhone costume: http://bit.ly/dhqp8k
MARK KIRK APOLOGIES FOR EMBELLISHING MILITARY RECORD - The Republican candidate for Barack Obama's Senate seat today discussed his misrepresentation of his military record. "I have made mistakes concerning certain aspects of my accomplishments and experience and I apologize for those mistakes and I pledge to correct those errors," he told reporters. http://bit.ly/aGCrsN
CLINTON ENDORSES ROMANOFF IN COLO. RACE, DEFYING OBAMA - Despite the White House's desire to avoid contentious primary battles, the former president today threw his support behind former Speaker of the Colorado State House Andrew Romanoff in his quest to unseat incumbent Michael Bennet. AP: "Clinton, who met Romanoff in 1992 when he was a student at Harvard, alluded to Romanoff's career in the Colorado legislature to argue that he gives the party '[its] best chance to hold this seat in November.'" http://huff.to/dfhhki
DNC GOES "MACACA" HUNTING WITH NEW WEBSITE - The site, www.acountabilityproject.com solicits embarrassing videos and photographs of GOP candidates from its readers... it's a shame there's not a website where those are readily available. Ah, but wait! "Unlike YouTube where you can only upload video, ... users can download high quality videos from the site for clipping and using for their own projects (web videos, ads, etc)," a DNC operative told Pappa Bear Mike "Boo Radley" Allen. http://politi.co/9ltNa2
Who needs health care reform when God is your OB/GYN? Sharron Angle, appearing on the conservative Bill Manders talk show, voiced her opposition to abortion even in cases of rape and incest. When Manders asked Angle about terminating pregnancies in such instances, Nevada's GOP Senate candidate replied "I believe that God has a plan and a purpose for each one of our lives and that he can intercede in all kinds of situations and we need to have a little faith in many things." Does God accept Blue Cross Blue Shield? Sam Stein: http://huff.to/94XFQp
In California, the GOP still can't attract A-list Hollywood support. As if the party of Mitt "Who Let the Dogs Out" Romney (seen here: http://bit.ly/15Cwz2) didn't have enough difficulty with the entertainment industry, an article from the Wrap details the disparity in high-profile contributions in the California gubernatorial contest between former Gov. Jerry Brown and ex-eBay chief Meg Whitman. http://bit.ly/a53s13
Mysterious South Carolina Senate Candidate Alvin Greene (D-Oz) has a website!. His issues section is 27 words long and his biography is only two sentences. Hipsters will appreciate Greens' revival of the Geocities look and we appreciate how it makes our site look orderly. Greene has not responded to request for an interview sent to the campaign e-mail listed on the site. http://bit.ly/aE1S4T
Daily Kos is suing its former pollster, Research 2000, insisting that the Maryland-based firm fabricated some of the surveys it provided to the left-leaning blog. Hotline On Call with the summary: http://bit.ly/9WYvQ7
Andrew Breitbart is offering up $100,000 to any Journolist member who provides him the listserv's archived content. "Ezra Klein's 'JournoList 400' is the epitome of progressive and liberal collusion that conservatives, Tea Partiers, moderates and many independents have long suspected and feared exists at the heart of contemporary American political journalism," Breitbart wrote on his website. We're pretty sure most of the members would also accept a lifetime supply of bacne cream or a 12-pack of Leinenkugel Sunset Wheat. http://bit.ly/cOm91x
JEREMY THE INTERN'S WEATHER REPORT - Tonight: Really really nice. Skies will clear, the moon will be out. It'll be in the upper 60s/low 70s. A crisp bite in the air for those who are fans of it. Tomorrow: It's going to be great for the rest of the week, really. Highs will be in the upper 80s, and low humidity. No more sweating buckets on the walk to work. Rejoice! Thanks, JB!
I also need to apologize to my father. I was wrong to wear a color T-shirt with a see-through white shirt in the photo yesterday. I didn't realize I'd have a photo taken; but that's no excuse. It won't happen again (I hope). Blessed are the merciful, JB!
- Yet one more reason why dogs are better than cats: Cats make horrible Lassies. http://huff.to/dr8W3j
- The world's most Photoshopped dog. Doggie body image problems to follow? http://bit.ly/apd8Bi
- A shopping mall was closed during the G20 protests. This guy was not pleased whatsoever. http://bit.ly/cFzohe
- Now you too can be Macho Man Randy Savage. http://bit.ly/bHCtTY
- A collection of mysterious Google Street View sightings. http://huff.to/bNt2UR
- Germany's soccer coach couldn't wait for a snack so he picked his nose. True story. http://bit.ly/99YsFu
- Beep beep: A flying car was given the green light by the FAA. http://bit.ly/9EhOF8
@ArthurDelaneyHP: this whole Journolist saga is so remarkably similar to the plot of Mean Girls http://bit.ly/d6Kna7
@johnmcquaid: Alternatively, Breitbart could threaten to kill citizens of Gotham City every day until the Journolist archives are revealed. http://bit.ly/9AWaGm
@KagroX: Why do I say Sharron Angle is a crazy, cat-throwing nutbar? It's God's plan, that's why. http://bit.ly/cvfNX6
@mattklewis: Massage therapist: Al Gore used Pink song "Dear Mr. President" for foreplay. http://bit.ly/cJVsd6
TONIGHT: Nita Lowey discussed Afghanistan with Ratigan. Claire McCaskill , Arlen Specter and Sherrod Brown paid a televised visit to Chris Matthews. Amy Klobuchar and Luis Gutierrez speak with Chris Hayes, who is filling in for Schultz. TOMORROW: Jeff Sessions is on Morning Joe and Daily Rundown welcomes Orrin Hatch.

ON TAP
6:30 pm: Head over to the Spy Museum for a discussion on outsourced espionage. "Spies for Hire: Essential Contractors or Mercenaries" features Kateri Carmola, professor of Political Science at Middlebury, Robert Grenier, former CIA station chief in Islamabad and Jeremy Scahill, author of "Blackwater: The Rise of the World's Most Powerful Mercenary Army" [International Spy Museum, 800 F Street NW].
7:00 pm: Helena Andrews celebrates the publication of her book, "Bitch is the New Black." [Room and Board, 1840 14th Street, NW].
8:00 pm: This week, the Chrystal City Star Trek film festival screens "Star Trek IV: The Voyage Home" [1851 S Bell Street, Arlington].
5:00 pm - 11:00 pm: On June 20th, the Argonaut, an H Street NE mainstay, was engulfed in a massive fire that has left it inoperable. Rock and Roll Hotel hosts a benefit for its neighbor. All proceeds go to the Argonaut [Rock and Roll Hotel, 1353 H Street NE].
6:00 pm: Chuck Close and his biographer Christopher Finch discuss the artist's life and career at a sold-out event at the Corcoran. A live stream of the event will be available on the museum's website [Corcoran Gallery of Art, 500 17th Street NW].
8:00 am - 9:00 am: The Christian Science Monitor hosts its latest discussion breakfast. This time, Financial Services Committee Chairman Barney Frank (D-Mass.) is the guest of honor [St. Regis Hotel, 923 K Street NW].
9:00 pm: ELLLLLIIIIOOOOOTTTTT - NoMa Summer Screen presents "ET: The Extra-Terrestrial" [L Street NE between 2nd & 3rd Street].
8:00 am: For the political party that hasn't reached a consensus on evolution, global warming, and FIRE GOOOOD, we'll consider this a step in the right direction. Ken Calvert (R-Calif.) hosts a "Life Sciences Breakfast" fundraiser [Capitol Hill Club, 300 First Street SE].
8:00 am: Richard Shelby (R-Ala.) shows his love for the industry he helped destroy at his seafood restaurant fundraiser [Johnny's Half Shell, 400 North Capitol Street NW].
8:30 am: Hurry now! Tom Price (R-Ga.) hosts a "Small Roundtable Breakfast" so there can't be many seats! [Capitol Hill Club, 300 First Street SE].
12:00 pm - 1:00 pm: Watch a rare creature, the Mississippi spotted Democrat, in its natural habitat. Travis Childers (D-Miss.) hosts a fundraiser at the National Democratic Club [National Democratic Club Townhouse, 40 Ivy Street SE].
5:00 pm: If he were still around, Mark Souder (R-Ind.) would be partying down at his happy hour fundraiser at the Capitol Hill Club. Guess not...
5:30 pm - 7:00 pm: His mother was a pair of of top-siders, his father a "Just for Men: Touch of Gray" box. Jeb Hensarling (R-Texas) raises campaign cash at the Capitol Hill Club [Capitol Hill Club, 300 First Street NE].
6:00 pm: The Republican Party, especially its conservative wing, is proud to be a bulwark against Eastern elitism. That's why Patrick Murphy (R-Pa.) and Tom Price (R-Ga.) are fundraising for the House Conservatives Fund PAC at a wine bar [Sonoma Restaurant and Wine Bar, 223 Pennsylvania Ave SE].
Got something to add? Send tips/quotes/stories/photos/events/fundraisers/job movement/juicy miscellanea to Eliot Nelson (eliot@huffingtonpost.com), Ryan Grim (ryan@huffingtonpost.com) or Nico Pitney (nico@huffingtonpost.com). Follow us on Twitter @HuffPostHill (twitter.com/HuffPostHill). Sign up here: http://huff.to/an2k2e
Popular in the Community