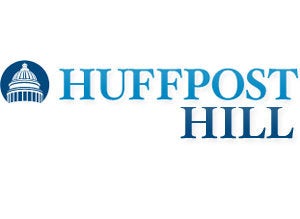 Today Joe Miller made perfectly clear that he is providing for his own damn common Defence and general Welfare. The Alaska Senate candidate spent much of this Tea Party-heavy news cycle defending his security detail's arrest of a local reporter. Rand Paul and Jack Conway meanwhile exchanged big ol' hunks of Christianly love over the sacred Aqua Buddha. And Sharron Angle laid the groundwork for an ad featuring nefarious-looking Canadians sneaking through a fence--and that was only the second-weirdest Angle development of the day. This is HUFFPOST HILL for Monday, October 18th, 2010:
BAILED OUT BANK V. THE TYRANNICAL YOKE OF BIG GOVT - TCF National Bank, which received $360 million in TARP bailout funds, filed suit last week against the Federal Reserve to challenge the constitutionality of swipe fee reform. "Most of that revenue drops directly to our bottom line," the bank's CEO said in an ill-advised moment of rectitude back in June, referring to the swipe fees it charges merchants. The bank argues against the law because it targets big banks, though legislation routinely distinguishes between businesses by size. Another fifth of the bank's revenue comes from overdraft fees, according to the Star Tribune. Luckily for said CEO, his orchestra of tiny, gold-plated violins were tranquillo during the interview so it was easy to hear him make his case. Plus you really can't make much noise with a gold-plated violin, anyway.
IN ROLL CALL TONIGHT - "Ex-Rep. Nathan Deal's congressional office paid hundreds of thousands of dollars to a Georgia company owned by the wife of his chief of staff for flights to and from his Congressional district, but the staffer did not report the income on his financial disclosure forms because he claims the couple made no profit, reports Roll Call's Jennifer Yachnin. House rules prohibit Members from purchasing services from their staffers, but there appears to be no direct ban on buying from a staffer's spouse."
DAILY DELANEY DOWNER - Nancy Jacobini had applied for a mortgage modification when JPMorgan Chase broke into her house and attempted to change the locks on Sept. 28. "I'm locked in my bathroom," said Jacobini during a 911 call. "Somebody broke into my house!" It turned out the bank wanted to secure the property even though Jacobini was not in foreclosure. She had applied for a modification via the Obama administration's Home Affordable Modification Program, which gives mortgage servicers cash incentives to reduce monthly payments for eligible borrowers. But she paid a shady company to do the application for her and doesn't know its current status. http://huff.to/cHcO0Q
Tampa Tribune: "Some employees of Florida's largest 'foreclosure mill' were given jewelry, cars and houses from the firm, in exchange for altering and forging key documents used to obtain foreclosures, according to a statement released today by the Florida Attorney General's Office." http://bit.ly/csI3AP
MAJORITY OF HOUSE DEMS VOW TO BLOCK SOCIAL SECURITY CUTS - 136 Democrats, led by Reps. Raul Grijalva, John Conyers and Dan Maffei, *cut their hands and swore a blood oath* [CORRECTION: sent a letter to President Obama] today promising to oppose any deficit commission recommendations that include cuts to Social Security, raising the retirement age or any privatization scheme. Obama would need a coalition of conservative Democrats and Republicans, then, to approve such cuts. Here the Tea Party could have an unexpectedly benign role to play. Any cuts would need to be accompanied by some tax hikes in order to pull together the coalition, but these fiscal crusaders would rather take a Green Line walking tour than sign off on any tax increase. The Strengthen Social Security Campaign ran the outside game on the letter.
PETERSON-PEW COMMISSION REPORT OUT TOMORROW - One of hedge-fund-billionaire Pete Peterson's many projects aimed to promote cuts to Social Security and Medicare will release its budget recommendations tomorrow. The problem, apparently, is that old people are living too large. From 2009's report: "[S]ince the long-term problem is a spending problem, policymakers should look to reducing spending as a very significant part of any package. The more those reductions are structured and tied to the drivers of spending growth in mandatory programs, the more the changes will help keep the debt stable over the longer term." Why is it a spending problem rather than a revenue issue? Ahhh, forget it. The 2009 flogging: http://bit.ly/aGgsH9
VINCE MCMAHON BEGINS 'STAND UP FOR WWE' CAMPAIGN - Talk about a ground game: In response to attacks by Richard Blumenthal that have focused on Linda McMahon's tenure as CEO of the WWE, McMahon's husband -- and fellow wrestling entrepreneur -- Vince has unleashed an army of dudes whose over-sized Undertaker t-shirts are only bested by their over-sized Slipknot album collections. In a video released today, the husband McMahon claims that due to "negative and inaccurate attacks on our company...we're reaching out directly to you, the WWE universe, our fans, to provide the real facts about WWE. And we ask you to join us in responding to these malicious attacks against the company and you, our viewers." Hartford Courant: http://bit.ly/9M3mOd
The Missouri Senate race between Robin Carnahan and Roy Blunt is tightening. Did the DSCC pull out too quickly? A new (Carnahan-funded) PPP survey indicates Carnahan is closing the gap (a wee bit) with Blunt, with the former House majority leader ahead 46-41. Said Carnahan spokesperson in a statement/Wah-mbulance dispatch provided to HuffPost Hill: "Missouri voters are increasingly concerned by the lies Congressman Blunt is telling about his 14 year Washington record of wasteful spending, corruption and sticking it to the middle class and they are disgusted by his temper tantrum after losing two debates last week." http://bit.ly/ccEp5e
The Reid-Angle race gets the New Yorker treatment, complete with Reid, naturally, chasing and skinning a rabbit: http://nyr.kr/9aDaSQ
Steve Clemons is leaving the New America Foundation to join Fenton as its managing director. Clemons will continue his work as a NAF senior fellow.
Don't be bashful: Send tips/stories/photos/events/fundraisers/job movement/juicy miscellanea to huffposthill@huffingtonpost.com. Follow us on Twitter - @HuffPostHill
TODAY'S TERKEL TAKEDOWN - Amanda Terkel on a really, really sad backlog: "With an unprecedented amount of spending and a surge of new independent expenditure organizations thanks to the Supreme Court's Citizens United ruling, there will also likely be an incredibly high number of complaints filed with the Federal Election Commission (FEC) and the Internal Revenue Service (IRS), which are responsible for enforcing election and tax laws. But these complaints won't have any effect on the 2010 midterm elections. In fact, according to campaign finance experts, it's unlikely that they will ever go anywhere, and even if they do, lawbreakers could go unpunished for years." http://huff.to/aQW2C8
BIG BANKS, HEDGE FUNDS, GETTIN' UR MONEY NO MATTER WHAT - Huge scoop from Fred Schulte and Ben Protess of the Huffington Post Investigative Fund: "Nearly a dozen major banks and hedge funds, anticipating quick profits from homeowners who fall behind on property taxes, are quietly plowing hundreds of millions of dollars into businesses that collect the debts, tack on escalating fees and threaten to foreclose on the homes of those who fail to pay. The Wall Street investors, which include Bank of America and JPMorgan Chase & Co., have purchased from local governments the right to collect delinquent taxes on several hundred thousand properties, many in distressed housing markets, the Huffington Post Investigative Fund has found." http://huff.to/dbXOlz
REPORTER DETAINED BY MILLER CAMPAIGN BREAKS 18-HOUR SILENCE - In one of the most striking examples of a man's commitment to small government we've seen yet (seriously, dude will be paving his own highways in no time) a reporter for the Alaska Dispatch was arrested by Joe Miller's personal security detail this weekend. Sam Stein spoke with the journo in question, Tony Hopfinger. "Getting handcuffed by somebody you don't know at a public school, no one had said it was a private event or cast it that way, I mean intimidated, yeah [I was]. But I guess I was more pissed off. Miller, I felt, was going to answer my question on the reprimand part," Hopfinger said. He added: "I think, just like in other parts of the country, the media is finding itself having a hard time doing its job in this political cycle because, whenever we ask questions, there are certain candidates out there who decry 'lamestream media' or whatever. Mr. Miller has had plenty of time to answer questions. He has been given plenty of opportunities. He somehow believes he shouldn't be questioned about his background and yet he wants a job in six years, to a post where there are only 100 in the entire country, and we are not supposed to ask questions about anything of his past." Seriously, if elected, Miller is going to have walking from the Senate subway to the chamber door. Forget Rand Paul, Joe Miller will be the new Jim Bunning, minus the monstrous size and death glare. http://huff.to/9ybGsd
Miller responds this afternoon on Fox: "I answered one question and he kept at it. So I turned around and I left... And after I left the building the security team that the contract required us to have, arrested him because he pushed one of their individuals. But the reason why this whole thing is curious, I have not told any outlet this before, but at the beginning of this event, the blogger, he actually followed me into the restroom... This guy is kind of getting in your personal space, this is just absolutely crossing the line. But the blog that he worked for has had a history of being quite unfair in its approach to our campaign and so this kind behavior should not be taken as a surprise."
On John King USA tonight: "I'll admit I'm a man of many flaws. I'm not going to sit back and say that I've conducted my life perfectly."
Roll Call: "Even as the AFL-CIO braces for losses among its Democratic allies in Congress, the union federation is mobilizing its grass-roots operation in the weeks leading up to the midterm elections. The group will flood its members with mailers and plans to dispatch staffers across the country." http://bit.ly/9i8knh
SHARRON ANGLE CONFUSES HISPANICS AND ASIANS - If there were a Nobel Prize awarded for breakthroughs in the field of "Seriously, I have plenty of black friends," then the Nevada Senate candidate would be on a Lufthansa flight to Stockholm right now. Sharron Angle told a gathering of Hispanic schoolchildren last week that she has difficulty distinguishing them from Asians. "So that's what we want is a secure and sovereign nation and, you know, I don't know that all of you are Latino. Some of you look a little more Asian to me. I don't know that." she said. "What we know, what we know about ourselves is that we are a melting pot in this country. My grandchildren are evidence of that. I'm evidence of that. I've been called the first Asian legislator in our Nevada State Assembly." To be fair, this is a person who thinks humans crossed the Bering land bridge only a few centuries ago (to flee the stegosaurus herds and whatnot). Las Vegas Sun: http://bit.ly/dlTPrJ
ANGLE 'NOT SURE' THERE ARE LATINOS IN HER ANTI-IMMIGRANT ADS - File alongside "George H. W. Bush unaware of menacing African-American felons in campaign spots" and "Lyndon Johnson appalled by child botanist annihilated in nuclear explosion." Politico's Andy Barr: "In front of a crowd of Hispanic high school students, Nevada GOP Senate nominee Sharron Angle claimed that she is 'not sure' there are Latinos pictured in her anti-immigration ad...'I think that you're misinterpreting those commercials,' Angle told the students on Friday. 'I'm not sure that those are Latinos in that commercial. What it is, is a fence and there are people coming across that fence.' 'What we know is that our northern border is where the terrorists came through,' she said. 'That's the most porous border that we have. We cannot allow terrorists, we cannot allow anyone to come across our border if we don't know why they're coming. So, we have to secure all of our borders and that's what that was about, is border security.'" http://politi.co/ag4kjX
Third-party, even more Tea Party-ish candidate Scott Ashjian to ABC News' Jonathan Karl on the Nevada Senate race: "At least with Harry Reid, you know what you got...As far as competence goes, or maybe, intellect goes, Harry Reid is probably a smarter person than Angle." http://bit.ly/b2JjSm
TURNING OTHER CHEEK A BIT TOO FAR, RAND PAUL MIGHT SKIP LAST DEBATE - After this weekend's Kentucky Senate debate in which Rand Paul refused to shake Jack Conway's hand and told him to "man up" (accusing him of having low T might have been a touch more diplomatic), the Republican nominee is hinting that he might drop out of the second debate. Courier Journal: "U.S. Senate candidate Rand Paul said Monday he might not participate in the last scheduled debate with Democratic Attorney General Jack Conway. The debate is set for 8 p.m. Oct. 25 on Kentucky Educational Television. Paul, who refused to shake Conway's hand after a televised debate at the University of Louisville Sunday night, said it affects him and his family when Conway and Democrats attack Paul's religious beliefs. 'We haven't fully decided, but I'm not sure I'll appear in public with someone who is going to question my religion,' Paul said after a press conference with a group of veterans who are endorsing him." http://bit.ly/agYD90
The first stone being cast, Paul lobbed back a boulder in his video response to Conway's Aqua Buddha spot.
The NAACP is going after the Tea Party in a report due out this week. From the group's release on the report: "The TeaParty.org faction is led by the executive director of the Minuteman Project, a nativist organization that has in the past been associated with the murder of migrant Mexican workers as part of its vigilante 'border operations'. Roan Garcia-Quintana, 'advisor and media spokesman" for the 2010 Tax Day Tea Party and member of ResistNet, also serves on the National Board of Directors of the Council of Conservative Citizens (CofCC), the lineal descendent [sic] of the Council of White Citizens. In Texas, Wood County Tea Party leader Karen Pack was once listed as an 'official supporter' of Thom Robb's Knights of the Ku Klux Klan, a modern-day white supremacist organization." Ben Smith in Politico: http://politi.co/1oPoKd
RUBIO TO APPEAR WITH PALIN, STEELE AT FLORIDA RALLY - This is a gamble by Rubio as Sarah Palin's popularity varies by region and her presence can have an alienating effect in a swing-state like Florida. Using the time-tested "politics-as-high-school" analogy, a Palin stump speech in "Red" America is a lot like getting the head cheerleader to attend your sweet 16. In "Purple" to "Blue" America, a Palin appearance is somewhat akin to the quarterback having to invite that kid who always stage manages the school plays to a house party because their parents are friends and not doing so would really upset the order of things. With that said, Rubio will attend a "victory rally" with the former Alaska governor and RNC chairman this Saturday in Orlando at 3 pm. Several other House candidates will attend as well. As for Michael Steele,we'll go with everyone's favorite tag-along: Plato from Rebel Without A Cause. NYT: http://nyti.ms/958cPi
DAILY BEAST BREAKS OFF NEGOTIATIONS WITH NEWSWEEK - We're not sure how Tina Brown was alienated by a legendary publication that costs less than the pogs collecting dust in our basements but...she was. Daily Intel: "Talks between news-and-commentary website the Daily Beast and Newsweek have fallen through, according to a report in The Wall Street Journal that was confirmed today by a memo from Beast editor Tina Brown to staff. There had been much buzz in recent weeks about a potential merger between the growing site and the struggling magazine, which was recently unloaded by the Washington Post Company...'The engagement was fun but the pre-nup got too complex,' wrote Brown in a memo to her staff today, obtained by Intel. 'We wish Newsweek all the best.'" http://bit.ly/bYJ9bG
Chris Beam examines the state of the Afghan National Police. Truly amazing stuff: http://slate.me/cWMThk
BECAUSE YOU'VE READ THIS FAR - Move aside, Corgis. Three Dachshunds on a treadmill: http://bit.ly/ajHmCu
ROLAND BURRIS CONTEMPLATING CHICAGO MAYORAL BID - Let's not relegate the Illinois Senator to the political graveyard yet -- there might be one more entry in his mausoleum. The Hill: "Sen. Roland Burris (D-Ill.) said over the weekend that he's been encouraged to consider running for mayor of Chicago. According to multiple reports, Burris said at a forum organized by the Chicago Coalition for Mayor over the weekend that he'd run if that group, which is looking to find a consensus African American candidate, decides he'd be the best candidate." http://bit.ly/aJR2Og
ETHICS COMPLAINT FILED AGAINST FLORIDA HOUSE CANDIDATE - Proving once again that "hiding income" is to political campaigns as "irreconcilable differences" are to turbulent celebrity marriages. Miami Herald: "A Democratic donor has filed a complaint with the Florida Commission on Ethics accusing Republican state representative and congressional candidate David Rivera of hiding his income in disclosure forms filed annually. The ethics complaint, filed by Miami attorney William Barzee, was sparked by a Miami Herald story examining Rivera's claims in disclosure forms that he was a longtime development consultant for the U.S. Agency for International Development. USAID officials say they have no record of Rivera or his company working for the federal agency. Rivera first told The Miami Herald that he won the USAID contracts through competitive bidding. After learning that USAID had no record of working with him, the Miami lawmaker then told the newspaper that he worked as a subcontractor to other USAID contractors -- but he will not name the companies that hired him." http://bit.ly/9NKlaw
Today in "a man's gotta refurbish his kitchen somehow:" "A former staffer for U.S. Sen. John McCain will take over as the new president and chief executive officer for the Arizona Bankers Association. Paul Hickman will serve as the association's main federal lobbyist and media spokesman. He directed policy for McCain's re-election campaign and acted as the senator's state director. He was the deputy policy director for McCain's presidential campaign in 2000 and a member of his legislative staff in Washington." AP: http://bit.ly/dwPWm2
JEREMY THE INTERN'S WEATHER REPORT - Tonight: Rain bands are moving in from the west, however, as of now, they look as if they're going to miss the District just to the north. Expect light rain up there. Tomorrow: Possible early morning showers will clear, leading to a nice, partially-sunny day. Expect mid-to-high 60s. Thanks, JB!
Trivia Answer: I have to admit, this is a really really cool factoid. I asked what happened during the first-ever recorded tornado in D.C. The answer? The British Invasion of 1814! Yep, when the Brits were torching D.C. to the ground, a tornado came out of nowhere and completely destroyed the British attack. History buffs can read more about it here: http://bit.ly/9MUKdb. Congrats to our winners: John Hartnett and Jeff Baskin! You don't say, JB!
- The video of a homemade space balloon, recording its ascent on an iPhone, amazed us this whole weekend. http://bit.ly/c4TLBD
- Back on earth, here's a monkey attacking someone recording the incident on an iPhone. http://bit.ly/aCLcOH
- So You Think You Can Dance? small town church edition. http://bit.ly/cH2sAc
- If the internet sleeps, we're guessing this is what it experiences during its R.E.M. cycle. http://bit.ly/cvGkqT
- THE CUTEST SLEEPING PUPPY EVER IN THE HISTORY OF CUTE, SLEEPING PUPPIES. http://bit.ly/bEfEIn
- Proving that dogs' cuteness doesn't necessarily end when they turn 2, here's a beagle skateboarding. http://bit.ly/bdyK5Y
- Like an unchecked weed, a dude living in his mom's basement for too long will grow. http://bit.ly/bQZOnn
- A Vatican publication has declared Homer Simpson a "true Catholic." Big tent, eh guys? http://bit.ly/bAdUpJ
- Christine O'Donnell, auto-tuned. http://bit.ly/bT48KW
@IsaacMizrahi: O m g just met elizabeth warren! SO EXCITED! I just know she's going to do a great job! The whole thing was so much fun!
@KagroX: RT @NewDeal20: China's skirmishes w Japan show it's not ready 2b economic superpower || China looked a little Mexican to me. #NVSen
@BorowitzReport: CIA Reports Bin Laden Hiding on CNN Primetime
TONIGHT: HuffPost I-Fund's Fred Schulte was on The Dylan Ratigan Show. Jack Conway was on Hardball along with fellow Bluegrasser John Yarmuth. Scott McAdams and Byron Dorgan stop by The Ed Show. Rand Paul is on John King USA.
ON TAP
6:30 pm - 9:50 pm: Arlington Cinema and Drafthouse hosts $1 Movie Night featuring Inception at 6:30 pm and Scott Pilgrim vs. the World [Arlington Cinema and Drafthouse, 2903 Columbia Pike, Arlington].
7:00 pm - 9:00 pm: If you are interested in politics and want to prove you're more knowledgeable than everyone else (which, let's face it, is probably why you came to D.C. in the first place), then why not try out Politics and Pints, a monthly political trivia-off. Chris Cillizza hosts [Capitol Lounge, 231 Pennsylvania Avenue SE].
6:30 - 8:30 pm: Hattaway Communications' launch party. Looks crashable enough. [Hudson, 2030 M Street NW].
7:30 pm: Terry McAuliffe. Hani Masri and Steve Clemmons host a fundraiser for Tomorrow's Youth Organization, an org that helps create opportunities for Palestinian women [Cafe Milano, 3251 Prospect Street NW].
8:00 pm - 10:00 pm: Jazz: It's what people pretended to like before Radiohead came into existence. Free jazz at Tryst in Adams Morgan. The Peter Adelman Quartet performs [Tryst, 2459 18th Street NW].
Got something to add? Send tips/quotes/stories/photos/events/fundraisers/job movement/juicy miscellanea to Eliot Nelson (eliot@huffingtonpost.com), Ryan Grim (ryan@huffingtonpost.com) or Nico Pitney (nico@huffingtonpost.com). Follow us on Twitter @HuffPostHill (twitter.com/HuffPostHill). Sign up here: http://huff.to/an2k2e

Calling all HuffPost superfans!
Sign up for membership to become a founding member and help shape HuffPost's next chapter