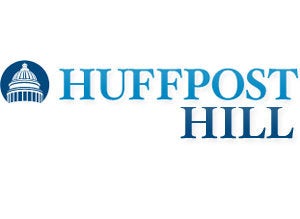 Republicans insist they're for freedom but if you're black, Jewish, Muslim, the victim of an overbearing Communist state or Canadian, it sure didn't seem that way today. Christine O'Donnell isn't too sure that Christians can't receive preferential treatment in our schools. Sharron Angle wants to limit the transnational movement of the harmless Canadians. And Joe Miller hopes to stymie our freedom march to Mexico with a border fence the Stasi could be proud of. But cheer up, minorities! You can always caddy for John Raese and Rush Limbaugh at their country club. This is HUFFPOST HILL for Tuesday, October 19th, 2010:
THINKPROGRESS: CHARLES KOCH COLLABORATING WITH PROMINENT FOX NEWS FIGURE, CHAMBER OF COMMERCE EXECUTIVE - ThinkProgress has provided HuffPost Hill with a preview of an article detailing a meeting of conservative heavyweights that, given all the power in the room, might as well have been held in a secluded ice lair: "In 2006, Koch Industries owner Charles Koch revealed to the Wall Street Journal's Stephen Moore that he coordinates the funding of the conservative infrastructure of front groups, political campaigns, think tanks, media outlets and other anti-government efforts through a twice annual meeting of wealthy right-wing donors. ThinkProgress has obtained a memo outlining the details of the last Koch gathering held in June of last summer. The memo, along with an attendee list, shows the titans of industry -- from health insurance companies, oil executives, Wall Street investors, and real estate tycoons -- working together with conservative journalists and Republican operatives to plan the 2010 election, as well as conservative efforts onward through 2012." Look for the full piece tomorrow morning at ThinkProgress.org
LIMBAUGH DUFFS IT FOR JOHN RAESE - Sam Stein: "In the process of touting his credentials for the office, conservative radio host Rush Limbaugh may have inadvertently caused West Virginia Senate candidate John Raese a major political headache. 'I happen to know John Raese,' Limbaugh said, in a segment late last week that endorsed Raese's candidacy. 'He is a part-time resident here in Palm Beach and he has a locker right across the, right across the bench from me at a prominent local club. I've never played golf with him, but I've met him.' ... The club that Limbaugh appeared to have been referring to was the Everglades Club in Palm Beach, an upper crust scene for the predominantly white, Christian, Palm Beach elite." D'oh. http://huff.to/bvDYo5
OBAMA: BIDEN-HILLARY SWAP RUMORS 'UNFOUNDED' ' UNFOUNDED' 'UNFOUNDED' - In an interview with National Journal, the president flatly denied that he was considering replacing his current vice president with Secretary of State Hillary Clinton. "Completely unfounded. Completely unfounded. Completely unfounded." Obama said, despite not spinning around three times and and spitting afterward. "They are both doing outstanding jobs where they are." However Obama did pad his statement with a not insignificant amount of equivocation and 2012 reelection-bid hinting. "Obviously, I haven't made any formal decision," he said, ""but I feel like I've got a lot of work left to do." http://bit.ly/cty5w6
The National Journal's website relaunches on Monday. The entirety of the Obama interview will be published at that point. No word on whether Major Garrett will crack a bottle of champagne against NJ's central server.
CENTRIST DEM SAYS PELOSI WON'T RUN AGAIN FOR SPEAKER - We're guessing Mike McIntyre, whose constituents aren't crazy about his somewhat more liberal caucus leader, hasn't found himself in this kind of bind since his prom date bristled at his dad's decision to drive them to the dance. "A House Democratic lawmaker said late last week that he'd heard that Nancy Pelosi (D-Calif.) wouldn't seek another term as House speaker. Rep. Mike McIntyre (D-N.C.) said that not only would he not back Pelosi for speaker again, but also that he'd heard she would not seek another term in that position. 'From what we're hearing, she's probably not going to run for Speaker again,' McIntyre told WWAY-TV in North Carolina. 'And if she does, I'm confident she's going to have opposition, and I look forward to supporting that opposition.' The seven-term centrist Democrat is facing one of the toughest re-election challenges of his career from Republican Ilario Pantano." Michael O'Brien, click bate champion and Hill reporter: http://bit.ly/bGW4yE
Steny Hoyer thinks differently. Roll Call: "House Majority Leader Steny Hoyer said he is confident Democrats will retain the majority in November and that Speaker Nancy Pelosi will have the votes to continue to lead the House...'I think we are going to hold on to the majority and I think she'll have enough votes,' Hoyer told Roll Call after a tour of Bucyrus International, a design and manufacturing company in the Pennsylvania district of Rep. Mark Critz." http://bit.ly/9EpdLb
INSANE RANT FROM PARANOID SELF-LOATHING GOP LOBBYIST - Our favorite Paranoid Self-Loathing GOP Lobbyist -- trying hard to distract himself from a crush he has on his behavioral therapist -- is going nuts over the hypocrisy of Obama attacking Republicans for using money from fer'ners in their campaigns. "Where was the outrage when Soros dumped money into third party groups in '06 or '08? No transparency and Soros is German," PSLGOPL said in an e-mail to HuffPost Hill, courageously written after removing his own fillings to disrupt the CIA transmissions. "Where was the outrage when Obama broke the spending cap pledge and outspent McCain by hundreds of millions of dollars? I believe Bob Ney even had a bill in the '06 cycle to curb outside group spending. Like most Dems, I'm sure Obama was silent." Thanks, PSLGOPL! PS: George Soros is from Hungary. But you know who isn't? Hitler.
DAILY DELANEY DOWNER - A federal judicial panel recently consolidated class action lawsuits from across the country alleging Bank of America treated homeowners with bad faith when they applied for mortgage modifications under the Obama administration's Home Affordable Modification Program. "What this demonstrates is that homeowners across this country have grown frustrated with bank of America's inability to comply with regulations put out by HAMP," said Ira Rheingold, director of the National Association of Consumer Advocates....Bank of America argues that borrowers don't have standing to sue because they aren't parties to the Servicer Participation Agreement between the bank and the Treasury Department. In its motion to dismiss one of the suits, Bank of America notes that Treasury has made lots of changes to its "constantly evolving new federal program" and if a borrower is eligible, "the servicer is obligated to consider the borrower for a HAMP modification" -- not necessarily to grant it. http://huff.to/c80Ie6
DADT ORDER TAKING EFFECT - This is much to the chagrin of some Pentagon officials who think the most gallant men and women in the country -- individuals that can charge into a life-threatening situation without thinking twice -- will lose composure if one of their squad-mates thinks Kathy Griffin is funny. AP: "A Pentagon spokeswoman says recruiters have been told that they must accept gay applicants, following a federal court decision striking down the ban on gays serving openly in the military. Spokeswoman Cynthia Smith said Tuesday that top-level guidance has been issued to recruiting commands informing them that the military's "don't ask, don't tell" rule has been suspended for now. Recruiters also have been told to inform potential recruits that the moratorium could be reversed at any point. Last week, a federal judge ordered the military to stop enforcing the 1993 law banning openly gay service members. The Justice Department is appealing the decision and has asked for a temporary stay." http://yhoo.it/a1sSy0
"'Hang Them': Uganda Paper Publishes Photos Of Gays" is a stark reminder that gay rights is a 2.01 steps forward, 2 steps backwards cause these days. "The front-page newspaper story featured a list of Uganda's 100 "top" homosexuals, with a bright yellow banner across it that read: "Hang Them." Alongside their photos were the men's names and addresses. In the days since it was published, at least four gay Ugandans on the list have been attacked and many others are in hiding, according to rights activist Julian Onziema. One person named in the story had stones thrown at his house by neighbors." NPR: http://n.pr/azPo1X
Hillary Clinton adds her voice to the "It Gets Better" campaign: http://bit.ly/cN3Roi
The Hill sends word: "The Hill will release new polling on battleground districts. This week, The Hill focuses on the so-called 'majority makers,' Democrats who helped make Nancy Pelosi Speaker of the House four years ago."
Don't be bashful: Send tips/stories/photos/events/fundraisers/job movement/juicy miscellanea to huffposthill@huffingtonpost.com. Follow us on Twitter - @HuffPostHill
JOE SESTAK'S DOUBLE RESURGENCE, ALL THE WAY - Sam Stein: "A new poll and high-profile prognostication have heightened the electoral prospects of Pennsylvania Senate Democratic candidate Joe Sestak and spurred talk of another dramatic campaign comeback. On Tuesday the Democratic-leaning polling firm PPP released findings showing Sestak leading his Republican challenger, former Club for Growth President Pat Toomey, for the first time this cycle: 46 percent to 45 percent. Sestak's campaign did not pay for the poll...As was the case then, Sestak has gained ground largely by hording his ammunition. The Pennsylvania Democrat is one of the few Senate candidates in the country with more cash on hand than his Republican opponent: $3.3 million to Toomey's $2.7 million...Top Democratic strategists insist that the emergence of Republican candidates in neighboring states -- namely Christine O'Donnell in Delaware and Carl Paladino in New York -- has essentially frightened Democratic voters into re-engaging in the political process." http://huff.to/bIw9WJ
CHRISTINE O'DONNELL QUESTIONS SEPARATION OF CHURCH AND STATE - In a debate before legal scholars and law students at Widener University Law School, the GOP nominee challenged Chris Coons' views on teaching creationism in public schools. "Where in the Constitution is the separation of church and state?" O'Donnell asked. When Coons -- the stupid fool -- responded that the First Amendment prohibits such activity, O'Donnell, more or less disqualifying her from ever serving on the Judiciary Committee (there's always the Domestic and Foreign Marketing, Inspection, and Plant and Animal Health subcommittee!), replied: "You're telling me that's in the First Amendment?" http://huff.to/cFcXZM
Karl Rove, surprisingly not at a San Francisco fundraiser: "If you look underneath the surface of the Tea Party movement, on the other hand, you will find that it is not sophisticated. It's not like these people have read the economist Friedrich August von Hayek." Der Spiegel: http://bit.ly/abUCpo
JOE MILLER: MR. GORBACHEV, THAT IS ONE FABULOUS WALL. - Making Anschluss with stupidity, the Alaska Senate candidate told a gathering late last week that the former communist state's approach to border security is imitable. Very imitable, indeed. "East Germany was very, very able to reduce the flow," Miller said at a town hall on Sunday. "Now, obviously, other things there were involved," he added [Editor's note: ........... ]. "We have the capacity, as a great nation, obviously, to secure our border. If East Germany could, we could." Stay with HuffPost Hill for the latest news on Miller's 5-year plan to reduce the size of government and great leap forward into energy independence. Politico: http://politi.co/94HbvP
AQUA BUDDHA VICTIM: JACK CONWAY ACTUALLY KIND OF ON POINT - Pulling a classic Greg Sargent move -- actually talking to the individual at the center of a news story -- the WaPo blogger reports that the woman who claims to have been "abducted" by Rand Paul in college and made to worship the Aqua Buddha thinks Jack Conway is not entirely out of bounds. "My whole point in sharing [the episode] was that Randy used to be a different person with different views that have radically changed, and he's not acknowledging that," she told Sargent. "That is why I shared it in the first place." Sargent: "She added that his college years and views should raise questions 'as to how genuine he is about his beliefs now. I have a hard time seeing how someone who espouses beliefs that he used to would turn around and become a conservative Christian.' She confirmed the ad's accuracy, and wondered aloud why Paul doesn't just admit what occurred and move on...However, she also said that Conway's ad went too far in depicting college pranks as something frightening, and added that the topic wasn't consequential enough to drive the Senate race." http://wapo.st/d5KCZ0
#fail: @SarahPalinUSA: "Pennsylvania:makes sense 2 send GOP 2 DC 2 avoid PA economic disaster that will occur under Obama/Pelosi Cap & Tax scheme; workers need Raese."
Kind of worse #fail: "14 minutes ago via Twitter for Blackberry"
ANGRY SPIRIT POSSESSING BODY OF WAR HERO WON'T RENOUNCE BARBARA BOXER COMMENTS - Asked on Good Morning America today whether he regretted his statement this weekend that Barbara Boxer "is the most bitterly partisan, anti-defense Senator in the United States Senate today. I know that, because I've had the unpleasant experience of having to serve with her." John McCain simply replied, "I don't think so. I think that the whole issue of national security is very important." San Francisco Chronicle: http://bit.ly/92kyy5
NRSC HITS HARRY REID FOR LIVING AT/NEAR THE RITZ - National viewers will wonder why Reid would ever dare to live in such luxury. D.C. viewers will wonder why Reid couldn't find a cozy Capitol Hill row house to crash in. Chuck Schumer, Dick Durbin, George Miller and Bill Delahunt will wonder why Reid never took them up on that extra futon in their basement. "To him [unemployment, foreclosures, etc is] a figure. Maybe because Harry lives at the Ritz-Carleton while thousands are losing their homes. The nation needs a new direction and Nevada needs jobs. Say no to Harry Reid," the narrator, who sounds like the "Morning in America" announcer talking about a nasty breakup, says over suspenseful, movie trailer music. NYT: http://nyti.ms/9oyo9c
Sharron Angle's campaign has a new spot highlighting Reid's living situation AND that time he took a photo with a very attractive woman. "While you may be in the unemployment line, someone is more likely to be in...a conga line. And while your family is just hanging on, someone has been hanging out with supermodels," a sort of evil-looking Jamie Lee Curtis says to the camera as images of Reid playing patty cake (or something) with Michelle Obama and posing with a done-up, photogenic woman are flashed behind her. http://bit.ly/aEvChQ

Today in "you're off message, dude": "[Illinois] GOP gubernatorial hopeful Bill Brady retreated further from his one-time support of controversial animal euthanasia legislation, saying Monday he would veto anything like it that reached his desk as governor." Chicago Tribune: http://bit.ly/bdUW7s
BECAUSE YOU'VE READ THIS FAR - The PS 22 chorus singing Talking Heads: http://bit.ly/aOSRd5
SHARRON ANGLE SOMEHOW FINDS WAY TO ANGER CANADIANS - And she didn't even get the date for Canadian Thanksgiving wrong! Responding to Angle's statement last week that "What we know is that our northern border is where the terrorists came through. That's the most porous border that we have," Canadian Ambassador to the U.S. Gary Doer wrote a pointed, yet diplomatically restrained, letter to the candidate. "Dear Ms. Angle, I am writing to correct the record following media reports on Friday...There have been no terrorist attacks on the United States coming from Canada. None of the 9/11 hijackers entered the United States from or through Canada...Far from being a threat, Canada is a major contributor to economic prosperity in your state. More than 1.3 million visitors from Canada visited Nevada in 2009, creating tens of thousands of jobs, and Canada-Nevada trade totalled more than $1.3 billion." That's what it's aboot, Gary. The Atlantic: http://bit.ly/aHnblk
The more you know: "One man continues to advocate for a dinosaur to be called the "Capitalsaurus," more than a century after its bones were discovered in Washington, D.C." Roll Call: http://bit.ly/9lrqge
JEREMY THE INTERN'S WEATHER REPORT - Tonight: Coat time is approaching, but for now, you can get away with a comfy pullover hoodie. Unless you think mid-50s is cold (you're one of those people, in which case, bring a jacket). We're still not yet at the time when you'll feel that skin-piercing cold, so you can get away without winter-wear. Tomorrow: Scattered light showers throughout the day. It won't be pleasant. Thanks, JB!
Bonus: Playoff Baseball watch: In New York, clear skies. Chance of rainout: slim. Chance of my grandmother being once again disappointed in her Yankees: higher. Curses on Cliff Lee, JB!
- Dog steals money. There's a financial reform PAC ad in there somewhere. http://bit.ly/ddb849
- This Alfred Hitchcock collection looks PHENOMENAL. http://bit.ly/9vBYbw
- A lizard. A juice box. Hilarity. http://bit.ly/a1WKHF
- In the dystopian future, we will outsource our strippers to...ROBOTS. http://bit.ly/bwQ5YA
- How to meet single European men at Oktoberfest. It's 1000-times worse than you think. http://bit.ly/bfp4II
- The force binds us, penetrates us and makes this awesome Halloween pumpkin. http://bit.ly/9HnyG6
- Pretty disturbing ad placement. http://bit.ly/axW88t
- Now that would be a stellar SAW movie: 10 abandoned bowling alleys. http://bit.ly/cySbRC
- For the baseball manager in doubt, try pinch-hitting this samurai warrior. http://bit.ly/or4Vq
@pourmecoffee: "Man up, Harry Reid!" GOP Young Guns. Joe Miller's Rootin' Tootin' Vigilante Posse. I'm in a bad western movie.
@delrayser: New Joe Miller campaign slogan: People aren't looking for a handout, they're looking for a handcuff.
@dartanion: I'm going to start a jam band. Then we can immediately break up so the world will have one less jam band.
TONIGHT: Elijah Cummings stopped by The Dylan Ratigan show. Dennis Kucinich, Raul Grijalva and Frank Lautenberg are on The Ed Show.
6:30 - 8:30 pm: Hattaway Communications' launch party. Looks crashable enough. [Hudson, 2030 M Street NW].
7:30 pm: Terry McAuliffe. Hani Masri and Steve Clemmons host a fundraiser for Tomorrow's Youth Organization, an org that helps create opportunities for Palestinian women [Cafe Milano, 3251 Prospect Street NW].
8:00 pm - 10:00 pm: Jazz: It's what people pretended to like before Radiohead came into existence. Free jazz at Tryst in Adams Morgan. The Peter Adelman Quartet performs [Tryst, 2459 18th Street NW].
6:00 pm - 8:00 pm: Because misery loves company, join other broke do-gooders at DC Young Nonprofit Professionals' Networking Happy Hour[Liberty Tavern, 3195 Wilson Boulevard, Arlington].
6:30 pm - 8:00 pm: It's not a salon, they swear! The Washington Post hosts a "townhall" entitled "The Path Forward - What Will a Change in Leadership Signify for DC?" featuring some of its local reporters discussing what Vince Gray's election means for the city. E-mail spksbureau@washpost.com to RSVP [Watha T. Daniel-Shaw Branch Library, 1630 7th Street NW].
Got something to add? Send tips/quotes/stories/photos/events/fundraisers/job movement/juicy miscellanea to Eliot Nelson (eliot@huffingtonpost.com), Ryan Grim (ryan@huffingtonpost.com) or Nico Pitney (nico@huffingtonpost.com). Follow us on Twitter @HuffPostHill (twitter.com/HuffPostHill). Sign up here: http://huff.to/an2k2e

Popular in the Community