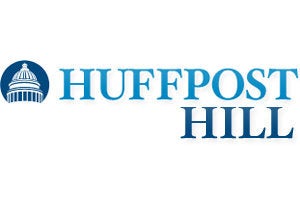 With Rahm Emanuel's departure for Chicago, local economists gauged just how much the depletion of Washington's swear jars will affect the local economy. Elsewhere in non-Rahm news, Sharron Angle is VERY worried about Sharia law tearing apart the fabric of American society, Charlie Crist is insulting Marco Rubio's honor by comparing him to Charlie Crist and Jeremy the Intern is going where even Brian Ross fears to tread. This is HUFFPOST HILL for Friday, October 1st, 2010:
RAHM GETS THE @#%@#$ OUT, ROUSE CALMLY STEPS IN - Much
to the chagrin of progressives, a gust of blue Emperor-Palpatine-being-thrown-down-the-Death-Star-elevator-shaft wind did not spew forth from 1600 Pennsylvania Avenue this morning. At an East Room presser, President Obama addressed reporters and acknowledged that his chief of staff would be departing to enter the Chicago mayoral campaign. During his remarks, Emanuel, who tends to avoid tears as they short-circuit his death ray targeting system, choked up when mentioning his grandfather's immigration to the U.S. and his mother's civil rights activism.
HuffPost Hill's Take: This display of emotion just might give Emanuel the edge ... in New Hampshire.
Rahm On Obama: "I want to thank you for being the toughest leader any country could ask for in the toughest times any president has ever faced." Indeed, Lincoln never had to deal with Fox News and FDR didn't have HuffPost carping at him for selling out. So, sure, toughest times ever.
WHAT ROUSE WILL DO DIFFERENTLY - "[T]he biggest change may not be Rouse's calmer demeanor. It may be his focus on how the West Wing runs: Already, Rouse is conducting an organizational review to figure out what structural changes are needed at the White House as Obama shifts into a new phase of governing. Over the next two years - having achieved 70 percent of his campaign promises, as Obama likes to say - the administration will move into a less 'legislatively intense' period that will require a different setup, which Rouse is examining, administration officials said. The restructuring will take into account senior advisers who may want to leave (such as National Security Adviser Jim Jones) or head to Chicago to run the 2012 reelection campaign (such as senior adviser David Axelrod or deputy chief of staff Jim Messina). And it will take stock of 2012 more broadly, considering whether former campaign manager David Plouffe will go into the White House (as expected) and recognizing that the moment the midterm elections end on Nov. 2, the presidential campaign will be underway." WaPo: http://wapo.st/bwpTTX
And, yes, Austan Goolsbee sent Rahm a dead fish: "At the 8:30 staff meeting in the Roosevelt Room this morning, departing chief of staff Rahm Emanuel was given a gift by Council of Economic Advisers chair Austan Goolsbee: a dead Asian carp. This was an allusion to the Emanuel legend of his sending a dead fish to a pollster for whom he didn't care, replicating the scene from The Godfather when the Corleones were alerted of Luca Brasi's death with a dead fish wrapped in Brasi's bullet-proof vest." ABC News: http://bit.ly/bfcq3c
The petit-bourgeois adventurists at the Progressive Change Campaign Committee are glad to see Rahm go and are looking forward to battling him in the Chicago mayoral race. "Rahm's resignation from the White House is a great moment for all Americans who voted for change in 2008. It's a golden opportunity for President Obama to change the attitude at the White House from one of pre-emptively caving to one of truly fighting -- finally making good on his promise to "call out" those like Joe Lieberman who stand against change. Now, we have Rahm Emanuel right where we want him -- on the ballot, where he can be thoroughly rejected by voters," said PCCC cofounder Adam Green in a statement. http://bit.ly/5G9IA2
Bank of America joined JP Morgan in suspending foreclosures. Watch this one. It could be huge. http://bit.ly/cInNyd
SHARRON ANGLE: SHARIA LAW 'TAKING HOLD' OF AMERICAN CITIES - The Nevada Senate candidate, clearly locked in a kind of "tortoise and the hair" crazy race with Christine O'Donnell, continued her slow but steady march of insanity this week. Asked at a campaign rally about Muslims and Sharia law allegedly encroaching on American life, Angle responded, "We're talking about a militant terrorist situation, which I believe isn't a widespread thing, but it is enough that we need to address, and we have been addressing it," Angle said. She continued: "Dearborn, Michigan, and Frankford, Texas are on American soil, and under Constitutional law. Not Sharia law. And I don't know how that happened in the United States. It seems to me there is something fundamentally wrong with allowing a foreign system of law to even take hold in any municipality or government situation in our United States." Just remember, Muslim = foreign. Got it. Mesquite Local News: http://bit.ly/9EUNpz
DAILY DELANEY DOWNER - From Arthur Delaney: "California's Managed Risk Medical Insurance Board has delayed the rollout of its Pre-Existing Condition Insurance Plan for the uninsurable: 'The expected start of coverage for PCIP has been delayed a week. The state of California anticipates that PCIP coverage will begin by October 7, 2010, assuming all final arrangements are concluded. The program will inform subscribers of their actual beginning dates of coverage when calling to inform them of program eligibility.' This thing was required by the health care reform law to be up and running back in June. No wonder the Obama administration and congressional Democrats have been silent about it after they kept telling us it would be one of the greatest 'early deliverables' of health care reform." http://www.mrmib.ca.gov/
TODAY'S FORECAST: CLOUDY WITH A CHANCE OF AWKWARD - CHAMBER BOOTS JEREMY THE INTERN HuffPost intern Jeremy Binckes got a flaming journalistic baptism this afternoon after strolling to the Chamber of Commerce tasked with quizzing its chief Tom Donohue about the million dollars stuffed in his back pocket by Fox News, as scooped by the pesky Ben Smith. The problem for JB: It was a press conference dedicated to the Chamber's announcement of a joint project with the Department of Labor to help find jobs for vets returning from combat. JB was the first to ask a question and Donohue wasn't looking to get into it, offering to talk to JB later. JB, though, met JP, a meeting of Js that was long overdue. JP suggested JB split. "Can I get some water?" JB asked, spying the high-class spread against the wall. No, JB could not have water. JB says he was escorted out by "some bald guy."
Tom Donohue may not wanna comment to JB, but Chris Van Hollen is happy to tee off to Sam Stein: "This is yet another example of large, corporate special interests secretly spending millions to buy our elections - only this time they got caught. Under the DISCLOSE Act, the Chamber and other groups would have been able to spend and say whatever they want - they would just have to be transparent and inform voters who was funding their ads. The Chamber would have had to disclose News Corp's donation, as well as countless other contributions. If you have nothing to hide, you have nothing to fear. Instead, Washington Republicans worked side by side with powerful special interests to defeat the DISCLOSE Act and ensure that shadowy front groups like 60 Plus and Americans for Job Security are free to spend hundreds of millions of dollars to scare and mislead Americans."
CHAMBER DOES GOOD - What's the angle, here, Chamber? We're stumped. The Chamber of Commerce and the Department of Labor announced a joint effort on Friday to assist members of the military transitioning to the civilian workforce, a difficult adjustment made harder by the sagging economy. One in five young veterans of the Iraq and Afghanistan wars - many of whom served in both - are unemployed. The Chamber will partner with the Department of Labor to help returning servicemembers find work. The private sector better start pulling its weight: According to DoL data, nearly 1 in 3 vets with a service-connected disability worked in the public sector; 1 in 5 is employed by the federal government. http://bit.ly/c0c87Z
Don't be bashful: Send tips/stories/photos/events/fundraisers/job movement/juicy miscellanea to huffposthill@huffingtonpost.com. Follow us on Twitter - @HuffPostHill
EVAN BAYH MAKES DOWN PAYMENT ON GOVERNOR'S MANSION - Evan Byah, who is spending his waning days in the Senate complaining about it while dabbling in legislative obstruction, has sent political forecasters into a tizzy by donating 500k to the Indiana Democratic Party. This is on top of a $1 million donation he made back in March. Bayh's contributions, combined with his $11 million warchest, may well be an attempt to liquor up local officials in an attempt to engender support for a gubernatorial bid. http://bit.ly/dfQTJ0
Earlier this year Michele Bachmann introduced a bill that would forbid the U.S. from adopting a foreign currency. She better hope that kicks in because the $3.4 million she's raked in this quarter would be worthless in Euros. "According to the campaign, the 6th District Congresswoman more than doubled her second quarter fundraising figure of $1.7 million...That means Bachmann raised at least $3.4 million in the third quarter. 'It's going to be higher than that,' spokesman Sergio Gor said. That would put her total around $8 million for this election so far (and likely higher). To put that in perspective, the number exceeds, by more than $1 million, the amount Gov. Tim Pawlenty and DFL challenger Mike Hatch spent on the 2006 governor's race combined." Pioneer Press: http://bit.ly/aRmE9r
RICK PERRY IS A GREAT MAILMAN, VOTE FOR HIM - In a new campaign spot, the Texas governor references an incident in which he greeted President Obama on the tarmac at Austin's airport by handing the president a letter that purportedly details how to deal with illegal immigration. "Securing our borders is Washington's responsibility, but it's Texas's problem. I recently confronted Barack Obama with detailed steps to reduce drug cartel violence along the border," Perry voiceovers as b-roll of him doing his Marlboro Man-in-dad-jeans thing is flashed on the screen. The video of Perry offering the letter to the president is cut short, however, because Obama never actually it from Perry. Sad trombone. http://wapo.st/coiwwc
Charlie Crist basically called Maro Rubio Charlie Crist today."And I think that it's important in this race, unless you want to have a radical right U.S. Senator, a decision has to be made pretty fast, in the next 32 days," Crist told the Palm Beach Post this morning. "What's the reasonable alternative, and can it be victorious? I'm that person. I'm number two in every poll I've seen....And God bless the congressman [Kendrick Meek], he's a fine person, a good guy, I like him. But I don't want to have Marco Rubio as my United States Senator." Crist later called Rubio "a Jeb Bush guy." When Crist was reminded of the time he referred to himself a "Jeb Bush Republican," he replied: "Yeah, well, that's changed...I think Jeb and I both agree on that. I'm not even a Republican." Palm Beach Post: http://bit.ly/9Afmcl
CARL PALADINO: I NEVER ACCUSED ANDREW CUOMO OF HAVING AN AFFAIR - In an interview with the Buffalo News, the New York Republican gubernatorial candidate attempted to clear up a number of his inflamatory statenets :"Paladino, speaking from his Buffalo office, said he has been subjected to so many questions about his personal life that he recently questioned whether the media, in fairness, is also posing personal questions to Cuomo....However, Paladino said, he wasn't accusing Cuomo of having an extramarital affair. 'I'm sick and tired of people asking me about if I've had affairs," Paladino said. 'I was talking to [a reporter with Politico.com] and said Why don't you ask Andrew Cuomo if he has had extramarital affairs. It's not that I was accusing him.' In addition, Paladino misspoke Wednesday night when telling a New York Post reporter that he would provide proof of a Cuomo affair 'at the appropriate time,' Paladino campaign manager Michael Caputo said today. Paladino misunderstood the question he was being asked by New York Post reporter Fred U. Dicker, and the context of the question, Caputo said." http://bit.ly/9oSTLZ
That Politico reporter, Maggie Haberman, disagrees with that assessment. She provides the following Paladino quote from her interview with the candidate: "When he was married or asked him why his wife left him or threw him out of the house? Has anybody every done that? What are they doing intruding on my life?" http://politi.co/9tAm3T
CARL PALADINO: NO WAIT, I KIND OF DID. AND HERE'S PROOF, SORT OF - TPM: "[O]n Megyn Kelly's Fox News show today, Paladino again suggested that he's got proof: 'We will at the appropriate time say whatever we have in our box. At the appropriate time.'... Paladino again implied that he has evidence of a Cuomo affair, saying his campaign will release it 'at the appropriate time.' Kelly asked: 'So you're not backing off that allegation?' 'What I believe and what is factual out there, we will at the appropriate time put out, yes,' Paladino replied. Kelly also asked him about the incident with Dicker, and Paladino defended his actions, saying that he believes the Post is responsible for sending photographers after his daughter. 'The children are open game? Is that what we've evolved to?' he asked.
'I'm not intimidatable, Megyn. That's just me. I don't back off. This man attacked me,' Paladino said." http://bit.ly/don4AB
Here are a couple of animated bears reenacting Paladino's confrontation with that New York Post reporter http://bit.ly/afl32b
Third-party candidate for Massachusetts governor Tim Cahill has been abandoned by his own running mate. Paul Loscocco gave up his bid today and endorsed Republican nominee Charlie Baker, telling supporters, "It is clear to me that Charlie Baker and Richard Tisei have the best chance of defeating Governor Deval Patrick, I cannot and will not let my ego get in the way of doing what is right for Massachusetts." NECN: http://bit.ly/aJBKCr
THAT'S ALL SHE BLUSTERED FOR RICK SANCHEZ - Rick Sanchez is in a spot of trouble today for calling Jon Stewart a "bigot" and more or less declaring that Jews control the media and are a spoiled, aloof people -- insensitive to the challenges facing minorities. Appearing on Pete Dominick's radio show (Dominick is a former Daily Show writer), Sanchez railed against "elite, Northeast establishment liberals" who "deep down, when they look at a guy like me, they see a guy automatically who belongs in the second tier, and not the top tier." Bringing up Stewart, who has poked fun at Sanchez on a pretty regular basis, the CNN host quipped "I think to some extent Jon Stewart and [Stephen] Colbert are the same way. I think Jon Stewart's a bigot." He continued: "I think he looks at the world through, his mom, who was a school teacher, and his dad, who was a physicist or something like that. Great, I'm so happy that he grew up in a suburban middle class New Jersey home with everything you could ever imagine." The real kicker, however, was when Sanchez expounded on whether Jews are an oppressed minority: "I'm telling you that everybody who runs CNN is a lot like Stewart, and a lot of people who run all the other networks are a lot like Stewart, and to imply that somehow they -- the people in this country who are Jewish -- are an oppressed minority? Yeah." http://huff.to/b5VN4u
Now that's grassroots: American Independent: "After getting her hair cut at True Salon in the New Bohemia neighborhood, Kay Hale of Ely saw something a bit unusual taped to the outside of the business's front door: A photo copy of a birth certificate supposedly from Kenya, and supposedly announcing the birth of President Barack Obama....The Cedar Rapids Police Department was contacted by The Iowa Independent about the fliers in an attempt to determine if placing unsolicited material on a business storefront violates the law, but a response was provided prior to publishing. Local business owners indicated that they are often asked by individuals and groups to place materials in their storefronts but, to their knowledge, this was the first time anyone had ever placed something without being given prior permission. 'I just think it is wrong," said Hale, a Democrat. 'This so-called birth certificate isn't real, and someone just wants to keep these stupid rumors going.'" http://ainn.ly/czquOj
JEREMY THE INTERN'S WEATHER REPORT - Tonight: The wind will remain, and it will be cold, but at least there's no rain. Tomorrow: Brisk, with less wind. It's going to be a great day. Sunday: Things will get chillier, but it will be paired with clear skies. There's a small chance of rain in the afternoon/evening. Thanks, JB!
- Watches....MADE OF WOOD. http://bit.ly/cSdOvg
- Someone took the time to animate an Amazon.com user review of "The Secret." http://bit.ly/aTzNzJ
- STUPID TROLLS: Citizenship gold star for the St. Petersburg Times. http://bit.ly/brSZjZ
- Squirrel versus Slink...IT'S ONNNNN http://bit.ly/9NsHGv
- Move aside, mouse baked into a loaf of bread. A can of trail mix contained a deep-fried gecko. Goes well with the cashews. http://bit.ly/9R4BJy
- 10 totally sweet horned dinosaurs. Rock on. http://bit.ly/cIqu8G
-"The teenager who defecated in a man's car - mistakenly thinking it was his girlfriend's - has been convicted and sentenced to probation." http://bit.ly/aAd2AG
- What a campaign video for the mayor of Sim City would look like. http://bit.ly/cadD5p
- A Venn diagram that falls into the "is zero a number?" debate. http://bit.ly/dAW3rJ
- A positive LGBTQ message so sweet you'll probably have to stick an Accu Check Comfort in your finger to make sure your glucose levels aren't out of whack. http://bit.ly/aa9o8h
@pourmecoffee: Rick Sanchez not on Rick's List today. Also, definitely off Schindler's List.
@ddayen: Who wouldn't love to see Rahm Emanuel on the Rick Sanchez show today?
@DanFosterNRO: And it seems to me, Rahm lived his life like a candle in the wind.
@StephenAtHome: Home is where the heart is. Specifically, beneath the floorboards in my bedroom. Why won't it stop beating?!?!
@mager Groupon will sponsor your child's education if you make a baby on their new dating site http://grouspawn.com. Not kidding.
Face the Nation: Bill Richardson, Ed Rendell, Bernie Sanders.
This Week: Reza Aslan, Ayaan Hirsi Ali, Gary Bauer, Brad Garrett, Ossama Bahloul, Anjem Choudary.
Fox News Sunday: Rand Paul, Jack Conway.
State of the Union: John Cornyn, Robert Menendez, Donna Brazile, Ed Gillespie.
5:00 pm - 8:00 pm: The National Portrait Gallery hosts Portraits After 5 featuring music, food, drink and special exhibitions [National Portrait Gallery, 801 F Street Northwest].
5:00 pm - 11:30 pm: If you find yourself in the Observatory area, head over to the grand opening of District 2 Bar & Grille [Disrict 2 Bar & Grille, 3238 Wisconsin Avenue NW].
5:00 pm - 7:00 pm: Wonderland Ballroom hosts NSFWonderland, its first ever comedy happy hour [Wonderland Ballroom, 1101 Kenyon St NW].
5:00 pm: America's friendliest band, They Might Be Giants, give a free performance at the Kennedy Center's Millenium Stage. The concert commemorates the relaunch of the Kennedy Center's arts education website [Kennedy Center Millennium Stage, 2700 F Street].
7:00 pm - 10:00 pm: "ArtSmash, an Art-filled Evening to Benefit Children" features food, drink and a variety of performances. Tickets are $50 and proceeds benefit the Capitol Hill Arts Workshop's efforts at promoting the arts and education [Capitol Hill Arts Workshop, 545 7th Street SE].
9:00 pm: Kingsley Flood performs at the Velvet Lounge. They were recently featured on NPR and, more importantly, there will be cupcakes at the show [Velvet Lounge, 915 U Street NW].
Got something to add? Send tips/quotes/stories/photos/events/fundraisers/job movement/juicy miscellanea to Eliot Nelson (eliot@huffingtonpost.com), Ryan Grim (ryan@huffingtonpost.com) or Nico Pitney (nico@huffingtonpost.com). Follow us on Twitter @HuffPostHill (twitter.com/HuffPostHill). Sign up here: http://huff.to/an2k2e
Calling all HuffPost superfans!
Sign up for membership to become a founding member and help shape HuffPost's next chapter