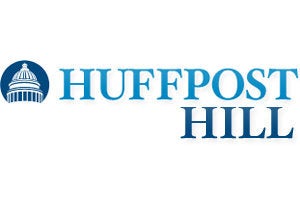 The only things more swollen than Gawker's page view board today were the egos of a select group of politicians. In between segments on Taylor Swift's dating life and Justin Beiber's skin care regimen, Sarah Palin courageously offered to run for president if no one meets her strict leadership standards. Sophomore Rep. Heath Shuler, known far and wide for his ability to lead NFL teams into last place, might take it upon himself to lead the House of Representatives if the Democrats keep control of the chamber. Or even if they don't. Who knows? And Michael Steele....oh man, Michael Steele. This is HUFFPOST HILL for Thursday, October 28th, 2010:
MCCONNELL PUTS BUSH'S LEAD PRIVATIZER ON SOCIAL SECURITY BOARD - HuffPost Hill's six eyebrows lifted up a bit when Tim Geithner swore in Charles Blahous and Robert Reischauer as Public Trustees for the Social Security and Medicare Trust Funds on Tuesday. Blahous is a former staffer to Alan "Social Security Is A Milk Cow With 310 Million Tits!" Simpson, was Bush's point man in his attempt to privatize Social Security and is now at the far-right Hudson Institute. Treasury officials say that one of the two slots is required to be filled by a Republican and that Senate Minority Leader Mitch McConnell tapped Blahous, an assertion McConnell guy Don Stewart confirms. The administration could have rejected the suggestion, but, said an official, it was considered a Senate matter, so it went along. Both nominees were approved as part of a pile of papers pushed through at the end of the Senate session. Blahous is a startling selection for a party that claims no longer to have any interest in privatizing Social Security.
But what about Bob Reischauer? - While Republicans used their slot to name an extreme privatizer to the Social Security board, what did the Dems do? Found a conservative Democrat with ties to hedge fund billionaire Pete Peterson, including sitting on the Peterson-funded Committee for a Responsible Federal Budget. "Reischauer is a decent guy, and certainly an expert on budget policy, but he's a lukewarm supporter of the program. He also would not be averse to some cuts in the program," economist Dean Baker tells HuffPost Hill. "In principle this is not supposed to be a policy position making position, but it still would have been nice to see an unabashed supporter of the program, like Nancy Altman or Eric Kingson, picked as a trustee." But that's not how Obama rolls. Yes we can, but...
Ben Smith in Politico: "Bill Clinton sought to persuade Rep. Kendrick Meek to drop out of the race for Senate during a trip to Florida last week - and nearly succeeded." http://politi.co/cTHK9H
TREASURY GUNNING FOR ELIZABETH WARREN? - Shahien Nasiripour sends us word: "This morning, Politico's Ben White reported that Elizabeth Warren's 'Treasury office is getting a makeover ... something of a rarity for Treasury officials.' Her office is getting a paint job. Politico reported that "one person called it 'Arizona sunset,' another 'terra cotta.'" The latest leak by Treasury officials against Warren has reform advocates worried. 'There's no doubt they're trying to undermine her,' one source says. Observers of the new agency also have been scratching their heads about who may have been behind a controversial New York Times story on Wednesday about Elizabeth Warren aide Raj Date, who worked closely with consumer advocates and was hailed for his efforts during the financial reform debate. Date attracted strong defense on the blogosphere in the aftermath of a story reformers consider to be an unfair hit piece."
'GAME CHANGERS' PARTY TONIGHT - Arianna will be celebrating HuffPost's "Game Changers" tonight at Skylight Studios in New York alongside enough bold names to blot out the sun: Sean Penn, Anderson Cooper, Mayor Michael Bloomberg, Imam Feisal Abdul Rauf, Nora Ephron, Bethenny Frankel, Gayle King, Prabal Gurung, Paulina Porizkova, Crystal Renn, Biz Stone, Joe Scarborough, Jann Wenner, Eliot Spitzer, Kelly Cutrone, Lorenzo Martone, Gail Simmons, Mika Brzezinski, Mayor Cory Booker, Andre Balazs, Geoffrey Canada, Harvey Weinstein, Ted Olson, Dylan Ratigan, Jenna Lyons, Veronica Webb, Matt Taibbi, Kathleen Parker, Lawrence O'Donnell, Joy Behar, Casey Spooner, Reichen Lehmkuhl, Andy Cohen and more will be on hand. HuffPost Hill, meanwhile, will be at home in DC in its PJs, game changing between the World Series and Florida State - N.C. State.
DAILY DELANEY DOWNER - Two million people will prematurely lose their unemployment insurance this holiday season unless Congress reauthorizes the benefits by the end of November, according to an updated analysis by the National Employment Law Project. Using data from the Department of Labor, NELP estimated last week that 1.2 million would be cut off from aid. On Thursday NELP updated that analysis to include 800,000 people receiving Extended Benefits in 24 states where the program "sunsets" the instant federal funding is cut off. Those people will "experience a near-immediate termination of extended benefits if the federal program is not renewed," according to NELP. http://huff.to/bk5v13
DOUBLE DOWNER Obama on the biggest challenge of foreclosure mitigation: "The biggest challenge is how do you make sure that you are helping those who really deserve help....versus either people who are speculators, own second homes that they really couldn't afford because they'd gotten a subprime loan, and people who through no fault of their own just can't afford their house anymore because of the change in housing values or their incomes don't support it." Good thing a Democratic president is making sure no laid-off homeowners benefit from a government program. http://huff.to/dctN0a
GIBBS: OBAMA WANTS TO AX FILIBUSTER EVEN IF GOP CONTROLS CONGRESS - Sam Stein: "During his sit-down with 'The Daily Show,' Obama stated that one of the institutional aspects of the political process that would 'have to be fixed' is 'the way the filibuster operates.' Asked to expand on the sentiment during the daily briefing, Gibbs offered no specifics as to White House's preference or strategy for rules changes. He did, however, offer that the administration was committed to filibuster reform regardless of which party was in power. 'You [would] have to come to the conclusion that the rules of the Senate are more important than getting something done for the United States of America [to think otherwise],' said Gibbs. 'I think the president was pretty clear yesterday. If all you have to do is muster 40 people to say no, how do you foster an atmosphere in which [consensus is reached].'" http://huff.to/9Vh2Oq
Sam breaks down today's White House briefing for HuffPost Hill: "11 mentions of the 'Daily Show' and 14 mentions of 'Jon Stewart.'" Heckuva job, Press Corpsie.
Tim Kaine, tonight on Fox News' Special Report with Bret Baier: "I do think Democrats thinking that they can hold the Democratic label at arm's length. I do think that's nuts."
Wired: "Nearly 100 Democrats gunning for seats in Congress are trying to turn net neutrality into a campaign issue Thursday, casting themselves as the champions of the people against corporations who want to control the net and divide it into fast lanes and slow lanes." The campaign's being waged by the P Street Project. http://bit.ly/9k88Lq
A Washington Post survey indicates that rents (and mortgages) are, indeed, too damn high: "A new Washington Post poll shows that concerns about housing payments have spiked since 2008 despite some improvements in the overall economy. In all, 53 percent said they are 'very concerned' or 'somewhat concerned' about having the money to make their monthly payment. Worries are the most intense among those with lower incomes and among African Americans." http://wapo.st/9MNrGm
Don't be bashful: Send tips/stories/photos/events/fundraisers/job movement/juicy
miscellanea to huffposthill@huffingtonpost.com. Follow us on Twitter - @HuffPostHill
JEB HENSARLING MIGHT SUCCEED MIKE PENCE - The two House members most likely to have been 1-800-LAWYERS advertisements in a past life might be doing a switcharoo in the near future. Roll call: "House Republican leaders are quietly encouraging Rep. Jeb Hensarling (Texas) to run to succeed Conference Chairman Mike Pence should the Indiana lawmaker choose to step down from his position to run for higher office, GOP sources said. Pence, who is rumored to be eyeing a presidential or gubernatorial bid, has not declared he will step aside from his post and Hensarling has not publicly expressed interest in replacing him, but Republican sources familiar with discussions say Hensarling's conservative credentials as a former chairman of the Republican Study Committee, close relationships with leaders and ability to raise millions of dollars for the National Republican Congressional Committee make him a prime candidate for the chairmanship." http://bit.ly/aAm0J5
SCARY POLL #s FOR JOE MILLER - Maybe it's time for Miller to get that deposit back that he put on the apartment in Washington? Emily Swanson: "A new poll released today by Alaska polling firm Hays Research showed 'write-in' in the lead for Alaska's senate seat with 34% of respondents. Although the poll contained no follow-up question to clarify who voters planned to write in, the poll is a good sign for Lisa Murkowski's reelection bid. Republican Joe Miller came in third in the poll, with 23%, and Democrat Scott McAdams received 29%. The poll was in the field primarily before news broke that Miller had admitted in 2008 to lying about misappropriating computers for political purposes." http://bit.ly/cADofh
SARAH PALIN: IF NO ONE STEPS UP, I'LL RUN FOR PRESIDENT - In an interview with "Entertainment Tonight" set to air this evening (was there a scheduling conflict with Home Shopping Network's "Gem Designs by Palermo" or something?), the former Alaska governor and Leviathanne of the Tea Party movement said she's looking for a candidate who exhibit a "common sense, conservative, pro-Constitution passion." Failing that, Palin said, "If there's nobody else to do it, then of course I would believe that we should do this." Very brave. http://reut.rs/8Z8rh8
Karl Rove on Palin: "With all due candour, appearing on your own reality show on the Discovery Channel, I am not certain how that fits in the American calculus of 'that helps me see you in the Oval Office...Being the vice-presidential nominee on the ticket is different from saying 'I want to be the person at the top of the ticket...There are high standards that the American people have for it [the presidency] and they require a certain level of gravitas, and they want to look at the candidate and say 'that candidate is doing things that gives me confidence that they are up to the most demanding job in the world.'" Daily Telegraph: http://bit.ly/a35h8M
SOPHOMORE REP. HEATH SHULER: IF NO ONE STEPS UP, I'LL RUN FOR SPEAKER - Either making him a hero to government employees impatient with their ascent up the GS scale or a pale imitation of Michael when he breaks out of his shell by encouraging Sonny to hit back at Sollozzo, the relatively green North Carolina congressman raised the specter of Speaker Shuler yesterday. "If there is no viable alternative, I will be running for speaker of the House," he said during a debate with his Republican opponent Jeff Miller. Shuler, who voted for Nancy Pelosi twice, elaborated: "I can do as good a job as anybody in the U.S. Congress, because I can actually bring people together." LA Times: http://lat.ms/c6PCCd
Michele Bachmann hinted today that she might not vote for John Boehner as speaker if the GOP takes the House: "Right now, we don't know exactly who the candidates will be. It may be John Boehner," she said said in a debate today with her Democratic challenger Tarryl Clark. "If John Boehner's the only candidate running, I'll be voting for John Boehner...I would look at all the candidates and weigh it accordingly," Mike O'Brien in the Hill: http://bit.ly/bO22YH
MICHAEL STEELE WANTS RNC CHAIRMANSHIP FOR TWO MORE YEARS - In a totally unrelated development, Talking Points Memo is considering hiring an extra 322,025 reporters. Politics Daily: "Steele outlined his re-election plans in a conference call last week with other party officials, according to CNN, which cited three unnamed Republican sources. Steele, wrapping up a 48-state bus tour, has been outspoken and controversial in a role usually played by a partisan who sticks closely to the party script. But he has also presided over off-year Republican gubernatorial victories in New Jersey and Virginia and will be at the helm on Nov. 2 when his party is expected to make substantial gains in House and Senate contests." http://aol.it/9nidcn
Politico's Maggie Haberman throws some water on that: "A new name has cropped up in the growing list of potential candidates to challenge Michael Steele for his job as Republican National Committee chairman -- Maria Cino, the former Bush administration official and deputy RNC chairwoman. Multiple sources say CIno's name has come into the mix and that she's got support from Boehner -- who many believe will be House Speaker after Tuesday -- and, more specifically, his chief of staff, Barry Jackson, who is said to be a longtime friend of Cino." http://politi.co/b3KTQD
Head over to Gawker where Tucker Max is apparently freelancing. Actually don't.
Actually do head over to Runnin' Scared, the Village Voice's news blog, for their brilliant take on the Gawker piece: http://bit.ly/9pi8Ph
K STREET IS JOURNALISM'S FUTURE - Next year Politico will begin selling its reporting to lobbyists and others for a $2,000 fee. The new service, which the NYT says will "provide coverage at the microlevel of what Congress, federal agencies and trade associations are doing," is called "Politico Pro." It's similar to a venture launched last year by former KSCW lobbyists Brien Bonneville and Larry Mitchell, who deregistered and started a "non-lobbying entity" called K Street Research, which they say is more newspaper than lobbyshop. HuffPost asked Bonneville what he thought of Politico Pro: "We think it's a great idea and Politico has always been run by savvy business people," he said. "We saw the same need last year and created our company to fill that void."
THIS CYCLE'S HARSHEST ATTACK: VITTER USED TAXPAYER $ FOR PROSTITUTES - A "Your Stimulus Dollars At Work" sign would have been a lot funnier in this instance. "Our tax dollars pay David Vitter's salary," the Grumpy Don LaFontaine narrator declares in the latest Melancon ad, "and he used it ... for prostitutes. You're welcome, Senator." GDLF continues: "Our money paid for Vitter's serious sin: Phone calls to prostitutes during official votes [Editor's note: are there any other kind?] and tax dollars to help defend an aide who violently abused his girlfriend. In return, we got a disgraced Senator, ranked among the least effective in Congress. The real sin, is that David Vitter is still a senator." http://bit.ly/9KG2Ax
THIS CYCLE'S WEAKEST ATTACK: RUSS FEINGOLD VIOLATES MCCAIN-FEINGOLD - The Atlantic's Chris Good on straw-grasping so strained that triceps might be torn. "Russ Feingold, the independent-minded Democratic senator from Wisconsin, helped author the most significant campaign finance law of our time...and now a conservative group says he's violated it. The American Future Fund announced it is filing a complaint with the Federal Election Commission, alleging that Feingold has violated the 2002 McCain-Feingold law on technical grounds: namely, that he appears at the end of his TV ads and tells viewers that he 'supports' the given message, rather than saying he 'approves' it." http://bit.ly/cawH0v
McCain, FWIW, did violate McCain-Feingold. http://huff.to/9njry6
A group calling itself the "Perriello Pickers" has debuted a song in support of the Virginia Congressman from whom it takes its name. It's a twangy, bluegrass affair centered around a chorus that goes: "Perriellooooo for the common good/ Perriellooooo for the change we need/ From the hills of the Piedmont to the fields of Southside/ Perriello the choice for you and me." It's catchy, we approve. http://bit.ly/aTP1ob
That non-ironic blurb is brought to you by HuffPost Hill's biggest fan, Kristie Greco, who we're sure will be sending us the hipster synth version in no time.
Robert Gibbs pulls stunt, New York Times WAYYYY overreacts: "Robert Gibbs, the White House press secretary, is going to take the first question at his daily briefing from Twitter, rather than from the press corps sitting in front of him...That truly signals that a new era is here. The White House briefing has started the same for decades: a first question to a wire service reporter, followed by questions from networks and big newspapers. Could it be only a matter of time before the briefing is a thing of the past?" http://nyti.ms/9kdbzx
SANITY/FEAR RALLY SCHEDULE LEAKED - Performances: The Roots, Jeff Tweedy, Mavis Staples and Sheryl Crow...Benediction by Don Novello... Poem reading by Sam Waterston..."Sanity" and "Fear" awards to be presented...TBA comedian will warm up the crowd...TBA performer sings the National Anthem. TBD: http://tbd.ly/aZFOmG
BECAUSE YOU'VE READ THIS FAR - Kittens playing in snow. http://bit.ly/9x7XFm
PARTS OF 'DECISION POINTS' 'LEAKED' - So funny how the segments of George W. Bush's forthcoming memoir that appeared on Drudge Report today are mostly personal redemption anecdotes and faith-testing tidbits. Beyond a tidbit revealing that he ordered planes to be shot down on 9-11, the leak mostly consists of nuggets like this: "In the chapter 'Stem Cells', Bush describes receiving a letter from Nancy Reagan detailing a 'wrenching family journey'. But ultimately, Bush writes: 'I did feel a responsibility to voice my pro-life convictions and lead the country toward what Pope John Paul II called a culture of life.'" http://bit.ly/b1IZIf
JEREMY THE INTERN'S WEATHER REPORT - Tonight: Nothing on the long range radar (or short term, for that matter) which is good... clear weather until Saturday. However, Tomorrow, It'll get pretty chilly -- fall weather finally! -- and will struggle to reach the 60s. Now's the time for me to break out the sweater! Thanks, JB!
Baseball weather: Game 1 went off without a hitch. However, there is a bit of rain moving north off the coast. If the direction shifts to a more easterly direction, the game may be hit with showers. Don't expect it to be heavy enough to delay the game, but it may not be comfortable. Say it ain't so, JB!
- Taking the Halloween aesthetic to your morning waffles. http://bit.ly/b4r7fc
- This dog taking a bath is really handling the Japanese narrator and game show audience quite well. http://bit.ly/ao0TZd
- The greatest toy car track we've ever seen. http://bit.ly/a4XMIQ
- Two of history's (the last two months) greatest memes collide: kittens and Antoine Dobson. http://bzfd.it/bnKTrS
- Strip away all the movie magic and you realize the characters from Star Wars are just working stiffs like the rest of us. http://bit.ly/932NBu
- "Jersey Shore" turned into a Super Nintendo game. http://bit.ly/aDLgTt
- Kim Jong-il looking at things, the Tubmlr. It's like Stuff White People Like but with more frightful onlookers. http://bit.ly/dfqWy8
- Sometimes a dog just needs a beer. http://bit.ly/c8RdKp
-That the world's largest mouth doesn't belong to a resident of the District of Columbia is news to us. http://bzfd.it/b6gJrs
@charliecristfl: In the car listening to Stealers Wheel "Stuck in The Middle With You" Great tune! - Right down the middle! #fb
@shitmydadsays: "He's a politician. It's like being a hooker. You can't be one unless you can pretend to like people while you're f*cking them."
@sallykohn: New poll finds young voters are younger than old voters. #TiredOfParsingPolls
@HotlineReid: BREAKING: Turnout key to midterm elections, reports every newspaper ever. Can we confirm?
@jaketapper: allow me to add that i am a @RyanSeacrest fan
@jaketapper: allow me to add that i am a @RyanSeacrest fan
TONIGHT: "Primetime" Sam Stein was on Hardball. Ben Cardin is on the Ed Show. Charlie Crist and HuffPost's Howard Fineman are on Countdown. Tim Kaine appears on Special Report with Bret Baier Tom DeLay and Harry Reid are on The Last Word. TOMORROW: Our fearless leader and bestower of buses Arianna Huffington stops by Morning Joe.
5:30 pm: HBO screens Wartorn: 1861-2010, its new documentary on combat trauma. Mike Mullen and Eric Shinseki will be on hand [The Pentagon].
6:30 pm- 11:00 pm: The National Journal continues its week-long celebration of its relaunch by hosting...what else... a relaunch party [600 New Hampshire Avenue NW].
8:00 pm: Margaret Cho brings her bag of tricks -- and satchel of HaHas -- to the Warner Theatre [Warner Theatre, 1299 Pennsylvania Ave NW].
Got something to add? Send tips/quotes/stories/photos/events/fundraisers/job movement/juicy miscellanea to Eliot Nelson (eliot@huffingtonpost.com), Ryan Grim (ryan@huffingtonpost.com) or Nico Pitney (nico@huffingtonpost.com). Follow us on Twitter @HuffPostHill (twitter.com/HuffPostHill). Sign up here: http://huff.to/an2k2e
Popular in the Community