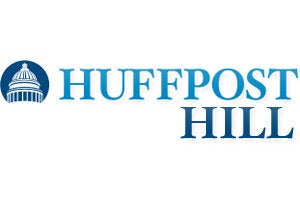 Around the world, Jews prepared to mark Yom Kippur by inventorying their trespasses. Too bad our politicians weren't: A new report accuses Charlie Crist of using Republican Party funds to visit EPCOT. Michelle Bachmann besmirched wine and cheese gatherings, despite frequenting them herself. And Sarah Palin demonstrated just how vain someone can be by fawning over her fawners. These sinners should take a page from good ol' Chris Coons, a nice, wholesome guy just wearing khakis and fighting for Delaware. This is HUFFPOST HILL for Friday, September 17th, 2010:
MURKOWSKI ANNOUNCING WRITE-IN BID TONIGHT - "Lisa Murkowski supporters
Reid Wilson and Dan Friedman confirm: http://bit.ly/9FtZQT
DADT BATTLE LINES DRAWN - It's a long time until Tuesday, when the fight to repeal Don't Ask, Don't Tell comes to a head, and advocates -- Servicemembers Legal Defense Network and their new acting director Lady Gaga -- are taking the weekend to pressure undecided senators. Democrats plan to give Republicans a vote on an amendment to strip out the repeal from the defense authorization bill, but the GOP doesn't have the votes to do it. So, instead, the biggest fights will be over the motion to proceed to debate and the motion to cut it off. Susan Collins is a top target, having voted for it in committee but now adopting a poker face. Scott Brown voted against it in committee but has said he won't filibuster the underlying bill, so his vote is meaningless. Jim Webb hasn't said how he'll vote, and opposed it in committee, but -- critically -- he voted to move the full bill out of committee, meaning he's unlikely to filibuster a bill he already voted for. Gaga and SLDN are also targeting Olympia Snowe, George Voinovich, Richard Lugar and Mark Pryor, AMERICABlog's Joe Sudbay tells HuffPost Hill. The now-even-more-must-read AMERICABlog is all over it: http://bit.ly/aY0egw
GAGA WORKING OVERTIME TO REPEAL DADT - Kirsten GIllibrand joined Tom Udall and Harry Reid in engaging on Twitter with the pop-start-who-killed-pop in response to her all-out lobbying effort. Here's her painfully awkward message to the Senate (and she didn't even request consent that the quorum call be dispensed with...WTF?!?), which involves more than a minute of the phone ringing into Schumer and Gillibrand's offices, until she is respectively cut off and sent to a full voice mail: http://bit.ly/djeqoQ
She eventually got through. @ladygaga @ChuckSchumer@SenGillibrand Thankyou for responding, it means so much that you support us on this issue. Let's get this passed. Talk monday? http://bit.ly/ayH7Ln
The phenomenon of people calling their senators on DADT and posting the video is awfully damn cool, says us geysers. http://bit.ly/dprYnd
CONSERVATIVES GATHER FOR VALUES VOTERS SUMMIT - The annual meeting of GOP conservatives -- so large that a prayer group held at a Bass Pro Shop would pale in comparison -- convened today in Washington. Amanda Terkel: "[W]hat was different from many other Tea Party gatherings was the infusion of religious 'values' rhetoric and the belief that in order to succeed, the movement must aggressively embrace and push for social issues, in addition to the fiscal ones that attract the most attention...[Jim] DeMint then devoted the rest of his speech to refuting the idea that the conservative movement should focus on fiscal issues rather than social ones. 'I hear regularly as I travel around this country, someone will tell me, 'I'm a fiscal conservative conservative, but not a social conservative.' I want to straighten him a little bit this morning, because the fact is, you cannot be a real fiscal conservative if you do not understand the value of a culture that's based on values,' he said to loud applause." http://huff.to/9LGNlS
MICHELE BACHMANN DISSES THE WINE AND CHEESE GATHERINGS SHE LOVES SO MUCH - During her speech today at the Voters Values Summit, Minnesota Congresswoman (and potential foil of a Twisted Sister music video) Michelle Bachmann drew tremendous applause when she said "These high and mighty types, part of the ruling class here in Washington, D.C., they live at wine and cheese parties. As for me, I prefer tea parties, just so you know." The thing is, Bachmann last year was the host of a "Happy Hour Reception" fundraiser at Sonoma Restaurant and Wine Bar in....Washington D.C. http://bit.ly/dv2iG1
Christine O'Donnell: "The conservative movement was told to curl up a fetal position and just stay there for the next eight years, thank you very much. Well, how things have changed. During those dark days when common sense patriotic Americans were looking for some silver lining, they stumbled upon the Constitution."
TEA PARTY VEERING INTO SCARY, NEO-NAZI TERRITORY - David Barton, the extreme right's fake historian who makes the case that America is founded on the Bible and who twice has addressed groups with neo-Nazi ties, is becoming a high profile figure in the movement, appearing regularly on Glenn Beck's show. This week, Barton introduced the Tea Party's darling Senate candidate Marco Rubio at a rally in Florida. The Orlando Sentinel catches the scene: http://bit.ly/bukokl
More on Barton, whose involvement in the movement raises uncomfortable questions about what underlies it and where it's headed: http://huff.to/8YB8Ht
OBAMA OFFICIALLY NOMINATES ELIZABETH WARREN TO ADVISORY ROLE - "President Barack Obama named Wall Street critic Elizabeth Warren a special adviser Friday and tasked her with setting up a new agency to look out for consumers in their dealings with banks, mortgage companies and other financial institutions. Calling Warren 'one of the country's fiercest advocates for the middle class,' Obama said she would ensure the Consumer Financial Protection Bureau ends abusive practices. 'Never again will folks be confused or misled by pages of barely understandable fine print that you find in agreements for credit cards or mortgages or student loans,' he said, standing alongside Warren and Treasury Secretary Timothy Geithner in the White House Rose Garden." http://huff.to/axQncb
Warren statement on leaving Congressional Oversight Panel: "I am grateful to Senate Majority Leader Harry Reid for appointing me to the Panel and for his unqualified support for tough oversight over the past two years. I am also grateful to the dozens of Members of Congress of both parties who have been steadfast supporters of the Panel, and I deeply appreciate their encouragement, advice and support."
House Financial Services Committee's ranking Republican Spencer Bauchus: "The Obama Administration's first priority should be ensuring that our financial institutions are operated in a safe and sound manner. Instead they resort to a calculated political ploy to appoint a passionate, but inexperienced, advocate to run a new agency with unprecedented power."
TERRIFYING FOOD STAMP LANGUAGE DOINKED FROM TAX EXTENDERS SUMMARY - A $13.79 billion "Provision to reallocate future spending" was removed from a summary PDF of the Senate Finance committee's new "tax extenders" bill yesterday evening. Among other things, the provision said "food stamp benefits will return to the levels that individuals would have received in 2014 under pre-Recovery Act law." Yowza -- that would mean giving food stamp recipients less money for food, and soon. And considering the Senate has already approved food stamp cuts twice in the past couple months, it seemed like something they could actually do. Nevermind, though: Committee staff says it was just a mistake.
Don't be bashful: Send tips/stories/photos/events/fundraisers/job movement/juicy miscellanea to huffposthill@huffingtonpost.com. Follow us on Twitter - @HuffPostHill
AUDIT OF FLORIDA GOP REVEALS CRIST SPENT PARTY MONEY TO RIDE SPLASH MOUNTAIN - Florida Times-Union: "The Republican Party of Florida released a long-awaited audit of party spending during the tenure of indicted former Chairman Jim Greer on Friday, detailing how party donors footed the bill for hundreds of thousands of dollars in questionable expenses for Greer and associates including Gov. Charlie Crist. In all, auditors with Alston & Bird LLP said they discovered $381,786.12 in expenses that were not "primarily" related to party business, including $13,345.59 in charges for a June 2009 trip the Crist and Greer families took to Walt Disney World and Universal Studios; $3,376.43 on a September 2009 trip to New York City by Greer, Crist and the two men's wives, including $1,589.56 spent by Crist and Greer's spouses before the two men arrived in New York; and $3,790 for a trip the two families took to Fisher Island." http://bit.ly/cXFID1
Read the full audit report: http://bit.ly/dndS8z
CHRIS COONS DEBUTS FIRST GENERAL ELECTION AD - The campaign spot -- about as exciting as the state it's targeted towards -- touts Coons' steady hand as New Castle County executive. The ad features a mind-boggling color scheme (nothing says America quite like taupe and burnt sienna!) and b-roll of Coons stalking about sanitized office buildings -- exhibiting a bland sturdiness not unlike the Dockers khakis he sports throughout. The narrator declares that "Chis Balanced the budget. He demanded more accountability. He cracked down on wasteful spending. He even cut his own pay. Today, New Castle County has a AAA bond rating." Only in an insurance/credit Mecca like Delaware would "AAA bond rating" be your commercial's kicker. Anyway, video: http://bit.ly/byCeaF
America's favorite flight attendant with a subscription to Townhall magazine is under fire from some of her former employees. A handful of Christine "Palm Nair" O'Donnell's 2008 campaign aides have publicly attacked her credibility. "The tea party giant-killer who knocked off Rep. Mike Castle Tuesday is barely recognizable to them. They remember a candidate who was less interested in conservative causes than scoring a television deal, one who suggested dodging campaign vendors, believed she could give the keynote speech at the Republican National Convention and fixated on a harebrained idea to distribute tens of thousands of two-ounce suntan lotion packets to voters...Kristin Murray, who left her position in the state party to serve as one of several campaign managers for O'Donnell during that race, said warning bells went off in June 2008 when the two were discussing cell phone plans. 'She told me that she thought Joe Biden tapped her phone line,' she said." Politico: http://politi.co/cZTafz
ANDREW BREITBART CATCHES MEMBER OF CONGRESS ASKING LOBBYIST FOR MONEY, IS SHOCKED - BigGovernment.com has a voicemail left for an anonymous lobbyist by Del. Eleanor Holmes Norton (D-D.C.), who wants a contribution and mentions her dues obligations and committee assignments. "We don't know from where she made this call, but it is a relevant inquiry. It is, after all, illegal to solicit campaign funds on federal property." INDEED. Another relevant thingy: Eleanor Holmes Norton is a congressional delegate, not a voting member. http://bit.ly/9D0bU9
Melanie Sloan, director of Citizens and Responsibility and Ethics in Washington, says of Norton's cash request: "It's not ok, but it is legal. Missed [Brietbart's] outrage over Boehner's efforts to rake in $100k contributions from lobbyists who would have guaranteed access to Speaker Boehner."
@daveweigel: Does the non-existent coverage of the Holmes Norton tape say something about how Breitbart content is handled post-Sherrod? ... UH MAYBE
BECAUSE YOU'VE READ THIS FAR - Here's a small dog and his friend, a really big dog. http://bit.ly/ahXDBh
Democratic Texas Rep. Chet Edwards is really trying to make you forget the Democratic part. His new campaign ad takes aim at President Obama and Nancy Pelosi by suggesting that their support for healthcare overhaul and gun control are misguided. "When President Obama and Nancy Pelosi pressured Chet Edwards, Chet stood up to them and voted no against their trillion dollar health care bill, and no to Cap and Trade," the narrator says. "Chet votes with the conservative Chamber of Commerce sixty-seven percent of the time. And when Washington liberals wanted to take away our guns, Chet said no. That's why the National Rifle Association has endorsed Chet Edwards over Bill Flores. I'm Chet Edwards, and I approve this message. Dallas Morning News: http://bit.ly/daDpZl
Hillary Clinton will be the keynote speaker at FORTUNE's 12th annual Most Powerful Women Summit. The gathering will be held from October 4th to the 6th and will also feature a litany of influential women from a variety of industries. FDIC Chairman Sheila Bair, SEC chairman Mary Schapiro, Senator Olympia Snowe and -- awkward -- Michelle Rhee.
SARAH PALIN REALLY LIKES BOOK DETAILING HOW EVERYONE IS MEAN TO SARAH PALIN - The cover to the forthcoming book "The Persecution of Sarah Palin: How the Elite Media Tried To Bring Down A Rising Star" features a favorable notice from the former governor of Alaska. "Matthew Continetti rips the lid off the lamestream media in this must-read book, --- SARAH PALIN " the quote reads. This got us thinking about other self-congratulatory blurbs we've missed in the past: Dahl is right, I am large and amiable! --- Big Friendly Giant, Melville painstakingly portrays my might and elusiveness as a powerful allegory for the indomitable spirit of mother nature like no one else! --- Moby Dick," In two gripping plays, Bill Shakespeare captures the energy and of my reign! A must read for summer! --- HENRY IV, etc. The Weekly Standard: http://bit.ly/djvsja
JEREMY THE INTERN'S WEATHER REPORT - Tonight: Beautiful night leading into a beautiful weekend. Expect clear skies, and temps in the 60s. This weekend, it goes up to the 80s. Remember, only a few more days of summer! Thanks, JB!
- Brooklyn tornado, meet Brooklyn hipsters. Brooklyn hipsters, meet Brooklyn tornado. http://bit.ly/9aLPXX
- What a sociable seal. http://bit.ly/9fWsZ3
- What a sad cat. http://bit.ly/aWPJDq
- Some creative use of high school year book portraits. http://bit.ly/cgRls8
- A sport where you are only allowed to touch the ball...with your head. http://bzfd.it/dkuhWt
- Today in "Nobel categories that should really exist:" 15 groundbreaking burritos. http://bit.ly/axumQx
- Punishment...or HuffPost blog entry headline? http://bit.ly/aomyju
- BEARS DOING YOGA. BEARS DOING YOGA. BEARS DOING YOGA. http://bit.ly/9YD9TS
@pourmecoffee: Pro Yom Kippur Tip: Keep it short. You are not allowed a "Special Comment" like Olbermann.
@chucktodd: O'Donnell is using Journey's "Don't Stop Believin'" as her out music. #takethatglee
@GlennThrush: Ever since the Warren appointment, the Dow has rocketed up by 8.25 points.
TONIGHT: Elizabeth WarrenPete Sessions is on Bloomberg's Political Capital. TOMORROW: Tony Blair, Darrell Issa and Tony Blair appear on The Situation Room.
Meet the Press: Bill Clinton, Colin Powell.
This Week: Mahmoud Ahmadinejad.
Face the Nation: Bill Clinton, Christine O'Donnell.
State of the Union: Sen. Jim DeMint (R-SC).
5:00 pm - 8:00 pm: Dixie Liquor's Customer Appreciation BBQ will feature free BBQ and free booze samples [Dixie Liquor, 3429 M Street NW].
7:00 pm - 9:00 pm: The final installment of the I Love The 90s Film Festival features Home Alone [Gateway Park, 1300 Lee Highway].
7:30 pm: Parks and Recreation's very funny Aziz Ansari takes his standup act to the Warner Theatre [Warner Theatre, 1299 Pennsylvania Ave NW].
12:00 pm: The H Street Festival will feature food, performances and raffles. Oh, God, the raffles [H Street NE].
7:00 pm: Billy Bragg, the poor man's Clash, performs at 9:30 Club [9:30 Club, 815 V Street NW].
A couple of weekend fundraising retreats
Friday - Sunday: Charles Boustany (R-La.) and his ridiculously named "Committee for the Preservation of Capitalism" are hosting a New Orleans getaway weekend [Loews New Orleans Hotel, 300 Poydras Street, New Orleans].
Friday - Sunday: Hit some balls with Richard Burr (R-N.C.) at his golf outing [Pine Needles Lodge and Golf Club, 1005 Midland Road, Southern Pines].
Got something to add? Send tips/quotes/stories/photos/events/fundraisers/job movement/juicy miscellanea to Eliot Nelson (eliot@huffingtonpost.com), Ryan Grim (ryan@huffingtonpost.com) or Nico Pitney (nico@huffingtonpost.com). Follow us on Twitter @HuffPostHill (twitter.com/HuffPostHill). Sign up here: http://huff.to/an2k2e
Popular in the Community