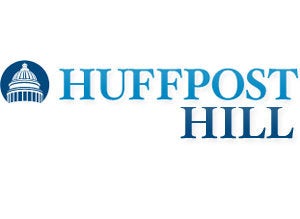 "Let's talk about sex, ba-by/ Let's talk about the G-O-P/ Let's talk about David Vitter, self-pleasure and the Tea Par-ty/ Let's talk ab-ow-ut sex." Seriously...because it really seemed to haunt a number of conservatives today, often in not so funny ways. Louisiana Democrats unveiled a five-minute mockumentary intended to remind voters about David Vitter's prostitution imbroglio, a video emerged of Delaware Senate candidate Christine O'Donnell railing against the evils of self-abuse, a Tea Party-backed Constitution Party Senate candidate in Ohio was charged with having sex with an under-18 friend from church and Sarah Palin thinks we need to talk to our doctor about Levitra. And, of course, there's Glenn LeMunyon's row house. This is HUFFPOST HILL for Thursday, September 2nd, 2010:
ROBERT GIBBS: SECOND STIMULUS BILL UNLIKELY - With a report on August job growth due tomorrow, White House officials are devising ways to boost employment creation. In his daily briefing with reporters, the White House press secretary said that "Some big, new stimulus plan is not in the offing" but added that the Obama administration is considering "a whole host" of "targeted measures" that would spur job growth. The Hill: http://bit.ly/9NI1Fr
Gibbs' pooh-poohing comes a day after Christina Romer said, on her way out the door, that a big stimulus is exactly what's needed.
"The White House has announced that President Obama will hold a formal news conference on Friday, Sept. 10, his first in nearly four months. According to CBS Radio's Mark Knoller, the in-house record keeper of the White House press corps, it will be the president's eighth solo Q-and-A session. His last was May 27, when he fielded questions about the BP oil spill." Chicago Tribune: http://bit.ly/bvELOP
BERNANKE: SOME MEGABANKS WILL SPLIT UP - Shahien Nasiripour: "The nation's central banker said Thursday that some of the nation's megabanks will break up and get smaller. 'The most important lesson of this crisis is we have to end too big to fail,' Federal Reserve Chairman Ben Bernanke testified before the Financial Crisis Inquiry Commission, the panel created to investigate the roots of the financial crisis. 'My projection is, that even without direct intervention by the government, that over time we're going to see some breakups and some reduction in size and complexity of some of these firms as they respond to the incentives created by market pressures and regulatory pressures as well.' So what Democratic Senators Ted Kaufman of Delaware and Sherrod Brown of Ohio could not get the Obama administration to rally behind -- breaking up the giant banks that dominate financial services in the U.S., months after they played a large role in precipitating the worst financial crisis since the Great Depression -- Bernanke said it will happen naturally. Thanks to the recently-enacted financial reform law the Fed played a big part in shaping, the nation's biggest banks will eventually break apart because it will be too expensive for them to remain big."
HuffPost Hill's acting San Fran bureau chief Lucia Graves stalked Nancy Pelosi at another event today and this time asked her what she thought of Obama being so gracious to Bush in announcing the end of combat operations in a war begun on false premises that she vigorously opposed. "As I said to the American Legion yesterday, whatever you think of the war, and many of us were strongly opposed to it, the fact is we have to separate the warrior from the war, and when these troops, these tens of thousands of troops come home, we have to honor them for their service to our country," Pelosi said. "I think the President was appropriate in his speaking to the former President who had signed that [Status of Forces] agreement, and the action taken with that agreement. We were all pleased that there was no change to say, 'Conditions have warranted us to go in a different direction.' Instead we're on course. That means combat troops out of the cities, combat troops out of country, and now the remainder is scheduled to come home."
2ND DEFICIT COMMISSION GUY UNDER ATTACK - No, we're not plagiarizing this one from "A People's History of the United States": The Steelworker Organization of Active Retirees sent a letter to Obama demanding that he fire Honeywell CEO David Cote, citing his lockout of uranium distillery workers at an Illinois plant. The workers had offered to stay on despite a contract dispute over health benefits, which are pretty important for people who work with uranium. Cote, instead, is bringing in scabs because, of course, every community wants its uranium plant run by a skeleton crew of scabs and managers. That never ends badly! HuffPost labor blogger Mike Elk reports that the NRC isn't letting the plant operate with these bozos. A Honeywell spokeswoman disputed the facts in the steelworker letter. http://huff.to/95Jfts
TODAY'S TERKEL (TZATZIKI) TAKEDOWN - Amanda Terkel on Mark Kirk's big fat Greek political broadside: "In the past few months, he has frequently brought up the Greek financial crisis to warn America what will happen if it doesn't reduce government spending. Coincidentally, Kirk is running against Democrat Alexi Giannoulias, whose parents are both Greek and who played professional basketball in Greece before being elected state treasurer in Illinois. Giannoulias campaign spokesman David Spielfogel told the Huffington Post, Republicans 'thrive on smears that try to cast opponents as un-American and seem to think that if your parents didn't come over on the Mayflower, you're not a U.S. citizen.'" http://huff.to/biHW0x
DAILY DELANEY DOWNER From a super-duper mean email received by Arthur Delaney Thursday in response to a July story about Pennsylvania gubernatorial candidate Tom Corbett accusing the unemployed of being lazy: "I know a girl laid off from a large telecom co. last month, and she has the exact attitude Corbett described -- she would rather take a break and not work for 96(I think that's right) weeks than look for a job - why not, we working people and our stupid representatives and stupider president will send a FREE check !!! I guess you're also so stupid that you don't know there is no free lunch, someone has to pay --- sometime, somehow..... Or maybe you're employer is stupid and you make more than you're worth so you have so much extra money you think more taxes are OK ---- what a putz. Be an adult, promote self reliance, and self sufficiency, not 'poor me' I need free money forever....."
Will Sheriff Joe be wearing pink one day? http://bit.ly/cuiZup
OIL RIG EXPLODES IN GULF OF MEXICO - As if the Gulf didn't bear a striking enough resemblance to Poseidon's toilet, it appears that another oil well has up and kaboomed. The Coast Guard reported this morning that one of its helicopters confirmed the explosion, 80 miles south of Vermilion Bay along the central Louisiana coast. The blast has produced a mile-long oil slick, the Coast Guard also said. Reports indicate that it is not a deepwater well and that all 13 workers have been accounted for with only one injury reported. "MSNBC and USA Today are reporting that the Coast Guard has clarified that the explosion occurred at an oil platform and is not an oil drilling rig. The platform, however, is still on fire." http://huff.to/bDA1gb
...only hours after Bobby Jindal demanded that the drilling moratorium be lifted. http://bit.ly/a8YPZz
Don't be bashful: Send tips/stories/photos/events/fundraisers/job movement/juicy miscellanea to huffposthill@huffingtonpost.com. Follow us on Twitter - @HuffPostHill
JAN BREWER'S CURIOUS OPENING STATEMENT - During a televised gubernatorial debate last night, Arizona Governor Jan Brewer appeared to space out during the middle of her opening statement. For nearly 15 seconds -- interrupted only by a brief chuckle -- Brewer stared at her hands, sporting a smirk that slowly grew into an ear-to-ear grin. "We have cut the budget, we have balanced the budget and we are moving forward. We have done everything that we can possibly do...," she said before trailing off. And this wasn't your dime-a-dozen, word retrieval space out, mind you. This was a full-fledged, sophomore-year of college have-you-seen-The-Wizard-Of-Oz-with- Dark-Side-Of-The-Moon-overdubbed? conversation zone out. For the love of God, someone PLEASE get Governor Brewer a Mountain Dew and a bag of Combos. http://bit.ly/9dQnpX
The Christopher Guest-worthy awkwardness continued after the debate when Brewer refused to respond to, much less acknowledge, a torrent of questions about a claim she previously made that Arizona's immigration situation has lead to "beheadings in the desert." After one reporter said, "the headless bodies, why won't you recant that? Do you still believe that? C'mon governor!" Brewer promptly walked away -- Sharron Angle style -- leading the press pool to let out a collective "AHHHHHHHHH." Jason Linkins: http://huff.to/9iVK1O
LOUISIANA DEMS PRODUCE FAUX VITTER PROSTITUTION DOCUMENTARY - The five-and-a-half minute clip is intended to remind voters of David Vitter's involvement in the 2007 prostitution scandal in which he was identified as a client of a D.C. prostitution ring. It attempts to mimic Dateline-style reports -- complete with shoddy black-and-white "reenactments" and salacious details about Vitter's entanglements with the world's oldest profession. "Vitter was excused from testifying by federal judges and his colleagues in the Senate dropped their ethics investigation only a week after the DC Madam's suicide," the attack ad-y narrator says. Throw in a few irate prisoners and we've got ourselves MSNBC's newest weekend programming. Brian Beutler in TPM: http://bit.ly/cPBrDo
Speaking of sex crimes and the conservatives who commit them, a Tea Party-backed Senate candidate in Ohio has been indicted for having sex with a minor. "Eric Deaton, a Constitution Party candidate running for the seat Sen. George Voinovich (R-Ohio) is vacating (with the help of endorsements from Tea Party and family values groups) has been indicted for unlawful sexual conduct with a minor that he supposedly met at his church. Deaton responded to the allegations Wednesday, denying charges that he had sexual contact between March 2006 and 2007 with a 15 year old girl that he had first encountered as an elder in his congregation. He also said that he plans to stay in the race despite the timing of the case. WDTN reports that the Perry Township Police Department believes Deaton tutored the girl and invited her to work around his home. Police also say they have incriminating hotel receipts and surveillance video that will make their case, though Deaton's attorney says this evidence will prove his innocence." http://huff.to/clJ5Nb
Not every right-leaning candidate is embroiled in a sex scandal. Some of them abhor sex...even the kind you have with yourself! Sam Stein on Tea Party-backed Christine O'Donnell: "The Delaware Republican, who is challenging Rep. Mike Castle in the state's Senate primary and has earned the financial backing of a portion of the Tea Party movement, made an appearance in the MTV series 'Sex In The 90s.' Entitled 'The Safest Sex Of All,' the episode was ostensibly geared towards understanding the importance of abstinence. But O'Donnell's guidance went a bit further. Masturbation, she argued, is not a moral substitute for sex. 'The Bible says that lust in your heart is committing adultery. So you can't masturbate without lust.'" http://huff.to/9QyyD6
In an interview with the Weekly Standard, O'Donnell expressed concern that her opponents are following her home at night http://bit.ly/am51rc.
SARAH PALIN: REPORTERS ARE "LIMP" AND "IMPOTENT" - No, really, this never happens. We swear. We've...just...been really stressed at work and haven't gotten much sleep. "Sarah Palin on Thursday tore into 'impotent, limp and gutless reporters' who quote anonymous sources criticizing her. Though she did not name a story in particular, Palin seemed to be referencing a new Vanity Fair story on her that relies heavily on anonymous stories and contains several unflattering anecdotes about her temper. 'I hear there is some pretty ugly stuff right now,' Palin said of her recent coverage in an interview on Sean Hannity's radio show." Politico: http://politi.co/c2vC6f
BECAUSE YOU'VE READ THIS FAR - Here's a cat...a scheming cat. http://bit.ly/dvBVaB
JOSEPH CAO: "I LOVE THE PRESIDENT" - The president has received a lot of criticism for waffling on issues ranging from gay rights to the exercise of military force. Until this point, reciprocating Joseph Cao's L-bomb was not on the list...No more. The Hill: "Rep. Anh 'Joseph' Cao (R-La.) said he loves President Obama on a personal level, and believes that the president likes him very much, too. Cao, a Republican elected in 2008 in a heavily-Democratic district in New Orleans, said that he gets along very well with Obama on a personal level, though many other GOP lawmakers are more critical of the president. 'I love the president, and I believe he truly likes me,' Cao told the New Orleans Times-Picayune in a profile published on Thursday...'You have people you like, you have people you don't like,' he said of the Republican conference." Likes, Mr. President? LIKES? LIKES??? http://bit.ly/9j4HRG
Rudy Giuliani's clout as a political consultant has evaporated quicker than squeegee men from Cross Bronx Expressway on-ramps. Maggie Haberman in Politico: "Giuliani Partners, the consulting business formed by the former mayor shortly after he left City Hall, has vacated the flagship office it had on a floor of the Ernst & Young offices in Times Square for nine years, consolidating space with the ex-candidate's law practice, sources confirm. The consulting practice, which took a hit in the wake of his presidential campaign loss and had whittled down to a smaller number of employees, moved into the new space that Bracewell & Giuliani holds last week, the sources said." http://politi.co/ak9DSE
National Journal continues to satisfy its unending thirst for journoblood. The political news outlet announced today that Beth Reinhard, currently of The Miami Herald, is joining NJ as its chief political correspondent.
JEREMY THE INTERN'S WEATHER REPORT - Tonight: Cooling slightly, some clouds, mid-70s. Tomorrow: There's a possibility of rain and a few gusts, because, you know, a hurricane will be passing by. Thanks, JB!
But seriously, don't worry about the storm in the DC area. I'm serious. There is not much to worry about. The rivers and Chesapeake Bay will be volatile, and there might be some flooding as water gets pushed along. But Earl will not hit the Carolina coast. So why, you ask is there a Hurricane warning for the Carolina coast?. Well, why is there a tropical storm warning for other areas? The warning and watches are not based on a hurricane hitting the area, they're based on the wind speeds of the area. The Carolinas will, yes, will get winds of over 75 mph (hurricane force winds), but they will be on the weak side of Earl. The weak side is always the side that's left of the direction the Hurricane is going. Let's hope you're right, JB!
- The Nationals' Nyjer Morgan, who refers to himself sometimes as "Tony Plush," instigated a ginormous brawl in last night's Nationals-Marlins game. http://huff.to/d2ZimH
- A knife for the Book of Revelation enthusiast who has everything. http://bit.ly/bZWK9S
- Here's a slow loris -- which is kind of a primordial ewok -- eating. http://bit.ly/8dcor
- A unicorn cow. http://bit.ly/dpvGBw
- A collection of those hilarious Egyptian commercials featuring that angry panda bear. You know irony IS the harbinger of peace. http://bzfd.it/a7n6xq
- "Dodge Charger owner upset vehicle crushed by suicidal fall." http://bit.ly/acWPbf
- The Cosby Show as performed by The Sims. http://bit.ly/du24W1
- Sean Penn appeared on "Between Two Ferns." Still kind of a meanie. http://huff.to/demghO
- A rendition of this week's Billboard top ten with a 1920s bent. http://bit.ly/8XoQK5
@StephanieWDC: remember when you were playing Sim City 2000 and suddenly everything started going to hell and exploding? that's how i feel about the Gulf.
@sethdmichaels: 90s nostalgia cash-in tours I'm ok with: Pavement, Guided by Voices. Less ok with: Ralph Reed, Rick Santorum
@pourmecoffee: Pretty soon, I expect oil companies to assert a second amendment right for oil rigs explode.
THE TUBE

TONIGHT - Joe Sestak appeared on Hardball. Chris Van Hollen and Russ Feingold are on The Ed Show. TOMORROW: Our very own and very strapping Sam Stein is on Morning Joe, along with Joe Sestak. Tom Delay stops by the Daily Rundown.
6:00 pm - 9:00 pm: Join a group of journalists, activists, bloggers and those people from college who would never flush the toilet for "environmental" reasons at "Drink Beer, Talk Climate," a monthly meet-up for greenies [Buffalo Billiards, 1330 19th Street NW].
6:30 pm: Kele of Bloc Party performs at 9:30 Club. The Law and Order of dance music: totally formulaic and totally satisfying [9:30 Club, 815 V Street NW].
6:30 pm - 8:30 pm: Lobster and beer, the Travelling Wilburys of cuisine, will be discounted at the Chinatown Coffee Company's Lobster Roll and Beer Happy Hour [Chinatown Coffee Company, 475 H Street NW].
5:00 pm - 8:30 pm: Josh Bayer, a "progressive guitarist," performs at this week's "Jazz in the Garden" [National Sculpture Garden, Constitution Ave NW & 7th Street NW].
7:50 pm - 9:00 pm: For all of you who just started liking boys/girls in the early 90s, this weeks' installment of the Rosslyn Outdoor Film Festival screens "Billy Madison" [Gateway Park, 1300 Lee Highway, Arlington].
Got something to add? Send tips/quotes/stories/photos/events/fundraisers/job movement/juicy miscellanea to Eliot Nelson (eliot@huffingtonpost.com), Ryan Grim (ryan@huffingtonpost.com) or Nico Pitney (nico@huffingtonpost.com). Follow us on Twitter @HuffPostHill (twitter.com/HuffPostHill). Sign up here: http://huff.to/an2k2e
Popular in the Community