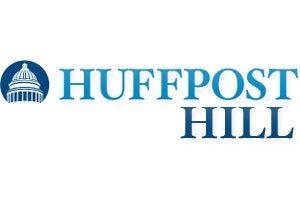 An unusual number of officials stepped outside of their comfort zones today, some with more bravado than others. Mitch McConnell insists he's willing to talk tax cut turkey (but won't budge on breaks for the wealthiest Americans) and Haley Barbour says President Obama is a Christian (but stipulated that you can never really be too sure with that guy). These equivocators should take a page from the newly independent Lisa Murkowski or, failing that, the Barbara Boxer staffer caught bringing mind-altering leafy green substances into a Senate office building. This is HUFFPOST HILL for Wednesday, September 8th, 2010:
BREAKING: LISA MURKOWSKI EXPECTED TO MOUNT AN INDEPENDENT SENATE BID - Fox News: "Alaska Sen. Lisa Murkowski is expected to mount an independent campaign for senator after losing her primary, much to the dismay of her Republican colleagues, who won't back her, according to a senior GOP leadership aide. 'The entire Republican leadership has endorsed and would continue to support Joe Miller,' a the aide told Fox News on Wednesday. Republican political action committees, including Minority Leader Mitch McConnell's Bluegrass PAC, have already begun giving to Miller, who won the nomination last week after waiting nearly two weeks for state election officials to count the absentee ballots that guaranteed the win." http://fxn.ws/a1qVAB
Roll Call has Republican leaders making it snow on Joe Miller, even as Murkowski ponders her write-in bid http://bit.ly/bwiD0M
DC MAYORAL RACE UPDATE: VINCENT GRAY UP IN POLLS OVER ADRIAN FENTY - With the Democratic primary just five days away, two surveys show the DC councilman leading the mayor. A poll released by Clarus has Gray leading 45 percent to 38 percent while one from PPP (released by Washington City Paper and the Kojo Nnamdi Show) has Gray up 50 percent to 39 percent. The Clarus survey reveals a sharp divide between black and white voters, with the former supporting Gray 62 percent to 17 percent and the latter supporting Fenty 68 percent to 22 percent. Respondents give Fenty a 49 percent favorability rating and Gray a markedly better 60 percent one. Arthur Delaney wonders what will become of our fare city's dog parks and bike lanes. We wonder whether Mayor Gray would tackle those ghost trains on the Metro that never arrive despite the platform lights indicating otherwise. WCP: http://bit.ly/9RsxaJ
Mark Blumenthal weighs in to HuffPost Hill: "Polls done to date have shown voter preferences polarizing sharply along racial lines, with Fenty leading by wide margins among DC's white voters, while African Americans are abandoning Fenty and flocking to Gray. The big and ultimately unknowable question -- even for pollsters -- is the precise racial composition of the likely electorate. Some pollsters apply weights or quotas to get the composition they expect, others put their trust in 'likely voter' selection models to reveal the right demographic mix, but all will be uncertain until the votes are counted. And full disclosure: I'm a Fenty supporter."
OBAMA OUTLINES ECONOMIC STRATEGY IN OHIO SPEECH - NYT: "President Obama called on Wednesday for an end to the Bush-era tax cuts for the wealthy, saying the country can not afford the $700 billion price tag for tax breaks that would benefit 'millionaires and billionaires.'...By proposing to extend the Bush tax cuts for the 98 percent of households with income below $250,000 for couples or $200,000 for individuals, and insisting that federal income tax rates in 2011 go back to their pre-2001 levels for income above those cutoffs, Mr. Obama cast the election-year economic debate as a choice between supporting the middle class and giving breaks to the rich...At times during the president's speech, it seemed as if he were running against Mr. Boehner. Seven times during his remarks, the president specifically cited the House Republican leader. Touting his proposal for $180 billion in expanded business tax cuts and infrastructure spending, Mr. Obama said: 'Despite the fact that this has traditionally been an issue with bipartisan support, Mr. Boehner has so far said no to infrastructure.'" Michael Steel is doing back flips. http://nyti.ms/cNGory
Orrin Hatch, using the same reasoning as Democrats who point to eight years of Bush: "I don't think anyone believes an Administration that created these problems is going to be able to come up with effective solutions to get us out of them. That's like putting Bernie Madoff in charge of fixing your company's broken accounting system." http://bit.ly/bL3ZO4
The White House is insisting the $50 billion in infrastructure spending will be paid for, even though any economist not on the Heritage Foundation's payroll will tell you that deficit spending is what's needed to get out of this rut. But the administration says it has plenty of money sitting around. "The president has outlined over $300 billion of loopholes in his budget, in particular a set of tax incentives for companies that shift their profits overseas, reinvest their profits overseas -- the president is proposing to get rid of those," Obama economist Jason Furman told reporters this afternoon. "It's important also to understand the fiscally responsible context for the plan the president is putting out this week." But, as Krugman noted, by running away from deficit spending with these "fiscally responsible" initiatives, the White House will slow economic growth, which reduces tax revenue, which raises the deficit, which makes fiscally responsible proposals fiscally irresponsible. http://nyti.ms/b4xE1K
Try taping the candidate's name to the back of your Gibson: Before the speech Obama gave a shout-out to Ohio Lieutenant Governor and Senate candidate Lee Fisher, "The next senator from Illinois." The NRSC had the video up faster than you can say "The Brooklyn Dodgers had a no hitter last night." http://bit.ly/aeXiYW
Arianna is on the PBS Newshour and Olbermann tonight, talking about her new book, Third World America. Ahem: http://amzn.to/c3ygdr
RAHM REPLACEMENT? - Were he to enter the mayoral race in Chicago, Emanuel apparently thinks it will be Valerie Jarret running the shop. Mike "Boo Radley" Allen and Josh Gerstein in Politico provide several other contenders: "The most likely candidate may be Tom Donilon, a deputy national security adviser whose political experience goes back to the Carter-Mondale campaign. Donilon earned his chops in government as the first assistant secretary of state for public affairs under President Bill Clinton. His wife, Cathy Russell, is chief of staff to Dr. Jill Biden. Another possible prospect is Ron Klain, chief of staff to Vice President Joe Biden, who has served in a string of sensitive positions, including chief of staff to Vice President Al Gore during the 1996 reelection campaign." http://politi.co/dxUSgz
A goatee-stroking, "eeen-terestng" development - Gibbs on Rahm's possible run: "Something like that doesn't come around a lot." http://bit.ly/ceM4f6
HOUSE REPUBLICANS RELEASE THEIR OWN ECONOMIC PROPOSAL - They'd leave tax rates the same and cut $100 billion in spending over the next year, returning the budget to FY08 levels. Since you wouldn't be cutting taxes, but only cutting spending, you'd be taking money out of the U.S. economy and using it to pay off (mostly) foreign investors. It's anti-stimulus and would increase unemployment and slow growth. Still-Speaker Pelosi responded by noting Boehner's plan would cut veterans' benefits and ad $4.2 trillion to the debt.
MCCONNELL: I'M OPEN TO DISCUSSION ABOUT REDUCING TAX CUTS - File alongside "Villain From 'Speed' Ready To Discuss 45 mph Solution," "Cookie Monster: Yeah, Brownies Seem Fine" and "David Berkowitz Proposes Symposium on Blondes." A spokesman for the Senate Republican leader told Sam Stein that McConnell is ready to consider a variety of outcomes for the expiring Bush tax cuts -- as long as they don't expire. "If what it takes to prevent a tax hike is to start with two years, if that's what it takes to talk Democrats out of raising taxes, that would be a good start," said Don Stewart. "But we're not for raising taxes in two years... If all we can get is two years without raising taxes, and then have that debate again then, fine. But we're not for raising taxes." Sam Stein: http://huff.to/a6nFle
SPOILER ALERT: This tax cut stuff will not be dealt with before the election, unless "dealt with" is understood as a few weeks of bickering before it's punted.
Don't be bashful: Send tips/stories/photos/events/fundraisers/job movement/juicy miscellanea to huffposthill@huffingtonpost.com. Follow us on Twitter - @HuffPostHill
HERITAGE FOUNDATION: DEFEAT THE DEMOCRAT "FIRE BA-A-A-A-D" AGENDA - Extending its free-market philosophy to Poseidon's watery wrath, the conservative think tank yesterday published an article claiming that the Obama administration has over-used FEMA: "Since his inauguration, President Barack Obama has issued 195 FEMA declarations despite the fact that not a single hurricane has hit the United States in that time span and only one minor earthquake has occurred...As we have long argued, this country needs to get FEMA out of the routine natural disaster business and reserve its capabilities for catastrophic events." We'll let you know if they clarify their position on whether thunder go boom. http://bit.ly/beAW04
Campaign for America's Future responds: "1. We aren't hearing any complaints from governors for a reason, because they like just fine an agile FEMA that partners with states and cities...2. Major disasters are not just hurricanes and earthquakes. There are also severe floods, blizzards, wildfires, tornadoes, hazardous waste spills and more. It's the kind of thing a disaster management professional would understand. 3. Maybe there are more declarations because FEMA is finally doing its job. I'm not even sure what Heritage gets '195 FEMA declarations' from. The FEMA website indicates there have been 124 through mid-August." http://bit.ly/b2KEmF
HALEY BARBOUR: SOCIAL ISSUES NOT DRIVING MIDTERMS - Mississippi governor, Republican Governors Association chair, possible 2012 candidate and most what-we-have-heuh-is-a-failure-to-communicate-y pol around Haley Barbour this morning insisted that pocketbook issues are going to influence the midterms more than social ones. "The voters have on their mind the economy, jobs, spending, debt and taxes and good campaigns are about the issues that are on the peoples minds," Barbour said at a Christian Science Monitor-sponsored breakfast. The emphasis on the economy is interesting coming from the governor of a state where two-button suits are considered agents of the homosexual agenda. Sam Stein: http://huff.to/a3MaUH
Barbour also said he believes President Obama is a Christian -- and let us pause to appreciate how sublimely twisted the zeitgeist has become if a governor is compelled to go on the record about these two things. Barbour still managed to liken the president to Don Draper (and not in the good, sexy way) by couching his statement in some pretty weak-arse language: "I don't know why people think what they think," he said. "This is a president that we know less about than any other president in history. But I have no idea why. I accept just totally at face value that he is a Christian. He said so throughout the time he has been in public life. That's good enough for me. Do I think there is a vast right-wing conspiracy? No ma'am." http://huff.to/9Q8Yvz
IS NEW HAMPSHIRE THE NEXT TEA PARTY BATTLEGROUND? - Salon: "The state and national Republican establishments united early behind Kelly Ayotte, New Hampshire's appointed (by a Democrat) attorney general. Ayotte has enjoyed wide leads in primary polling all year, but a survey released last Friday showed her advantage cut to just 13 points -- with Ovide Lamontagne, a fixture in the state's conservative activist network, suddenly moving to second place, with 21 percent, after languishing in single digits for months. Lamontagne's apparent surge comes in the wake of his endorsement by the influential (on the right) Union Leader, and as the race's other major candidate, businessman Bill Binnie, is bleeding support. Lamontagne, unlike [Delaware Senate candidate Christine] O'Donnell, should hold up well under the spotlight, at least for now. He's waged serious campaigns for Congress (in 1992, losing a Republican primary) and governor (in 1996, winning the GOP nomination but losing in the fall), chaired the state Board of Education, and been active in several charitable organizations. He doesn't talk about his political enemies hiding in his bushes." http://bit.ly/906EIm
SHARRON ANGLE: "I'M A MAINSTREAM AMERICAN" - ABC News: "Republican Senate candidate Sharron Angle, a tea party favorite who's locked in a tight race to oust Sen. Harry Reid, is now seeking to portray herself as a 'mainstream' candidate to the broader electorate - and is attacking Reid by holding him 'responsible' for Nevada's battered economy. 'I'm a mainstream American, and mainstream Nevada understands that very well -- that I promote what they believe, which is lower taxes, less government regulation,' Angle said in an interview with ABC's Jonathan Karl that aired on ABC/Washington Post's 'Top Line' today." After reading that graph, HuffPost Hill wasted an hour of work, visualizing Angle reenacting the restaurant scene (and you know the one) from "Being John Malkovich." ABC News: http://bit.ly/aa9HH1
ANGLE!!!! - And, in case you don't know the one, here it is: http://bit.ly/6SnwvR
$2 Million Health Care Ad Buy - The Health Information Campaign, a well-funded group affiliated with Democrats, launched its first ad in support health care reform, backed by a $2 million national ad buy. Any bump in support for reform can only help Democrats in November. The ad highlights elements of the law going into effect on September 23rd. Has it really only been six months since it passed? Watch it here: http://bit.ly/97jxZU
BECAUSE YOU'VE READ THIS FAR - Here's a man and his musical dog. http://bit.ly/ck0CCj
Judge Rules Government Can Pull Your Finger Nails Out, and doesn't have to defend it in court because that might reveal some "state secrets." http://bit.ly/b1O9Op
Speaking of torture, we're told that the Senate investigation is wrapping up and a vote on declassification could be coming soon.
CAPITOL POLICE HAVE THE MUNCHIES FOR JUSTICE - Politico: "A senior aide for Sen. Barbara Boxer (D-Calif.) was arrested Tuesday for attempting to bring marijuana into the Hart Senate Office Building, according to U.S. Capitol Police reports. Marcus Stanley, who served as a senior economic adviser and at one time worked on the Senate Environment and Public Works Committee -- chaired by Boxer -- was stopped by a police officer Tuesday morning when he allegedly tried to 'remove and conceal' a leafy green substance from his pocket during a security screening at the Constitution Avenue door of the Hart building around noon, according to a Capitol Police report." The staffer in question quickly resigned. Because Lord knows we can't have Hill staffers who smoke pot. http://politi.co/9oKE9Z
A little HuffPost Hill advice for you zoned-out staffers who forget to leave your weed at home: Say it's medicinal, man. That's legal in D.C. now.
Boxer is opposed to the pot legalization prop out in California, though her staff is clearly split.
And speaking of weed, HuffPost Hill's paperback is out. It costs less than an eighth: http://amzn.to/18XSmI
FOR THE RECORD, LINDSEY GRAHAM HAS NOT ENDORSED CHARLIE CRIST - But Twitter is reporting that Graham has been suspended for five games. Daily Caller: "A confusing press release from a Democrat caused a handful of reporters to inaccurately report what would have been a big story Wednesday on Twitter that Republican Sen. Lindsey Graham was throwing his support behind Florida Gov. Charlie Crist, an independent candidate running for the U.S. Senate. It appears that the confusion came after the campaign of Democratic candidate Kendrick Meek sent an email to reporters with the subject, 'Graham Endorses Governor Charlie Crist for Senate,' in an effort to show Crist's conservative past. But it did not mention that it was an old press release." http://bit.ly/cI5hMT
JEREMY THE INTERN'S WEATHER REPORT - Tonight: A cold front sweeping through will bring about cooler weather. Expect a massive cool-down to the low-60s tonight. Tomorrow: Another b-u-t-ful day. Low 80s, sunny. It's going to be so wonderful, tomorrow's Daily Delaney Downer won't be that depressing. Thanks, JB!
- Watermelon in a giant slingshot, meet face. Face, meet watermelon in a giant slingshot. http://bit.ly/bvnNNe
- An investment banker found a human body inside a shark. His old lax bros are going to eat this up. http://bit.ly/bJWJUi
- What the $@#%! should you eat for dinner? http://bit.ly/9uHt4V
- The Big Lebowski meets the Matrix. H/t the mother of the person who realized this. http://bit.ly/bIXd7S
- Man, that is one lazy dog! http://bzfd.it/9w3lGP
- Man, that is one small apartment! http://bit.ly/dpt9om
- Man, that is one gigantic koi carp! http://bit.ly/ctbxPc
- A retro short film about how a pocket watch is made. Complete with a "Well, Johnny"- type announcer. http://bit.ly/bWNfwJ
- "At first I thought, 'Wow, somebody's thinking I live in the gayest town in West Virginia or something.' I was mad." http://bit.ly/diB8OV
- Comedy at its finest. Without a doubt. http://bit.ly/aky4G3
@jaketapper: The president today was full of praise for many Republicans, all of whom are dead.
@pwgavin: When reporters write, "worst kept secret," they usually mean, "I was unable to confirm it."
@serafinowicz: On Saturday I am going to burn a copy of The Best of Duran Duran.
TONIGHT: Mike Pence appeared on Ratigan's show, talking about his party's plan for the economy. Ed Rendell is on Hardball. Tim Geithner and our fearless leaderArianna Huffington are on the Newshour With Jim Lehrer. Byron Dorgan is on the Ed Show. Arianna will also be on Countdown.
8:00 pm: Soak in some Pitchfork in a Entertainment Weekly city. Best Coast serves up a fresh batch of noise rock [Rock and Roll Hotel, 1353 H St NE].
8:00 pm: A 2000s upgrade of the '90s liberal arts college, Dispatch-y bands, Akron/Family takes its psychedelic hacky sack brand of rock to the Black Cat [Black Cat, 1811 14th Street NW].
6:00 pm: Renown composer Philip Glass discusses his storied career and collaborations with the artist Chuck Close [Corcoran Gallery of Art, 500 17th Street NW].
6:00 pm - 10:00 pm: The DC Shorts Film Festival gets underway and will be screening 90+ shot films over the next seven days. Screenings in Navy Yard and E Street. Schedule: http://bit.ly/9r0XGu
Got something to add? Send tips/quotes/stories/photos/events/fundraisers/job movement/juicy miscellanea to Eliot Nelson (eliot@huffingtonpost.com), Ryan Grim (ryan@huffingtonpost.com) or Nico Pitney (nico@huffingtonpost.com). Follow us on Twitter @HuffPostHill (twitter.com/HuffPostHill). Sign up here: http://huff.to/an2k2e
Popular in the Community