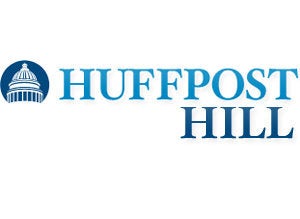 Because Democrats can't hear the TV over the sobbing and Republicans can't hear the TV over the restrained moans of sensible, closed-eyed, celebratory GOP lovemaking, here's your special, midterm-edition of HUFFPOST HILL for Wednesday, November 3rd, 2010:
REPUBLICANS TAKE CONTROL OF HOUSE, DEMS HOLD SENATE - Current NBC News projections have the Republicans taking 245 seats in the House with the Democrats picking up 190. Thus far Republicans have picked up Senate seats in Wisconsin, Pennsylvania, Arkansas, North Dakota and Indiana. They also held on, notably, in Kentucky, North Carolina, Florida and Ohio. Democrats held on to West Virginia, California, Delaware and Connecticut, among others. Harry Reid and Patty Murray are looking decent in Nevada and Washington and Michael Bennet is hanging tough, waiting on returns from El Paso.
John Boehner WEEPS: "I spent my whole life chasing the American dream."
ARMAGEDDON - This is a very, very, very bad night for the progressive movement -- a blow that calls into question whether there is such a thing. The idea that running as a passionate progressive-populist, working hard, raising a ton of money and doing bang-up constituent work is a legitimate path to reelection in a conservative district, even in a wave year, was thoroughly demolished. Tom Perriello is a thoughtful, charming, hard-working freshman whose progressive values are deeply held. He worked as hard as anyone in Congress, passionately articulated and defended his controversial votes, raised a ton of money and held endless townhalls while running a flawless campaign in his rural House district. Yet he lost to an empty-headed, country-club Republican who refused to take a position on anything other than the need to cut taxes and spending. He was swamped with corporate money. Carol Shea-Porter and Mary Jo Kilroy, also tough progressives in swing districts, met similar fates -- the former to a guy who was part of a bar fight this year and skipped out before the cops came and somehow came up with hundreds of thousands of dollars to lend his campaign after telling voters he was personally broke and the latter to A BANK LOBBYIST. And Alan Grayson went down. And Pat Toomey won in Pennsylvania. Pat Toomey. The Club for Growth derivatives trader. HuffPost Hill is out of answers.
DON'T MOURN, ORGANIZE! Actually, mourn. - The United States is in a global competition with China for economic dominance. Nothing serious has been done to get the economy going since the stimulus in early 2009. A split Congress likely means that nothing will happen until early 2013 at the earliest. The country's economy may not be able to sit in neutral for four years and recover. This could be it. Really. There is always a path out of the wilderness, but will carbon concentration be 500 ppm by then?
Grayson's ad toward the end of the race, which called his opponent, Dan Webster, "Taliban Dan" and spliced a piece of a speech to make it look like he said, "Wives, submit to your husband" backfired. Everything in Webster's past indicates that he believes precisely that, particularly his high-profile involvement in a radically sexist, cult-like group called the Institute in Basic Life Principles, but Grayson gave him a way out and at the same time tarred himself. "Taliban Dan ad killed him," a GOP operative tells HuffPost Hill. "He could've made it somewhat close had he run a traditional race. Instead he wanted to beat on his chest and prove he could be nasty." But as Randle McMurphy told his fellow lunatics: "I tried, goddammit, didn't I? At least I did that." http://bit.ly/kzBww
@DaveWeigel: Alan Grayson soon free to explore Obama primary challenge.
The pot legalization initiative lost in California, not that HuffPost Hill was watching that one closely: http://lat.ms/clePlO
Michele Bachmann to Chris Matthews: "I imagine that thrill is probably not quite so tingly on your leg anymore." Matthews followed by saying that she had spoken "moronically" after she was off the air. (HuffPost Hill checked Bachmann's campaign giving and there's no way she's running for a leadership spot, as stingy as she was with her pile of cash.)
RAND PAUL WINS IN KENTUCKY, SENATE GETS ITS FIRST BUDDHIST - Giving America its worst father-son duo since Michael and Kirk Douglas teamed up for "It Runs in the Family," Rand Paul handily won the race to fill Jim Bunning's Kentucky Senate seat. There was very little doubt about the outcome and the networks called the race shortly after polls closed.
Jim DeMint, clearly indicating who he wants sitting at his lunch table: "I want to congratulate Rand Paul on winning a race that the leaders in his own party said he could not win."
Amanda Terkel: "With Rand Paul's win in the Kentucky U.S. Senate race, it will be the first time in history that a son has served in the Senate while his father has served in the House."
Pennsylvania appears to be going for Toomey...
WEST VIRGINIA GOES FOR JOE MANCHIN - Keeping the seat blue but tilting it much more to the right, the Mountain State governor managed to hold on despite threatening poll numbers in the final days of his campaign against John Raese. Experts are attributing the win to a wounded cap-and-trade bill and a well-honed sense of theatrics.
Kathleen Parker CAUGHT reading HuffPost during CNN's election coverage: http://bit.ly/ctO0Be
HICKENLOOPER WINS COLO. GOVERNOR RACE - Depriving the world a Tom Tancredo governorship, the Democratic candidate managed to hold on for the win despite some promising poll numbers for the third party candidate late in the race.
@DomenicoNBC: Nation's first female Hispanic governor elected [in New Mexico] http://dlvr.it/7x6MP
Carl Paladino lost to Andrew Cuomo in the New York gubernatorial contest. During his concession speech, while waving a baseball bat, he yelled "You have not heard the last from Carl Paladino!"
RON JOHNSON DEFEATS RUSS FEINGOLD IN WISCONSIN - Though things might be a bit more agreeable for Democrats in the Senate Dining Room from here on out, the progressive wing of the party become a lot more disgruntled tonight. Pour one out to the Democratic-half of the most prickly pairing in the history of legislation (McCain/Feingold). Feingold, we're told, had zip for a campaign and no ground game to show for his three terms in the Senate.
IKE SKELTON BEATEN - The Armed Services chairman hadn't had to run a real campaign since the late 19th century and couldn't attract too many followers to his anti-gay/anti-freemasonry platform. But don't worry, homophobes: You lost a strong representative, but there are plenty more streaming into Washington under the R banner.
Budget Committe Chair John Spratt, who survived 1994 in South Carolina, also went down.
DEMOCRATS WIN IN CALIFORNIA - The networks are calling the governor race for Jerry Brown and the Senate race for Barbara Boxer. All in, that's about $129,512,523,901,172,272,006,323 spent between Meg Whitman and Carly Fiorina in one of the biggest failed campaign/trickle down economics experiments in history.
RUBIO TROUNCES CRIST AND MEEK - With moderate-to-progressive voters split between Florida governor Charlie Crist and Democratic candidate Kendrick Meek, it was Marco Rubio's race to lose. We now eagerly anticipate Charlie Crist repositioning himself as the sensible Republican 2012 alternative to Bill Nelson.
Indiana, to no one's surprise, went for Dan Coats over Brad Ellsworth. Even with the midterms only several-hours old, Coats' campaign updated its website to reflect his victory. "Congratulations Senator Coats," it read.
BLANCHE LINCOLN OBLITERATED IN ARKANSAS - "Organized labor just flushed $10 million of their members' money down the toilet on a pointless exercise," the official said. "If even half that total had been well-targeted and applied in key House races across this country, that could have made a real difference in November."
NE-I-I-I-I-N: MARCY KAPTUR BEATS NAZI AFICIONADO RICH IOTT - Marcy Kaptur, an Ohio Democrat, is claiming victory. She fought off Rich Iott, who infamously enjoys dressing up as a Nazi, with "a clear focus on jobs and improving our economy for our middle class," she tells HuffPost Hill in an email, noting that she was outspent 4-1.
What's left to say after this wipeout? - Adam Green, co-founder of the Progressive Change Campaign Committee, says this: "Democrats lost because party leaders never truly fought for popular progressive reforms like the public option and breaking up the big banks, leaving voters uninspired to come to the polls and vote Democratic. What the average voter saw of Democrats was weak, watered-down change -- and weak Democratic leaders who cut deals with the very Wall Street banks and insurance companies they are supposed to be fighting. It's unfortunate that bold progressives like Russ Feingold got dragged down in a national rejection of Democratic Party weakness. Progressives will be stepping up and insisting that the Democratic Party be bolder, not weaker. We will demand boldness, reward bold leaders, reject 'leaders' in name only, and hold Democratic politicians accountable when they don't fight for popular, progressive change. In short, these next two years, progressives will push Democrats to fight strongly for popular progressive reforms -- and save the Democratic Party from its own incredible weakness that savaged Democratic candidates in 2010."
@TVsAndyDaly: You know it's a great night for Republicans when Democrats are relieved to have defeated the guy in the Nazi uniform. Ho boy.
CHRIS COONS BEATS CHRISTINE O'DONNELL - All that's left now is for O'Donnell to finalize her early-morning PAX talk show. HuffPost Hill's one Delaware GOP friend sends in this dispatch: "lets just say JACK MEOFFER got at least one vote for senate. i couldn't bring myself to vote for chrissy. even though the race isn't close, i think if she won she could potentially make Delawareans look like idiots. the guy in line behind me wore a tshirt that said "dont blame me, i didnt vote". i was beyond confused... i thought i might have been in a gang bang line or something. go with jesus."
Two GOP own goals in Delaware. - Eddie Vale sends along exit polling showing that union members broke 63-24 for Coons and 64-22 in the House race for Mike Castle's seat. The union has 70,693 members there, 15% of the vote. That was enough to give the seat to Democrat John Carney, who beat teabagger Glen Urquhart, who beat the GOP's preferred candidate, who probably would've won the general, in the primary.
@rollcall: Our @jessicalbrady reports fr GOP HQ: They showed O'Donnell concession speech on big screen for literally 5 seconds. Turned off quickly.
CNN: "If GOP voters are feeling any buyer's remorse, they may take some solace in one surprising stat: despite pre-election polls that showed longtime Republican Rep. Mike Castle handily beating Coons in a hypothetical matchup, the voters who turned out today said they would still probably have sent Coons to Washington over Castle, backing him 44-43 percent." http://bit.ly/cOhYeN
@em_um: "I'm you. A loser."
ALVIN GREENE LOSES, WILL RECEDE BACK INTO MAGICAL LAND WHERE ALL OUR UMBRELLAS AND HALF OF OUR SOCKS GO - Jim DeMint handily beat the upstart candidate in the South Carolina Senate contest. Wall Street Journal reports Greene "spent Election Day as he has most others of the campaign, watching TV at the rural house he shares with his father and answering calls from reporters and supporters." http://bit.ly/bWWWTU
Amanda Terkel: "Although the election for Greene is over, he lived up to his reputation for surprising journalists and creating a spectacle by focusing on his comic book called "Ultimate Warrior," in which he is a superhero who saves people from foreclosures. Greene described the character as someone who can 'can see into the future,' 'leap higher than Michael Jordan' and 'take on the Hulk.'"
The scene from C-SPAN's control room tonight: http://bit.ly/bqJ0Rg
GOTV FAIL - Brian Ryder, 34, wrote HuffPost to explain his lack of motivation today. The Tinley Park, Ill. resident said that a massive pile of student loan debt, combined with reduced hours and a bleak job outlook, kept him from voting. "Like many, I have lost any and all faith that voting will do anything whatsoever to help with the issues that actually matter," he wrote. "On the other side of the fence, the Tea Party movement seems directionless and equally inept. For someone seemingly stuck in the middle of it all, I feel like there is no choice available, nor any real help on the horizon."
ONE REALLY GOOD PIECE OF NEWS FOR THE DEMOCRATS - http://bit.ly/9fKzgz
Popular in the Community