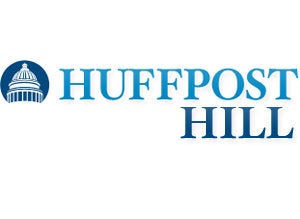 Christine O'Donnell's years of gainful employment and parsimonious way of life have finally caught up with her. The GOP's not so sure about letting go of Frannie and Freddie anymore. And fans of shirtless men had an off day as Scott Brown's latest foray into publishing won't offer up Cosmo-style pics AND tomorrow's New York Times won't feature the well-chiseled pectoralis majors of a certain world leader. This is HUFFPOST HILL for Wednesday, December 29th, 2010:
CHRISTINE O'DONNELL UNDER INVESTIGATION - With Bank of America agents busting through peoples' doors, x-rays snapping pictures of our junk at airports and all-too-revealing cyber-attacks the latest craze, that whole "I'm you" thing isn't sounding so odd anymore. "A person with knowledge of the investigation says federal authorities have opened a criminal probe of Delaware Republican Christine O'Donnell to determine if the former Senate candidate broke the law by using campaign money to pay personal expenses. The person spoke on condition of anonymity to protect the identity of a client who has been questioned in the probe. The case, which has been assigned to two federal prosecutors and two FBI agents in Delaware, has not been sent to a grand jury. O'Donnell, who set a state record by raising more than $7.3 million in a tea party-fueled campaign this year, has been dogged by questions about her finances." [AP]
President Obama made six recess appointments today, including the long-delayed elevation of James Cole to be the next deputy attorney general. Along with Cole, the president appointed William J. Boarman as public printer of the United States, Matthew J. Bryza as ambassador to Azerbaijan, Norman Eisen as ambassador to the Czech Republic, Robert Stephen Ford as ambassador to Syria (the first in five years) and Francis J. Ricciardone, Jr as ambassador to Turkey. Expect the printer of the United States appointment to completely disrupt the legislative calendar next year.
DAILY DELANEY DOWNER - Naomi Cohn reports she received a nasty email from an employee of the Ohio Department of Job and Family Services who hates 99ers and their constant demands for additional unemployment benefits. "Are you in your right mind? What are the 99's waiting around for?" wrote one Donald Lutz, using his work email, according to Cohn, who blogs about unemployment for Examiner.com. "Unemployment compensation is for 26 weeks, and no matter how many extensions you add to it, those higher paying jobs are not going to magically reappear....Having been in the employment field for many years, I can assure you the unemployed are not actively seeking jobs that pay little more than their unemployment checks." A spokesman for the Department of Job and Family Services confirmed to HuffPost that there is an employee named Donald Lutz at the department. "Our chief inspector's office is investigating this incident as a possible misuse of state equipment and time," the spokesman said. He added that if Lutz did, in fact, send the email, the department "strongly disagrees" with the sentiment. [Unemployment Examiner]
No surprise there: "Speaker-designate John Boehner announced Wednesday that Rep. Jo Bonner (R-Ala.) will be chairman of the Ethics Committee in the 112th Congress." [Roll Call]
The Poorhouse: Aunt Winnie, Glenn Beck, And The Politics Of The New Deal [HuffPost]
Don't be bashful: Send tips/stories/photos/events/fundraisers/job movement/juicy miscellanea to huffposthill@huffingtonpost.com. Follow us on Twitter - @HuffPostHill
GOP FINANCIAL SERVICES MEMBER PUTS BRAKES ON FANNIE/FREDDIE PRIVATIZATION - Rep. Scott Garrett, who will helm the panel tasked with regulating Fannie Mae and Freddie Mac in the 112th Congress, is suddenly sounding a lot less Milton Friedman-y about the housing market. "We recognize that some things can be done overnight and other things can't be," the incoming chair of the Capital Markets, Insurance and Government Sponsored Enterprises subcommittee told Alan Zibel. "You have to recognize what the impact would be on the fragile housing market as it stands right now." That's right congressman, it's all fun and games and exercises in market corrections until a bunch of underwater homes on the outskirts of Pensacola start screwing with the funds for that sun room you kept intending to build. [WSJ]
Sheiks, Mexican prostitutes and coke (among other things). Ryan J. Reilly combs through the late Charlie Wilson's FBI file. [TPM]
NRSC CHIEF DISCUSSES 2012 TARGETS - In an interview with CNN published today, National Republican Senatorial Committee Executive Director Rob Jesmer disclosed which seats his organization will be gunning for in the 2012 election cycle. "It's clear that Sen. Ben Nelson of Nebraska is in serious trouble and kind of in a league of his own," Jesmer told the cable outlet (boy we'll second that one). He added that the GOP will try to pick up seats currently held by Jim Webb, Kent Conrad, Jon Tester and Bill Nelson. On the subject of Scott Brown, Jesmer offered up a preview of what could well be the party-line defense of Brown's centrist record against conservative challengers "The best thing Sen. Brown can do is be a good senator and the reality is he's been a great senator for Massachusetts," he said. "But the reality is there has to be a rationale for someone's candidacy, a rationale to beat Sen. Brown and I have yet to see one. In my estimation he votes the way the state wants him to." Will Elizabeth Warren be looking for work by 2012? [CNN]
Scott Brown will undertake a "mini-book tour" in his home state of Massachusetts over the President's Day recess this February. Our mothers' spirits were temporarily trampled upon learning that Brown's latest venture won't be in support of the forthcoming coffee table book Cosmopolitan's Sexiest Man of the Year 1953-2010: A Retrospective. Actually, Brown is hoping to bolster local sales of his memoir, Against All Odds, and generate favorable publicity, an aide tells Felicia Sonmez. The book, which details his hardscrabble roots in the Bay State, is scheduled to be released on February 22nd. [WaPo]
"There are 31 newly elected Republican representatives who represent districts won by Obama. Add those to the current members and that makes 62 Republican-held House seats that Obama carried in 2008." [The Hill]
Speaking of politico hunks, check out this pool report from Sheryl Gay Stolberg, sent this morning: "All you folks who wanted shirtless pictures of the president: Forget it. We are now on the all-private, top-secret snorkeling outing. POTUS and his family (Michelle, Malia and Sasha) as well as unidentified friends and their children arrived at Haunama Bay State Park at 11:07 am. after a 30-minute ride from the vacation rental. We are under explicit instructions that there will be no long lenses or other sneaky attempts to take pictures. The Obama party will be here for two hours and the whole place is closed off. This park is always closed on Tuesdays to allow the fish and the coral reef time to regenerate. Pool is holding in the (closed) snack shop. Haven't seen a thing."
THE REPUBLICAN NATIONAL COMMITTEE, DONE IN BY ITS OWN COMMITMENT TO EQUALITY??? - Not again! Reid Wilson: "How do you run a campaign when you could be disqualified, through no fault of your own, moments before balloting begins? That's a question a number of contenders are weighing as they vie for co-chairman of the Republican National Committee. The possibility that the GOP may elect a woman as national party chairman for just the second time in its history is raising that prospect for candidates for the party's often-overlooked No. 2 post. That's because RNC rules require the co-chairman to be of the opposite sex of the chairman. That rule will make Election Day more nerve-racking than usual for co-chairman candidates. They won't know whether they can run until the last moment, when a new national committee chairman is elected." [The Atlantic]
Dennis Kucinich, whose home state of Ohio lost two seats in this years' Census, is worried about redistricting. "I will not wait until a new Ohio map is produced to begin this crucial discussion of the consequences of congressional redistricting," he wrote in a letter to supporters. "I will not wait until the Ohio Legislature produces a new map to start thinking of the options. The question will not be: Who is my opponent? The question will be: Where is my district? Seriously." Fair question.
Congrats, Babs! "At noon on Wednesday, Jan. 5th, a new Congress will be sworn in. At that very moment, a feisty, powerful, 4 foot 11 inches, 74-year-old woman, Barbara Mikulski, will become the longest serving woman senator in U.S. history, eclipsing Margaret Chase Smith by two days." [ABC News]
Got something to add? Send tips/quotes/stories/photos/events/fundraisers/job movement/juicy miscellanea to Eliot Nelson (eliot@huffingtonpost.com), Ryan Grim (ryan@huffingtonpost.com) or Arthur Delaney (arthur@huffingtonpost.com). Follow us on Twitter @HuffPostHill (twitter.com/HuffPostHill). Sign up here: http://huff.to/an2k2e
Calling all HuffPost superfans!
Sign up for membership to become a founding member and help shape HuffPost's next chapter