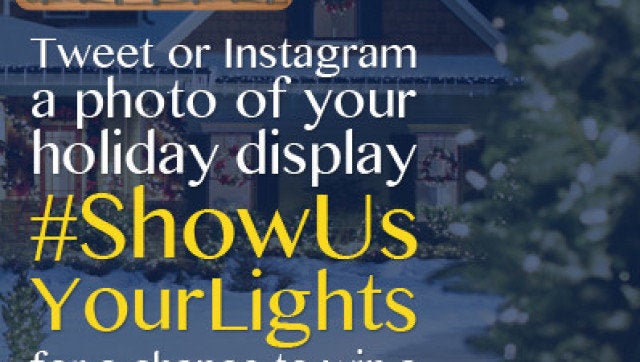 Are you participating in our #ShowUsYourLights photo contest, for a chance to win a $100 or $50 Gift Card from The Home Depot? Snap a photo of your outdoor holiday lights display and tag it on Instagram or Twitter before midnight on January 1st. We'll be choosing the top three best and brightest as winners! Read below for the official rules.
HuffPost Home and The Home Depot #ShowUsYourLights Contest Official Rules
No Purchase Required to Enter or Win
1. Eligibility: HuffPost Home's "#ShowUsYourLights" Contest (the "Contest") is open only to legal U.S. residents of the 50 United States (including the District of Columbia) who are 18 years of age or older. Employees and contractors of AOL Inc., its advertising or promotion agencies, those involved in the production, development, implementation or handling of Contest, any agents acting for, or on behalf of the above entities, their respective parent companies, officers, directors, subsidiaries, affiliates, licensees, service providers, The Home Depot as prize suppliers, any other person or entity associated with the Contest (collectively "Contest Entities") and/or the immediate family (spouse, parents, siblings and children) and household members (whether related or not) of each such employee, are not eligible. Professional photographers (those who make more than 50 percent of their income from photography) are not eligible to participate or win. All federal, state and local laws and regulations apply. Void where prohibited by law. 2. Sponsor: The Contest is sponsored by AOL Inc., 770 Broadway, New York, NY 10003 ("Sponsor"). 3. Agreement to Official Rules: Participation in the Contest constitutes entrant's full and unconditional agreement to and acceptance of these Official Rules and the decisions of the Sponsor, which are final and binding. Winning a prize is contingent upon fulfilling all requirements set forth herein. 4. Entry Period: The Contest Entry Period will begin at 3:00 pm EST on December 21, 2012 and end at 11:59 pm EST on January 1, 2013 (the "Entry Period"). Entries received prior to or after the Entry Period will not be accepted. 5. Entry: To enter the Contest, tag a photo on Twitter or Instagram using the hashtag #ShowUsYourLights of your home decorated for the 2012 holiday season (the "Submission"). Only residential homes (including, but not limited to, apartments, condominiums and townhouses) may be entered in the Contest. Photos of commercial buildings (including, but not limited to, business, schools and churches) may not be entered and will be disqualified. Entrants may only submit photos of their own home. The use of any agencies or automated software to submit entries will void all entries submitted by that person.
6. License to Use Submissions: Sponsor shall have the right to disqualify any entries that they deem to be obscene, vulgar, sexually explicit, lewd, derogatory, inappropriate, or otherwise not in good taste, as determined by the Sponsor in its sole discretion. Submissions must not contain any third party material (including but not limited to any company logos or trademarks, photographs, likenesses, film or video clips, or any other copyrighted or trademarked content) for which you have not been granted specific written permission for this use by the copyright or trademark rights holder. For the avoidance of doubt, décor featuring trademarked characters (e.g., Mickey Mouse, the Grinch, Peanuts characters, etc.) are specifically exempted from the above prohibition. You grant to the Sponsor and its designees the irrevocable, perpetual, worldwide, non-exclusive right and license to use, reproduce, edit, market, store, distribute, have distributed, publicly and privately display, communicate, publicly and privately perform, transmit, have transmitted, create derivative works based upon, and promote your image, biographic information, and comments, biographic information, and comments (collectively, the "Submission") in connection with the Contest and such other products or services as the Sponsor may designate in any medium now known or hereafter devised for editorial, commercial, promotional and/or any other purpose. In addition, the Sponsor shall have the right to reproduce and distribute your Submission for promotional purposes in broadcast, print and or other media as the Sponsor may determine in their sole discretion. You retain ownership of all right, title, and interest in and to your Submission. You agree that the Sponsor owns all right, title, and interest in any compilation, collective work, or other derivative work created by the Sponsor using or incorporating your Submission. You hereby grant to the Sponsor the right to edit any of your Submission, in whole or in part. In addition, you hereby grant to the Sponsor and their designees the right to use any edited Submission, or parts of a Submission, without your approval and waive any right to inspect or approve uses of the Submission prior to or following publication and any right to compensation for the Submission. All elements of your Submission must be your original work and must be owned by you, and you must have the right to grant any and all necessary rights and licenses, including without limitation, all necessary copyright and other related rights to all of the materials, free and clear of all claims and encumbrances without violating the rights of any person or entity, including any right to privacy or publicity. Your Submission should include your house and décor only, and not include any third parties (e.g., neighbors, children, spouses, family members, etc.). By submitting your Submission, you agree to release and hold harmless the Sponsor and its officers, directors, employees, and agents from and against any claim or cause of action arising out of your Submission or your participation in any phase of this Contest.
7. Judging Round: At the conclusion of the Entry Period, HuffPost Home Judges will judge all eligible entries based equally on the following criteria (the "Judging Criteria"): creativity, festive nature of decorations and capturing the spirit of the winter holidays. The Judges will select one (1) Grand Prize Winner and two (2) First Prize Winners. In the event of a tie, the entries involved in the tie are subject to review by an additional judge who will serve as a tiebreaker and who will evaluate entries according to criteria listed above. Decisions of judges are final and binding on all matters relating to this Contest.
Disclaimer of Similarities: Due to the nature of this Contest, there is a possibility that similar Submissions may be entered by multiple individuals. Any similarity between Submissions shall in no way entitle you to any consideration or compensation from the Sponsor or from any third party, including in the event a Submission similar or identical to yours is selected as a winner in this Contest. By submitting your Submission, you specifically acknowledge this possibility and agree to the terms stated in these Official Rules.
8. Requirements of the Potential Winners: Except where prohibited, a potential winner may be required to complete and return an affidavit of eligibility and liability/publicity release (the "Affidavit/Release") and an IRS W-9 form within a timeframe to be determined by Sponsor. If a potential winner fails to sign and return the Affidavit/Release within the required time period, or if the notification is returned as undeliverable, the prize will be forfeited and may be awarded to an alternate winner. Acceptance of a prize constitutes consent to use winner's name and likeness for editorial, advertising and publicity purposes without additional compensation, except where prohibited by law. Limit one (1) Finalist prize per household. 9. Prizes: One (1) Grand Prize Winner will receive a $100 gift card to The Home Depot. Two (2) First Prize Winners will each receive a $50 gift card to The Home Depot. Gift cards are subject to issuer's terms and conditions.
Winners are responsible for any taxes and fees associated with receipt or use of a prize. Prizes are not transferable. 10. General Conditions: In the event that the operation, security, or administration of the Contest is impaired in any way for any reason, including, but not limited to fraud, virus, or other technical problem, the Sponsor may, in its sole discretion, either: (a) suspend the Contest to address the impairment and then resume the Contest in a manner that best conforms to the spirit of these Official Rules; or (b) award the prizes from among the eligible entries received up to the time of the impairment. The Sponsor reserves the right in its sole discretion to disqualify any individual it finds to be tampering with the entry process or the operation of the Contest or to be acting in violation of these Official Rules or in an unsportsmanlike or disruptive manner. Any attempt by any person to undermine the legitimate operation of the Contest may be a violation of criminal and civil law, and, should such an attempt be made, the Sponsor reserves the right to seek damages from any such person to the fullest extent permitted by law. The Sponsor's failure to enforce any term of these Official Rules shall not constitute a waiver of that provision. In case of a dispute as to the owner of an entry, entry will be deemed to have been submitted by the authorized account holder of the screen name from which the entry is made. The authorized account holder is defined as the natural person who is assigned to an e-mail address by an Internet access provider, online service provider, or other organization responsible for assigning e-mail addresses for the domain associated with the submitted e-mail address. 11. Release and Limitations of Liability: By participating in the Contest, entrants agree to release and hold harmless the Contest Entities from and against any claim or cause of action arising out of participation in the Contest or receipt or use of any prize, including, but not limited to: (a) unauthorized human intervention in the Contest; (b) technical errors related to computers, servers, providers, or telephone or network lines; (c) printing errors; (d) lost, late, postage-due, misdirected, or undeliverable mail; (e) errors in the administration of the Contest or the processing of entries; or (f) injury or damage to persons or property which may be caused, directly or indirectly, in whole or in part, from entrant's participation in the Contest or receipt of any prize. Entrant further agrees that in any cause of action, the Contest Entities' liability will be limited to the cost of entering and participating in the Contest, and in no event shall the Contest Entities be liable for attorney's fees. Entrant waives the right to claim any damages whatsoever, including, but not limited to, punitive, consequential, direct, or indirect damages.
12. Disputes: Except where prohibited, entrant agrees that any and all disputes, claims and causes of action arising out of, or connected with, the Contest or any prize awarded shall be resolved individually, without resort to any form of class action, and exclusively by the appropriate court located in the Commonwealth of Virginia. All issues and questions concerning the construction, validity, interpretation and enforceability of these Official Rules, entrant's rights and obligations, or the rights and obligations of the Sponsor in connection with the Contest, shall be governed by, and construed in accordance with, the laws of the Commonwealth of Virginia, without giving effect to any choice of law or conflict of law rules (whether of the Commonwealth of Virginia or any other jurisdiction), which would cause the application of the laws of any jurisdiction other than the Commonwealth of Virginia. 13. Contest Results: To request the names of the winners, send a self-addressed stamped envelope to HuffPost Home Lights Contest, c/o Huffington Post, 770 Broadway, 5A:C109, New York, NY 10003. Requests must be received by February 29, 2013.