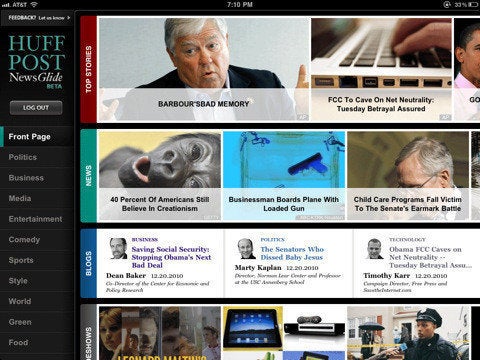 The world is changing faster than ever, and this year saw the greatest "acceleration of history" we've experienced yet. This year has been a time of huge technological advancement, and The Huffington Post has tried to stay on the cutting edge of these changes. And we're heading into 2011 with some exciting developments regarding a revolutionary device that didn't even exist before 2010.
It's hard to believe how quickly the iPad has swept change. One of the biggest landmark moments for me in 2010 was the release of the new Twitter and the Twitter iPad app. It was important for a few reasons, in part because it signaled the moment when Twitter had become such a talent pool that it would, like Google and Facebook, inform the larger web design world. More importantly, for the first time, the iPad and the world of apps truly led to the redesign of websites, both in terms of visuals and user experience.
I'm really excited about the release of our new iPad app. It allows us to experiment with a totally new way of experiencing HuffPost and using it as an app. Our 1.0 version was informed by our site, and while it was fast and stable, we found that many users had instead decided to go to our site directly in their iPad browser because the experience was so similar to the app. (We encourage you to continue to do that if the traditional HuffPost format is the experience you prefer on the iPad.)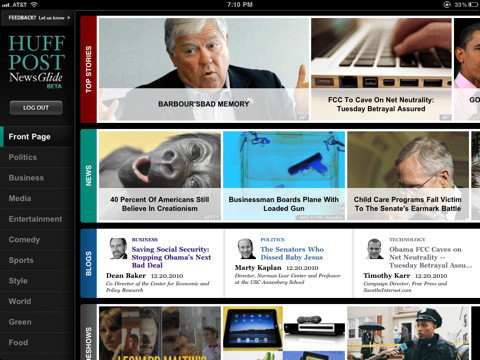 We're really excited about how the new app has performed so far, with a fantastic review from Mashable, and an awesome tweet from @Scoble and a bunch of others. The most exciting reaction has been the usage stats, which on the first day of launch soared 1,000 percent (yes, 10x more consumption on this new app than the one before).

We've made the home page gesture-based so that you can glide through the sections, quickly scanning through stories that catch your eye. Since the iPad screen is so gorgeous, we've made the new app very photo-centric. And the front page (and section front pages) are broken into easy-to-digest categories -- Top Stories, News, Blogs, Most Popular and Slideshows.

The Top Stories category shows off our top splash story and the big stories in the middle column of our front page, while More News displays the rest of the stories featured on our front page. Our Most Popular stories and our slideshows weren't highlighted in our previous app, and we wanted the new version to help bring out the best of HuffPost.

Speaking of slideshows, we spent a lot of time working to integrate all their social features as well, and to make them completely gesture-based so you can flip through them super easily while also voting and seeing what our users have voted as the best slides.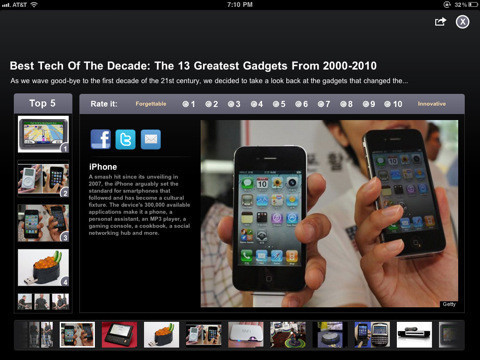 The new iPad "article view" acts much like the Twitter iPad app, letting you view a story while also navigating through the rest of HuffPost. It's all extremely gesture-friendly, so you can effortlessly flip through stories to explore and discover content. We've also made social sharing front-and-center on each article, so whether you are emailing, tweeting, or posting to Facebook, sharing will be simple and easy.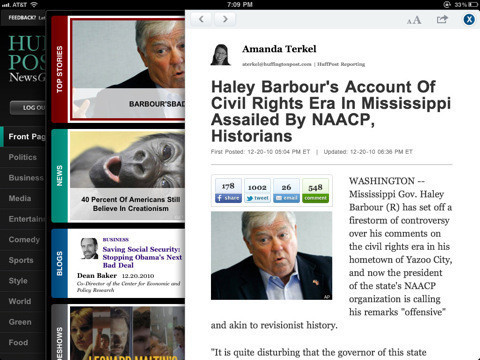 You can view all the reader comments on any story, and if you have a HuffPost account, you can easily log in and comment. (If you don't yet have a HuffPost account, you can create one on the site here and then login on the iPad -- we'll be integrating account creation on the iPad soon.)

In developing the new app, we've also redoubled our efforts on the rest of our mobile offerings -- we're currently hard at work on new features for the iPad, iPhone and Android apps in particular. We are responding to all the incredible feedback that our users have already given us in the few days since the iPad 2.0 release and are organizing this into priorities. In the meantime, I'd like to share some of our plans for what's to come very, very soon for the app.

Upcoming features will focus mostly on adding customizations -- we've seen that some of our users really loved the white background and more text-oriented homepage of our last version, and we'll be making that an option for users to choose. We'll also be adding search functionality; full-screen article page views as an option that you can pinch and zoom into and then keep as your default; the ability to customize the sections that you want to see at the top of your navigation list; Big News topic pages that follow huge stories like WikiLeaks as they break and develop; instant refresh so you can quickly see new stories as soon as they're published; and account creation as well as Twitter-based sign-in for commenting.

We would *love* your feedback. Your reviews and tips have been invaluable in improving our site and our app, so please leave your comments on this post. And if you are a fan of the new app, we'd love you to rate it on iTunes to help build awareness and momentum. And feel free to email us ipad@huffingtonpost.com directly with any questions, requests for help or features. Thank you!
Calling all HuffPost superfans!
Sign up for membership to become a founding member and help shape HuffPost's next chapter