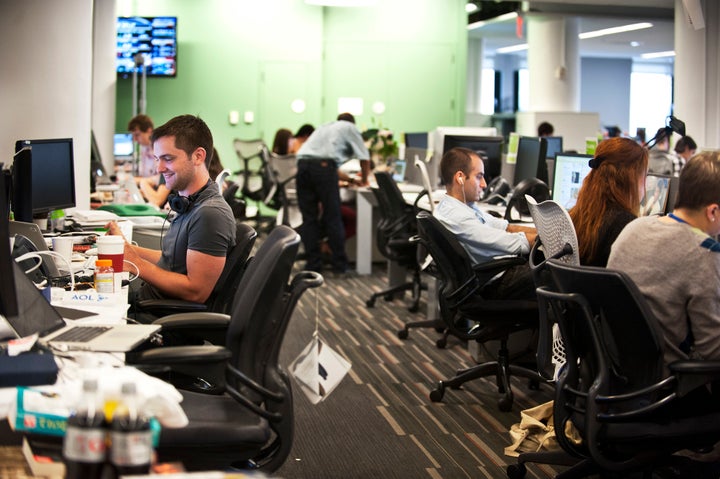 About the Role:
The Huffington Post is seeking a senior editor to lead the HuffPost Science team in our New York City office.
We're looking for someone who can give our readers a front-row seat to the fascinating world of science. The ideal candidate will have a genuine passion for and broad knowledge of topics and trends in various fields of science and technology, including astronomy/spaceflight, neuroscience, biology, archaeology, paleontology, and physics. 
The candidate we're looking for will thrive in a fast-paced newsroom, possessing the ability to write efficiently on tight deadlines. In addition, he/she will be able to explain complex scientific research in simple, compelling language while making the most of digital storytelling tools like video, GIFs, and infographics. An eye for viral stories and knowledge of social media best practices is also essential.
You'll be working closely with HuffPost Video's producers and editors. You should have a knack for curating video from outside sources, and producing short, sharable videos for the web.
* Five or more years of experience as a science journalist
* Ability to write and edit stories ranging from quick hits to longer features
* Good grasp of grammar & familiarity with web writing, SEO and AP style
* Ability to work independently and be comfortable doing so at a fast pace
* Broad scientific knowledge base and contacts across scientific community
* Knowledge of best practices for social media sites (Twitter, Facebook, Instagram, Pinterest, Tumblr, etc.)
* Experience and interest in creating short-form original videos including curation, scripting, and overseeing science-related Facebook Live events
This position is in the WGA-E bargaining unit.
 

Interested? Email a resume, cover letter and links to work samples to science@huffingtonpost.com with "Senior Science Editor" in the subject line.

 
Huffington Post Media Group is an AOL company. AOL is an equal opportunity employer and does not discriminate on the basis of age, color, disability, marital status, national origin, race, religion, sex, sexual orientation, veteran status or any other classification prescribed by applicable law.
The Huffington Post is a Pulitzer Prize-winning source of breaking news, commentary, entertainment, features and lifestyle content, as well as a platform for a highly engaged community of opinion and conversation. With nearly 130 million unique visitors each month (comScore), it is the largest news site in the US. The site has more than 100,000 bloggers — from politicians, students and celebrities to academics, parents and policy experts — who contribute in real time on the subjects about which they are most passionate. HuffPost is a global publication, with editions in the UK, Canada, France, Spain, Italy, Japan, Maghreb, Germany, Brazil, South Korea, Greece and India and more on the way, including Australia.
REAL LIFE. REAL NEWS. REAL VOICES.
Help us tell more of the stories that matter from voices that too often remain unheard.