At the Huffington Post, we're all about starting conversations. It's why we launched Social News with Facebook in 2009, enabling our users to read and share stories as instantly as you would discuss a story in a newspaper at the kitchen table -- still one of Arianna's favorite things about reading newspapers together with friends.

Today, we're doubling down on that commitment to real-time sharing and engagement with the HuffPost Social Reading app for Facebook timeline. This app will take the reading experience to the next level, allowing you to share stories, start conversations and keep up with what your friends are reading -- only now, your Facebook timeline will be a place to share news with your friends, while Facebook News Feed and Ticker will help you discover new Huffington Post content through your friends.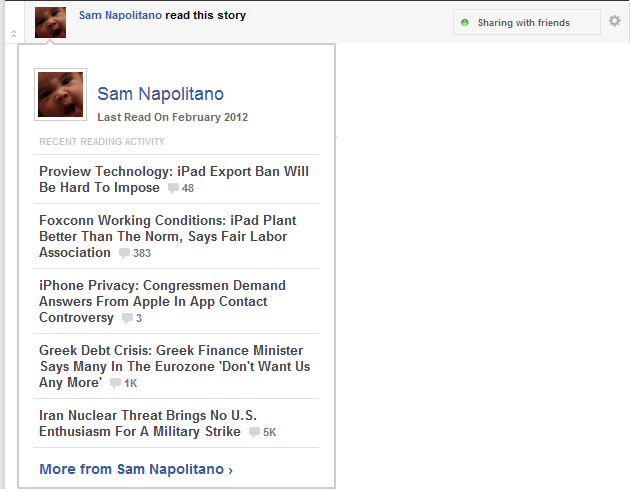 Before we explain what's changing, a quick note on what's staying the same: you'll still find the same great stories, the same irresistible headlines, and the signature mix of news, blogging, community, and social engagement that's been part of HuffPost's DNA since Day 1. Only now, if you choose, you can use the HuffPost Social Reading app to share it all on your Facebook timeline.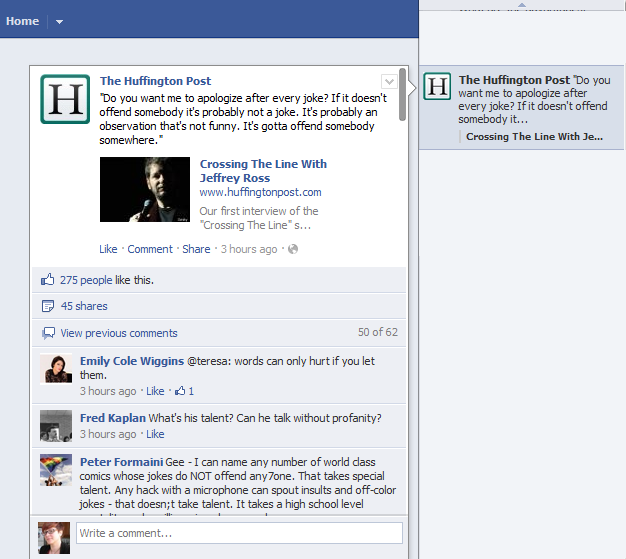 You decide whether you want to join. And once you do, you control your sharing preferences -- what to share on your timeline, and what to exclude. You can always edit your settings from your Application Settings Page on Facebook, and you can remove specific activity directly from your timeline or from your personal Activity Log on Facebook. Because we understand the occasional need for discretion. (Maybe you're not quite ready to let your PhD adviser in on your obsession with the latest Gisele runway slideshow.)

Our readers are passionate about starting and joining conversations -- after all, last month you posted 6 million comments on HuffPost. And now we welcome you to HuffPost Social Reading -- an opportunity to personalize your reading experience and take your conversations to the next level.
REAL LIFE. REAL NEWS. REAL VOICES.
Help us tell more of the stories that matter from voices that too often remain unheard.