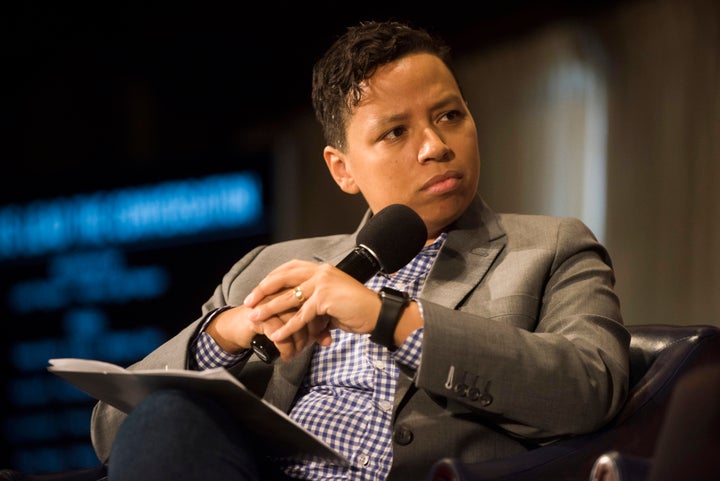 HuffPost laid off over three-dozen employees Wednesday, including a Pulitzer Prize-winning journalist, as part of broader corporate cutbacks.
Writers Guild of America, East, HuffPost's union, said Wednesday that they were notified of 39 members being laid off.
"Like many of their peers across the industry, HuffPost employees unionized to ensure that they have a seat at the table as enormous corporations merge and restructure," the union said in a statement. "The unit members who have been laid off will receive a collectively-bargained severance package that includes two months' salary plus a week of pay for each year of service and continued health benefits."
The HuffPost layoffs come as Lydia Polgreen, who took over as editor-in-chief earlier this year, is assembling a newsroom leadership team, which includes former Daily News Editor-in-Chief Jim Rich, and charting a new editorial vision. She recently oversaw a rebranding of the site, which was co-founded by Arianna Huffington, who left the company in August.
Polgreen and HuffPost CEO Jared Grusd praised outgoing employees' "dedication and admirable passion" in an email to staff.
"We've spoken publicly about our mission to build HuffPost into the most impactful news brand in the world, and we are steadfast on our commitment to fulfilling that mission," they wrote. "But today is not a day to talk about the steps we're taking there, but to pause and reflect on our colleagues and to celebrate their contributions to HuffPost."
On Wednesday morning, Polgreen visited HuffPost's D.C. bureau, which is significantly smaller than the New York headquarters and was hit hard by the cuts. More than six journalists who work in or report to the bureau were laid off, including senior military correspondent David Wood. He won the site's first and only Pulitzer Prize in 2012 for a multimedia series on military veterans.
The news about HuffPost's layoffs followed shortly after Vocativ laid off its entire editorial team in a shift to an all-video strategy. Time Inc., the publisher behind titles such as Time, Sports Illustrated, Fortune and People, laid off 300 employees on Monday.
Related
Popular in the Community