A British street artist just gave HuffPost a helping hand in unveiling its new logo.
Jody Thomas celebrated the HuffPost rebrand launch on Tuesday by incorporating the new emblem into one of his pieces in Bristol, southwest England.
He spent hours meticulously spray-painting one of his signature, photo-realistic hands onto a wall in the Bedminster neighborhood ― and finished it off with a stencil of HuffPost's logo.
We captured the entire mesmerizing process in the above time-lapse video and live-streamed the final 20 minutes of the project via Facebook:
The 43-year-old artist braved varying chilly weather conditions of sunshine, wind and rain to complete his work. But he said, "I really enjoyed the whole day."
The Facebook broadcast was delayed for 20 minutes as heavy showers struck the area. Luckily it cleared up soon after, giving the wall sufficient time to dry and Thomas enough of a gap to finish the final 10 percent of the piece.
"In good old British fashion, we were almost scuppered by the weather," joked the Bristol-based artist. "But at least we didn't get caught in the biblical hail storm that struck afterwards."
He stepped away from the scene around 1990 to study and work in graphic design. But Thomas returned to street art in the late 2000s after being misquoted in a book that said he was coming back. He's since exhibited his work in New York City and London.
Before You Go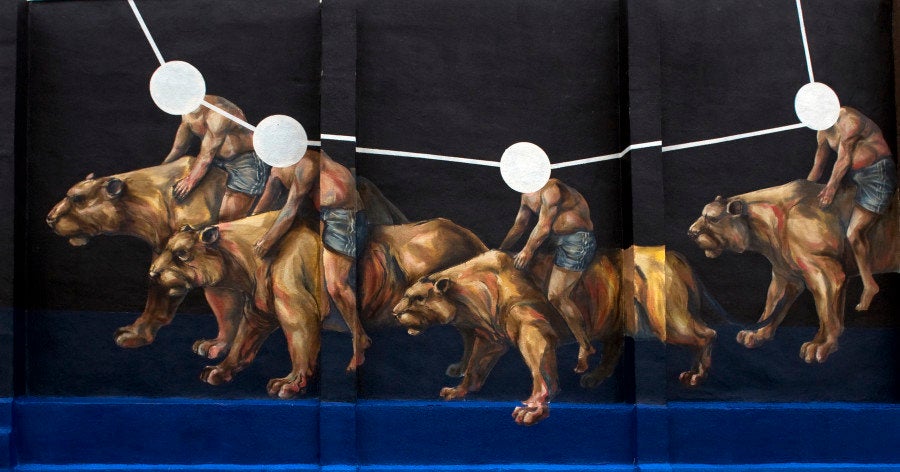 25 Street Artists' Works From Around The World
Popular in the Community