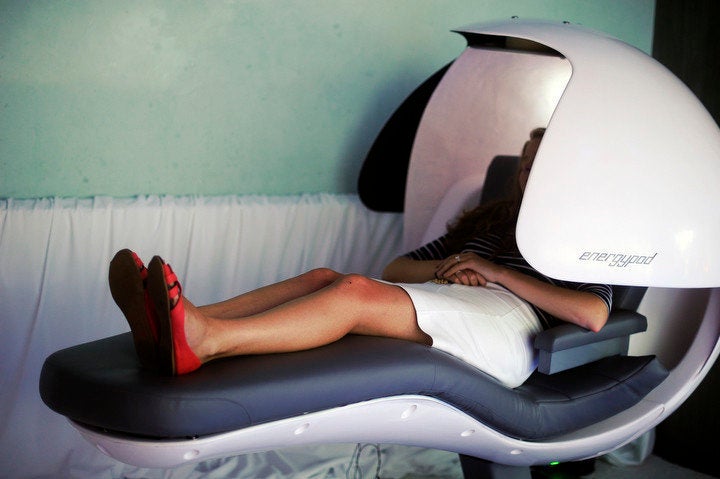 I live here in Charlotte. And after this week in Charlotte, I'm solidly convinced I now know what it must feel like to live in Los Angeles. My Jetta sandwiched between polished limos or black Suburbans. Facebook statuses echoing news that a specific celebrity is spinning tunes late at night. Watching television personalities engage in completely normal activities like wearing sneakers and raincoats or watching lights change to cross the street accordingly.
I knew the Democratic National Convention would bring a lot of people to town this week. There's been tremendous talk here about traffic -- accommodating traffic, planning for traffic. But, I don't think I completely understood the depth or magnitude of the authentic energy that would reverberate amongst the traffic. Real people, real Americans, really passionate, American people brought this energy to this town. Partner that energy with the unrelenting number of events, meetings, presentations, etc., and there's a lot going on there in that energy. A lot there that's got to be channeled... somewhere else.
Enter The Huffington Post's Oasis. I spent Tuesday -- the convention's kick-off day -- at the Oasis. I volunteered, I talked up Charlotte, I answered questions, I convinced some skeptics that they just had to try yoga. For all intents and purposes, I was there. But moreover, I was present. Present to what was going on there on a couple different levels.
Initially, when I told some people about my plans for Tuesday and how I understood the concept of the Oasis, there were some rolling eyes, some furrowed brows, some "ah, riiiiiight..." responses. And I totally get those responses. They're the same reactions I get when I walk around midday, mid-week with my yoga mat under my arm. But, here's what I also get now having spent some time in the thick of things -- this entire convention experience has got to be exhausting. This energy is inspiring -- and, at the same time, it occupies every cell of your body. A three-day convention is not simply a measure of time -- it's also a measure of endurance. Given that unbridled energy and endless string of commitments and meeting/greeting and sheer smiling, there's got to be a place to collect yourself. And when you're surrounded by the chaotic numbers of unfamiliar faces that you are at a political gathering of this magnitude, those places to collect yourself are few and far between. And that place needs to be a sanctuary. Again, enter the HuffPost Oasis.
An endless supply of fine-quality books, beverages, snacks, meals, massage, yoga, reflexology, private yoga, group yoga, meditation, and breath work, makeup touch-ups with makeup artists filled the space completely. The sweet smell of grapefruit wafted through the entire establishment. The second I caught myself taking a picture of the perfectly designed combination of bountiful bouquets of white flowers and white candles as something to scrapbook for a wedding reception, was the moment I respected something different going on here. This was a place to celebrate -- you and your passion. To recharge, refresh, and just plain take care of yourself in the midst of this energy. And, more often than not, that commitment to self and political passion did not walk into the Oasis solo -- there were families, siblings, friends, co-workers, managers and staff, politicians and staff.
This Oasis isn't even really about politics. In fact -- and here's the crazy twist to all of this -- I vote Republican. And herein lies an entirely different level of me understanding this Oasis. I threw myself into a new, what-I-thought-would-be uncomfortable environment that challenged me and required me to meet head-on a political energy I don't always understand. And I learned a lot. I met people I recognized, and I acted completely normal with others whom I later found out was so-and-so, with all due respect. And I met some classic, kick-ass Americans who travelled an awe-inspiring distance with a specific purpose and some who came "just because." And I respect both approaches. And I think if either wants to try yoga at the Oasis, he or she should. With The Huffington Post's collaboration with Off the Mat and Into the World, I cannot think of a better place to try yoga.
Here's the deal -- the politics didn't matter. The people mattered. And that's why HuffPost Oasis matters. The attendees, the volunteers, the massage therapists, the yoga, meditation, breath-work instructors, the staff who traveled from the RNC to the DNC to make this entire Oasis operate as well as it did. They left their regularly-scheduled commitments at home to share their gifts and talents with people they'll never see again. And I respect that -- the passion to take care of others in the midst of super-charged energy. To be the calm that makes it possible.