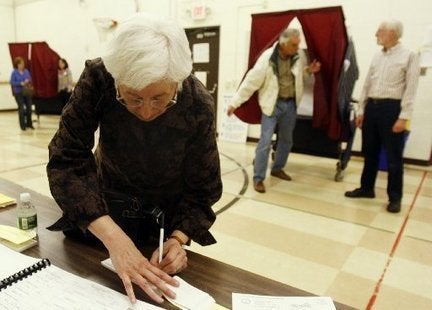 WASHINGTON - The final round of public polls brings us to prediction time: In Senate contests, while three states remain well within toss-up range, Democrats currently lead by at least nominal margins in sufficient seats to maintain a 51-seat majority. Our estimates based on polls conducted in 125 individual U.S. House races project Republican gains of 48 seats, more than enough for majority control, although the aggregate of national polling on "generic" House vote preference suggests an even bigger gain for the GOP. Finally, Republicans are poised to gain a net 6 to 9 governors tonight, depending on the outcome of three toss-up races.
In the battle for the Senate, we added a batch of new automated polls yesterday conducted by Fox News and Rasmussen's Pulse field service in the key toss-up states, but these were largely consistent with prior polling. These final surveys leave our statewide estimates showing more or less what they have for weeks. Republican candidates currently lead in every state currently represented by a Republican. Republican candidates also lead by large double-digit margins in three states currently represented by Democrats (North Dakota, Arkansas and Indiana), with polls showing another three previously Democratic states (Wisconsin, Pennsylvania, and Nevada) now leaning Republican.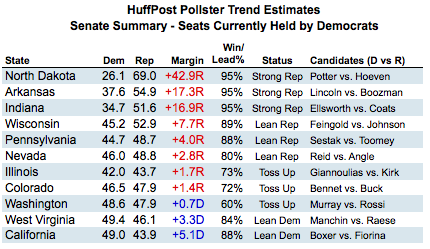 Those contests add up to a six-seat Republican gain. To win an outright majority of 51, the Republicans would still need to sweep the three remaining toss-up states (Illinois, Colorado and Washington) and turn the tide in a third (either West Virginia or California).
Alaska continues to be the biggest potential wildcard among the Senate races -- our trend estimate shows Republican nominee Joe Miller deadlocked (32.5% to 32.4%) with Republican incumbent and write-in candidate Lisa Murkowski and Democrat Scott McAdams running just five percentage points behind (27.5%).
Both Murkowski or Miller would caucus with the Republicans, but a final poll released yesterday sponsored by the Democratic Senatorial Campaign Committee (DSCC) and conducted by Alaska-based Hays Research, shows all three candidates separated by just two percentage points (Miller 27%, Mcadams 26%, Write-in [Murkowski] 25%). Take any public release of a partisan poll with the appropriate grain of salt, but a surprise upset by McAdams would make a Republican takeover virtually impossible.
In 2008 -- a year in which statewide polling showed little or no overall bias -- the leader in the contests where the margin separating the top candidates narrowed to two or fewer percentage points ultimately won 5 out of 7 contests. Every candidate leading by more than two points ultimately won. So the most likely outcome is that the "leaners" will prevail and Washington and Colorado will split, although that result is not at all certain.
The 86% probability we are reporting (as of this hour) on the Election Dashboard of Democrats maintaining their majority assumes that each state's result is statistically independent. However, if the polling has a national bias -- a subject discussed here in more detail this morning -- the chances of a single party sweep of the close races is likely much greater. So while Democrats are likely to retain control, the potential for a Republican Senate majority remains very real.
Although the implications of the national polling diverge somewhat from the polls conducted in individual districts, all signs point to Republicans winning more than enough seats to gain majority control.
The final round of national polls produces a very wide (and statistically irreconcilable gap) even among polls of very similar methodologies. Our current trend estimate of the national House "generic" ballot gives Republicans a lead of 7.7% (50.6% to 42.9%). That margin would translate into Republican seat gains of 55 to 65 seats (depending on the model). Note, however, the average Republican margin on the national surveys that called only landline phones is nearly ten points (50.7% to 41.0%), compared to just over six points on the surveys that sampled both landline and cell phones (49.3% to 43.2%).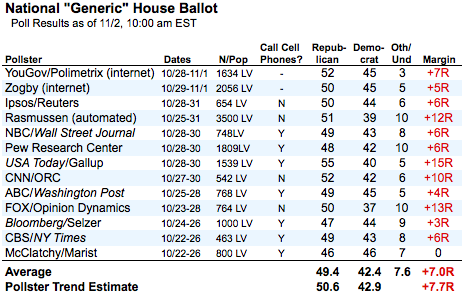 That roughly six-point margin implies a smaller seat gain for the Republicans that is closer to the results emerging from public polling we collected in 125 individual districts. The probabilities produced by our House model show Republicans leading in enough of the marginal seats to bring their total to 215 seats to 193 for the Democrats with 27 seats still on our toss-up category. As of this hour, if we allocate the toss-ups based on the candidate our model considers most probable to win in each district (regardless of the margin), we would project 226 seats for the Republicans and 209 seats for the Democrats -- representing a net gain of 48 seats for the Republicans.
Right now, 26 of the nation's governors are Democrats and 24 are Republicans. Our latest trend estimates show Republicans poised to gain at least 6 governors, with three more potential pick-ups in races currently rated as toss-ups (Florida, Oregon and Connecticut). Our trend estimates currently show the Democrats with razor-thin margins in Oregon, Vermont and Florida with Connecticut a virtual tie. Democrats could pull back one seat, if Ohio Governor Ted Strickland can close the a roughly 2-point deficit to Republican challenger John Kasich.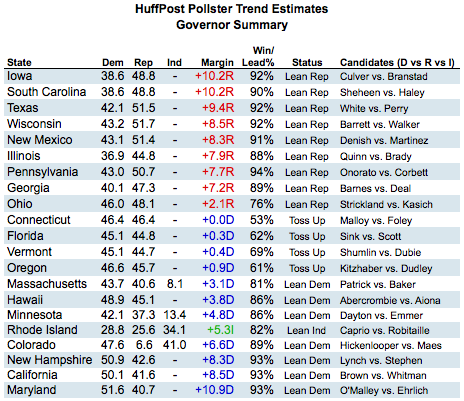 Note: Our newly-updated trend estimate model assesses the trends across all races, so whenever we add a new poll in any state, the probabilities and trend estimates for all races will change very slightly (usually no more than a tenth of a percent or two for the trend estimates).
Popular in the Community