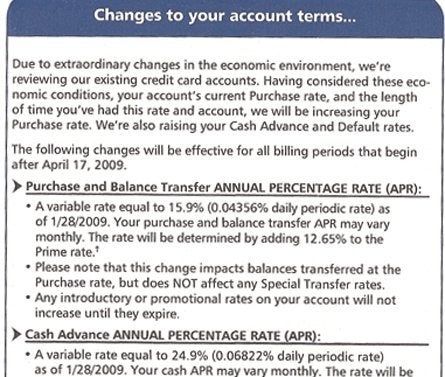 Since our call for readers to send their unhappy credit-card stories, woeful tales of hiked rates and reduced limits have struck our inbox like The Blizzard of '09. Hundreds of readers say that despite their impeccable credit history, card-issuers are unilaterally changing terms.
It's the economy's fault, banks say. Several readers received this statement from Capital One:
Due to extraordinary changes in the economic environment, we're reviewing our existing credit card accounts. Having considered these economic conditions, your account current purchase rate and the length of time you've had this rate and account, we will be increasing your Purchase rate. We're also raising your Cash Advance and Default rates.
Reader LeeAnn Hansen from Eugene, Oregon received this letter on Feb. 20. Capital One switched her from a 5.9% fixed rate to a 15.9% variable rate. The increase will discourage her from using the plastic.
"My only alternative is to close the account, which I'm not going to do, as I know it adversely affects my credit rating," writes Hansen. "I don't have more than a couple of hundred dollars balance this month, and I won't be using the card for more than incidentals after this."
Capital One spokeswoman Pam Girardo declined to say how many customers are seeing rate increases, but noted that hikes are "not across the board."
"Impacted customers were notified in writing with a minimum of 45 days notice, and can opt to decline these changes," Girardo writes. "If they choose to do so, they can close their account and pay off their current balance under their existing terms under whatever timeframe they need."
Sandra Ricket of Dayton, Ohio, who got the same explanation from Capital One when her rate rose to 17.9%, also saw a rate increase on a card issued by HSBC Bank. After calling the bank for an explanation, she received a similar letter stating that it was nothing personal.
The rate "change was made to enable us to continue to provide quality service and to ensure profitability," wrote HSBC. "The changes in your annual percentage rate were not based on individual characteristics or account performance."
Teresa Osborne writes that Chase Bank, the credit provider for her favorite clothing retailer, Coldwater Creek, boosted the rate on her card from 8.99% to 14.24%, citing "market conditions."
Alison Carnie from Chicago writes that last week that the interest rate on her Bank of America card jumped to 15.99%. Carnie called the bank, sobbing, and reminded the fellows on the phone that Bank of America benefited from $45 billion in government aid. "[C]an't you pay for pencils, light fixtures and bathroom tissue out of that?"
Sorry, Ms. Carnie, they told her - the new interest rate is not going away. But Carnie isn't feeling sorry for herself so much as she's perplexed that the bank is taking measures that she says will make it more difficult for her to pay the bank, which she is absolutely yearning to do.
"I am the victim of no one," Carnie writes. "I incurred that debt ... I ... myself ... and it is mine and I want ... with all my heart to pay it off."
Bank of America spokesman Jim Pierpoint says customers are not forced to accept higher rates.
"If we raise a customer's rate based on risk, we notify them in advance and they have the option to reject the new rate and pay off the outstanding balance at the original rate," says Pierpoint, who also says rate increases are not terribly common for Bank of America customers.
"In any given year the vast majority of our customers experience no increase to their interest rates," Pierpoint says. "Last year 9% of our customers saw an increase in their interest rate, while 91% of our customers had the same or lower rate at the end of the year than at the beginning of the year."
Has a credit card company recently raised your rate? Have you been charged unexpected add-on fees? Are you unable to pay down your credit card debt?
If so, we want to hear your story too. Share it with us by emailing submissions+creditdebt@huffingtonpost.com. Include documentation from your credit card company and a phone number where you can be reached.
Calling all HuffPost superfans!
Sign up for membership to become a founding member and help shape HuffPost's next chapter