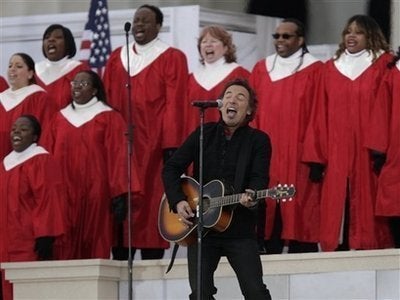 The old westerns mostly played as struggles between good and evil, and in the first few minutes, through overly-caricatured heroes and villains, dreary, angular sets and backdrops, and bizarrely-tilted camera angles, we were clued-in to what was about to go down on the streets of Direville. From the opening chords and orchestration of "Outlaw Pete," the first track of Bruce Springsteen's new album, Working on a Dream, we're set-up for one wild ride over the course of thirteen tracks about your average hombre and his everyday life and challenges. Though "Outlaw Pete" gets off to a humorous start ("...at six months old, he'd done three months in jail"), this Jessie James on crack folk story immediately shifts into full cinematic drama, musically merging the Rolling Stones' "Paint it Black" with a touch of Aaron Copeland via Billy Joel's "Billy the Kid" and a sliver of Ennio Morricone. It's pretty surreal stuff for his first "dream," and it digs its spurs deeply into the essence of what makes a man. Is it evil? If it is, can he change? Is this an adolescent fantasy, a man's destiny, or just a warning to keep us on the straight and narrow? Springsteen's approach to the story is so wonderfully heavy-handed that you hope the rest of the album maintains this level of macho. Good news, it mostly does, and, at least from a musical perspective, it's The Boss' most melodic and possibly his best since Tunnel of Love.
Clearly, this is a collection of songs about Springsteen's favorite topic, the everyman aka working man trying to catch a break, whether it be with that "Queen of the Supermarket" ("where aisles and aisles of dreams await you"), or with that someone who is his "lucky day" when he's "seen strong hearts give way...to the weary hands of time." This theme repeats, such as in the title track in which he's working on that dream, again pounding away with that famous Springsteen hammer that now seems more like the metaphor of Peter, Paul & Mary's "If I Had a Hammer" than the tool employed in Born in the USA's "Working on the Highway."
In "Life Itself," Springsteen asks, "Why do things we treasure most slip away in time," though the answer concerns that awful aging process we hate to think about. The song's somber tone and rhythm evokes Thomas Dolby's "I Love You, Goodbye," and is our first major reveal on what powers this album -- guys not only working on their dreams, but their now being too old to attain them. In the cosmic love song, "This Life," with its Turtles-ish and Billy Joel's Four Seasons-esque "Uptown Girl" background vocals, faces facts with the line, "We reached for starlight all night long, but gravity's too strong, chained to this earth, we go on and on and on..." Oy, can't any of these mugs have a happy ending? Yes, of course they can, and that bright spot comes in "Tomorrow Never Knows," a light country-rocker that drives a little like John Hiatt's "Memphis in the Meantime" as it delivers not-so-subtle lines such as "He who waits for the day's riches will be lost." Okay, happiness comes with a fortune cookie lesson, we can deal with that. But more importantly, like we always knew, love makes the difference between winning and losing, and we're assured of that in "What Love Can Do." With all its creepy, foreboding religious references regarding what's wrong with the world ("blood for blood," "eye for an eye," "we bear the mark of Cain"), Springsteen -- jangling away like a Tom Petty "Refugee" -- wants to show us... you get the point.
Still, one should never forget to rock out with a bar band (like "Good Eye"'s track implies), no matter how apocalyptic things get. To a blues-rock chord pattern, we're told, "I had my earthly riches, I had each and every one, but I had my good eye to the dark and my blind eye to the sun." (God, it's tough being a dude in the Springsteen universe!) But who could be gloomy when someone is singing, "Surprise, Surprise," many, many times to a backing track that's akin to The Byrds' "Turn, Turn, Turn." And palookas do get their dreams once in a while, such as in "Kingdom of Days," a big string-drenched, retro-gem of a reminiscence. "My jacket around your shoulders, the falling leaves, the wet grass on our backs as the Autumn breeze drifts through the trees," may not sound all that machismo-like, but Springsteen delivers it in honest, confessional Boss-mode, placing it into that extremely believable "I'm on Fire" territory where he can still kick your ass while singing triplets.
The last track, "The Last Carnival," kind of references our pal from "Wild Billy's Circus Story" and, just like in westerns and as anyone who's watched HBO's Carnivale knows, there has to be tragedy. In this case, the piece was written for the late E Street player, Danny Federici, making the lyrics "Sundown, sundown, empty are the fairgrounds, where are you now my handsome Billy?" that much more touching. But the album doesn't really stop there, because its bonus track, "The Wrestler" (theme of Darren Aronofsky's flick starring Mickey Rourke, winner of a Golden Globe for Best Original Song) serves as the poignant closer to ...Dream. "If you've ever seen a one-trick pony, then you've seen me," pretty much describes most of the characters of this album, from Pete to Billy. Still, every one of them is working on his dream, successful or not, and it's the "working on," not "the dream" part that's important. On an album that often emulates Phil Spector's Walls of Sound (that backed some of the best and most-cherished oldies), Bruce Springsteen, arm-in-arm with his old E Street gang (plus Nils Lofgren, and wife Patti), seems to be working on his own dream of growing old, not just gracefully, but significantly.
1. Outlaw Pete
2. My Lucky Day
3. Working on a Dream
4. Queen of the Supermarket
5. What Love Can Do
6. This Life
7. Good Eye
8. Tomorrow Never Knows
9. Life Itself
10. Kingdom of Days
11. Surprise, Surprise
12. The Last Carnival
bonus track:
13. The Wrestler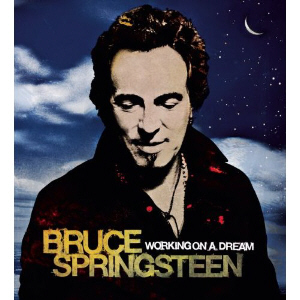 Bruce Springsteen's 16th studio album, Working on a Dream, will be released Tuesday, January 27th. The CD/DVD version contains 30 minutes of studio footage on the making of the album.
REAL LIFE. REAL NEWS. REAL VOICES.
Help us tell more of the stories that matter from voices that too often remain unheard.