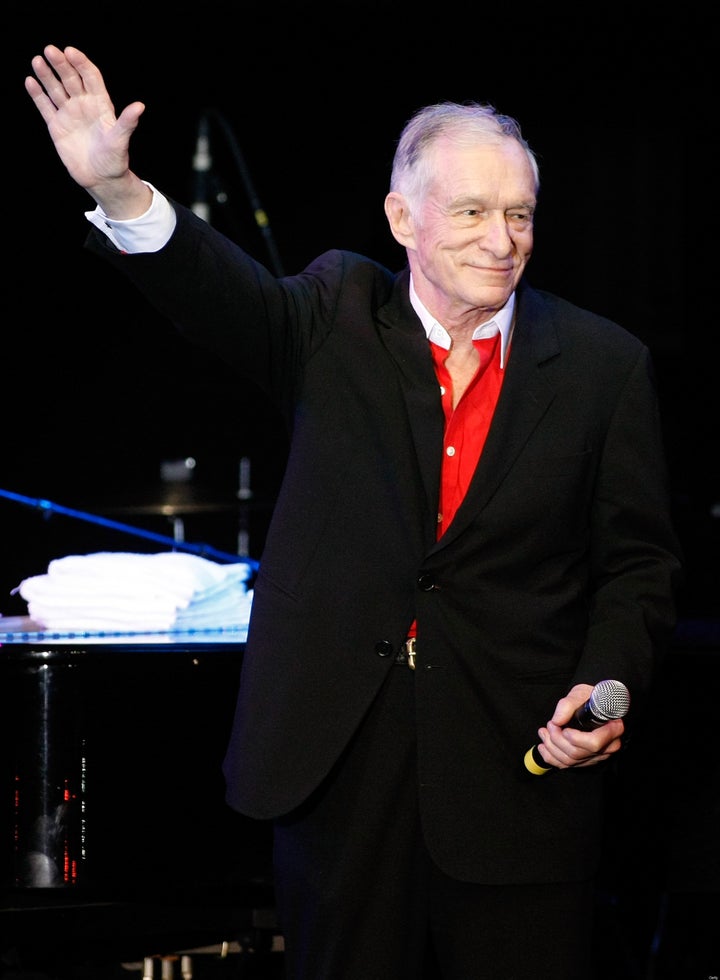 The Hugh Hefner story is as familiar a piece of modern mythology as there is. Here's the guy who helped foment the sexual revolution in this country by creating a magazine that said, hey, sex isn't obscene -- it's fun and natural.
So it's disappointing that Brigitte Berman's Hugh Hefner: Playboy, Activist and Rebel isn't a better movie. Not that it's a bad one -- but, were cable standards a little less skittish, it would fit right in on the Biography channel.
Charting Hefner's rise from lowly magazine writer to emperor of the largest men's-magazine empire in the country, Berman's film touches all the bases, yet still has an almost perfunctory, pro forma feel.
Yes, she has Hefner himself, talking about his life, detailing the various steps in Playboy's rise, telling stories on himself. And there are a variety of witnesses -- everyone from George Lucas to Jim Brown to Bill Maher to Dr. Ruth -- who are on hand to talk about what a remarkable guy old Hef (84 and counting) really is.
Certainly, his publishing history is an amazing one. Starting with a single issue in 1953, published with a $1,000 loan from Hefner's mother, Playboy went from something sold in a plain brown wrapper to one of the most recognizable brands in the world. It caught the wave of the sexual revolution in the 1960s and rode it right into the age of AIDS and beyond.
Yet it was also about quality: from fiction by writers like John Updike, Vladimir Nabokov and Ian Fleming to interviews with figures as diverse as Malcolm X, Miles Davis and Jimmy Carter. Thus was coined the rationalization so overused that it became a punchline: "Well, I buy it for the articles."
Along the way, Hefner cast himself as a crusader: for civil rights, for free speech, against repression of all kinds, while advocating both a sense of fun and a sense of responsibility. The film offers numerous examples, including this one: hiring black comedian Dick Gregory to play the Playboy Club in the Jim Crow South of the early 1960s.
To Berman's credit, she also captures the sense of change that seemed to swamp Playboy, with the rise of feminism in the late 1960s and early 1970s. She includes scenes of on-air debates between Hefner and author Susan Brownmiller (Against Our Will: Men, Women and Rape) and contemporary interviews with Brownmiller herself. Yet Hefner remains an articulate defender of himself as a feminist, rather than an exploiter.
Still, there's nothing about the challenge to Playboy presented in the 1970s by Penthouse magazine and, later, Hustler (which pushed the limits on showing pubic hair and, eventually, female genitalia). While the film touches on a bogus drug scandal fomented by members of the Ford-era Justice Department (that ended with the suicide of one of Hefner's assistants), it barely alludes to the Dorothy Stratten story or to Playboy's circulation decline in the face of the Internet and the easy access it provided to actual pornography.
Hefner himself is articulate and amiable, quick with the facts and adroit of mind. Despite a mild stroke in 1985, he's as mentally agile, if not physically energetic, as ever.
Still, this film feels like an official version and a fairly standard one at that. Yes, it's fun to see the period footage -- of Hefner, Playboy and the culture at large. But rather than exploring his impact, it feels more like a valedictory, an authorized version that, given the subject, feels surprisingly tame.
Popular in the Community