If you were at the Nokia Theater in Los Angeles last night to hear Jeff Beck play, and there had been an earthquake, you wouldn't have known it. The music was literally shaking the seats. It felt like one of those rides where you are watching something onscreen and your chair is moving too. Wild!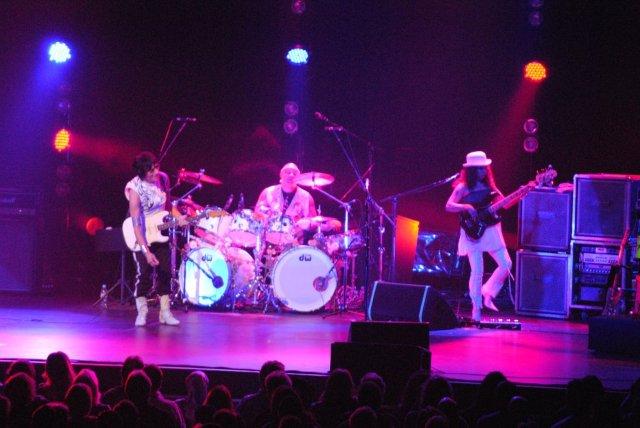 Jeff is on tour to promote his new CD, Emotion and Commotion. The title pretty much sums up Jeff's playing. He is often compared to Eric Clapton, Jimmy Page and Jimi Hendrix as far as being one of the best guitar players of all time. He doesn't remind me of any of them, except maybe Hendrix if he had lived and continued to evolve. Jeff reminds me most of Yo- Yo Ma. I know they play different instruments, and are in different genres of music, but both make me feel when they play. To me, great art, whether it is: a painting, a movie, a play, photography, music, etc...makes you feel something. It transcends the material and takes you somewhere else. Jeff and his band did that last night.
Jeff can make his guitar sound nothing like a guitar. At one moment he is playing beautiful melodies, like on "Somewhere Over the Rainbow," where he was backed by a full on orchestra that was amazing. The next he is doing the funky Sly and the Family Stone song, "I Want to Take You Higher," playing what sounds almost like a bass on his guitar and then rocking some heavy metal sounds for his solos. In one song, like "A Day In the Life," he played the melody and then took us somewhere completely different, and then back without missing a beat.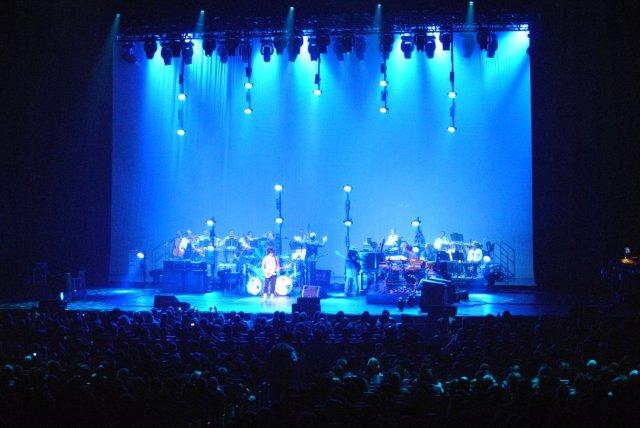 The band Jeff has assembled for this tour is one of his best ever! Narada Michael Walden is one of the best drummers I have ever heard, seen or experienced. His drum solo was so incredible that it didn't even seem humanly possible to play that fast and that good. I saw many open mouths during that. The bass player, Rhonda Smith, was equally as good as was Jason Rebello on keyboards.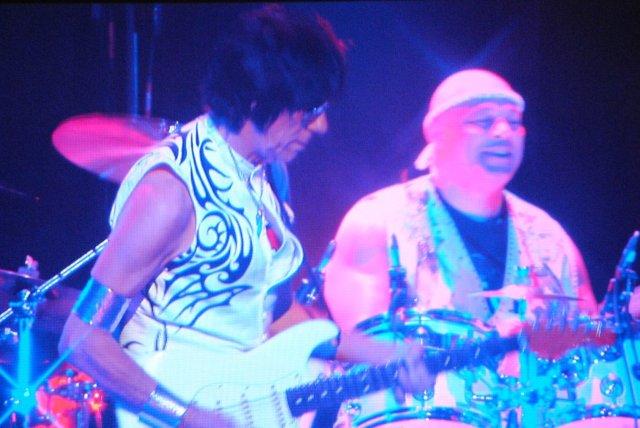 Jeff didn't talk to the audience much. He wore his sunglasses until the very end when he finally took them off and thanked us for being there. He seemed to be having fun, to be truly grateful for the fans and for the outpouring of love, and to be at the top of his game at 65.
It was fun to see who was there. Mostly people over 50, mostly men and many wearing their Jeff Beck T-shirts from shows past. The best were the sons of these guys who were there. I saw many teens and young adults in the audience there with their parents. You can almost hear the conversations, "Son, if you want to hear, and see, the greatest guitar player on earth, I will take you to see Jeff Beck live." "Dad, I really don't want to go." (I live with a teen and know how hard they are to impress.) "Trust me son, you will be blown away." It was fun to watch the big eyes and open mouths on these kids while Jeff was playing. Maybe Dad does know a thing or two.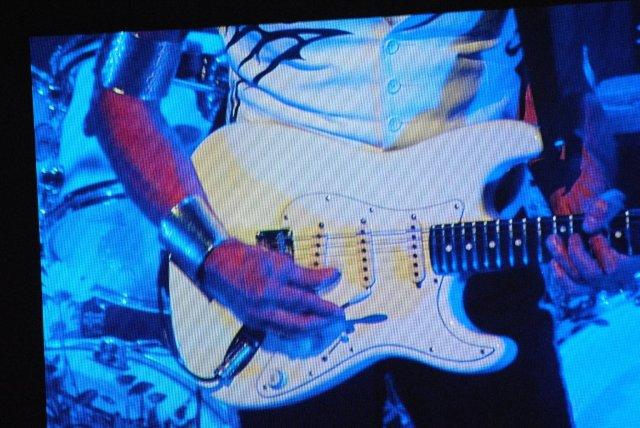 If you want to catch one of Jeff's remaining shows you can find all the information here. Rock on Jeff!
Calling all HuffPost superfans!
Sign up for membership to become a founding member and help shape HuffPost's next chapter