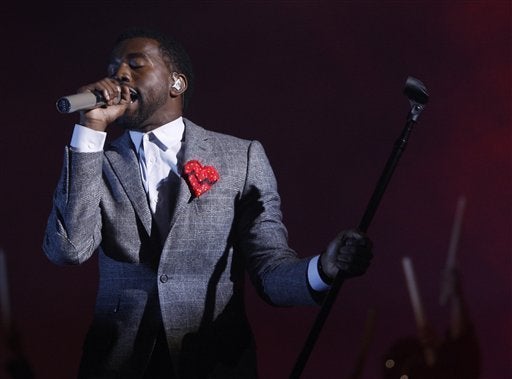 Since 1991, when Soundscan started, Garth Brooks has sold more albums than any other artist. Brooks moved nearly 70 million records on the strength of poptastic country songs that spoke sweetly, snarly and simply to working class America, as well as a legendary live performance. But then, in 1999, Brooks went from having friends in low places to being a weirdo in an emo kind of place. He donned a black wig and became Chris Gaines, a fictional character based on a movie that was never made. Garth Brooks in...The Life of Chris Gaines bewildered most of his fans and retailers were forced to discount the album to rid themselves of the overstock. Despite a Top 5 single, it largely marked the end of Brooks' until-then unstoppable career, even starting a "partial retirement" that still hasn't really ended. (Even as he's continued to make Wal-Mart money without doing a whole lot.)
As 808s & Heartbreak readies for release, that's the reference point for Kanye West. Other than Brooks--and arguably the moments when Bowie donned drag and the Beatles tried drugs -- there has never been an artist at such a commercial peak to take such a drastic, "artistic" risk. West's previous material was a parade of sing-along hits that few rappers can parallel in such a stadium-sized chorus. Others are close and others choose only to record, but Jay-Z and 50 Cent are the only active hip-hoppers besides West who can tour with such word-for-word enormity. However, after three albums of hits, the non-presidential hero of post-Jordan Chicago was dealt a tumultuous and painful few months that included the loss of his mother and the end of a long relationship. With a career track record comprised of doing exactly what he wanted to do and receiving hyperbolic pop-appraise (and making a vocal point about announcing said action and said result), Kanye did the only thing Kanye could: He made an anti-pop album.
Donda West passed away after a "cosmetic surgery" went wrong. In his speech after the 808s & Heartbreak LA listening session, Mr. West said that many of the ideals on his first three records -- and certainly the resulting move of mother and son into the limelight -- weighed heavy as contributions to such a personal tragedy. For years, he spent time in the public's ear triumphing the very beautification industry that took his mom's life. It's only human that lyrics from some of his most famous songs--"All them mocha lattes/You gotta do Pilates"--would leave a nasty taste in his mouth. Even as that snippet from "New Workout Plan," the third single on his debut album, is an anomaly among Kanye's pretty liberal and respectful depictions of women... such anomalies still exist. Quite literally, on record.
808 is that bleak and depressing. It's the antithesis of an entire career built upon celebration. "Heart of the City," "Through the Wire," "Touch the Sky," "Good Life." Quite tellingly, the two most upbeat songs on 808 are titled "Paranoid" and "Heartless." The latter of which has a Waking Life-like animated video that features the rapper/producer smoking. Cigarettes. Depression has driven him to a hip-hop rarity: tobacco. The last respected MC to smoke smokes on camera was Tupac. That might make you feel old.
The most vocal and recent decry against popular hip-hop, however "popular" is calculated these days, has been one against Autotune. T-Pain's weapon of choice, a ubiquitous assault on the singles chart paired with a ripple effect among like-minded/trend-humping artists, has produced pop-chart supremacy and essays on the device's murder of hip-hop. Sasha Frere-Jones wrote the most mathematically precise deconstruction of the recording program's history, but the bottom line is its divisiveness. Festive dance parties versus condemning blog comments. However, Kanye's use of Autotune, despite what 50 Cent says, is not making a T-Pain record and it certainly isn't "Pop Champagne" looking for the familiar aesthetic ground of commercial radio.
Kanye's Autotune is tweaked a little differently. Hollow and robotic, the album's vocals are an emotionally void thread that strings together drums with despair. On "Welcome to Heartbreak," Kanye pits his prized possessions against the simplicity of "real life," marking the basic juxtapositions with a disconnected yearning: "My friend showed me pictures of his kids/All I could show him was pictures of cribs." In the landscape of 808, Kanye's aspirations for fame have created a mutually exclusive dichotomy with family and love. His robot isn't quirky and futuristic, it's depressed and mired in the bloated consequences of past decisions.
As for the songs themselves, putting aside tragic and Autotuned context, some work and some don't. "Amazing" delicately plods along beautiful builds until the bottom drops out and Young Jeezy delivers the record's one rap verse with monstrous (and yet understated) flair. "Streetlights" is a drum-heavy ballad that flirts with cheesiness, but in the end is saved by layers of vocals and a moving melody. And despite adding Lil Wayne's supersized ego to "See You In My Nightmares" falls surprisingly flat and forgettable...other than the cringe-worthy absurdity of Wayne's "You think your shit don't sick/But you Mrs. P.U."
Without a doubt, 808s & Heartbreak will top the charts when it's released on Monday with strong Soundscan numbers at the start of holiday shopping's season, but it remains to be seen if Kanye's fans will embrace his hurt. Or whether Kanye himself will continue as Chris Gaines for more than just an album.
Kanye West's fourth studio album 808s & Heartbreak will be released on Monday, November 24.
Popular in the Community