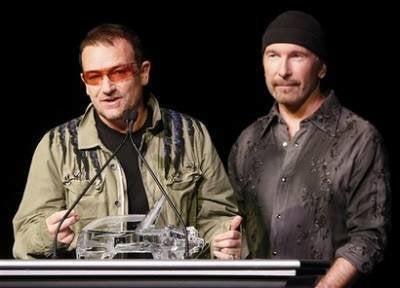 U2 - NO LINE ON THE HORIZON
Well, if you were expecting another All That You Can't Leave Behind or How To Dismantle An Atomic Bomb - Part II, forget it. However, U2 is back to experimenting (Achtung Baby) which has not always been a good thing (Zooropa), but in this case, it's great (No Line On The Horizon). This latest U2 release is more engaging than self-indulgent, and from the moment we hear the title track's opening line, "I know a girl who's like the sea, I watch her changing every day for me," we're clued-in that the album's musical horizon line will be just as challenging. There are familiar landmark's along the way, such as revisited chord patterns, stylized Bonomotions, Adam Clayton's bass riffs, Larry Mullen, Jr.'s drums, and The Edge's guitars, especially those in "Magnificent"'s intro that reprise "Sunday Bloody Sunday." The three co-producers lend their usual, very large helping hands: Brian Eno sings background and programs 'til his fingers drop, Daniel "Danny" Lanois also adds vocals plus those swimmy, million dollar guitar layers, and Steve Lillywhite engineers and mixes No Line On The Horizon like it was the most important assignment ever.
Like any good U2 album, this is about a journey of the soul both through love and how it relates to global concerns. On the album's mid-tempo "Moment Of Surrender," Bono sings about a fall from love like the Fall From Eden. "It's not if I believe in love, but if love believes in me" is his realization -- "love" being bigger than him or his relationships; without it, he admits it's like living in an emotional "black hole." One of song's best visuals accompanies the line, "I was punching in the numbers at the ATM machine, I could see in the reflection a face staring back at me." This could be dismissed as a variation on the old "taking a good look in the mirror and not being happy with what I see" cliché. But that's not where the song is going. Quick, profound thoughts such as, "Is this all there is?" or "I've got to fix my life," if we're honest with ourselves, occur daily on the grocery line, at the stop light, or, yeah, at the ATM machine. Bono closes the song with the chorus' profound hook, "At the moment of surrender of vision over visibility, I did not notice the passers-by and they did not notice me," most likely describing the results of his surrender of self-importance, a human flaw that often gets in the way.
"Unknown Caller" is more poem than song, mating typical technology-speak with life during the wee small hours of the morning (when one is "lost between the midnight and the dawning"). Phrases like "speed dialing with no numbers at all," "force quit and move to trash" "restart and reboot yourself," "password, you enter here, right now," are a tad silly, and they're not going to endear themselves to critics and everyone's first listen. But...play this track while going online at like two in the morning and see how you feel about it...not bad, huh? This is one of the album's handful of lab tests that just needs the proper microscope.
In "I'll Go Crazy If I Don't Go Crazy Tonight," Bono sets us up with yet another one of U2's women, then informs us, "There's a part of me in the chaos that's quiet, there's a part of you that wants me to riot." Just when you're sure you're listening to a simple come-on song (or at least a plea for a night out with the boys), in steps "every generation gets a chance to change the world," "the sweetest melody is the one we haven't heard," and "we're gonna make it all the way to the light." Um, meaning let's have a baby? After all, there'll be some "shouting to the darkness," as they "squeeze out sparks of light." But even if this is not a U2 impregnation anthem, the final lyric's, "You know we'll go crazy if we don't go crazy tonight...slowly now..." surely conjures something done naked.
That brings us to one of the album's more "commercial" tracks, "Get On Your Boots." If you love Elvis Costello's "Pump It Up," you're gonna REALLY kinda like this one. Oh, the joy you'll feel listening to that same rhyming pattern that is suddenly thrown off-kilter with a Beatles-ish pre-chorus ("You don't know how beautiful you are..."), complete with an unintended, coincidental cloning of a line from Rupert Holmes' "You Don't Get It." But wait...order now and you'll get lyrics filled with international intrigue, liberation, psychedelic non-sequiturs, and a Maren Jensen-style hottie strutting around in sexy Nancy Sinatra boots. But that's not all! U2 throws in just enough grinding guitars, handclaps and sixties keyboards to transport you back to that marvelous, pre-Ginsu knife era. Hey, I'm buyin' it!
With a simplified guitar riff that blends iconic Bad Company with more than a hint of Jimi Hendrix, "Stand Up Comedy" has the dubious honor of playing along innocently until it hits the phrase "...our love is stretched in-between our two towers." Now, U2 absolutely knows that's a very touchy button they're pushing, even nowadays, and especially in a song titled, "Stand Up Comedy." But, hold on, the redemption comes with patience, since the song pitches that people should "stand up" for things they believe in (like "love," of course) and against bad things (that aren't "love," of course). The comedy comes in the context of the general global stupidity that's gone down to this point. Speaking of comedy (no, not really), the first half of the experimental "FEZ-Being Born" pulls off a Beatles White Album-esque sound collage before it segues into the most poetic read of a "crash" (as a metaphor for either birth or death) you've ever heard.
The track bleeds into "White As Snow"'s acoustic guitar intro that is very reminiscent of Paul Simon's moody "Duncan." Like Simon's song, it sets up a dreary existence in the lyrics: "Where I come from, there were no hills at all, the land was flat, the highway straight and wide." Instead of heading down the turnpike to New England as Simon said, "White As Snow" taps Springsteen territory that places the singer with his brother traveling in a car for what seems like years, their "faces as pale as the dirty snow." Eventually, the story arrives in a post-apocalyptic landscape as every good folk song should (this one composed with a traditional melody and original lyrics). Its lesson touts appreciation for what you've got, its deeper message being, "If only a heart could be as white as snow."
With a possible fortune awaiting if paid by the word, U2's rock waltz "Breathe" is classic with moments of old Jefferson Airplane harmonies in the chorus. Bono appeals, "Walk out into the street, sing your heart out, the people we meet will not be drowned out," but what seems like yet another U2 call to arm-in-arms is more like the wearing of a brave face. Then, that aforementioned journey of the soul ends in the luscious "Cedars Of Lebanon" that gets real personal through lines like, "I have your face here in an old Polaroid, tidying the children's clothes and toys, you're smiling back at me, I took the photo from the fridge." We're all in that kitchen, in that photo, and in the scenario that follows, as told by, presumably, a sad, lonely soldier who is far from home. Sporadically-introduced edgy synth sounds intentionally prevent the listener from ever settling-in with the surroundings, mildly simulating what our soldier is experiencing. Then, the song--as well as No Line On The Horizon--leaves the listener with these wise, sobering words: "Choose your enemies carefully 'cos they will define you...they're not there in the beginning, but when your story ends, gonna last with you longer than your friend." Regardless of what the album title suggests, this group still knows how to help us keep our bearings.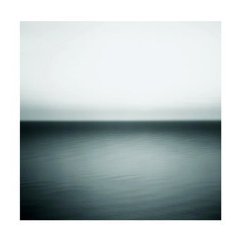 Tracks:
1. No Line On The Horizon
2. Magnificent
3. Moment Of Surrender
4. Unknown Caller
5. I'll Go Crazy If I Don't Go Crazy Tonight
6. Get On Your Boots
7. Stand Up Comedy
8. FEZ-Being Born
9. White As Snow
10. Breathe
11. Cedars Of Lebanon
Considering the amount of changes in musical direction Chris Cornell has undertaken during his tour of duty with Soundgarden, Temple Of The Dog, Audioslave, and his three diverse solo albums, you get the feeling the dude gets bored easily. It's almost as if his creative drive is based on mixing things up at the slightest hint of "comfortable," like some sort of artistic survival response. With every new solo album--such as 1999's Euphoria Morning (his "mature" album), 2007's Carry On (his more aggressive, commercial Rick Rubin rock project complete with strings and Dylanesque album cover), and now the proggy, r&b-driven Scream--there comes a further departure from not only the last release, but from what one would expect from this college radio god. Yes, we've been prepped on Scream for eons, whether it be in months of well-timed press releases, artist statements and interviews, downloadable tracks, or the Alan Furguson-directed title track video. But not everyone has been re-educated, and boy, do you have a surprise coming if you haven't caught any of these appetizers, considering just how far Cornell's pet project pushes pre-conceived parameters.
This time out, it's all about the Timbaland. Sure, throw-in co-producer Jerome Harmon, mixing engineer (and Nelly Furtado hubby) Demacio "Demo" Castellon, and vocal seer and overseer, Jim Beanz...but it's Timbaland's court. All have guided Scream's and Chris Cornell's sonics through a world of elegant but simple drum loops, banks of beautiful-to-wanky samples, a scratch or two here and there, and a jungle of sounds that conjures a visual like the old "Don't Cross The Street In The Middle Of The Block" PSAs of the sixties. Cornell sounds great navigating this cacophony, and Justin Timberlake and Timbaland merely accent the tracks on which they appear, never competing for artist title.
However, this is such a new adventure for Cornell that no matter how comfortable you get with Scream's interlude-laced, rock-soul approach, if you're a long-time fan, you're going to wonder which console fader jammed when it came to the guitar mixes. Yeah, they're in the stereo spread, but only occasionally poke their heads through the layers of lush keyboards, percussion and processed effects. But does it matter? Nope, not at all. Remember, this album--that Cornell suggests we listen to like Dark Side Of The Moon (Pink Floyd) or A Night At The Opera (Queen)--is supposed to blow your mind, especially though headphones. Plus this is a successful melange of concepts initiated on Introducing The Hardline According To Terence Trent D'Arby with some Gnarls Barkley served as a side dish.
Though the style has changed, we still get good ol' engaging Cornell lyrics, and some really bite (in the good sense), like those on the hook-laden, semi-rocker album opener, "Part Of Me," that begins after a cute faux movie-studio logo prelude. Floating amidst block vocals and minor key synth sounds that Rick Wakeman and The Tubes would envy is the line "No, that bitch ain't a part of me." It's repeated so often and matter-of-factly that it ends up being a misogynous anthem that's, thankfully, delivered without a ridiculous cookie-monster voice (a trend that needs to die quickly). The song's aggressive tone sets up the rest of the project, an exploration of stressed or failed relationships (including global).
"Time" features the smart lyrics, "The perfect present...is no longer the future," but an unexpected channeling of Don Henley's "Dirty Laundry" in the bridge section gets more of your attention through bouncing phrases such as, "Make a little love, make a little war" and "have a little laugh, have a little cry, each moment gets us closer to saying goodbye." "Sweet Revenge" discusses just what the title implies, despite its melody clipping a wee bit of Michael Jackson in the verses (nothing to see here folks, it's quite appropriate on an album like this, move along). "Get Up"'s chorus teaches us how "You need a backbone to roll with the world, you need one to run with the bulls," and "Ground Zero" asks, "When it all falls down and laws don't count...where in the world you gonna go?" This track, with its seventies-ish string arrangement, top and bottom interludes, subject matter, and soulful melody, seems to have been inspired by Marvin Gaye's What's Going On album. (Again, that's a good thing.)
After a much needed tempo change, the beautiful alty-gospel "Never Far Away" appears, and rock guitars finally assert themselves in the end sections. Cornell sings, "Give me definition for the words I know" as the melody suggests The Thomspon Twins have stopped by for beers. Sitar and a moody caravan tempo permeate verses of "Take Me Alive" (with guest Justin Timberlake), while the chorus evokes Matthew Sweet's Altered Beast-era vocal arrangements that bring home this tight sarcophagus that is wrapped in middle-east trappings. And though it sounds quite contemporary, "Long Gone"--if it had a monsterously fat, reverberated snair (and no audible Timbaland)--would be the power ballad most eighties hair bands would have traded their souls for had it been incarnated in that decade.
And that brings us to the title track, "Scream." With Mars Lazar meets Yes synths and drum machines this side of Hall & Oates' "I Can't Go For That (No Can Do)," Cornell's hook-filled meditation on composure asks the girl, "Why you keep screaming at the top of your head?" But you almost want to ask if the relationship is that damaged, why aren't you screaming too? The dysfunction continues with the line, "Throwing out the blame when you know it ain't my fault," but something hits home by the end of the song when Cornell sings, "I used to think that silence was golden." The lyrics question the surface meaning of all that preceded it, and that might be confirmed in the song's video that starts with relationship anger that eventually leads to everyone brawling. So is the message that "screaming" is what is contagious and damaging or possibly the ignoring of it--Cornell's first coping device in the vid?
This equation continues through the rest of the album, finally reaching "Watch Out," just a great classic rock piece whose arrangement and vocals are like a "Shout Out" to David Coverdale (no, Cornell's still not screaming). The song cleverly ends with what sounds like a tape reel spooling off of a Studer recorder, but don't be fooled, Cornell fans. We're served one more round in his hidden bluesy co-write with John Mayer titled "Two Drink Minimum," an after hours slow burn with smoldering harmonica and, presumably, Hammond B-3. (Note to John Mayer: Don't even think about a Timbaland collaboration.)
Overall, Scream is one of those albums in which you really lose yourself in the environment without questioning who it is you're listening to or the artist's history. Mission accomplished, that was the creator's intention...and that you listen to it top-to-bottom like the great concept albums of yore. But given his rock history, it is surprising that Cornell is not really doing a lot of screaming here except for within the lyrics. And all of his co-writing with Timbaland and posse has forced his music to leave behind a street of raucous, in-your-face stickball and hockey for one where he now has to gain a different kind of cred. Pretty brave, and it's nice that Timbaland has his back. But as good as Scream is--and let's wish it well--it would be a shame if the Chris Cornell we followed over all these years decides not to rock again because of its success. Now THAT would be a reason to scream.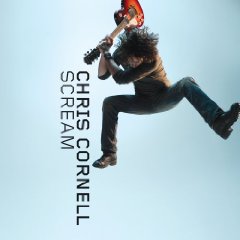 Tracks:
1. Part Of Me
2. Time
3. Sweet Revenge
4. Get Up
5. Ground Zero
6. Never Far Away
7. Take Me Alive
8. Long Gone
9. Scream
10. Enemy
11. Other Side Of Town
12. Climbing Up The Walls
13. Watch Out
14. Two Drink Minimum - hidden track
Popular in the Community