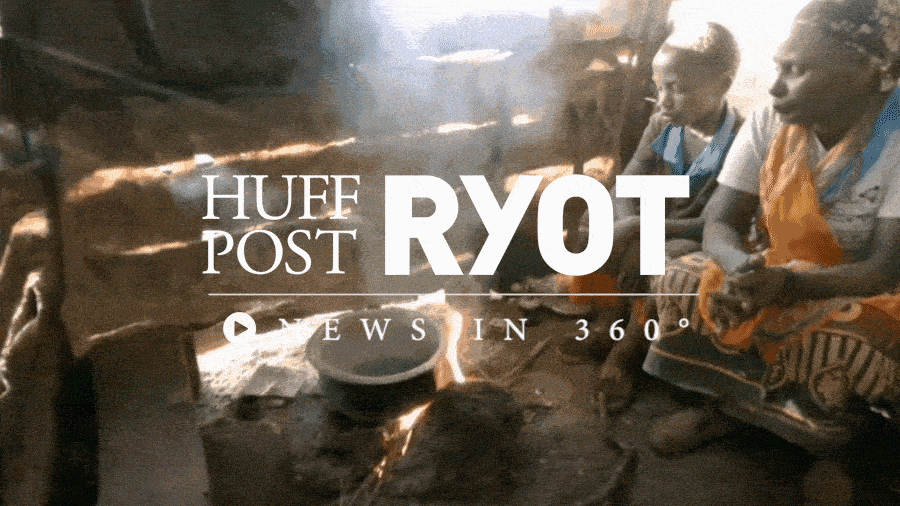 From Day 1, The Huffington Post has been committed to using all the tools at our disposal to tell the most important and most entertaining stories of our time. Over the years we've embraced and experimented with the newest technologies and platforms available, finding new ways to engage with our growing global audience -- and just as important, find new audiences.
So today, I'm thrilled to announce HuffPost's acquisition of the virtual reality and immersive storytelling company RYOT, and the creation of HuffPost RYOT. Together, we'll be able to build on HuffPost's video offerings to bring an entirely new range of experiences to our global audience, from virtual reality to full-length films and 360°.
As anyone who's ever experienced VR on a headset or 360 video on your phone knows, the possibilities are powerful. And RYOT brings all the tech know-how that make these experiences possible. RYOT's global vision led by CEO and Co-Founder Bryn Mooser and brought to life by the rest of their incredibly creative team has taken viewers to Haiti's largest slum, inside the fight to save elephants in Kenya, behind the music with an Inuit heavy metal band on Baffin Island, and along for a ride with a man who quit his job to bike across the world. We're delighted to bring all this to all of our 15 international editions and to all our users around the world.
But the real reason we're joining forces is that RYOT isn't just about the latest cool, shiny tech toys -- they're committed to using cutting-edge technology for a larger purpose. "We tell stories of resilience that move audiences to take action," as they put it. And maybe it's media karma, but RYOT's mission -- to "Inform, Entertain, and Activate to Ignite Change Through Next Generation Storytelling" -- even overlaps with HuffPost's own: to Inform, Inspire, Entertain, and Empower.
You can see this mission brought to life in everything RYOT produces. It's hard to do justice in words to the experiences they create, but I'll mention just a few more examples. RYOT's short documentary Body Team 12 -- about those charged with the grim task of collecting bodies at the peak of the Ebola crisis -- was acquired by HBO and went on to receive an Oscar nomination and win a best documentary short award at the Tribeca Film Festival. Their films have won 11 awards and been shown at 40 international film festivals.
Of course, real impact can't be measured in just awards and accolades. It's the melding of technology and purpose that can make VR truly transformative. There may be no better medium for building empathy -- and empathy is what we need if we're serious about solving the multiple crises we're currently facing. That's certainly what we at HuffPost found our last year in our collaboration with RYOT on The Crossing, about the refugee crisis in Greece. By combining technology and storytelling, we were able to put flesh and blood on a human crisis that, for far too many around the world, had become an abstraction. And that's just the beginning of what we will do together.
I couldn't be happier to welcome RYOT to the HuffPost family, and I'm so excited about our future together -- covering news events, leading cultural conversations on a global scale, and going beyond raising awareness to making a difference in people's lives.
To view this video in 360° on your mobile device, go here.
David Darg and I grew up living and working in the developing world. In the early years of the 2000s we found ourselves in West Africa, David working on clean water projects in Senegal while I was a Peace Corps volunteer in a small Gambian village. My job was to help communities reforest the bush and build libraries at the small schools scattered in nearby villages. It was there that I witnessed how technology was impacting the world. Villages that had never known landlines were suddenly connected through mobile phones, and new voices were able to join the global conversation. It was clear technology was going to change everything.
I got to see it on the ground again in Haiti after the earthquake. David and I witnessed how social media was bringing together people as never before. Cell networks were connecting people and allowing them to speak to each other across cultural, social and geographic divides. What was interesting to me was not how people were benefiting from the internet but rather how the internet would gain from new voices, people, and ideas. Despite the ability to directly communicate with one another, the news was still a one-way flow of information.
We launched RYOT in 2012 to help change that. RYOT began with a simple mission to link every news story to an action. We wanted to make the news empowering rather than depressing. To turn people on by what was happening around them rather than turn them off. Throughout RYOT's journey, we searched for the next technology to bring us closer into the story and we found virtual reality. We bought a handful of GoPro cameras and started shooting all over the world. For the first time you could fully experience the scale and scope of the world's most pressing issues, from the Nepal earthquake to the streets of Aleppo and the beaches of Lesbos to the chaotic political rallies across America.
Now we begin the next part of our journey and join forces with The Huffington Post, with whom we share the same DNA. The Huffington Post was also built on the principle that people should be empowered to tell their stories in their own voice. Together, we are adding VR to all their global news desks and thereby creating the world's largest 360° and VR news network. We will continue making award-winning documentaries and keep pushing the boundaries of Virtual Reality, Augmented Reality and Mixed Reality in the service of news and video journalism. We will arm citizens, activists, and journalists with iPhones and GoPros to help usher in a new group of storytellers whose voices we can help elevate. Excited and inspired by this new relationship, we are ready to go. Join us and become the story...
Related
Popular in the Community