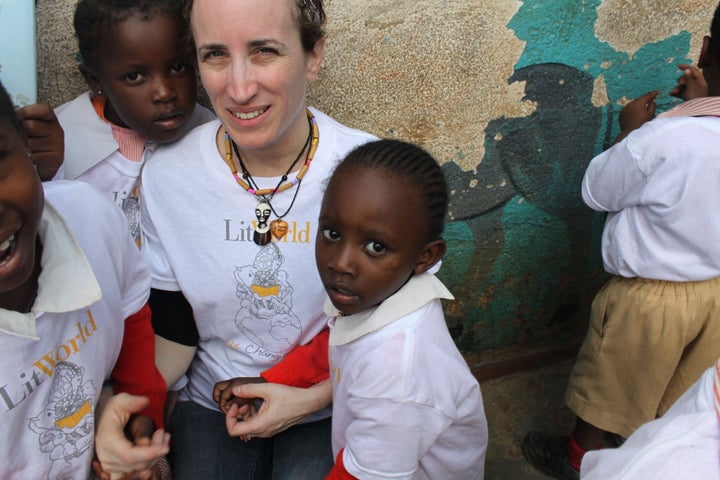 Literacy is not just learning the alphabet, or putting together single letters to form words, or putting together words to form sentences. Literacy is the process that makes the entire world legible, accessible and real.

Pam Allyn understands the potential power of literacy. As the founder and executive director of LitWorld, she's dedicated her life to helping as many children in the world as possible learn to read and write: because literacy can transform a life.

Pam founded LitWorld in 2007, with the intention of spreading literacy by helping form leaders for literacy in different communities. Since 2007, they have reached over 40,000 people in at least 35 countries.

For Pam, the path into literacy education was natural. "It was always so much a part of me," she said. "I loved to read so much and I read when I was very young and my parents read to me...that from a very young age I saw reading as a comfort and an escape and a transcendence."

LitWorld grew out of a long-standing passion for literacy education, earlier contained in the educational consultancy LitLife. "The cause of literacy is very solvable," Pam said. "It just doesn't get enough attention."
On a very basic level, LitWorld teaches children to read and write. "All over the world, children are denied the right to go to school or they go and it's a very sub-par education, so they're not really learning to read very well," she said.
But reading also becomes a tool for transformational change, whereby children can learn to think differently not only about the world that surrounds them, but also about how they envision themselves and understand their place within their environment.

Pam believes that every child has the right to a creative life. "When I travel around the world, I see so many children living in such extreme poverty who have no opportunity to play," she said. "But if they have one pocket of time, they will create a story. There is so much potential in all children for intelligence and for insight and for wisdom."
When children are given the opportunity to read, they're learning more than a basic skill. They're learning the sound of their own voice, and the ability to recognize that voice as one among the huge array of the world's chorus. "Children are not little adults," Pam said. "Children's books are a way to promote justice for children."
And, as any reader knows, books offer a companionship that may not be available in the real world. "Every child who grows up in isolation is a child who joins an organization that's counterproductive," Pam said. "When he grows up, he's looking for something to belong to because he felt so lonely when he was young."
LitWorld is constantly expanding its reach with a variety of programs, including the recently formed LitWorld Girls Clubs, which use words and stories to empower girls across the world. "The primary purpose for the clubs is for the girls to use reading and writing as a tool for change," Pam said. "Literacy is a tool for change and its a powerful force to bring people together."
LitWorld relies on its ambassadors to continue to spread the word, but Pam believes firmly that everyone has the capacity to get involved in literacy efforts. "LitWorld is this idea of advocating, campaigning and educating and you don't have to be in the classroom," she said. "Everyone belongs to that message. You could be 90-years-old or you could be nine. If you read to a child, even once, you have now done something."
Even the president of Liberia took a moment to participate in LitWorld's World Read Aloud Day. "Her country is just coming out of a terrible period of war," Pam said. "But just to get everyone in the government to stop and think really 'do the kids have books?' was amazing."
Pam's vigor for literacy, her desire to "change the message from despair to hope" is contagious, but she remains humble. "I'm just stoking my own passion," she said. "It's almost selfish because I love my work so much."
REAL LIFE. REAL NEWS. REAL VOICES.
Help us tell more of the stories that matter from voices that too often remain unheard.