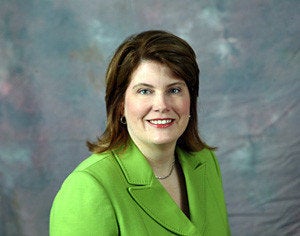 Every day on HuffPost, we're highlighting one 'Greatest Person'- an exceptional individual who is confronting the country's economic and political crises with creativity, generosity, and passion. Today we have the honor of interviewing HuffPost Game Changer Barbara Kowalcyk, an advocate at the forefront of the food safety movement in this country. In 2001, Barbara lost her young son -- Kevin -- to a hamburger he ate that was contaminated by E. coli. She turned her grief and frustration into the Center for Foodborne Illness to "improve public health by preventing foodborne disease through research, education, advocacy and service." You might recognize her from the prominent role she played in the 2008 documentary "Food, Inc." She took time out of her busy schedule to tell us a little about the work she does, and why it means so much to her.
Huffington Post: Tell us about your son, Kevin. Describe for us the events that lead to his passing.
Barbara Kowalcyk: Kevin -- our second child, our first son -- was born in the early morning on Dec. 10, 1998. As he grew from infant to toddler, his wonderful little personality began to emerge. He was clearly very bright -- spending hours studying the shapes around him and trying to mimic everything his older sister, Megan, could do. Kevin had a sensitive side as well and was very in tune to the feelings and moods of those around him. He was a sweetheart.
In the summer of 2001, our family was living in Mount Horeb, Wis. when Kevin awoke one morning with diarrhea and a mild fever. Initially, we didn't think much of it but became alarmed when he developed bloody diarrhea. We took him to the emergency room but were sent home. Kevin was hospitalized the following day for dehydration and was quickly diagnosed with E. coli O157:H7. For the next eight days, our family helplessly watched our child suffer unbearable pain, endure continuous dialysis and become so weakened that he needed a ventilator to breathe. On Aug. 11, our beloved Kevin suffered three heart attacks and died. Weeks later, we learned that Kevin died of gangrene of the large and small intestine -- a brutal death.
HP: Talk about the process you went through to find out what really happened to your son. How difficult was it to identify the source of the contaminated meat?
BK: Obviously, we were devastated by Kevin's death and, like any parents, wanted to know how our beautiful child could have gone from being perfectly healthy to dead in just twelve days. Two years after his death -- and after multiple threatened lawsuits -- we finally learned that Kevin matched a meat recall issued 16 days after he died. Unfortunately, despite numerous attempts, we were never able to conclusively prove that the recalled meat caused his illness.
HP: Since the loss of your son, you've made food safety your life's work. Explain how you first decided to do this, and what it means to you now.
BK: The horrific nature of Kevin's illness and the obstacles we encountered, as we tried to figure out how this could have happened, shocked us and opened our eyes to a very serious public health problem. Before Kevin died, I was working in clinical research as a biostatistician so I was already interested in public health. I also had a child with food allergies so I was aware of cross-contamination issues and knew that food could kill. But I still didn't know the risks I was taking by feeding my children foods associated with serious foodborne illness. In hopes that it will prevent our tragedy from happening to others, my family and I have worked hard to channel our grief into advocating for a new approach to food safety and giving people the information they need to make informed choices about what they feed themselves and their families.
HP: How did you go about founding the Center for Foodborne Illness? What are its primary objectives?
BK: In 2006, my mom, Pat Buck, and I founded CFI to help find science-based solutions to the food safety challenges of the 21st Century. CFI's mission is to improve public health by preventing foodborne disease through research, education, advocacy and service. CFI facilitates, conducts, and encourages others to conduct research that increases our knowledge about foodborne illness and leads to science-based, public health solutions. We also apply our knowledge of science and public policy to improve awareness about foodborne illness and advocate, on behalf of consumers, for more effective food safety policies.
HP: It's been nine years since your son's passing. Are you happy with where you are now, in regards to the work you're doing? What goals do you have left?
BK: I know CFI has had a positive impact on food safety and I am very happy about how much we've already grown. But each new outbreak reminds me of how much more work we have to do. According to the World Health Organization, over 2 million people -- mostly children -- die each year from diarrheal diseases and many of these illnesses can be attributed to contaminated food and/or water. Emerging infectious diseases and food contamination -- as well as the sustainability of agriculture and the safety of our water -- are clearly growing and difficult problems. Given the global nature of our food supply and our increasingly limited resources, it is clear that we need a more holistic and sustainable risk-based approach to food and food safety that focuses on prevention and integrates human, animal and environmental health. In fact, this interconnectedness between human, animal and environmental health is often referred to as "One Health" and is readily applicable to food safety.
Consider the 2006 spinach outbreak in the United States that resulted in four deaths and hundreds of illnesses -- all from eating something healthy. The contaminated spinach came from a relatively small farm in California's Salinas Valley -- which happened to be downhill from a cattle farm that was infected with E. coli O157:H7. Run-off from the farm contaminated a nearby stream that was a drinking source for wild pigs in the area. As the pigs fertilized the spinach fields, the bacterium entered the soil and was absorbed into the plants.
Unfortunately, the "One Health" approach has not been widely applied to disease prevention and health promotion. Sadly, this is not at all surprising to me. Changing the way people approach food and its connections to health is not easy. But, if we hope to meet the food and water challenges of the 21st Century, we absolutely must integrate prevention and the "One World, One Health" philosophy into our food safety culture.
HP: How can people get involved with the work you're doing?
BK: Safe food and water are essential to human life and fundamental to global health and peaceful development. I hope that consumers become more aware of the food they are eating, both at home and in restaurants, and start to recognize food safety as a global health priority. We have to ask questions about where our food comes from and how it's prepared. We must demand that our food be safe and nutritious. Join us on Facebook and check out our website (www.foodborneillness.org) for information on our current work, to sign up for e-mails and to find other ways to support our efforts.
HP: Your story is an incredible example of the strength of the human spirit. Do you have any words of wisdom to share?
BK: One of my favorite quotes is from Margaret Mead, who once said, "Never doubt that a small group of thoughtful, committed citizens can change the world; indeed it is the only thing that ever has." Her words touch me deeply, especially as I work on global health and food safety issues. Each one of us has the power to be one of those thoughtful, committed citizens and by working together we can change the world.
For more, explore our 'Greatest Person of the Day' archive and subscribe to receive daily email updates.
Calling all HuffPost superfans!
Sign up for membership to become a founding member and help shape HuffPost's next chapter