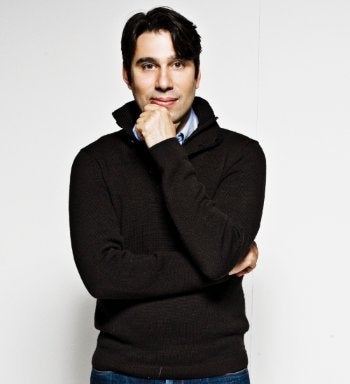 Today we're talking to Robert LoCascio, founder of FeedingNYC, for a special Thanksgiving edition of "Greatest Person." Robert's organization has been working since 2001 to offer free Thanksgiving meals to New York City families in need, and he hopes to feed 8,000 families this Turkey Day.

Huffington Post: How did you decide to start FeedingNYC?
Robert LoCascio: I'm a New Yorker, born and raised on Long Island, and like most New Yorkers, feel a strong connection to my community. FeedingNYC was founded after the horrific events of 9/11. I remember having this strong desire to do something, to help the local community in some way. I saw so much pain and anguish around the city and I knew I had the ability to help make a difference and turn some of that sorrow into joy. That Thanksgiving, my employees and I came up with a simple idea: to feed some families in need. We collectively put our resources together and were able to feed 40 families that year. We hand-packed and delivered complete meals, door to door, to families that would otherwise not have been able to enjoy a Thanksgiving meal with their loved ones.

HP: Why did you choose Thanksgiving in particular? What does the holiday mean to you?
RL: Thanksgiving is all about gratitude and appreciation. My company had just gone through a massive restructuring in the wake of the dotcom bubble burst, and we were fearful at one point we would not survive. We had a sense of gratitude for even being around as a company at that point in time and wanted to show our appreciation to our community by helping and giving back. Helping others is at the heart and soul of who we are at LivePerson, who I am as a person, and giving back, even in a small way, to those in need was the best way I could think of to show my gratitude and appreciation. Thanksgiving is also a time of connecting with loved ones. I think we all want to be part of something greater than ourselves, to feel connected to humanity, and FeedingNYC provided an opportunity to help people in the local community feel connected to one another on a much deeper level.
HP: Talk about the impact FeedingNYC has had. How many people do you feed? How has the organization grown over time?
RL: Over the past nine years, we've gone from feeding 40 families, to feeding 2,250 in 2009, and now, this year, we just fed 8,000 families, which represents just about every family in need in a shelter throughout Manhattan and the five boroughs. Beyond the scale and volume of the number of families we've been able to feed, however, is the sense of belonging and connectedness we've been able to help foster in our local community. We couldn't do what we do without the help of our partners and sponsors, including Robin Hood, Flat Rate Moving & Storage, Wegman's and Pier Sixty at Chelsea Piers, David Yurman and The Surrey Hotel, plus the hundreds of annual donors and volunteers that join together every Tuesday before thanksgiving to pack and hand-deliver the meals to the families. It's truly a humbling experience to see how many people want to help one another and to be able to provide the opportunity for them to do so.

HP: Where do you get the food you use?
RL: This year, all food and turkeys were provided by Wegman's at near cost. We raise close to $200,000 so that we can purchase the food and provide the meals to the families.
HP: How can people get involved? What can they do to help?
RL: People can still donate at www.feedingnyc.org, or register to sign-up for our mailing list. Next year we'd like to host more events and fundraising opportunities throughout the year so registering on our website is a great way for people to stay up-to-date on the latest FeedingNYC happenings. We may also consider expanding into other cities in which we have a presence, including Atlanta and San Francisco, so would welcome the opportunity to speak with potential donors and partners in other cities.
HP: Who inspires you? Who are your heroes? What are you thankful for?
RL: I get my inspiration from people who see the world a little different and who are willing to take a chance in changing the world we live in. My parents and grandfather, who are also entrepreneurs, have always provided inspiration for me. They taught me that taking my own path in life is a good thing and that life is not always an easy road.
For more, explore our 'Greatest Person of the Day' archive and subscribe to receive daily email updates.