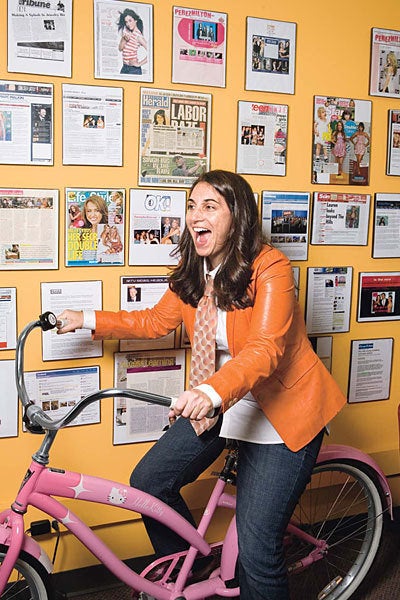 Every day on HuffPost, we're highlighting one 'Greatest Person'- an exceptional individual who is confronting the country's economic and political crises with creativity, generosity, and passion. Today we feature the CEO of DoSomething.org, Nancy Lublin, who brought her can-do spirit to a nonprofit that promotes just that. DoSomething.org believes that "young people have the power to make a difference by inspiring, supporting and celebrating a generation of doers: people who see the need to do something, believe in their ability to get it done and take action." It is now one of the largest youth empowerment organizations in the country, and in these hard economic times, we're glad to have as many "doers" as possible. We sat down with Nancy recently to hear about her experience at DoSomething.org.

Huffington Post: What are DoSomething.org's objectives? How do you accomplish
them?
Nancy Lublin: We believe you don't have to wait to be Bono or Bill Gates to make a difference. Teens are super creative and passionate. We're unlocking that power by leveraging pop culture and communications technologies to get kids to do great stuff offline.
HP: Talk about the impact your organization has had.
NL: This week we passed an amazing milestone: 1 million kids taking action offline, as a result of us, this year.
HP: What do you get out of your work at DoSomething.org?
NL: I kind of think I have the best job in America. I work with amazing people who challenge me daily. My job is never boring. I'm constantly learning. And we laugh a lot.
HP: Tell us about yourself. How did you get involved in DoSomething.org?
NL: I had left Dress for Success and was trying to figure out the next chapter of my life. Do Something was also going through a transition and it was my friend Wendy Kopp (founder of Teach for America) who apparently suggested to these guys that they call me. I knew the organization and loved the idea of it--especially since I had applied for the Do Something award twice...

HP: In what condition was DoSomething.org in before you took over?
NL: It was a mess. They had just laid off 21 of 22 people. There was 75k in the bank--but they'd spent another 250k in foundation funds and not yet complied with those grant restrictions. They lost their office space and everything was in storage boxes in Queens...and nobody was quite sure who had the key.

HP: How have you changed the organization?
NL: In one word: focus. When an organization is going downhill, it grasps for anything
to hang on--so the program offerings were for kids aged 5-30 (that's a family, not a target
market!), parents and teachers. It was all over the place. And, they said they were in 4 other cities: Newark, Seattle, Atlanta, and Wisconsin...which is a state. It took me a little more than two years, but I shut down the local offices, spun off the programming for "old people" (over age 25) and moved the entire organization online.

HP: How can somebody get involved?
NL: Everything you need to take action is at www.dosomething.org
For more, explore our 'Greatest Person of the Day' archive and subscribe to receive daily email updates.
REAL LIFE. REAL NEWS. REAL VOICES.
Help us tell more of the stories that matter from voices that too often remain unheard.