Three weeks ago, we launched HuffPost's Posterizing the Modern GOP project to graphically capturing the lunacy of the Bush years. And we asked for your help adding to the names, events, and slogans depicted.
The response was overwhelming, with over 1,000 people offering suggestions (even those with a different POV of the GOP were inspired to jump into the fray).
Rich Silverstein, who created the posters, and his design team culled through the submissions and -- with an assist from our editor, Roy Sekoff -- have created updated versions of the posters. The result is amazing -- and even more damning than expected. To check them out in their full-sized glory, click on the thumbnail images below.
While putting these together, Rich, an award-winning ad exec, had another brainstorm: give the HuffPost community a chance to buy the original posters -- and use the proceeds to put giant versions of the three posters on the sides of a trio of buildings, one in New York, one in Los Angeles, and one in Washington, DC. It would look something like this: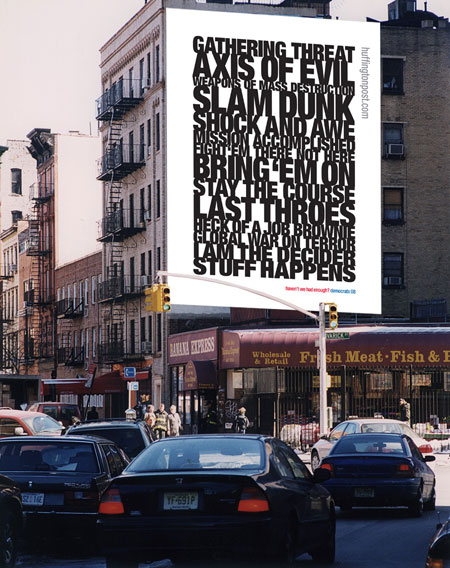 So that's what we're doing. The 24" x 36" Lithograph posters come in three versions: Villains of the GOP, Worst Events of the Bush Years, and Slogans of the Bush Years. We're selling them for $20 each -- or all three for $50 (plus shipping and handling).
We are also doing a run of Limited Edition Silkscreens of each of the three, which I will sign. These beautiful high-quality prints are $50 each (plus s/h).
Since there is a time crunch, if you want them for a Christmas gift, please order right away. But they'll be great throughout 2008.
And remember, all proceeds (minus printing and processing costs) will go toward putting these powerful reminders of the Bush years on buildings in New York, Los Angeles and Washington.
Click here to order your posters (I've just ordered mine).
Popular in the Community