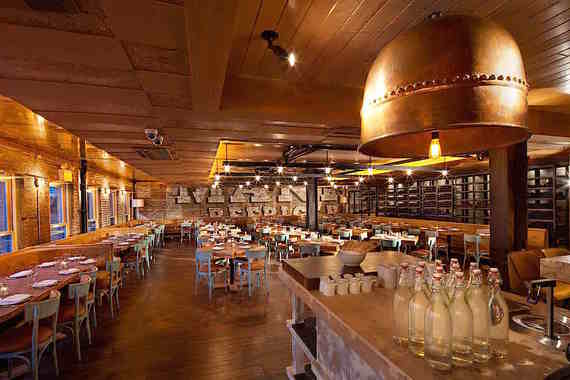 I had my reservations about visiting Catch, the huge three-story seafood restaurant in NYC's Meatpacking District. In fact, it was its huge-ness--275 seats plus a new addition of 70 seats on the redesigned roof-- that put me off dining there ever since it opened several years ago. I simply couldn't believe a place of this size or capacity (800 dinners a night) could possibly obtain and carefully cook enough first-rate seafood day after day. (The owners, the EMM Group, have just debuted a branch of Catch in Dubai.)
After shedding my biases, however, I did go to Catch and was amazed to find that I enjoyed--from appetizers through main dishes and sides--some of the best of their kind in NYC, served with aplomb and at a pace that went against any notion I had of a mass feeding frenzy after six PM.
You'll spot Catch by the whale-sized metallic bass sculpture crashing through the restaurant's brick building. Finding the entrance to Catch, whose address is on Ninth Avenue, is no easy task, and the stance of the imposing, though cordial, doorman may suggest that you are about to enter one of those socially rapid food halls where the amount of beer and booze consumed would blunt guests' taste buds.
You ascend in grim elevator and exit onto a vast but very attractive room of natural wood, exposed brick and mosaic tiles, with industrial lighting set at a level whereby you can ogle the eye candy everywhere in the room. The room is very loud. There's a sushi counter where a brigade of knife-wielding cooks works its craft.
The reception by very attractive hostesses exemplifies grace under pressure, with lots of bulky men and sassy women make their demands at a high decibel level. Our request for a somewhat less loud section was met with a suggestion we dine on the new outdoor terrace, set beyond another room that was taken by a far more boisterous company party. But our table outdoors was a delight, overlooking the bustle of the Meatpacking District below, now home to other huge restaurants and high-style boutiques. It was a perfect New York evening, with a pale blue sky fading to violet and orange along the Hudson River.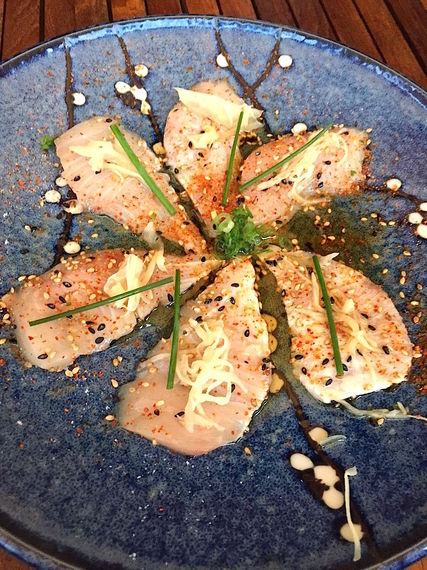 The waitstaff, in khaki shorts, move at a daunting pace without breaking a sweat, and they are very helpful with a long, segmented menu, plus specials. One of those was a lustrous, subtly seasoned hamachi crudo (above) as delicious as any I've had in NYC. There is a selection of oysters (market price) and a $49 sashimi plate chosen by the chef. There are also sushi rolls and a must-try dish of crunchy rice cakes ($16-$22) with tuna tartare, wasabi and tobiko. The lobster rolls here--two of them ($20)--are of the cold meat variety, and though they weren't really bulked up with lobster chunks, they were fine renditions of this New England classic.
One of the most popular items on the menu, justifiably, is the generous plate of scallop gnocchi ($2) with black truffles and parmesan, which belies the commandment that cheese should never touch seafood.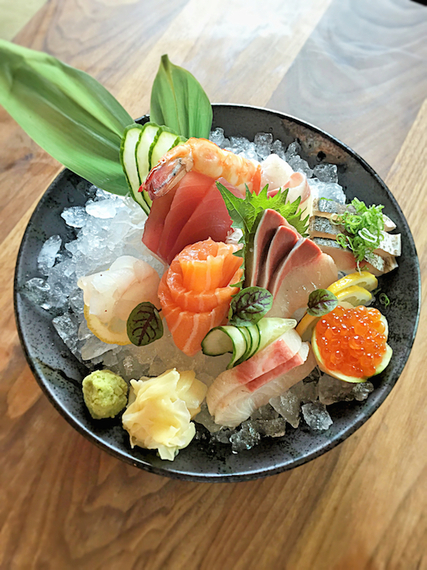 Among the simpler grilled dishes, I recommend the swordfish for its perfect succulence and meatiness ($30) and a whole branzino worth every penny of its $69, for it easily serves two people. Its skin was lightly crisp and gave way to moist, flaky flesh inside, and you get a choice of sauces, from spicy tomato to mango-pineapple salsa. Good sides include cauliflower ($9) and truffle fries ($10).
It would seem to go against all reason to order a steak at a place like Catch, but I'd heard that I would be surprised by its comparison to the best in NYC, so we went for it--a big, impeccably cooked dry-aged, bone-in Colorado ribeye ($85) that our table of four greedily went at with enormous gusto. It was indeed a terrific piece of well-marbled beef. So often an afterthought in seafood restaurants, this steak proved conclusively how serious Catch and Exec Chef John Beatty are.
Beatty has experience running operations of this size, including the frenzied Buddakan and the (now closed) Kibo Japanese Grill, so he has clout in the market to get the high quality he wants. Pastry Chef Thiago Silva does big, gooey desserts commensurate with everything else at Catch, including a chocolate extravaganza called the Hit Me ($13).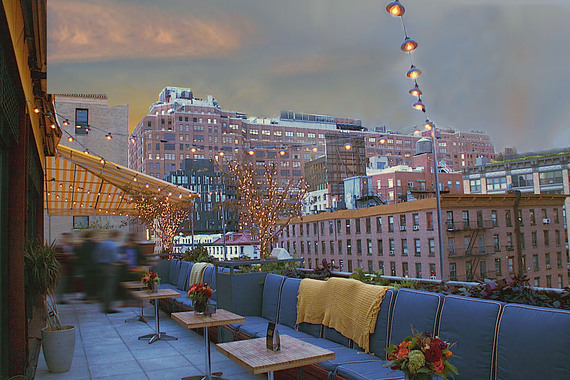 There is, of course, a cocktail program, and, even though Catch gets a high octane, high spending crowd, the prices for drinks is well shy of the most expensive places in town, with most cocktails $14-$16. The wine list, with recommendations for "raw," "cooked" and other options, is remarkable for its size and selection, with both reasonable and high mark-ups. A $20 Livio Felluga Pinot Grigio 2013 in the store shouldn't cost $72 at Catch. The more prestigious "Captain's Stash" actually have lower mark-ups, like a $200 Peter Michael "Les Pavots" 2011 that the restaurant sells at $390.
So, whatever kept me from going to Catch for so long was my loss. For its size and its brash ambiance, it has a good downtown vibe, but for its seafood, Catch would be a stand-out anywhere in the city.
CATCH is open daily for lunch and dinner.
CATCH
21 Ninth Avenue (entrance on13th Street)
212-392-5978
http://emmgrp.com/restaurants/catch