Elaine Benes may have introduced the world to The Big Salad on "Seinfeld" in 1994, but in 2018 it's all about The Huge Fatty Salad.
If you're a human who's ever lived through the month of January, you know America turns to salads when it's time to drop a pants size. But there's one specific type of salad that can do even more for your brain than it can for your belly.
The concept suggests that eating one huge daily salad ― specifically, one that's packed with a combination of nutrient-dense vegetables, protein and extra-virgin olive oil ― can work wonders for your brain. You know, the organ that controls EVERY OTHER ORGAN IN YOUR BODY.
It's a simple concept that could reap huge health benefits. Here's how to master the huge fatty salad.
Size matters.
If you're not the world's most enthusiastic fan of lettuce-based foodstuffs, you might see the words "huge" and "salad" together and bail out on this concept entirely. But don't freak out. Lugavere says the definition of huge will differ for everyone. It's more about giving salad a more prominent role in your diet.
"It's important to think about the salad not as a side dish, but as the dish. Really make that your entrée," Lugavere told HuffPost.
What's inside counts, too.
Step away from the iceberg lettuce. Don't you even dare.
Lugavere's ideal foundation for the huge fatty salad is a trio of dark, leafy greens: kale, spinach and arugula.
"That's a trio that's really powerful," Lugavere said. "Kale is incredibly nutrient dense, and a top source of magnesium and lutein. Spinach is a top source of folate and magnesium. And arugula is unique because it's a top source of nitrate, which is uniquely important in terms of its ability to promote healthy blood vessel function, which is profoundly important for the brain. Research has found that one single high-nitrate meal could improve cognitive function."
On top of that foundation, Lugavere says in his book that "the beauty of crafting salads is that there are no rules." He's a fan of tossing in healthy proteins like wild salmon or grass-fed beef, and another key is ensuring you incorporate as many vegetables as possible.
Once you've figured out what to put in the bowl, perhaps the most essential element of the fatty salad is topping it with the perfect dressing.
Huge fatty salad, you are nothing without extra-virgin olive oil.
It's true what they say: You really do need fats on your salad to best absorb the nutrients from all the vegetables in a salad.
"There are a myriad of vitamins that are fat-soluble, as well as non-vitamin nutrients like carotenoids, which are positively associated with better brain function. Their absorption is negligible unless consumed with fat," Lugavere said. "So if you're consuming a fat-free salad, it's a massively missed opportunity to absorb these carotenoids, which research shows can actually boost visual processing speed" ― the pace at which you perceive and respond to things ― "by 20 percent, even if you're young and healthy."
But you need the right kind of fat. You're not giving your brain its best shot if you're using anything but extra-virgin olive oil, which contains intense anti-inflammatory effects.
Extra-virgin olive oil contains a compound called oleocanthal, which is what gives olive oil the peppery flavor that makes you choke when you inhale too quickly. As Genius Foods explains, "oleocanthal possesses anti-inflammatory effects so powerful that it is comparable to taking a small dose of ibuprofen, a non steroidal anti-inflammatory drug, but without any of the potential side effects."
Anti-inflammatories are essential to strong brain function, because inflammation can strongly negate neuroplasticity, which Luvagere describes as "the ability of the brain to change throughout life." And we need that.
Regular olive oil won't cut it. Here's why.
Don't assume regular olive oil is just as good for your brain as extra-virgin. Regular olive oil is processed, and extra-virgin is unprocessed. As is the case with most foods, processing creates some undesirable qualities in olive oil.
"The production process can actually create trans-fats, which you don't want lingering in your olive oil," Lugavere explained. Not only does that make regular olive oil a less healthy option that extra-virgin, but it also puts it on par with a slew of other oils that Lugavere says we should avoid.
Avoid "ominous oils." They're lurking where you'd least suspect them.
Lugavere points out there are several "ominous oils" to watch out for: Canola oil, corn oil, soybean oil, vegetable oil, peanut oil, safflower oil, sunflower oil, rapeseed oil, grapeseed oil, rice bran oil.
These oils contain polyunsaturated fats, which when intact in whole foods are protected from oxidation, which leads to inflammation. But once these oils are exposed to heat and chemical processing, "they represent one of the major toxins in our food supply," according to Genius Foods.
This is why it's important to make your own dressing with extra-virgin olive oil. And beware of "healthy" products and restaurants without fully inspecting their ingredients.
Many bottled dressings that tout olive oil on their labels are often filled with other "ominous oils." For example, Newman's Own Olive Oil & Vinegar Dressing contains a blend of extra-virgin and regular olive oil, but it's also made with "vegetable oil (soybean oil and/or canola oil." Similarly, Kraft's Italian Olive Oil Vinaigrette contains canola oil and soybean oil in addition to extra-virgin olive oil.
Not even healthy salad restaurant chains are immune from serving dressings with the "ominous oils." Lugavere points out that Sweetgreen, in particular, uses grapeseed oil in their salad dressings. Always be sure to ask restaurants which oils they use.
If you love rules and hate creativity, here are two specific recipes to follow.
Here are two ideas from Genius Foods. As Lugavere says, feel free to improve on them:
Kale, cucumber, thinly sliced jalapeño chiles, raw broccoli, sunflower seeds, avocado, grilled chicken, extra-virgin olive oil, balsamic vinegar, salt, pepper, lemon

Spinach, arugula, tomatoes, bell peppers, chia seeds, avocado, grilled shrimp, extra-virgin olive oil, balsamic vinegar, salt, pepper, minced raw garlic, lemon
Now that you've read this far, you should realize that a "fatty salad" is just a big old salad loaded with healthy fats that'll boost your brain function. It's really the least you can do for your noggin'. Eat up!
CORRECTION: A previous version of this story indicated arugula was a source of nitrites instead of nitrates.
Before You Go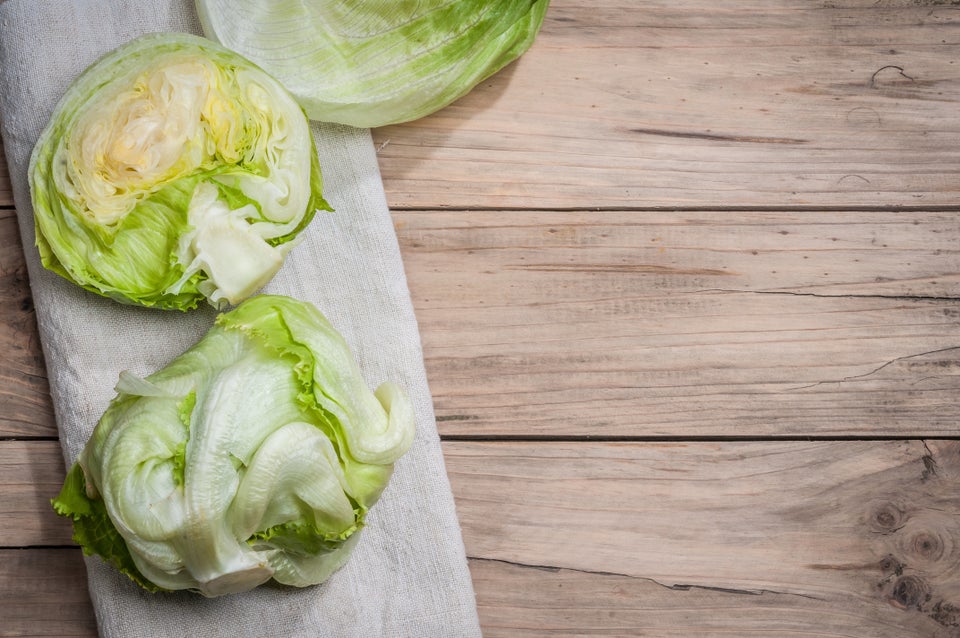 Nutritious Salad Greens