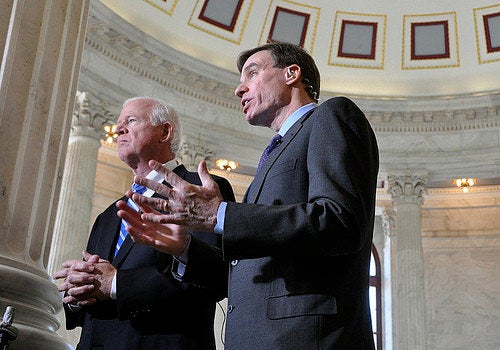 WASHINGTON -- The Obama administration and congressional lawmakers appear to be at odds over whether they can attach a recently revived bipartisan proposal for deficit reduction to legislation raising the nation's debt ceiling.
An administration official told The Huffington Post on Tuesday that there was enough time before the Aug. 2 debt ceiling deadline for lawmakers to tinker with the so-called Gang of Six plan, which would reduce the deficit by $3.7 trillion over ten years, primarily through spending cuts and entitlement reforms.
"We feel we have time to do a big deal, yeah," the official said, pointing to comments made on Sunday by Office of Management and Budget Chairman Jack Lew that were similarly optimistic about the legislative timeframe.
But if the goal was to wax optimistically about the prospects of going big, members of Congress apparently didn't get the memo.
Hope bloomed on Capitol Hill Tuesday that a renewed "Gang of Six" could offer a bipartisan cure for ailing debt talks, but cautious words from many senators suggested the deficit-slashing plan could end up cut to ribbons.
The slice came from Senate Majority Leader Harry Reid (D-Nev.), who suggested there simply is not enough time to act on a package that would cut nearly $4 trillion over 10 years.
"I'm happy to work and use anything in the Gang of Six that we can," he said, suggesting the Senate might swipe parts in the short-term, but that moving the entire thing was too big a lift. "Remember, we only have 13 days -- 13 days -- and there's a number of senators who have said they'll do everything they can to stop the debt ceiling from being increased."
Even one of the Gang members, Sen. Mark Warner (D-Va.), was not sure what path the deficit-cutting plan could take, or if it would even wind up in the bargain to prevent a historic U.S. debt default.
"There's still a question of how these two intertwine at this point, or if they do," Warner said.
And other Democratic senators seemed far from convinced that the fresh proposal was a good idea at all, because it could require large sacrifices by the middle class.
Sen. Dianne Feinstein (D-Calif.) took an especially cautious tone, saying she needed to study new proposal more carefully.
"It's huge, so you have to really take some time and go over," Feinstein said. But she quickly pointed to a potential trip wire for Democrats, saying a plan to change the way inflation is adjusted is "one of the things I need to find out exactly what that means."
Altering the inflation index could be a way to cut benefits in Social Security because hikes in benefits are linked to inflation. Feinstein would prefer to toss the "Gang of Six" plan to a commission that would come back in six months.
Sen. Ron Wyden (D-Ore.), who has been working on a tax-reform plan with Sen. Dan Coats (R-Ind.) and former Sen. Judd Gregg (R-N.H.), waved another large, red flag for middle-income Americans. He noted that the proposed plan slices individual tax rates more deeply than his own bipartisan group thought possible -- which means more money has to come from somewhere to offset the breaks.
"One of the questions will be, as you go forward in this, how is that going to affect key tax incentives that middle class people rely on -- like the mortgage deduction, their health and their retirement? That's where the bulk of the money is," Wyden said. "There has to be a clear recognition that you would have to dramatically reduce some of the tax incentives that middle class people have felt very strongly about."
That means people would be able to write off less for their IRAs, mortgage interest and other things like charitable giving.
Indeed, it seemed likely the deal would have little support from the left. Justin Ruben, executive director of the progressive advocacy group MoveOn.org, said the proposal appears to "ask seniors, the middle class and the poor to bear the burden of deficit reduction."
"We cannot allow a minority of Tea Party-led Republicans in the House to hold our nation's economy hostage in order to protect tax breaks for the rich and corporations, while forcing cuts to programs families depend on," Ruben said in a statement.
Health Care for America Now, which fends off attacks on Obama's health care bill, was similarly skeptical of the Gang of Six proposal.
"A budget deal that devastates America's seniors and middle-class families while letting big corporations and the wealthy off the hook is a bad deal for America, even if it's bipartisan," executive director Ethan Rome said in a statement. "America needs a budget agreement that keeps alive the promise of financial security and economic opportunity for the people who built this country and make it work."
The new plan's ideas won their most enthusiastic support from conservative Democrats such as West Virginia Sen. Joe Manchin -- who said hearing about the deal made Tuesday the best day of his Senate career -- and Republicans.
But several Senate Democrats wondered if their colleagues across the aisle could convince the Tea Party-steeped GOP in the House to go along.
House Speaker John Boehner (R-Ohio) did not seem especially committed to the Gang of Six with his own members still pursuing an even more draconian cutting plan.
"This plan shares many similarities with the framework the Speaker discussed with the president, but also appears to fall short in some important areas," said Boehner spokesman Michael Steel. "The House is voting today on our 'Cut, Cap, and Balance' plan, and we hope the Senate will take it up soon. That remains our focus."
Popular in the Community