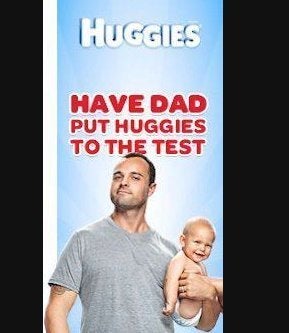 People being amazed that fathers are actually conducting themselves as capable parents is not a new trend. For instance, I don't know how many times I have been out with my kids and someone asks me questions such as, "Are you playing Mommy today?" And I usually answer, no I am being Daddy. Or they ask if I am babysitting today, which always strikes me as peculiar, because you babysit other people's kids, not your own. One time this past summer, one of my wife's best friends from college was visiting and I had just finished making my kids lunch. She was so amazed and shocked. She said, "Go head daddy", and looked at me for a few seconds as if it were completely mind-boggling that I could actually put a plate of food together for my kids?
Just this past weekend, my wife was out of town and I brought the kids to church. Multiple times, different people looked at me with eyes of astonishment. It blew their minds that I was able to do this all by myself. One lady said to me after noticing the absence of my better half, "Are you about to pull all your locks out from stress"? Shortly after that another lady made the statement, "I bet you are counting the minutes until mommy gets back home". I would give them the polite smile, but it did feel a little insulting. I guess people are easily impressed but in all honesty, that was not a major achievement.
Its one of those compliments thats not really a compliment. Its like that old Chris Rock routine where he talks about people taking credit for something they are suppose to do. Such as,
"I take care of my kids."
Then the patented Chris Rock voice comes in," What do you want a cookie? Your suppose to take care of your kids, you low expectation having Blankety blank!!!" The point is that society has become comfortable with the notion that the typical father is not capable of actually being a responsible father.
Last week, I was asking my wife, Nichole, whatever happened to that diaper commercial that was showing all of the men watching a football or basketball game. The commercial was insinuating that if the diaper could last through these poor, helpless, clueless dads they could last through anything. That these pitiful dads were the "ultimate test" for the diaper. She laughed and said that she didn't view the commercial like that at all and thought it was a cute little commercial that showed men with their babies watching the game. But I asked her, isn't the commercial saying that dads would be so wrapped up in the game they would allow their babies to just sit in their dirty diapers until the game is over? And didn't the commercial insinuate that dads were so helpless and so inefficient and unfit that the diapers can basically do the parenting for them as they cluelessly are so engulfed with the game that they neglect their own babies?
At first glance, the commercial may have appeared sweet, harmless and cute, just as Nichole said, showing a room full of dads with their babies watching the game. How adorable, right? I am sure they were thinking that this would warm everyone's hearts to show dads with their kids, dangling on their laps and in their arms while they simultaneously cheer at the television set and high five each other over their suspended babies. But looking at it a little deeper -- and I can say this because I am a father of three -- I think it was actually quite offensive. As the female voice-over during the commercial came on in attempt to illustrate the overall goal of the commercial, "To prove that Huggies diapers and wipes can handle anything, we put them to the toughest test imaginable: Dads," My reaction was hold up!!! We're the toughest test imaginable?
Nichole said that I may have been looking at the commercial a little too deeply, but understood my perspective.
So I did some research and found out that this commercial created quite an uproar and I wasn't the only person who interpreted it this way.
It should have come at no surprise that many other men had the same reaction that I had. According to the U.S. Census, one in three men are their child's primary caregiver. This commercial was in fact degrading and disparaging, and many men did not take too kindly to being the butt of Huggies' joke.
Then, to add insult to injury, not only did Huggies depict the norm as fathers being so hapless, so clueless and inadequate that they would become entrenched in the game to the point that they ignore or forget to actually change their babies overflowing diapers, but they took to Facebook to further the insult. On the Huggies Facebook Page, they encouraged Moms around the country to "Nominate a Dad... Hand him some diapers and wipes and watch the fun... Tell us how it went."
Goodness, they were really not holding back on portraying fathers as inept. Many fathers didn't take this insulting laying down.
Fathers from all over the country filled the Huggies Facebook Wall with complaints."Thanks for contributing to the perception that fathers are incompetent parents who let babies lay around in their own waste until they can be rescued," was one typical comment. Another: "The narrow view of gender roles... hurts dads AND moms. We should all be free to fill our family roles in the way that makes sense based on our skills and interests, not on some antiquated, stereotypical gender binary."
Why is a dad on diaper duty an appropriate or meaningful test of the product in any way a mom using them is not? Why reduce dads to being little more than test dummy parents, putting diapers and wipes through a "worst-case scenario" crash course of misuse and abuse? Is that what HUGGIES thinks dads do? We leave our children in overflowing diapers because sports is more important to us? Really?

These HUGGIES ads literally use the line "Dads push diapers and wipes to the limit." No, HUGGIES, dads don't do that. Poor manufacturing does that. A large bottle before naptime does that. Feeding your kid too much fiber does that. Babies do that. But dads don't use diapers and wipes any differently than moms.
Why would Huggies think that men around the country wouldn't react negatively to being mocked?
Here is an excerpt from Roland Martin from my book, Fatherhood: Rising To The Ultimate Challenge. He is speaking directly to the point of the commonplace ridicule of fathers and the constant devaluing portrayal that is an ugly and offensive stereotype that insults dads everywhere. Huggies definitely isn't the first to do this, they are simply the latest:
This overall negative depiction of fatherhood is being projected to not only young people but to society as a whole. There are a few commercials that immediately come to mind. It's a commercial, I believe it's Onstar, and the baby is in the back crying. A white father, white baby, so it's not always about color, but the baby is in the back seat crying, the daddy is absolutely frustrated with the baby crying and presses Onstar to reach Mommy and as soon as the baby hears the Mommy's voice, he immediately stops crying. So what does that say about a daddy's relationship with a child? There's another commercial where the kids (again all white) are all gathered in the kitchen and are whining and complaining and being loud, like kids do. There is one point where the kids spill some cereal on the table. And the exasperated daddy says, Where is your mother? So what this commercial is saying is that daddy has no control. He has no clue how to deal with his out-of-control children. So when you're watching these commercials where daddy is inept, where daddy can't fix anything, where daddy does not even know how to make the family some food, what they are driving into the minds of everyone is that daddies are sorry, are weak, and haven't the slightest clue about actually taking care of children.
Mr Roland Martin, I couldn't agree with you more.
Huggies had no choice but to respond. Joey Mooring, the spokesperson for Kimberly-Clark, the company that own Huggies issued a statement saying, "The intention was not to pick fun at dads, but only feature real dads, with their own babies in real life situations putting our Huggies diapers and baby wipes to the test," Mooring said. "We have learned that our intended message did not come through and we have made changes.
Huggies has since released an ad that depicted a group of confident fathers carrying their babies in carriers together. They also replaced the most offensive ad, with the men watching sports, with a few different spots. One with babies napping happily on their dads' chests, and another one with Huggies wipes with a voice over that says, "Using real dads to put the wipes to the test with their own babies on spaghetti night with lots of yummy red sauce." They have removed the insinuation that the dads were somehow inadequate or incapable. They now showed the dads engaged cleaning the various messes that were made with of course the "reliable" Huggies wipes. The entire tone of the ad is now different.
The Huggies Facebook page has also been changed. Instead of featuring the image of a tired, worn out, in over his head father wearing a suit, the page now shows an energetic, confident, looking man with dare I say a certain degree of swag, wearing jeans and a T-shirt, with one arm confidently cradling a happy baby.
"We respect the job that all parents do in helping to raise and care for their children. We also recognize that Dad is playing a larger role in the family and deserves to be celebrated," Mooring said.
So on behalf of the fathers who may be far from perfect but do not enjoy being ridiculed I want to say thank you to Dad 2.0, and all of the various organizations, fathers, writers, public speakers, and bloggers who didn't take this insult laying down, but stood up for Fathers everywhere.
Mike Adamick | MikeAdamick.com
Jon Armstrong | Blurbomat.com
Jason Avant | Publisher, DadCentric
Paul Banas | Founder and CEO, Great Dad
Shawn Bean | Executive Editor, The Parenting Group
Lisa Belkin | Senior Columnist on Life/Work/Family, The Huffington Post
Doug Block | Writer/Director, "The Kids Grow Up"
Susan Can | Director of Corporate Equity, Johnson & Johnson
Robert Candelino | Marketing Director (Skin Cleansing U.S.), Unilever
Charlie Capen | How To Be A Dad
CC Chapman | CC-Chapman.com
Kristen Chase | Publisher and CEO, Cool Mom Picks & Cool Mom Tech
Adam Cohen | DaDa Rocks
Catherine Connors | Director of Community, Babble.com
Ken Denmead | Editor, Geek Dad
Jonathan Fields | JonathanFields.com
Jonathan Fisher | Chairman and COO, Brand Extract
James Fishler | Senior VP, Marketing and Go-To-Market Operations, LG Electronics USA
Caleb Gardner | Edelman Digital
Jamie Grayson | TheBabyGuyNYC
Craig Heimbuch | Editor-in-Chief, Man of the House
Alan Heisterkamp | Director, MVP Leadership Institute at the Center for Violence Prevention
Whit Honea | WhitHonea.com
Jim Higley | Bobblehead Dad
Andy Hinds | Beta Dad
A.J. Jacobs | Author; Editor-at-large, Esquire
R.J. Jaramillo | SingleDad.com
Guy Kawasaki | Alltop.com
Adam Keats | Senior Vice President, Weber Shandwick
Jim Lin | Busy Dad
Missy Maher | Executive VP for Consumer Brands, Edelman
Juliet Marsh | VP of Operations, Cool Mom Picks & Cool Mom Tech
Frederick Marx | Writer/Director, "Boys Become Men"
Ron Mattocks | Clark Kent's Lunchbox; Director of Social Media Strategy, Lynton Web Solutions
Andrew Mellen | Entrepreneur, AndrewMellen.com
Stacy Morrison | Editor-in-Chief, BlogHer.com
Marc Nathan | Founder, Bulldog Financial
Stephen Newman | CEO, CultureMap.com
Clay Nichols | Dad Labs
John Cave Osborne | JohnCaveOsborne.com
Casey Petersen | Director of Social Media Analytics, Collective Bias
William Pollack | Author, Real Boys: Rescuing Our Sons From the Myths Of Boyhood
Manny Puentes | Chief Technology Officer, Lijit Networks
Jerald Reichstein | President, Bouncing Pixel
Manny Ruiz | PapiBlogger.com
Bruce Sallan | Author, A Dad's Point of View
Jeffrey Sass | JeffreySass.com
Matt Schneider & Lance Somerfeld | Co-founders, NYC Dads Group
Stephanie Smirnov | President, DeVries PR
Jason Sperber | Daddy in a Strange Land; Publisher, Rice Daddies
Jeremy Adam Smith | Editor, Rad Dad; Publisher/Contributor, Daddy Dialectic
Michael Spohr | The Spohrs Are Multiplying
Michael Stern | Senior VP and Group Account Director, Zócalo Group
Dave Taylor | AskDaveTaylor.com
Matt Thomson | VP of Platform & Business Development, Klout
Karen Walrond | Author, Chookooloonks.com
Roland Warren | President, National Fatherhood Institute
David Wescott | VP for Social Media, APCO Worldwide
Danielle Wiley | Principal, Sway Group
Janice D'Arcy l Washington Post