One thing I can count on each day is spending hours stuck in traffic in the five blocks that span the distance between my west L.A. office and the entrance to the 10 Freeway at Bundy and Olympic. In fact, I'm just about to start scheduling client meetings on the corner of the off ramp, because it seems so unfair to ask anyone to forge through the tangle of metal and road rage that stands between our conference room and the aorta of the west side. Perhaps this is why, when doing traffic time, I obsess about that light at the end of the tunnel, the Expo Line.
In terms of the anticipated completion date of 2015, my big concern is this: does everyone understand that it is not enough to simply thread the Expo Line through existing communities and hope that people will use it? Instead, we need to support the rail line with new zoning ordinances that encourage communities of density and diversity. For example, there is a triangular swath of neighborhood, currently zoned for single-family residential use, that is bounded by Olympic to the north, Barrington to the east, Pico to the south, and Centinela to the west. Given that the Expo Line will run parallel to this stretch of Olympic, it makes sense to hug the line with mixed-use, four- to six-story buildings that activate streets 24 hours per day. To become a 21st-century city, Los Angeles needs to grow up, not out, especially along our transit corridors. In order for the Expo Line to succeed, changes in the zoning ordinance need to happen now.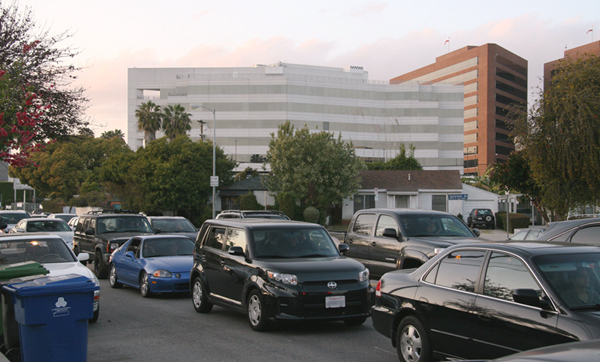 Rush hour commuters heading to the Interstate via Bundy Drive, future home of a stop on the Los Angeles Metro's Exposition Line. A small zone of single-family residences shown here, sandwiched between Industrial and Commercial Zones in West L.A., raises questions about how we can better support the public transit through city planning.
Will more density create more traffic? No! There is a point of "peak traffic," after which it becomes more practical to ride the rails than to drive. But we need to create enough density near the Expo Line to allow people to access basic services on foot. No more trips to the dry cleaners by car. The time has come to sip our Slurpees on foot. My dream is that by 2015, our clients, employees, and I will hoof it those five blocks from Bundy and Olympic to our lovely conference room on Nebraska Ave.
Calling all HuffPost superfans!
Sign up for membership to become a founding member and help shape HuffPost's next chapter