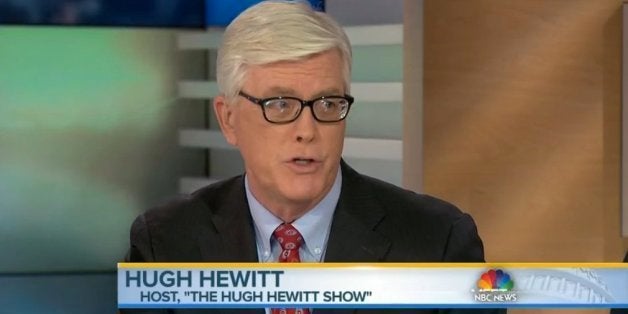 NEW YORK -- When radio host Hugh Hewitt questions Republican candidates at CNN's first primary debate this fall, he says, viewers will be "much more likely to hear about the Ohio-class submarine than contraceptives."
What, you ask at this point, is the Ohio-class submarine?
"The Ohio-class nuclear submarine is the biggest line item debate that will be held in the next 15 years," Hewitt said in a Wednesday interview with The Huffington Post. "Presidential candidates ought to know about it. They ought to be up to speed on it. That tells me seriousness."
Hewitt, 59, has carved out a niche in the conservative talk radio world as Mr. Serious, an unapologetic wonk in an industry full of bombast. And he's ridden that reputation to fairly prominent heights lately, becoming perhaps the most important conservative media figure of the still-early 2016 election cycle. Virtually all the prospective candidates have sat down for an interview with Hewitt. And Hewitt, in turn, has set intellectual bars that they must clear. Guests can expect to get into the nitty-gritty of foreign and domestic policy issues -- and they know to come prepared, lest they be embarrassed on air. Often, they leave with homework.
"There's something of a Hewitt primary that all these candidates are going to try to win," CNN host Jake Tapper, an occasional Hewitt guest himself, told HuffPost.
For years, Hewitt has asked guests -- whether politicians, journalists or think-tank fellows -- if they've read Lawrence Wright's The Looming Tower. Lately, he's also been asking about The Atlantic's recent cover story on the roots of the Islamic State, as well as Robert Putnam's just-published book Our Kids: The American Dream in Crisis.
Most candidates are serious about the issues, he says. On Wednesday, he rattled off at least half a dozen Republican contenders whom he considers especially well-read. Florida Sen. Marco Rubio, for instance, is "always prepared" and "never at a loss for an answer." John Bolton, the former U.S. ambassador to the United Nations, "has read everything twice when you call him up."
It's no wonder that Hewitt's so familiar with the personal libraries of potential 2016 candidates, given how much time he's spent with them this year alone. Since January, he's interviewed Rubio, Bolton, Wisconsin Gov. Scott Walker, South Carolina Sen. Lindsey Graham, former Texas Gov. Rick Perry and Louisiana Gov. Bobby Jindal.
One day in late February, Hewitt interviewed both former Florida Gov. Jeb Bush and real estate mogul Donald Trump. Neither man was ready yet to discuss the Ohio-class submarine. Both admitted to not having read The Looming Tower.
This week, Hewitt's spoken to Texas Sen. Ted Cruz, former Hewlett-Packard CEO Carly Fiorina, former Arkansas Gov. Mike Huckabee and former Pennsylvania Sen. Rick Santorum. He's hoping Chris Christie comes around, but he acknowledged that the New Jersey governor has his own radio show.
If it were just presidential candidates making the pilgrimage to Hewitt's show, then his rise in the world of political journalism could be brushed off as a quadrennial phenomenon. But more and more members of the establishment media -- or the liberal media, as Hewitt's audience might say -- are cozying up as well, recognizing that he provides an entryway into a conservative audience they desperately need.
Tapper has appeared on Hewitt's show numerous times, including this past Tuesday. In 2012, Hewitt interviewed Tapper about his Afghanistan war book, The Outpost -- an hourlong encounter that Tapper fondly remembers as "one of the most thoughtful and generally apolitical interviews that I did." Tapper, who returned the favor by booking Hewitt on "The Lead" earlier this year, described him as "somebody who Republicans listen to and asks questions that might not occur to so-called mainstream media."
"Meet the Press" host Chuck Todd has also become a Hewitt regular, and in return, he's brought Hewitt into his corner of the media universe, having had him on the show twice since January. Speaking on Hewitt's show last Friday, Todd credited the host's appearance on "Meet" with helping him have "another big ratings week." Todd will appear on Hewitt's show this Friday to talk politics and promote his own Sunday show.

Hewitt is "the Republican wonk's talk radio guy," Todd said in an interview with HuffPost. "It's weird to say this, since he's got gray hair," he added. "But he's the next generation of the talk radio landscape."
It's odd to think of Hewitt, a veteran of decades in Republican politics and media, as occupying the vanguard of his industry. He graduated from Harvard University in the late 1970s, and went on to work as a research assistant to David Eisenhower, the grandson of former President Dwight D. Eisenhower and son-in-law of former President Richard Nixon. He later worked directly for Nixon as a researcher before attending law school at the University of Michigan. He then spent six years in the Reagan administration in various posts, including assistant counsel in the White House. He moved to California in 1989 to oversee the Nixon Library.
Today, Hewitt continues to teach law in addition to his broadcast career, which got rolling at a PBS affiliate in Los Angeles in the early 1990s. He launched "The Hugh Hewitt Show" in 2000, and the program now airs on more than 120 stations and reaches about 1.25 million listeners weekly, according to Talkers Magazine. He also writes regularly for the conservative site Townhall.com, and has published a dozen books.
Despite his prolific output, Hewitt remains a pigeonholed figure, only semi-regularly stepping out of the safe confines of conservative talk forums. When viewers tune in to the CNN debate later this year, it will be the first time that many of them hear his name. (CNN is partnering with Hewitt's employer, Salem Communications, for three Republican debates, allowing the network to draw from the company's stable of conservative hosts and writers.)
As he discusses his turn in the limelight, it's clear that Hewitt sees it as not just an opportunity to elevate his own brand but a chance to change the ebb and flow of debates in general.
While praising George Stephanopoulos as a "fine journalist," he criticized the ABC News chief anchor for asking former Massachusetts Gov. Mitt Romney about contraception during a January 2012 primary debate. That question, says Hewitt, was "designed both to drive up ratings and, I think, to wound." When it's his turn to quiz the candidates, the focus will be on faith, fiscal issues or national security. As a conservative panelist, he says, he knows "where the seams are" in the Republican Party.
"If I wanted to wound Republicans, I could do so," Hewitt said. "Not many of them are going to show up on the show anymore."
Hewitt has said that the media often doesn't intellectually appreciate or understand Republicans. That conviction has attracted conservatives to him and made him an intriguing debate questioner. His relationship with the press is complex. He regularly books political journalists and promotes their books on the show. At the same time, he considers reporters in general to be reflexively liberal. And he scoffs at journalists' tendency to "assume the Olympian detachment from the news."
"I think that is a construct that doesn't really hold up," Hewitt said. "Everybody has an opinion. They're just choosing not to share it. And they're telling themselves, 'I will not allow it to impact me.'"
Hewitt often asks journalists on his show who they voted for, knowing they probably won't say. He's also fond of asking first-time guests, especially those he perceives as liberal, whether they believe the late State Department official Alger Hiss was a Soviet spy during the Franklin Roosevelt years, as he was famously accused of being. Hewitt is convinced that Hiss was indeed a spy, and he believes liberals still won't admit the truth. He said the question "sort of orients you on a serious scale about being willing to deal with hard facts that run contrary to your belief set."
Hewitt is open to taking questions about his work, but with conditions. When Nicholas Lemann, the then-dean of Columbia Journalism School, profiled Hewitt nearly a decade ago for The New Yorker, he had to agree to give Hewitt access to the school for a Weekly Standard piece. In order to interview Hewitt for this story, I had to first appear Tuesday on his radio show.
During the subsequent HuffPost interview, Hewitt laughed off the sudden media interest in his elevated role.
"It's so funny, it's my 13 seconds of media fame," Hewitt said. "And then once they name a second conservative participant in these debates, all the novelty will wear off."
Popular in the Community