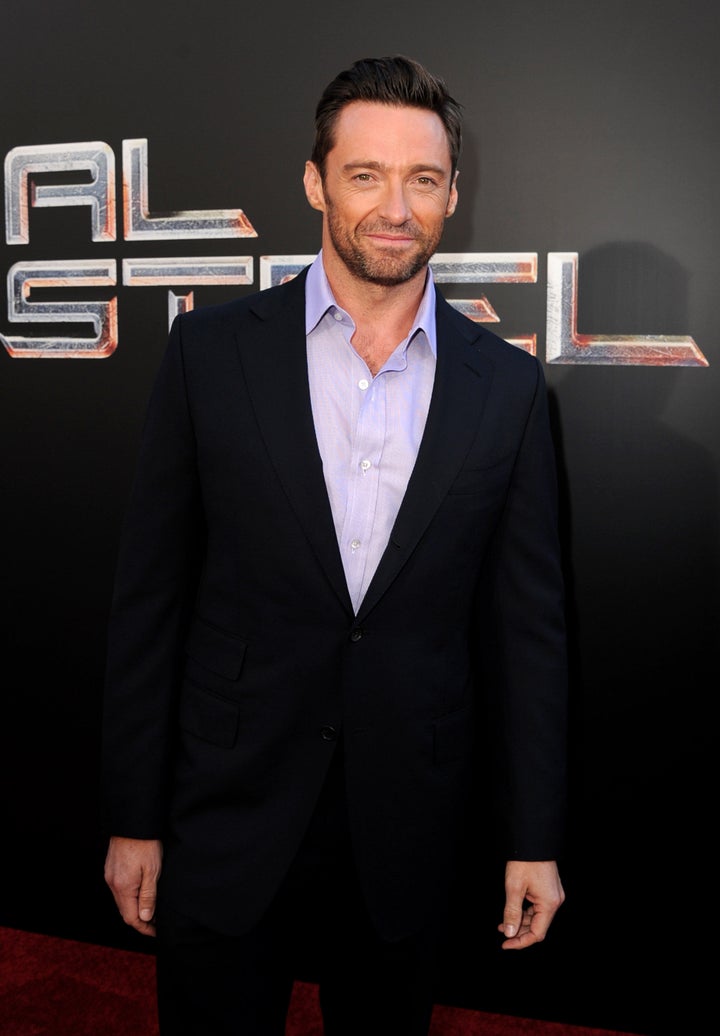 The Aussie actor, who is now fully recovered from his infamous zip-line accident on "Oprah" earlier this year, chatted with The Huffington Post about his own boxing adventures, his upcoming Broadway gig, and, of course, his coveted abs.
Were you into boxing before you made "Real Steel"?
Yes, I was actually training at Aerospace gym downtown here in New York City for the last three or four years because I always thought it was a great way to kind of stay fit and be agile, particularly with "Wolverine" in my universe. I felt quietly confident but then when I got to work with Sugar Ray Leonard, he was like, 'Oh man, we've got some real work to do.'
Did you feel like a girl when you first sparred with him?
When he hit me? Yeah I did. It took every acting ability I had and I know he only half hit me.
Were you like, "I'm OK, I'm OK"?
He didn't ask me if I was alright. There was no opportunity to declare I was alright. We just kept going. I just tried not to cry.
The recent photos of you frolicking in the ocean are very impressive. Are you able to iron a shirt on your abs right now?
(Laughs) I love the way you use the word "frolicking." Every morning when I'm in Sydney, I always go and swim in the ocean. It's just that when you go there, particularly in winter, there's no one at the beach except for 15 guys with long lenses. The fittest I am is when I'm doing Broadway. I'm rehearsing now [for his one-man show, "Hugh Jackman: Back on Broadway"] so I have to say it's a bit of an occupational hazard, but I am fit at the moment.
Isn't that funny? A lot of guys think Broadway is so campy. Meanwhile, you're the fittest you've ever been.
I think "Black Swan" kind of put a kibosh on that one. The last time I did my show in Toronto, I went for a run the next day. I don't know how long I ran -- it must have been seven or eight miles. I just didn't feel anything, it felt like a walk down the road. It's unbelievable how fit you get.
Now that you're so buff, do you feel if someone gives you grief on the street you could beat them up?
Absolutely, and I practice that often just to check.
Boxing classes were the hardest workouts I've ever had.
A boxing class is about as good a workout as you can have, and if you need to lose a little bit of weight and you want to do it in a way that is tough but engaging and not boring, boxing is the way to do it.
You know what I'm thinking? Hugh Jackman's Boxing Academy.
I don't know if I have the credibility. I might be able to look like one and I have a good reach, but I'm an actor. I cry when I get hit. I'm much more a lover than a fighter.
Is the crying full on with snot streaming?
Just man tears, a little drop at a time. It's like, "I've got something in my eye. It's allergies."
How's your lawsuit against Oprah going?
(Laughs) No lawsuit.
C'mon, stitches? Emotional distress?
Good point, hadn't thought of that. She's a good friend and one woman I wouldn't want to get on the bad side of. [The zip-line incident] had nothing to do with her. That was my bad.
Did you feel like a nong (Australian slang for idiot) when it happened?
I was thinking, mainly, "How am I going to ... work this out with my kids?" because I don't normally take my kids to anything like that -- particularly when there are cameras, but they really wanted to go. So I was literally hanging there with blood dripping down. I didn't know if I'd bashed half my face in, so that was the main thing going on in my mind. In fact my son turned to Deb [Jackman's wife] and said, "Why can't we just be a normal family?"
Because Daddy's a movie star.
"Because your dad is a nong!"