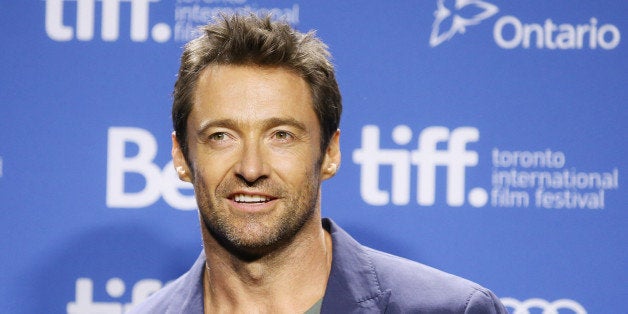 When "X-Men: Days of Future Past" hits theaters next summer, it will mark the seventh time Hugh Jackman has played Wolverine, a character that was also his first American film role. Jackman, you could say, serves at the pleasure of that character's fans -- because he's immensely aware of how much people enjoy Wolverine. It seems, too, that Jackman himself feeds off of that pleasure. It's a nice symbiotic relationship, but it's not his only one: Jackman is fortunate that he has time to play other roles as well, like in last year's highly-regarded "Les Miserables" and, now, in the Denis Villeneuve film "Prisoners."
In "Prisoners," Jackman plays a father who takes matters into his own hands after his daughter is kidnapped and the prime suspect is let go from police custody. It's a film filled with moral ambiguity that risks being spoiled if any more details are given here. Jackman, in person, is all class. Yes, I realize that this is Jackman's job, but he went to great lengths to make this tired (and, on this day, wet from the rain) traveling festival journalist feel welcome. In other words: Jackman is good at his job.
Here, Jackman discusses the intricacies of his new film -- and explains why his character is a Springsteen fan -- and reveals in detail why Wolverine means so much to him.
Your character does a lot of questionable things in this movie, but it did help to win me over that he's a Springsteen fan.
[Laughs] By the way, I put that in for my agent, because he's a massive Springsteen fan. And so, I like that. I'm with him, man. Anyone that loves Springsteen can do whatever they want. I love it.
It's a good thing the trailer for this movie gives very little away, but I was worried it might be a by-the-book kidnapping movie.
You thought it was going to be more generic thriller?
More of a procedural. Or more like "Ransom," nothing against "Ransom" ...
I know what you mean. Well, I actually think, I presume it's deliberate -- I don't know what goes on in the minds of marketing people, I don't know. But I presume, in a way, that the actual form of the movie subverts the genre a little bit. And even my wife was holding my hand, gripping my hand during the movie. And the moment I was getting to those scenes in the bathroom with Paul Dano, she removes her hand from mine and was like, "I don't know if I want to be sitting next to you anymore or sleeping with you." You know?
That doesn't sound like a good look.
But, it's a little like that for the audience. You can go along and then they're like, "Yeah, this is what I do, yeah. Come on." And then it's like, "Oh, I'm uncomfortable." It's such an allegory, I think, for what's going on in the world today. Look what's going on in Syria and the argument that's going on there. What is the right thing to do? How do you enact a sense of justice? How do you respond to violence?
You might not agree with what he's doing, but you see his point. He wants his daughter back.
Right. And you get that and it makes it all uncomfortable -- and I think the moral ambiguity is its strength. I didn't sign onto this until Denis came on board. When I saw "Incendies," I could see this movie being a real great drama that makes you think, wrapped up in the clothing of a generic thriller. But I could see the clothes becoming more important in the wrong hands.
In the wrong hands, this could have easily been a not-good movie.
Right.
I went back and forth on the outcome of this movie about eight times.
Oh, really? Are you one of those people who can't figure endings out?
I'm terrible at it.
I'm terrible, too.
I never figure movies out.
I never do either [laughs]. I take every red herring.
There's an intense scene where you are smashing a sink with a hammer while Paul Dano's hand is on that sink. Do you only get one take at that?
It's interesting you say that. There were two sinks, so I knew had two chances at the scene. And the sinks were made to be able to break away so that there wouldn't be shards of porcelain flying everywhere. But, I broke one sink and I thought we got it. It was one of those things where I was like, man, we went to someplace there. And the director comes over to me and he had a smile on his face and I was positive he was going to say, "Man, that was just awesome." Right?
"You nailed it, Hugh."
He came over and he puts his arm around and he goes, "I need you to go there. I need you to go to another place." So I was kind of like, Shit, I thought I was there. That wasn't there? You know? So, I just threw everything out the window and I had no idea what was going to happen. They had put another sink in. I thought, You know what? I don't even know if I'm going to break it. We'll just see what happens. All that stuff is ad-libbed -- and putting the hammer into the wall was all ad-libbed. I'm still amazed at Paul Dano not flinching when I put that hammer -- I was actually too close to his head. And I only realized that at the end when I saw, because it was sticking in the wall. And all I kept thinking was the set director going, "Shit, man, we haven't got another fucking wall!"
Poor Paul Dano. He gets beat up in a lot of movies here at the festival. He got beat up in "12 Years a Slave," too.
Yeah, he does, right? Yeah. This is his year for punishment.
That's the trend piece for TIFF: Paul Dano getting beat up.
Yeah. And I love the way he was coming to Toronto with a cane.
Yeah, I saw that. And that's not a joke, right?
No, he had an operation only a couple weeks ago from a basketball injury, but I really want to make the point --
Yeah, you might want to get it on record that you weren't involved.
No one was hurt in this movie.
"Hugh Jackman did not do that to Paul Dano."
No actor was hurt in this movie.
Do you think you'll work with Denis Villeneuve again?
I hope so, man.
You've worked with the same director multiple times in the past: Bryan Singer and James Mangold are examples. I feel that's been a good formula for you.
I do, too. Oh, man, I do too. And I would more than happily work with him again. I totally understand why Jake Gyllenhaal just did back-to-back movies with him. The problem is, you're going to get everyone lining up to work with him. You know, because he's only made great movies. All his movies. It's why he's beloved in Canada.
This is a jump for him, production-wise.
This his first English-speaking Hollywood movie. It's always a nerve-racking jump, I think, for any director. And can you make that jump without kind of appearing to everyone in your hometown like you sold out? You know? And he's more than done that. And also, he's done a movie which is entertaining as well. This is not a cheap $3 million indie. It's a brave choice for the studio to make -- and rarely is it happening these days. And I'll really be interested to see how it goes. I don't often follow the box office in an obsessive way because I don't want to get stuck in it, but this is one I will watch closely because I'll be interested to see if this is the kind of movie people want to see or not.
You gave a heartfelt speech at Comic-Con about how much Wolverine means to you and that with "X-Men: Days of Future Past" you will have played him seven times. It's remarkable that you are where you are now, but haven't given up on the character that made you famous. It's nice to see it means something to you still.
Oh, no, I wouldn't do it otherwise. I mean, I'm totally aware, man, how lucky I am. Shit, man, I went to drama school with 16 other kids. No one was saying, "Oh, this is the guy that's going to make it." I mean, there's something real random about it.
Really?
No. And honestly, there was probably eight out of us out of that year that people were like, "OK, they're on a level." But there was one or two people who definitely would have been most likely to succeed. In fact, there was an award, Most Likely to Succeed.
And you didn't win that?
And I did not get it. No. So there is something random about the business -- and the fact that I lucked out on that role as my first role -- even if it wasn't a good role -- I would have taken it. It was a first movie. But I really lucked out. I understood why he was so beloved when I played it. And, man, thankfully, the fans embraced me. Because, man, my life would just be horrible otherwise -- because they're very passionate. And the powerlessness of a fan having no ability to choose who's going to inhabit your role, you know, I totally get and appreciate the support. And even when they haven't been happy with a film -- like the first "Wolverine"; they weren't happy -- they still came out and supported it.
No, they were not happy with that one.
No, they weren't. So, and that's why I'm grateful to them. And it's a rare opportunity to go and actually express that. And my career without that role would be a very different -- if you could call it a career at all.
You've balanced Wolverine with your other roles quite well.
Yeah, I like doing theater and doing -- for me, the greatest way to use power in this business is the power of choice and variety of genres and venues. It makes me a better actor. It keeps me fresher. And the challenge of it, I love.
As opposed to the first "Wolverine" movie, the second one that just came out this summer was great.
Thank you, man. No, I was really happy with it.
I liked that "the world" wasn't at stake.
Right. You know, what I love and am so proud of that movie is Jim [Mangold] did such a great job. Everyone says, "Oh, that bullet train scene is my favorite action scene." But actually, my opponent is a guy with a knife who's good at martial arts. He's not a mutant in any way. And it's still a great battle. There's still comedy. There's action -- it looks amazing -- but it's sort of believable. Not that you'd ever find an actor doing that [laughs].
As I said, I really enjoyed James Mangold's version, but do you ever think what the Aronofsky version would've been different?
I do think about it. And he had some ideas. But, the truth be told, people say how different was this from Darren's vision. And Darren, because of "Black Swan," hadn't really got into it that much. I mean, he was on it for about six months, but most of those six months was the award circuit for "Black Swan." So, there was some ideas -- the title, being one, "The Wolverine." He was like, "There's no way I'm making the thing called 'Wolverine II.'" And he said, "And I want this to be different; I want it to stand alone." And that was an idea we all embraced. But, I actually think this worked out great. Somewhere down the line, in my imagination, the film fan in me and the comic book fan -- would I like to see an Aronofsky version? Probably.
It does pique interest.
Of course. But I think Jim did an amazing job, because it's deceptively difficult to traverse the world to actually make a film that 12-year-old boys like -- that all the people like -- that the fans like, the non-fans like. That's as hard as anything.
I read where you were saying how much you'd like to act opposite Robert Downey Jr. as Iron Man, but of course the studio rights prevent that. Is there anything stopping you from just walking by in a scene where the character's name isn't mentioned?
In the first "Spider-Man" -- Kevin Feige reminded me of this -- we really tried to get me to come on and do something, whether it was a gag or just to walk through the shot or something. The problem was, we couldn't find the suit. The suit was stuck in some thing. And so when they were in New York when I was there, we couldn't get it together. So, you know, I actually asked some high level people about it. Because the optimist in me goes, "Why not? Why can't we do it? You know, a split cast or whatever?" And someone reminded that the amount of money Fox paid compared to the amount of money Disney paid is very different [laughs]. So how you split that pie up? God knows. But in the comic books, what's great about it is they're just mashing together all the time -- and it's awesome. And people are like, "Yeah, well, let's get this one with that!" And, you know, I still think, one day, there may be an ability to do it.
Well, good luck with "Prisoners." And good luck with "X-Men: Days of Future Past," though I have a feeling that movie doesn't need luck. I think it will do quite well.
[Laughs] I do, too, actually.
Mike Ryan is senior writer for Huffington Post Entertainment. You can contact him directly on Twitter.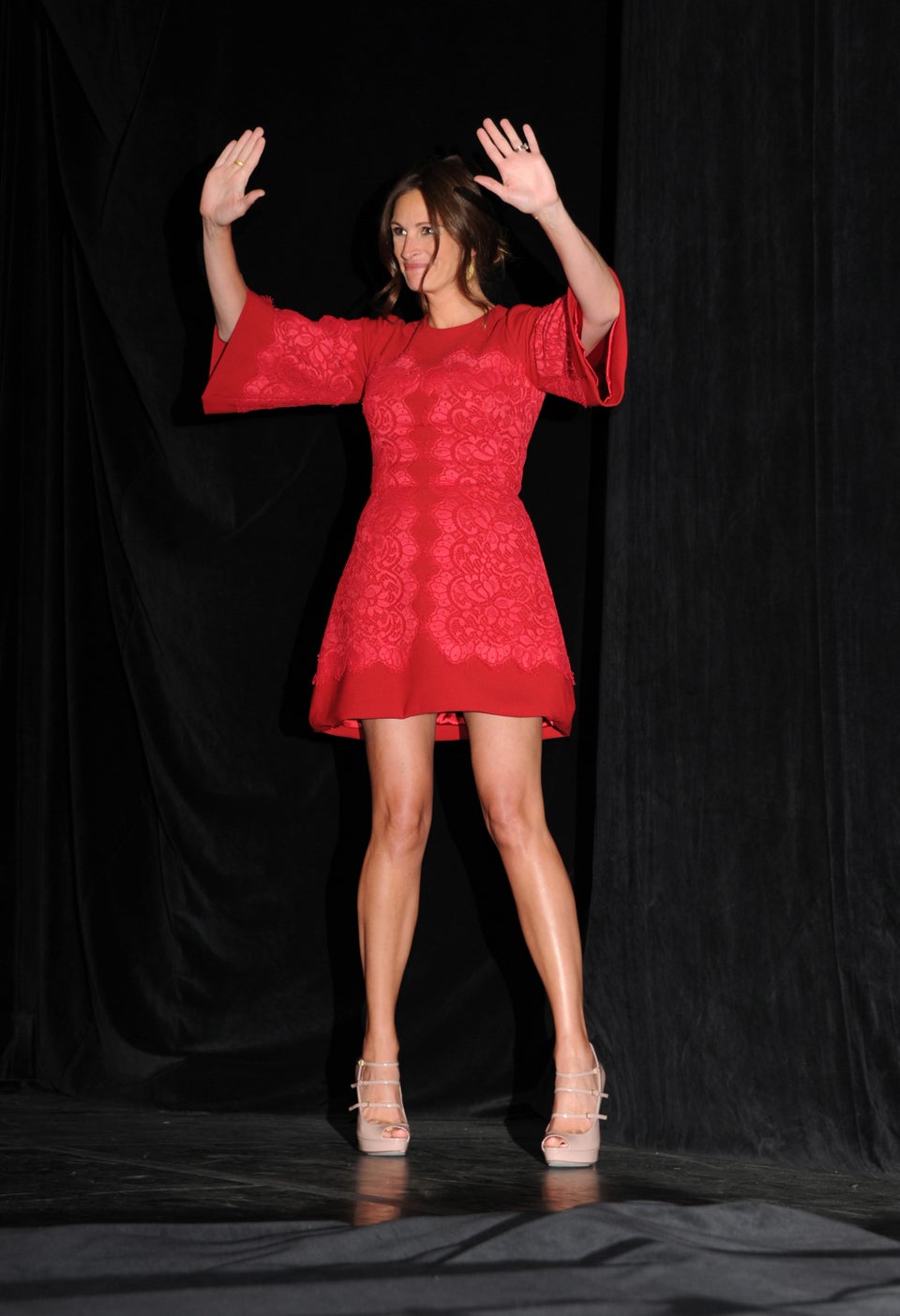 2013 Toronto International Film Festival
Support HuffPost
The Stakes Have Never Been Higher
Popular in the Community