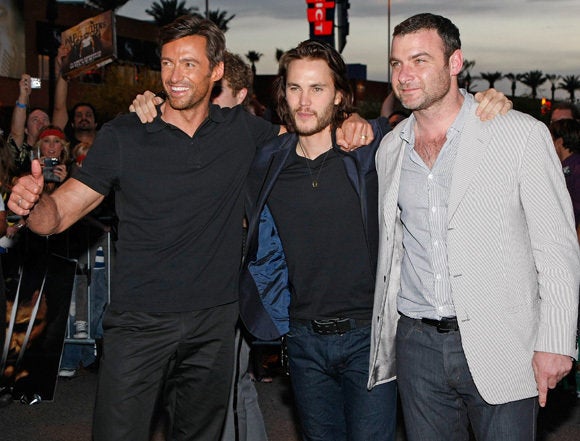 Hugh Jackman's imminent blockbuster "X-Men Origins: Wolverine" had its US premiere in Temp, AZ Monday night (read all about it below the photo) and the leading man showed up with an orangey glow about him.
As seen in the unaltered Getty photo below, of Jackman with costars Liev Schreiber and Taylor Kitsch, Jackman's tan has taken on epic, likely fake proportions.
PHOTO: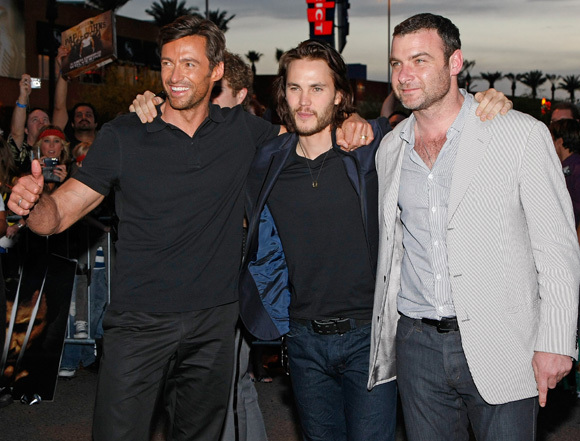 FROM THE AP ABOUT THE PREMIERE:
TEMPE, Ariz. - Hugh Jackman has no regrets about taking the premiere of "X-Men Origins: Wolverine" out of Hollywood and into the desert city of Tempe.

Some moviegoers who already had tickets to the Monday night screening said they had waited outside the theater since 3 a.m. to catch a glimpse of Jackman and other stars walk the red carpet. They screamed in delight when the Jackman finally rode in on a Harley Davidson motorcycle.

"No one in L.A. is sleeping out overnight when they already had tickets to the best seat in the house," Jackman said of the thousands of passionate fans lining the barricades.

"I love this place," Jackman said of the Phoenix suburb. "I'm moving here. It's awesome."

Before the celebrity arrivals, a group of Arizona State University cheerleaders danced to music from a local high school marching band.

The mayor of Tempe, Hugh Hallman, proclaimed the day "X-Men Day" and presented Jackman with a "Wolverine Parking Only" placard, poking fun at the lack of parking around town.

Paul Morales, 20, got tickets to the screening, and still showed up at 4:30 a.m. to get a good spot to see the stars.

"It's tiring waiting for the tickets but it's so worth it. I'm proud of my hometown for getting the recognition it deserves for hosting a premiere like this," Morales said. "I couldn't be more ecstatic."

In March, Jackman announced an online voting contest to choose which U.S. city would get to premiere the movie. Tempe beat out dozens of cities nationwide.

Ryan Reynolds, who plays the mutant Deadpool, said he thinks premiere locations should be decided by vote more often.

"I think this is how they should do it from now on. I really do," Reynolds said. "L.A. has had their fair share of Hollywood premieres. So has New York. This is the way to do it. You get to be interactive with the fans."

The movie is slated to open nationwide on Friday.
Popular in the Community