LOS ANGELES (Variety.com) - Hugh O'Brian, who starred in the long-running series "The Life and Legend of Wyatt Earp," died Monday. He was 91.
The actor died peacefully in his Beverly Hills home, according to a statement from Hugh O'Brian Youth Leadership.
ABC Western "The Life and Legend of Wyatt Earp," in which the exceedingly handsome, muscular O'Brian starred as the title character, ran for 221 episodes from 1955-61. At the time he was one of television's great male sex symbols.
In 1957 he was nominated for an Emmy for best continuing performance by an actor in a dramatic series for his work on "The Life and Legend of Wyatt Earp."
So popular and so much a part of popular culture was O'Brian that he showed up as Earp, uncredited, in the 1959 Bob Hope Western comedy "Alias Jesse James," as well as in the 1960 TV movie "The Secret World of Eddie Hodges"; when the actor guested on "Make Room for Daddy" in 1956, the episode was entitled "Wyatt Earp Visits the Williamses."
The actor had appeared in many feature Westerns by the time ABC cast him in its series as Wyatt Earp, a lawman who was one of the legends of the Old West.
Later he appeared in features including the 1963 comedy "Come Fly With Me"; in 1965, he starred in the feature "Agatha Christie's Ten Little Indians" along with Shirley Eaton and Fabian and had an uncredited role in Otto Preminger's World War II drama "In Harm's Way," starring John Wayne, Patricia Neal and Kirk Douglas.
In 1972-73 he starred with Doug McClure, Anthony Franciosa and Burgess Meredith in the NBC series "Search."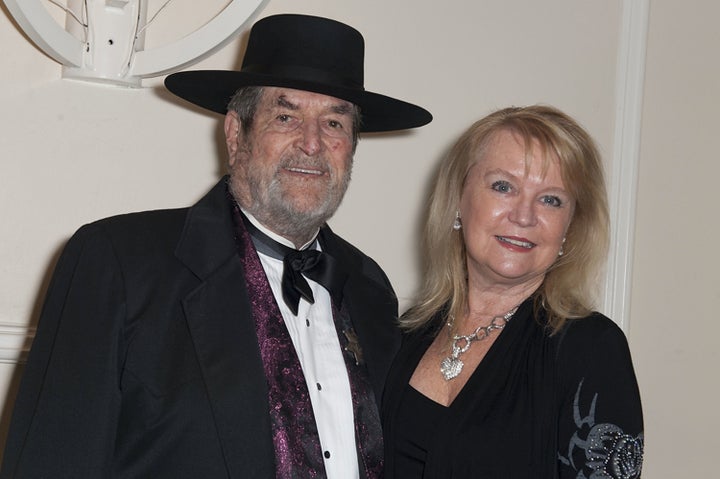 O'Brian had a small role in John Wayne's last film, Don Siegel's "The Shootist" (1976), as the last character ever killed by Wayne on screen ― O'Brian, a good friend of Wayne's, considered it a great honor.
The actor reprised the role of Wyatt Earp for two episodes of the CBS series "Guns of Paradise" in 1989, and in the TV movies "The Gambler Returns: The Luck of the Draw" (1991), starring Kenny Rogers, and CBS' "Wyatt Earp: Return to Tombstone" (1994).
O'Brian did plenty of work outside the Western genre, appearing in the Arnold Schwarzenegger-Danny DeVito comedy "Twins" (1988) as one of several men who donated DNA that produced the "twins" and guesting on "Charlie's Angels," "Fantasy Island," "Murder, She Wrote" and "L.A. Law." He appeared in an Animal Planet adaptation of Jack London's "Call of the Wild" in 2000.
Hugh Charles Krampe was born in Rochester, New York. Hugh lettered in a variety of sports.
He spent a semester at the University of Cincinnati but during World War II he dropped out to enlist in the Marine Corps ― where his father had been an officer. At 17 he became the youngest Marine drill instructor, according to the TCM website.
After the war, O'Brian moved to Los Angeles to study at UCLA. He had started doing stage work, and was discovered by Ida Lupino, who signed him to appear as the second male lead in the polio drama "Never Fear," which she had co-scripted and was directing; for O'Brian that film led to a contract with Universal Pictures.
He had a brief, uncredited role in the classic noir film "D.O.A.," starring Edmond O'Brien, but he was soon ― almost inevitably ― doing Westerns, appearing in the Gene Autry vehicle "Beyond the Purple Hills" (1950); "Vengeance Valley," starring Burt Lancaster and Robert Walker; Budd Boetticher's "The Cimarron Kid" (1952), starring Audie Murphy; Raoul Walsh's "The Lawless Breed" (1953), starring Rock Hudson and Julie Adams; Boetticher's "Seminole," also starring Hudson; Boetticher's "The Man From the Alamo," starring Glenn Ford; "Back to God's Country," also starring Hudson; Walsh's "Saskatchewan" (1954), starring Alan Ladd and Shelley Winters; "Drums Across the River," starring Murphy; Edward Dmytryk's "Broken Lance," starring Spencer Tracy, Robert Wagner and Richard Widmark; and "White Feather," starring Wagner and Debra Paget.
Occasionally he worked outside the Western genre, as in WWII actioner "Fighting Coast Guard" (1951); "On the Loose" (1951), in which he had a supporting role as a doctor; "Son of Ali Baba," starring Tony Curtis and Piper Laurie; the Douglas Sirk-directed musical "Meet Me at the Fair" (1953); the bizarre comedy "Fireman Save My Child" (1954), originally intended for Abbott and Costello; and the Ethel Merman musical "There's No Business Like Show Business," which also starred Donald O'Connor and Marilyn Monroe.
O'Brian dedicated a great deal of his life to a charitable effort he created himself in 1958, the Hugh O'Brian Youth Leadership Foundation, a nonprofit youth leadership development program for high schoolers. The organization sponsors 10,000 high school sophomores annually through leadership programs in all 50 states and 20 countries.
The concept for the program was inspired by the nine days O'Brian spent visiting with humanitarian Dr. Albert Schweitzer in Africa in 1958.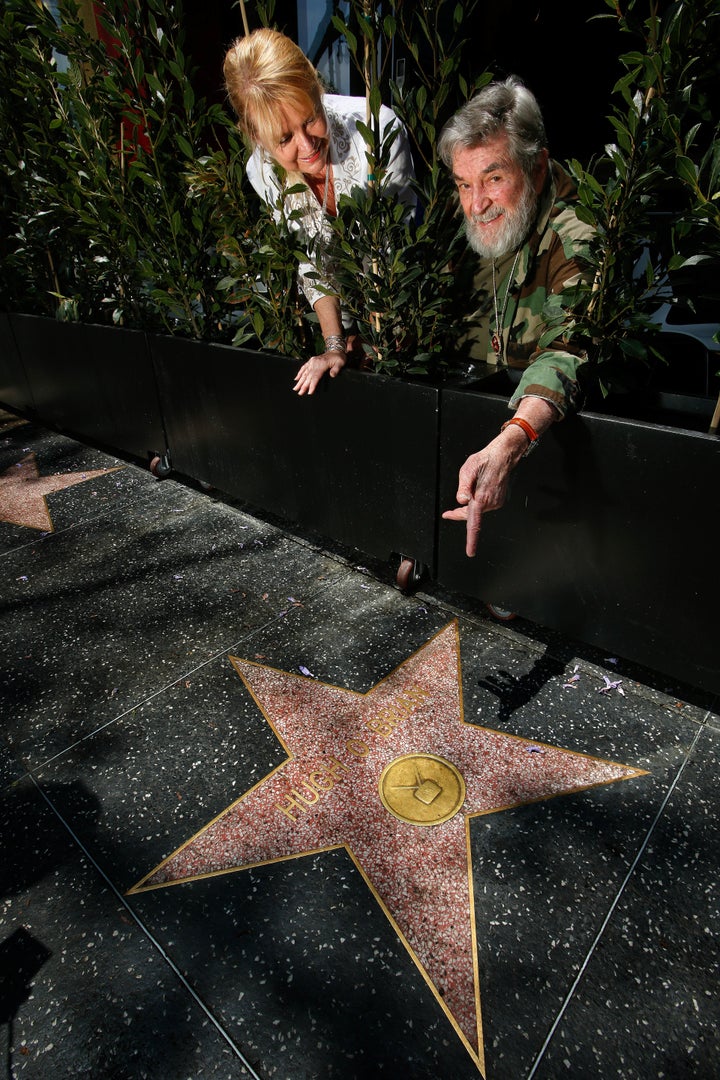 At the Golden Globes in 1954, O'Brian won for most promising newcomer - male (tied with Steve Forrest and Richard Egan).
O'Brian won a Golden Boot Award in 1991 (the awards, sponsored and presented by the Motion Picture & Television Fund, are bestowed upon those who have made significant contributions to the genre of Western television and movies).
He is survived by his wife, the former Virginia Barber, whom he married in 2006 at the age of 81.
Before You Go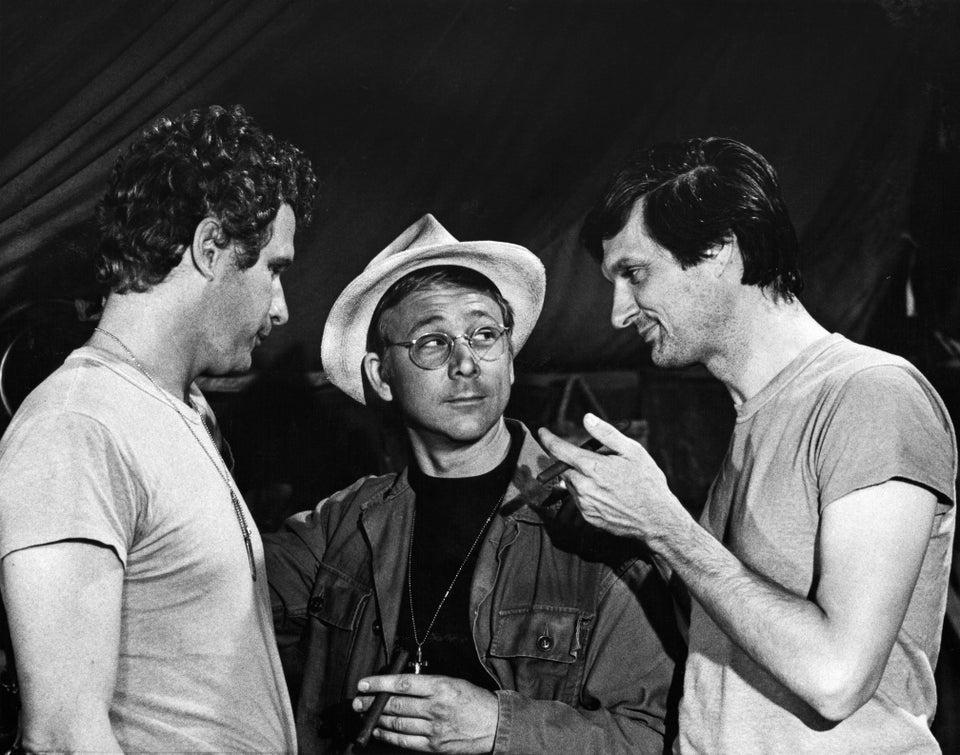 Entertainers We've Lost In 2016