 When Hugh Steers died of AIDS in 1995, he was only 33 years old. Alexander Gray Associates recently acquired the estate of this American painter and is currently featuring a series of paintings and works on paper produced from 1987 to 1993.
These allegorical, stylized paintings form a stark and haunting portrait of an AIDS-stricken New York. Largely autobiographical, they depict intimate domestic scenes that plunge us into the doomed reality of a lost generation of gay men. For those of us who survived the AIDS epidemic, these images will undoubtedly evoke one of the darkest periods of our lives.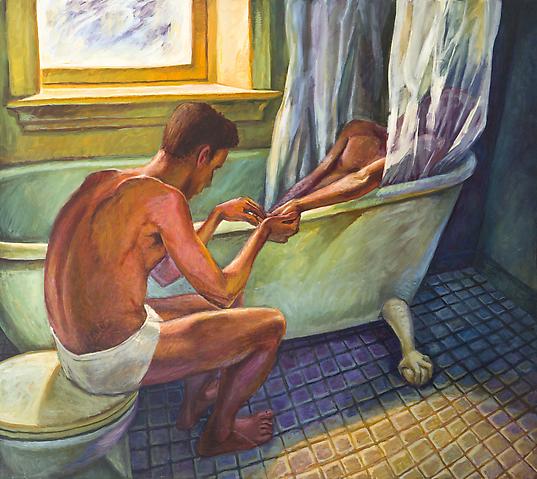 There is a startling immediacy to Steers's work that unfolds like a map of pain, isolation and broken dreams. A number of paintings in this exhibit convey intense emotional weight. In "Bath Curtain" and "Hand Holding," male couples in intimate repose appear numbed and inconsolable as if shattered by devastating news. Others, like "Red Face Cloth" or "Purple Velvet Dress," are imbued with dark sexual undertones that bring to mind the work of Balthus. "Bedtime" and "Innocent Man With Cleaver and Red Drape" are as thick with the tension of imminent disaster as any classic Hitchcock scene. "Throat" takes a more literal stance, graphically portraying a young man's fearful self-examination for signs of illness, possibly the artist himself.
Despite the autobiographical nature of these works, Steers managed to keep a mature painter's sang-froid. A stylist in the tradition of Edward Hopper, he chose dramatic colors and injected his scenes with moody golden light and cinematographic, distorted perspectives, all to great effect.
Just a few months before his death, Steers wrote about his commitment to painting:
I think an artist's commitment to his or her medium is the first step among many in the making of art, and I believe it is based on all of the social and emotional factors that have affected the artist's development as an individual... painting records the immediacy and personal nature of the artist's touch. I think that this aspect of painting makes it ideally suited to the personal and humanistic character of my imagery.
Steers' intimate domestic scenes express a poignant emotional reality of a time when love and death were inextricably linked for gay men. His personal and humanistic touch continues to resonate today in this engrossing exhibition.
A catalogue raisonné of Steers's paintings and drawings is currently being organized by Visual AIDS.
Hugh Steers
Alexander Gray Associates
508 West 26 Street # 215, New York, N.Y. 10001
Gallery hours: Tuesday through Saturday 11:00 to 6:00
January 12 through February 16, 2013
Calling all HuffPost superfans!
Sign up for membership to become a founding member and help shape HuffPost's next chapter