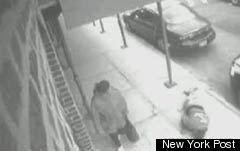 Hugo Alfredo Tale-Yax was stabbed several times in the chest while saving a woman from a knife-wielding attacker. Then he bled to death while dozens of people walked by -- one stopping to snap a picture of the dying man with his cameraphone before leaving the scene.
WATCH:
The police said they were looking for the man who was in the altercation with the woman. He was described as 5-foot-6, with a medium build, wearing a green short-sleeved shirt and a green hat.
The police were not sure if the woman knew what happened to Mr. Tale-Yax, but they said it was possible she knew the suspect. They are waiting for her or a third party to come forward with more information.
Popular in the Community