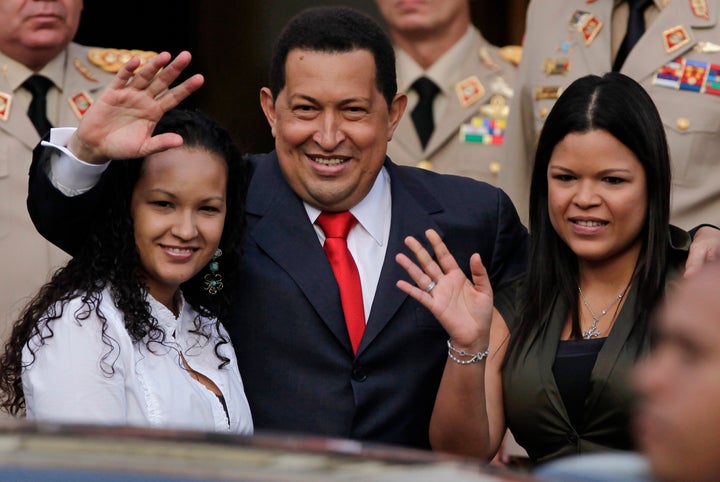 (Reuters) - Venezuelan President Hugo Chavez said on Friday he would return to ally Cuba for chemotherapy, raising doubts about his fitness to fight for re-election next year in the OPEC-member nation.
The announcement came less than two weeks after he made a triumphant trip back from the Communist-led island, where he underwent cancer surgery amid opposition criticism his absence was putting Venezuela's 29 million people in danger.
The 56-year-old socialist leader has not revealed what type of cancer he has nor its severity. He said he would leave on Saturday but did not say how long he would be gone.
"I have faith in God, science and our Cuban and Venezuelan doctors, all the people who attend to me and finally myself and this will to live," Chavez said on the steps of the presidential palace.
Analysts warn Venezuela could be plunged into political chaos if the cancer leaves Chavez too weak to govern or forces him to step aside. He has no obvious successor and is closely involved in most major government decisions.
For twelve years, the former soldier has polarized politics in the Western Hemisphere, with his frequent lambasting of the United States, aggressive takeovers in Venezuela's vital oil sector and nationalizations of large swathes of its economy.
His liberal spending of oil revenues and his effusive charisma have led him to sweep repeated elections since 1998, but problems such as high crime and power outages made the 2012 election look like a tight race even before his illness.
Financial markets, which have for years frowned upon Chavez's economic policies, will likely react positively to the news. Venezuela's global bonds jumped on word of his cancer.
"We are going to continue the road to recovery, this second stage will start in the coming days with the application of chemotherapy, scientifically planned in detail," Chavez said, flanked by two of his daughters who appeared distressed.
"I am sure the second stage will help me follow the road to recovery of health."
In contrast to his usually garrulous and improvisational style, Chavez read a letter to Venezuela's Congress seeking authorization for his trip in a stern tone that was reminiscent of his June 30 announcement that he had cancer.
Another prolonged absence following his earlier month-long spell in Cuba could lead to tensions among his allies, who analysts say could be racked by internecine disputes without his omnipresent leadership.
Speaking on private TV station Globovision, constitutional lawyer Gustavo Tarre reflected opposition complaints that Chavez should hand over power to his vice-president.
"The Republic needs attention that cannot be given via Twitter," Tarre said, referring to Chavez's increasing use of the micro-blogging service to communicate with supporters.
"A medical board (should) evaluate whether this temporary absence becomes a definitive absence."
A Brazilian government source had said Chavez would be treated at the Sirio-Libanes hospital in Sao Paulo, whose prestigious cancer center has received Brazilian President Dilma Rousseff and Paraguayan President Fernando Lugo.
Venezuelan authorities, however, were concerned about security there and worried Chavez would be uncomfortable with the hospital's policy of disclosing information about high-profile patients, a Brazilian government source told Reuters.
In recent televised appearances Chavez seemed to be back to his old self in many ways, cracking jokes with ministers during cabinet meetings and doing calisthenics at a military academy in Caracas. On Friday, he met for two hours with Peruvian President-elect Ollanta Humala.
But since his return, Chavez has considerably reduced the length of his usually marathon speeches. His face looks swollen and pale, and he appears to have some difficulty walking.
He originally underwent an operation in Havana to remove a pelvic abscess, and later had a second operation once the cancer was discovered. Neither he nor government officials have said where the cancer is or how advanced it is.
His ability to govern will hinge on whether or not the cancer has "metastasized" or spread to other parts of his body. One medical source has told Reuters the cancer has spread and is in an advanced stage.
(Additional reporting by Deisy Buitrago, Daniel Wallis and Ana Isabel Martinez in Caracas and Jeferson Ribeiro in Brasilia; Editing by Paul Simao)
Calling all HuffPost superfans!
Sign up for membership to become a founding member and help shape HuffPost's next chapter