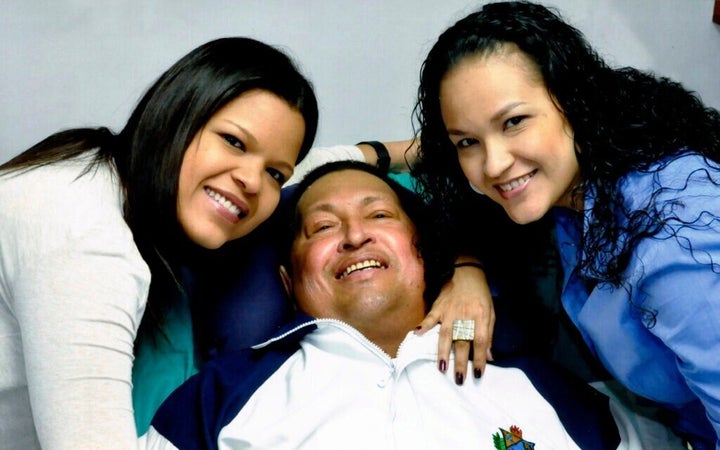 By Daniel Wallis and Marianna Parraga
CARACAS, Feb 15 (Reuters) - Venezuela published the first photos of cancer-stricken Hugo Chavez since his surgery in Cuba more than two months ago, showing him smiling while lying in bed reading a newspaper, flanked by his two daughters.
The government said on Friday that the 58-year-old president was still suffering respiratory problems after a lung infection, and that he was breathing through a tracheal tube.
Chavez's son-in-law said the socialist leader - famous for his long speeches - had difficulties speaking, but was writing down orders. "He doesn't have his usual voice."
Chavez has not appeared in public, and has still not been heard from, since the operation on Dec. 11, his fourth surgery for a cancer in his pelvic region first diagnosed in mid-2011.

Chavez's face looked swollen in the two images, where he wore a blue-and-white track suit top and appeared alongside his beaming daughters Maria Gabriela and Rosa Virginia.
He was lying in a hospital bed, and in one of the photos they were reading Thursday's edition of Cuban state newspaper Granma. The government said the photos were taken on Thursday night.
"The post-operative respiratory infection was controlled, but there is still some insufficiency," Information Minister Ernesto Villegas said in the latest communique on Chavez's health.
"Under these circumstances, which are being treated, the commander is currently breathing through a tracheal tube."

Chavez has never said what type of cancer he has been treated for, and in his absence the opposition have accused the government of secrecy over his condition.
Last October the socialist leader was re-elected to a new six-year term in office. But he was too ill to return to Venezuela for his inauguration ceremony last month.
On Wednesday, Vice President Nicolas Maduro - Chavez's preferred successor - said the socialist leader was undergoing "complex" alternative treatments, but did not give details.
The new images were greeted with joy by Chavez supporters, many of whom Tweeted: "Chavez lives and smiles!"
The president's singular brand of oil-fueled welfare spending and folksy charisma has won him an almost religious following among many poor Venezuelans.
Critics say his combative approach and radical leftist policies that included widespread nationalizations have damaged the economy and scared away investors.
Perhaps more than anything, the loquacious leader's silence has convinced many Venezuelans that his extraordinary 14 years in power could be coming to an end.
"He has difficulty communicating verbally. But he makes himself understood. He communicates his decisions perfectly. He writes them down," said Science Minister Jorge Arreaza, who presented the new photos on state TV.
Arreaza is married to Chavez's daughter Rosa Virginia and has been traveling back and forth from Caracas to be with her at the president's bedside.
He described a light-hearted mood around Chavez, who he said enjoyed receiving visitors in his room where he listened to music from his rural home in Venezuela's Los LLanos plains.
"It's a party," Arreaza told state TV. (Additional reporting by Mario Naranjo; Editing by Brian Ellsworth)

Related
Before You Go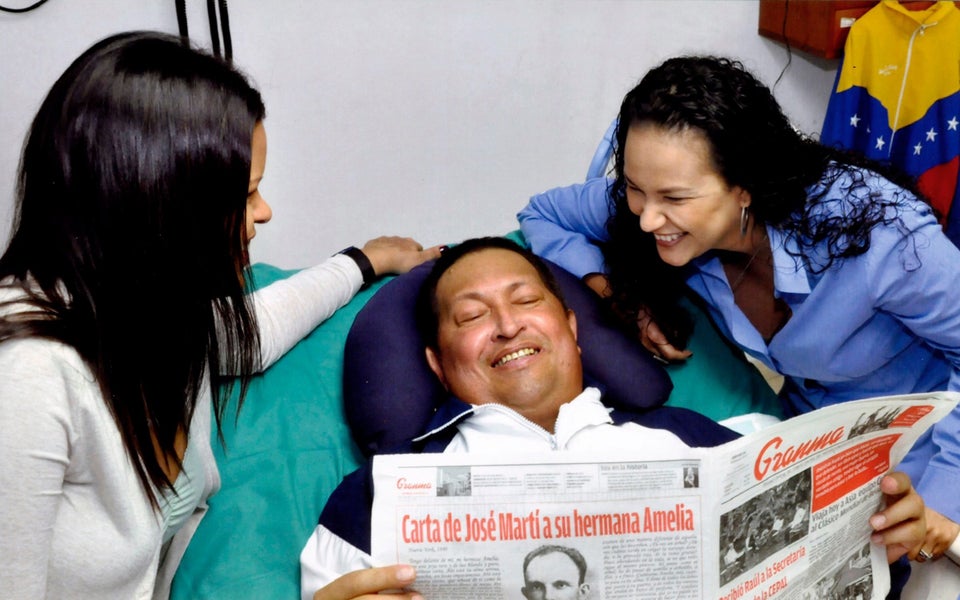 First Photos Of Hugo Chavez
Popular in the Community