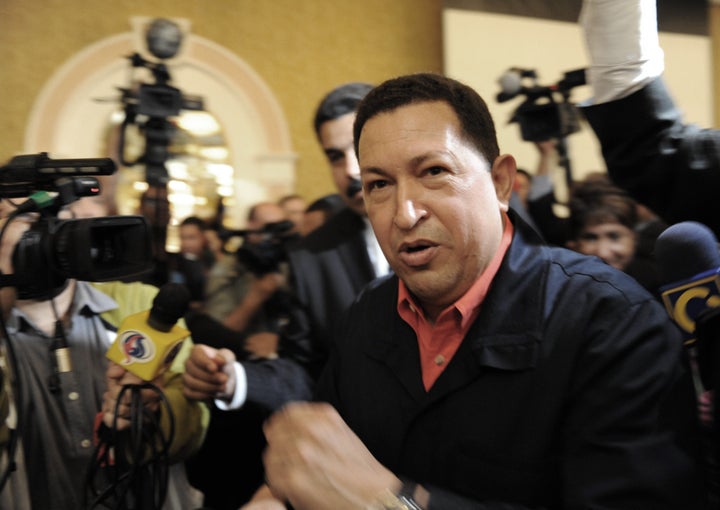 CARACAS (Reuters) - Venezuelan President Hugo Chavez's surgery and secretive stay in Cuba has set off speculation the socialist leader's health may be worse than the government is acknowledging.
Versions range from Chavez having cancer to him deliberately stoking the mystery to prepare a triumphant return that would boost him on the road to a 2012 re-election bid.
Here are some possible scenarios:
IF CHAVEZ IS SERIOUSLY ILL...
* Ever since Chavez, 56, underwent surgery in Havana on June 10 there have been whispers he may have prostate cancer. There has been nothing of substance to prove that, though well-known Venezuelan journalist Nelson Bocaranda gave them some credence this week in detailed reports based on unnamed medical sources. U.S.-based think-tank Stratfor also quoted a source linked to Chavez's doctors saying a tumor in his prostate required surgery in May and then spread to his pelvis, leading to a second operation in Cuba this month.
* Were Chavez to be incapacitated or die, his Vice President Elias Jaua should take over for the rest of the six-year period under Article 233 of the constitution. A presidential election is due by the end of 2012, with the winner to start a new mandate in January of 2013.
* In practice, there would almost certainly be chaos in volatile Venezuela which the charismatic Chavez has dominated since coming to power in 1999. There is no obvious successor waiting in the wings. None of the most prominent Chavez allies -- Jaua, senior party officials Diosdado Cabello or Aristobulo Isturiz, Foreign Minister Nicolas Maduro, the president's brother Adan Chavez, Energy Minister Rafael Ramirez -- has his political skills or appeal either at the national level or within the ruling Socialist Party.
* Many analysts see Venezuela's "21st Century Socialism" as inextricably tied to Chavez's persona and thus foundering without him. The implications of that would go much further than Venezuela, given that the OPEC member props up communist-led Cuba, as well as other nations in Central America and the Caribbean, with cheap oil supplies.
* Venezuela's opposition would probably demand an election, and without Chavez, the Socialist Party would have lost its biggest vote-winner, meaning power could well swing.
* The risk factor associated with Chavez, who has nationalized large swathes of the Venezuelan economy, weighs heavily on bonds, and with him off the scene prices would probably trend upward overall -- although uncertainty during a power vacuum would create plenty of volatility.
IF THE PRESIDENT RECOVERS QUICKLY...
* Senior government officials are scoffing at the furor over Chavez's health, saying it shows the moral paucity of his enemies in right-wing media and political circles.
* They are sticking to the official version that Chavez had a painful abscess in his pelvis removed and is recuperating. Several allies have specifically discounted the cancer rumor.
* One senior government source told Reuters that Cuban surgeons had operated on the president before peritonitis -- a nonfatal inflammation of the lining of the abdomen -- could develop, and that he was recovering very well.
* While the lack of details about Chavez's condition have generally fueled the theory he must be seriously ill, there could be a simpler explanation -- that he is simply embarrassed at showing himself as weak in public. The image-conscious former soldier has always prided himself on his physical robustness, and his frequent walkabouts and forays onto the baseball field have played well with supporters.
* One theory gaining currency in many circles is that the government is deliberately keeping quiet, not to hide a horrible illness, but to fan speculation to such a point that it will enhance the sense of triumph when Chavez does return.
* The president would clearly love to be home by July 5 when Venezuela hosts a regional summit timed to coincide with the 200th anniversary of its independence from Spain.
* The return of a healthy Chavez, mocking detractors who had been speculating about his demise and milking the applause of supporters delirious to see him back, could give him a timely boost in the polls. The affair has also taken attention away from domestic problems like electricity blackouts, crime, high prices, prison riots and shortages of some goods that have been stoking discontent among many voters.
IF CHAVEZ LIMPS ON SICK...
* Continued rule by a weakened Chavez, nursing some health problems, is possibly the riskiest scenario.
* He has always been at his most unpredictable -- foes would say dangerous -- when on the back foot, lashing out at opponents if he senses them gaining an advantage over him. The list of critics in exile, facing court cases or barred from holding office, bears witness to that. As does the closure of some media.
* The loss of Chavez's aura of invincibility would encourage jostling for succession within his party, which is already split between hardliners and pragmatists.
* The opposition may also be emboldened to step up pressure on Chavez to stand down, although mass street protests appear to be a tactic they have abandoned for now given their failure to dislodge him in the past. They would at least view their chances as improved for the 2012 election.
* The current favorite to win the opposition presidential ticket, at primaries due to be held in February, is a 38-year-old state governor called Henrique Capriles Radonski.
(Additional reporting by Eyanir Chinea; Editing by Daniel Wallis and Vicki Allen)
Popular in the Community