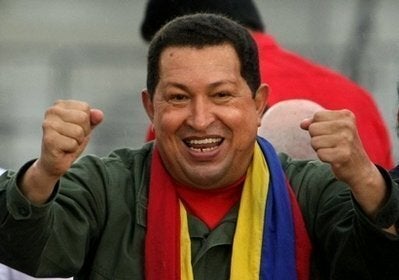 UPDATE: 4.28.10 -- It's official: Chavez has sent out his first tweet. The tweet, which went out just after midnight, said, according to the AP, which translated it from Spanish: "Hey how's it going? I appeared like I said I would: at midnight. I'm off to Brazil. And very happy to work for Venezuela. We will be victorious!!"
The Venezuelan leader is already proving quite popular; as of this morning he had nearly 37,000 followers.
Wondering what's with the name of his account, chavezcandanga? As the AP explains, the name "includes a word that is used in various Latin American countries to refer to the devil. In Venezuela, it denotes punishment as severe as that suffered by sinners sent before the devil."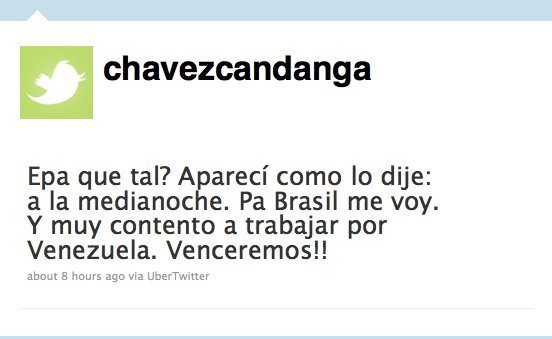 In what could perhaps be described as a slight u-turn, Hugo Chavez, Venezuelan President and fierce critic of Twitter, has announced he intends to begin using the service.
"Comandante Chavez is going to open his Twitter account soon to wage the battle online," said Diosdado Cabello, head of the country's telecommunications regulator, according to Bloomberg.
"I'm sure he'll break records for numbers of followers," Cabello added.
The decision marks a change for Chavez, who in January of this year denounced the social networking platform as "terrorism".
Exactly what caused him to change his mind is unclear, though it is possible he may have seen HuffPost's photo slideshow of other world leaders who tweet.
Calling all HuffPost superfans!
Sign up for membership to become a founding member and help shape HuffPost's next chapter