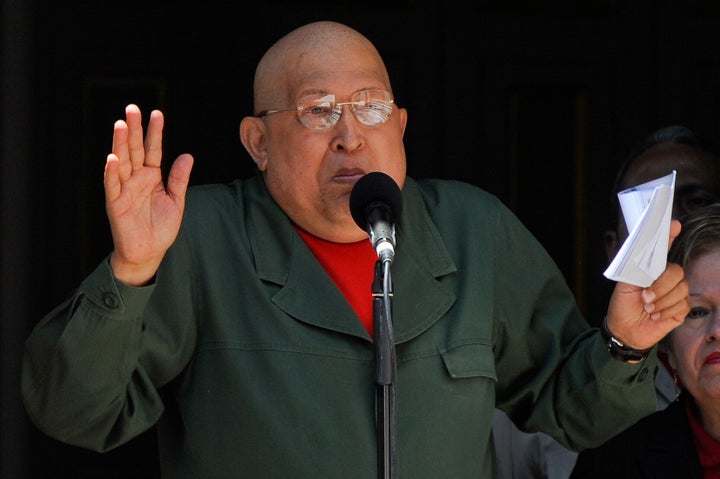 On October 20th President Hugo Chavez declared himself free of cancer. Kissing a statue of Jose Gregorio Hernandez, Venezuela's patron saint of health, he stated, "I've finished the final stage of treatment (...) I can say I got an 'A' on my tests (...) they show that I am cancer free."
Yet despite these assertions, reports filtering out of the Venezuelan capital tell a different story regarding the physical condition of the bombastic Venezuelan president. On November 19th the Wall Street Journal published an article in which they allege that Chavez's cancer is far from cured; but on the contrary has metastasized, spreading into his bones. Quoting from reports by one European intelligence agency to which WSJ had access, doctors treating President Chavez have concluded, "the spread of the disease is now accelerating."
Even more specific was an article in the important Brazilian magazine Veja. This article -- also allegedly supported by a firsthand view of patient medical records -- indicates that the disease is so advanced that President Chavez may not make it to the October 7, 2012 presidential elections. According to Veja, the initial surgery performed in May in Cuba complicated the disease. The same hospital that almost killed Fidel Castro in 2006 appears to have struck again. Currently, according to various sources, a group of European doctors are in charge of President Chavez's care.
Vega also reports that in July, Foreign Minister Nicolas Maduro made a trip to Brazil to discuss the possibility of Chavez receiving care in the same hospital where Paraguayan President Fernando Lugo was successfully treated. Chavez decided against this, because it would require the true nature of the disease to be revealed. In August, Chavez's medical team unsuccessfully concluded treatment and recommended that President Chavez travel to Europe for a more aggressive treatment. Chavez refused, opting instead to receive care on the presidential retreat island of La Orchilla. In September, Chavez took another surprising decision, opting for a lighter dose of chemotherapy which would allow him to continue to carry out presidential duties.
Should President Chavez for some reason be unable to stand in the October 2012 presidential elections, reports from Veja and WSJ indicate that the candidate for the United Socialist Party of Venezuela (PSUV -- Chavez's political party) would be Nicolas Maduro, currently Venezuela's Foreign Minister.
Regardless of the outcome of President Chavez's treatment, his disease complicates an already difficult re-election effort. A resurgent and increasingly organized opposition platform is making inroads into traditionally "Chavista" areas. According to recent polling, President Chavez is statistically tied with Miranda State Governor Henrique Capriles Radonski, who also leads the polls in the opposition primaries to be held in February of 2012. Chavez has apparently opted to continue his punishing work and election agenda, which makes real recovery challenging. Should President Chavez be unable to run in 2012, the prospects for the PSUV could be worse. Maduro lacks Chavez's larger than life persona and gifted communication skills.
Despite the ever-improving electoral landscape for the united opposition, important obstacles remain. First and foremost among these is Venezuela's drug problem. According to United Nations Office of Drugs and Crime (UNODC), Venezuela is one of the most important drug transit countries in the world. The United States State Department has decertified Venezuela in the fight against drugs; and the United States Treasury Department has placed seven top Venezuelan government officials on their Office of Foreign Asset Control (OFAC) lists for materially supporting the Revolutionary Armed Forces of Colombia (FARC). Walid Makled -- a Venezuelan drug kingpin currently in jail in Caracas on charges of drug trafficking and murder -- has claimed he had forty Venezuelan generals on his payroll. It is unclear how the narco-generals would respond to an opposition victory, but General Henry Rangel Silva, General in Chief of the Armed Forces (and himself on OFAC) stated last year that the armed forces would not allow an opposition victory.
The other question is whether the current Venezuelan government -- with or without Chavez at the head -- would allow for a democratic transition. In July of this year Adan Chavez -- President Hugo Chavez's older brother -- reminded the PSUV at a rally that, "...it would be unforgivable to limit ourselves to only the electoral and not see other methods of struggle, including armed struggle to obtain power, which is the indispensable instrument to apply and develop our revolutionary program."
All of this taken together portends a complicated election cycle. The international community, with the United States in the lead, must strenuously insist that the government of Venezuela respect the election process already underway. Observers should be deployed quickly and for the entirety of the electoral contest to assure that the electoral law is respected and there is no abuse of state resources for campaign purposes. The Organization of American States (OAS) should insist upon a complete copy of the electoral registry, including addresses, in order that a full audit can be performed. And a clear message must be delivered that any electoral mischief, or worse refusal to hand over power, will be met with a full range of sanctions which would include Venezuela's energy sector -- the lifeblood of their "revolution."
Only with clear, compassionate leadership will the hemisphere's legacy of liberty, so hard won and carefully cultivated, be preserved and protected.
Joel D. Hirst is a Latin America expert and Principal with the Cordoba Group International. He tweets at www.twitter.com/joelhirst.
Related
Popular in the Community